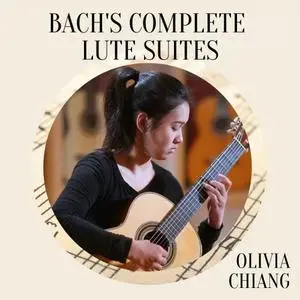 Olivia Chiang - Bach's Complete Lute Suites by Olivia Chiang (2020)
FLAC tracks | 01:23:43 | 320 Mb
Genre: Classical / Label: Olivia Chiang
Here's nineteen year old Olivia Chiang who is currently a student of Scott Tennant, playing all three movements from the "Tres Canciones Populares Mexicanas" arranged by Manuel Ponce. For each of the movements, Olivia is playing on a different guitar. You can hear her play "La Pajarera" on a stunning 2019 Luigi Locatto, "Por Ti Mi Corazón" on a brand new Contreras "10th Anniversary" and "La Valentina", the third and final piece on a Vicente Carrillo "Primera Especial".
Track List:
01. Lute Suite No. 1, BWV 996: I. Prelude
02. Lute Suite No. 1, BWV 996: II. Allemande
03. Lute Suite No. 1, BWV 996: III. Courante
04. Lute Suite No. 1, BWV 996: IV. Sarabande
05. Lute Suite No. 1, BWV 996: V. Bourree
06. Lute Suite No. 1, BWV 996: VI. Gigue
07. Lute Suite No. 2, BWV 997: I. Prelude
08. Lute Suite No. 2, BWV 997: II. Fugue
09. Lute Suite No. 2, BWV 997: III. Sarabande
10. Lute Suite No. 2, BWV 997: IV. Gigue
11. Lute Suite No. 2, BWV 997: V. Double
12. Lute Suite No. 3, BWV 995: I. Prelude
13. Lute Suite No. 3, BWV 995: II. Allemande
14. Lute Suite No. 3, BWV 995: III. Courante
15. Lute Suite No. 3, BWV 995: IV. Sarabande
16. Lute Suite No. 3, BWV 995: V. Gavotte I & II
17. Lute Suite No. 3, BWV 995: VI. Gigue
18. Lute Suite No. 4, BWV 1006a: I. Prelude
19. Lute Suite No. 4, BWV 1006a: II. Loure
20. Lute Suite No. 4, BWV 1006a: III. Gavotte En Rondeau
21. Lute Suite No. 4, BWV 1006a: IV. Menuetts I & II
22. Lute Suite No. 4, BWV 1006a: V. Bourree
23. Lute Suite No. 4, BWV 1006a: VI. Gigue
ANALYZER: auCDtect: CD records authenticity detector, version 0.8.2
Copyright © 2004 Oleg Berngardt. All rights reserved.
Copyright © 2004 Alexander Djourik. All rights reserved.


FILE: 01 Lute Suite No. 1 BWV 996 I. Prelude.flac
Size: 11151653 Hash: 8DD44F1F906EEED5D1585F9316EB534D Accuracy: -m40
Conclusion: CDDA 94%
Signature: D9D07679568A8A8F6748F3D375822C4EBEA4510E
FILE: 02 Lute Suite No. 1 BWV 996 II. Allemande.flac
Size: 9152114 Hash: FA36A3C9DD493DE121D6618DB4640998 Accuracy: -m40
Conclusion: CDDA 100%
Signature: D1AC2907B13E6933F9725A03EFB503F83BF9F58D
FILE: 03 Lute Suite No. 1 BWV 996 III. Courante.flac
Size: 12882001 Hash: 243A5B051E30EF9ED92BFB4ECCFC6002 Accuracy: -m40
Conclusion: CDDA 100%
Signature: D76BF8C117EA497B242DD6C4F673A5570880B34A
FILE: 04 Lute Suite No. 1 BWV 996 IV. Sarabande.flac
Size: 16055972 Hash: 492781614B4C30341E150995C65216DB Accuracy: -m40
Conclusion: CDDA 100%
Signature: 1F39B4B8BA89D6EF750B08C726D91978FAE97D39
FILE: 05 Lute Suite No. 1 BWV 996 V. Bourree.flac
Size: 6553408 Hash: A12F6C153E669946EBE4E5664C8CB3FC Accuracy: -m40
Conclusion: CDDA 100%
Signature: 27ADC494614F4E67565EF5F5C11B20A289C1CF25
FILE: 06 Lute Suite No. 1 BWV 996 VI. Gigue.flac
Size: 16340673 Hash: 6CF15BED66CC62FA7F6D47D877C101CB Accuracy: -m40
Conclusion: MPEG 100%
Signature: 5A30965835D4792C851FBCE2988A3E51E94536BC
FILE: 07 Lute Suite No. 2 BWV 997 I. Prelude.flac
Size: 13749591 Hash: B4B7B17ADF7BED5CE258F1706F14674A Accuracy: -m40
Conclusion: CDDA 100%
Signature: E64DEF22996A8251FC537ED72BB436E005241415
FILE: 08 Lute Suite No. 2 BWV 997 II. Fugue.flac
Size: 31983546 Hash: DA922ED533351705E7BAC2BEE145D2F1 Accuracy: -m40
Conclusion: CDDA 43%
Signature: A3DA1D356A4B406751398FD34EE2FD5F02A791EF
FILE: 09 Lute Suite No. 2 BWV 997 III. Sarabande.flac
Size: 17021484 Hash: 527A40BA301DB0B2E695F3EB53642693 Accuracy: -m40
Conclusion: CDDA 76%
Signature: 0C0AFC28989E1882975EDA563B7EAFF112898E62
FILE: 10 Lute Suite No. 2 BWV 997 IV. Gigue.flac
Size: 12424290 Hash: 9CEBDC59FF1E7263AECD0480E27A20A1 Accuracy: -m40
Conclusion: CDDA 42%
Signature: 00C6765719B68C9924EA2F42AA3D6FFDF3FBA016
FILE: 11 Lute Suite No. 2 BWV 997 V. Double.flac
Size: 14637431 Hash: 14274F275E35EB044AAB2E96FF2AD245 Accuracy: -m40
Conclusion: CDDA 43%
Signature: 12129F975A2B37335B914AF227E3B60A1292C7BD
FILE: 12 Lute Suite No. 3 BWV 995 I. Prelude.flac
Size: 24611696 Hash: 123F9507467880440A8E836AA631C506 Accuracy: -m40
Conclusion: CDDA 100%
Signature: CE43E7ADA54616F11300A5E05C8C21317F18F276
FILE: 13 Lute Suite No. 3 BWV 995 II. Allemande.flac
Size: 18093279 Hash: DC609AA0F04BB00C6C24116E7DE22518 Accuracy: -m40
Conclusion: CDDA 87%
Signature: E569480587BC31DD8A36FB9AD262A19171130BAC
FILE: 14 Lute Suite No. 3 BWV 995 III. Courante.flac
Size: 10228261 Hash: 545F6E805BB8CCC3BA15FDA557257DC0 Accuracy: -m40
Conclusion: MPEG 89%
Signature: 536DBAB23BB673B1D0DF0A3A131CAAFBD98E8F81
FILE: 15 Lute Suite No. 3 BWV 995 IV. Sarabande.flac
Size: 12390367 Hash: 0AE452EEFEC1A1D58D965743B7C96886 Accuracy: -m40
Conclusion: CDDA 100%
Signature: AA31A78BF5061DE1433F451FFE6B88EE0E3E6CF3
FILE: 16 Lute Suite No. 3 BWV 995 V. Gavotte I & II.flac
Size: 19615851 Hash: 14A3EA230CF9CF27E90E61A785C988B7 Accuracy: -m40
Conclusion: ???
Signature: 5DEB843765088437A40F74ECFD54E4989A4F497E
FILE: 17 Lute Suite No. 3 BWV 995 VI. Gigue.flac
Size: 11106584 Hash: 5871CEC55A35437799D1319476A0B54F Accuracy: -m40
Conclusion: CDDA 42%
Signature: DB9C3B390F81C8F2D4500DE94F2548E633015078
FILE: 18 Lute Suite No. 4 BWV 1006a I. Prelude.flac
Size: 18635992 Hash: E9CA30C24BC04066DBFB6D91CB774830 Accuracy: -m40
Conclusion: CDDA 94%
Signature: D16EC6B1BE1EDE08FC0F857A02BA005B524029EF
FILE: 19 Lute Suite No. 4 BWV 1006a II. Loure.flac
Size: 14528313 Hash: 4D5CDD044E9C7C16635A9530FC6D7117 Accuracy: -m40
Conclusion: CDDA 58%
Signature: 894437F7A6416D5735970C56D4F29F1282E6AC33
FILE: 20 Lute Suite No. 4 BWV 1006a III. Gavotte En Rondeau.flac
Size: 14408433 Hash: D889A80ACB0BA6311EA370AFF174382E Accuracy: -m40
Conclusion: CDDA 92%
Signature: F6F74BF125307D3C3820ADDD0461384C249833DA
FILE: 21 Lute Suite No. 4 BWV 1006a IV. Menuetts I & II.flac
Size: 17021431 Hash: 0F0B7F1657B686445C59FA4AF41C7770 Accuracy: -m40
Conclusion: CDDA 85%
Signature: F70A8E0F8B66A11E40808EF707B2B6ECBE489D3A
FILE: 22 Lute Suite No. 4 BWV 1006a V. Bourree.flac
Size: 8302237 Hash: 183664BFDC0ED7F56F527DA679ADA009 Accuracy: -m40
Conclusion: CDDA 100%
Signature: A89B07B187095DF00370507179F1668CE5F471FE
FILE: 23 Lute Suite No. 4 BWV 1006a VI. Gigue.flac
Size: 10295569 Hash: 0802D4A82DBA8482BD048D781CE078B6 Accuracy: -m40
Conclusion: CDDA 100%
Signature: B8250CC84E25A996AA36B7B2FD806D0D59C8735E