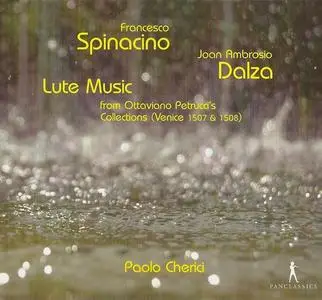 Paolo Cherici - Spinacino, Dalza: Lute Music (2012)
XLD | FLAC (tracks+.cue, log) | Covers Included | 01:12:45 | 397 MB
Genre: Classical | Label: Pan Classics | Catalog: 10256
Little is known of Francesco Spinacino and Joan Ambrosio Dalza, the authors of Ottaviano Petrucci's tablatures which appeared in 1507 and 1508 in Venice.
From an instrumental point of view, Petrucci's collections demonstrate complete mastery of the technical resources of the lute, presenting many virtuoso pieces. They each contain musical material that is different in concept and compositional style. Spinacino favours the vocal production of the Franco-flemish School: Josquin, Brumel, Ockeghem, Ghiselin…transcribing for lute both chansons and sacred motets. There are also 27 ricercare which are probably meant to be related to the vocal pieces and which could be used as preludes, interludes or postludes.
Dalza, on the other hand, addresses himself to the dance world, inserting mostly dances based in folk traditions. Laid out in rhythmically contrasting movements (pavana, saltarello and piva), such dances make up real suites.
Through the works of Spinacino and Dalza, all the different kinds of pieces in fashion at that time are represented in these two volumes which follow two radically different paths. The one illustrates the world of courtly music monopolised by northern European composers who were, however, employed at the Italian courts. The other gives voice to music with moods inspired by both courtly and folk traditions, intent on finding an opening within the Flemish tradition through which Italian music can once more come to the forefront.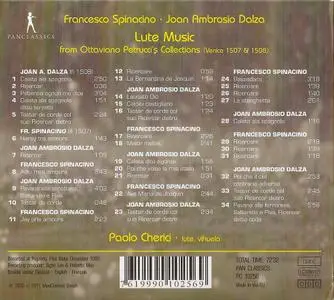 Track List:
1. Intavolatura di Liuto 1508, fol. 6r: Tastar de Corde by Joan Ambrosio Dalza
2. Saltarello by Joan Ambrosio Dalza
3. Ricercare for Lute by Joan Ambrosio Dalza
4. Pavana alla veneziana by Joan Ambrosio Dalza
5. Pavana alla ferrarese by Joan Ambrosio Dalza
6. Laudato Dio by Joan Ambrosio Dalza
7. Caldibi castigliano by Joan Ambrosio Dalza
8. Calata ala spagnola by Joan Ambrosio Dalza
9. Calata ala spagnola ditto terzetti by Joan Ambrosio Dalza
10. Calata dito zigonze by Joan Ambrosio Dalza
11. Poi che volse la mia stella by Joan Ambrosio Dalza
12. Ricercare for Lute by Francesco Spinacino
13. La Bernardina by Francesco Spinacino
14. Jay pris amours by Francesco Spinacino
15. Adieu mes amours by Francesco Spinacino
16. Haray tre amours by Francesco Spinacino
17. Malor me bat by Francesco Spinacino
18. Ave Maria de Josquin by Francesco Spinacino
19. Bassadans by Francesco Spinacino
20. La stanghetta by Francesco Spinacino
Performers:
Paolo Cherici (lute)
X Lossless Decoder version 20170729 (150.3)

XLD extraction logfile from 2018-10-02 04:44:01 -0400

Paolo Cherici / Spinacino; Dalza: Lute Music

Used drive : HL-DT-ST DVDRAM GP65NS60 (revision PF00)
Media type : Pressed CD

Ripper mode : XLD Secure Ripper
Disable audio cache : OK for the drive with a cache less than 1375KiB
Make use of C2 pointers : NO
Read offset correction : 48
Max retry count : 100
Gap status : Analyzed, Appended

TOC of the extracted CD
Track | Start | Length | Start sector | End sector
––––––––––––––––––––––––––––-
1 | 00:00:00 | 02:50:42 | 0 | 12791
2 | 02:50:42 | 00:37:53 | 12792 | 15619
3 | 03:28:20 | 03:01:30 | 15620 | 29224
4 | 06:29:50 | 01:55:40 | 29225 | 37889
5 | 08:25:15 | 02:24:67 | 37890 | 48756
6 | 10:50:07 | 01:45:18 | 48757 | 56649
7 | 12:35:25 | 01:10:67 | 56650 | 61966
8 | 13:46:17 | 02:50:15 | 61967 | 74731
9 | 16:36:32 | 04:05:18 | 74732 | 93124
10 | 20:41:50 | 00:49:22 | 93125 | 96821
11 | 21:30:72 | 02:26:53 | 96822 | 107824
12 | 23:57:50 | 01:00:00 | 107825 | 112324
13 | 24:57:50 | 01:16:32 | 112325 | 118056
14 | 26:14:07 | 01:25:40 | 118057 | 124471
15 | 27:39:47 | 01:25:58 | 124472 | 130904
16 | 29:05:30 | 01:29:02 | 130905 | 137581
17 | 30:34:32 | 02:28:15 | 137582 | 148696
18 | 33:02:47 | 02:40:10 | 148697 | 160706
19 | 35:42:57 | 01:59:55 | 160707 | 169686
20 | 37:42:37 | 01:54:10 | 169687 | 178246
21 | 39:36:47 | 00:30:73 | 178247 | 180569
22 | 40:07:45 | 02:48:25 | 180570 | 193194
23 | 42:55:70 | 02:34:72 | 193195 | 204816
24 | 45:30:67 | 03:21:50 | 204817 | 219941
25 | 48:52:42 | 01:44:20 | 219942 | 227761
26 | 50:36:62 | 01:39:60 | 227762 | 235246
27 | 52:16:47 | 02:01:05 | 235247 | 244326
28 | 54:17:52 | 01:18:40 | 244327 | 250216
29 | 55:36:17 | 02:20:23 | 250217 | 260739
30 | 57:56:40 | 01:38:02 | 260740 | 268091
31 | 59:34:42 | 01:19:33 | 268092 | 274049
32 | 60:54:00 | 02:57:42 | 274050 | 287366
33 | 63:51:42 | 02:49:63 | 287367 | 300104
34 | 66:41:30 | 06:05:70 | 300105 | 327549

AccurateRip Summary
Disc not found in AccurateRip DB.

All Tracks
Album gain : -2.95 dB
Peak : 0.925903
Statistics
Read error : 0
Jitter error (maybe fixed) : 0
Retry sector count : 0
Damaged sector count : 0

Track 01
Filename : /Volumes/Fonsett Village/Paolo Cherici folder/(2012) - Spinacino; Dalza: Lute Music [FLAC]/01 - Dalza: Intabolatura De Lauto, Book 4 - Calata Ala Spagnola.flac
Pre-gap length : 00:02:00

Track gain : -5.79 dB
Peak : 0.925385
CRC32 hash : B9E06AD1
CRC32 hash (skip zero) : A78D9E4E
AccurateRip v1 signature : DB48D93E
AccurateRip v2 signature : 51334343
->Track not present in AccurateRip database.
Statistics
Read error : 0
Jitter error (maybe fixed) : 0
Retry sector count : 0
Damaged sector count : 0

Track 02
Filename : /Volumes/Fonsett Village/Paolo Cherici folder/(2012) - Spinacino; Dalza: Lute Music [FLAC]/02 - Dalza: Intabolatura De Lauto, Book 4 - Ricercar.flac

Track gain : -2.18 dB
Peak : 0.660309
CRC32 hash : D4B3793F
CRC32 hash (skip zero) : 35C17C8F
AccurateRip v1 signature : E0B1D1F0
AccurateRip v2 signature : E7255710
->Track not present in AccurateRip database.
Statistics
Read error : 0
Jitter error (maybe fixed) : 0
Retry sector count : 0
Damaged sector count : 0

Track 03
Filename : /Volumes/Fonsett Village/Paolo Cherici folder/(2012) - Spinacino; Dalza: Lute Music [FLAC]/03 - Dalza: Intabolatura De Lauto, Book 4 - Patientia Ognun Me Dice.flac

Track gain : -1.96 dB
Peak : 0.782715
CRC32 hash : 8E9DAD89
CRC32 hash (skip zero) : 024059BC
AccurateRip v1 signature : BE64A965
AccurateRip v2 signature : 74D185F0
->Track not present in AccurateRip database.
Statistics
Read error : 0
Jitter error (maybe fixed) : 0
Retry sector count : 0
Damaged sector count : 0

Track 04
Filename : /Volumes/Fonsett Village/Paolo Cherici folder/(2012) - Spinacino; Dalza: Lute Music [FLAC]/04 - Dalza: Intabolatura De Lauto, Book 4 - Calata Ala Spagnola Ditto Terzetti.flac

Track gain : -5.31 dB
Peak : 0.925446
CRC32 hash : 91BF07D8
CRC32 hash (skip zero) : 9D5BA950
AccurateRip v1 signature : 15CEB702
AccurateRip v2 signature : 8633A879
->Track not present in AccurateRip database.
Statistics
Read error : 0
Jitter error (maybe fixed) : 0
Retry sector count : 0
Damaged sector count : 0

Track 05
Filename : /Volumes/Fonsett Village/Paolo Cherici folder/(2012) - Spinacino; Dalza: Lute Music [FLAC]/05 - Dalza: Intabolatura De Lauto, Book 4 - Tastar De Corde Col Suo Ricercar Dietro.flac

Track gain : -0.18 dB
Peak : 0.924500
CRC32 hash : 7AA6BC82
CRC32 hash (skip zero) : 36263E69
AccurateRip v1 signature : 81AC276B
AccurateRip v2 signature : 79CA61B9
->Track not present in AccurateRip database.
Statistics
Read error : 0
Jitter error (maybe fixed) : 0
Retry sector count : 0
Damaged sector count : 0

Track 06
Filename : /Volumes/Fonsett Village/Paolo Cherici folder/(2012) - Spinacino; Dalza: Lute Music [FLAC]/06 - Spinacino: Intabulatura De Lauto, Book 2 - Haray Tre Amours.flac

Track gain : 0.83 dB
Peak : 0.591339
CRC32 hash : CB1C1C03
CRC32 hash (skip zero) : 563487C9
AccurateRip v1 signature : 36E40D53
AccurateRip v2 signature : DDDAFCFA
->Track not present in AccurateRip database.
Statistics
Read error : 0
Jitter error (maybe fixed) : 0
Retry sector count : 0
Damaged sector count : 0

Track 07
Filename : /Volumes/Fonsett Village/Paolo Cherici folder/(2012) - Spinacino; Dalza: Lute Music [FLAC]/07 - Dalza: Intabolatura De Lauto, Book 4 - Ricercar.flac

Track gain : -3.53 dB
Peak : 0.840302
CRC32 hash : 77F951D9
CRC32 hash (skip zero) : C0C13E00
AccurateRip v1 signature : 85BFFDC8
AccurateRip v2 signature : CB68DCE4
->Track not present in AccurateRip database.
Statistics
Read error : 0
Jitter error (maybe fixed) : 0
Retry sector count : 0
Damaged sector count : 0

Track 08
Filename : /Volumes/Fonsett Village/Paolo Cherici folder/(2012) - Spinacino; Dalza: Lute Music [FLAC]/08 - Spinacino: Intabulatura De Lauto, Book 1 - Adiu Mes Amours.flac

Track gain : -0.37 dB
Peak : 0.665833
CRC32 hash : 7503ED30
CRC32 hash (skip zero) : CF0AEACD
AccurateRip v1 signature : 0E080093
AccurateRip v2 signature : 8D1EF9A2
->Track not present in AccurateRip database.
Statistics
Read error : 0
Jitter error (maybe fixed) : 0
Retry sector count : 0
Damaged sector count : 0

Track 09
Filename : /Volumes/Fonsett Village/Paolo Cherici folder/(2012) - Spinacino; Dalza: Lute Music [FLAC]/09 - Dalza: Intabolatura De Lauto, Book 4 - Pavana Alla Venetiana, Saltarello E Piva.flac

Track gain : -4.92 dB
Peak : 0.925903
CRC32 hash : 141F6363
CRC32 hash (skip zero) : 91BE1243
AccurateRip v1 signature : 321F46E1
AccurateRip v2 signature : B8D6C6D7
->Track not present in AccurateRip database.
Statistics
Read error : 0
Jitter error (maybe fixed) : 0
Retry sector count : 0
Damaged sector count : 0

Track 10
Filename : /Volumes/Fonsett Village/Paolo Cherici folder/(2012) - Spinacino; Dalza: Lute Music [FLAC]/10 - Dalza: Intabolatura De Lauto, Book 4 - Tastar De Corde.flac

Track gain : 6.08 dB
Peak : 0.404785
CRC32 hash : 3440C822
CRC32 hash (skip zero) : 15154274
AccurateRip v1 signature : 924F894C
AccurateRip v2 signature : 7FD48467
->Track not present in AccurateRip database.
Statistics
Read error : 0
Jitter error (maybe fixed) : 0
Retry sector count : 0
Damaged sector count : 0

Track 11
Filename : /Volumes/Fonsett Village/Paolo Cherici folder/(2012) - Spinacino; Dalza: Lute Music [FLAC]/11 - Spinacino: Intabulatura De Lauto, Book 1 - Jay Pris Amours.flac

Track gain : -0.39 dB
Peak : 0.766663
CRC32 hash : E9ECAC92
CRC32 hash (skip zero) : 8114E952
AccurateRip v1 signature : 0783AD70
AccurateRip v2 signature : A318A378
->Track not present in AccurateRip database.
Statistics
Read error : 0
Jitter error (maybe fixed) : 0
Retry sector count : 0
Damaged sector count : 0

Track 12
Filename : /Volumes/Fonsett Village/Paolo Cherici folder/(2012) - Spinacino; Dalza: Lute Music [FLAC]/12 - Spinacino: Intabulatura De Lauto, Book 1 - Ricercare.flac

Track gain : -3.35 dB
Peak : 0.924133
CRC32 hash : BDE60D30
CRC32 hash (skip zero) : F478B3C1
AccurateRip v1 signature : 62122BC9
AccurateRip v2 signature : A74FCAC9
->Track not present in AccurateRip database.
Statistics
Read error : 0
Jitter error (maybe fixed) : 0
Retry sector count : 0
Damaged sector count : 0

Track 13
Filename : /Volumes/Fonsett Village/Paolo Cherici folder/(2012) - Spinacino; Dalza: Lute Music [FLAC]/13 - Spinacino: Intabulatura De Lauto, Book 1 - La Bernardina De Josquin.flac

Track gain : -3.66 dB
Peak : 0.925385
CRC32 hash : 192B37DB
CRC32 hash (skip zero) : 9FC371D0
AccurateRip v1 signature : D24882E6
AccurateRip v2 signature : 2C1D6A16
->Track not present in AccurateRip database.
Statistics
Read error : 0
Jitter error (maybe fixed) : 0
Retry sector count : 0
Damaged sector count : 0

Track 14
Filename : /Volumes/Fonsett Village/Paolo Cherici folder/(2012) - Spinacino; Dalza: Lute Music [FLAC]/14 - Dalza: Intabolatura De Lauto, Book 4 - Laudato Dio.flac

Track gain : -0.47 dB
Peak : 0.712097
CRC32 hash : F84616FF
CRC32 hash (skip zero) : E5C3C44A
AccurateRip v1 signature : D613AFEC
AccurateRip v2 signature : E56D279D
->Track not present in AccurateRip database.
Statistics
Read error : 0
Jitter error (maybe fixed) : 0
Retry sector count : 0
Damaged sector count : 0

Track 15
Filename : /Volumes/Fonsett Village/Paolo Cherici folder/(2012) - Spinacino; Dalza: Lute Music [FLAC]/15 - Dalza: Intabolatura De Lauto, Book 4 - Caldibi Castigliano.flac

Track gain : -4.88 dB
Peak : 0.925171
CRC32 hash : 5CDFA404
CRC32 hash (skip zero) : A7A5CF4C
AccurateRip v1 signature : 577C3DEA
AccurateRip v2 signature : B499BDF1
->Track not present in AccurateRip database.
Statistics
Read error : 0
Jitter error (maybe fixed) : 0
Retry sector count : 0
Damaged sector count : 0

Track 16
Filename : /Volumes/Fonsett Village/Paolo Cherici folder/(2012) - Spinacino; Dalza: Lute Music [FLAC]/16 - Dalza: Intabolatura De Lauto, Book 4 - Tastar De Corde Col Suo Ricercar Dietro.flac

Track gain : -1.90 dB
Peak : 0.851715
CRC32 hash : C80ED1B5
CRC32 hash (skip zero) : 71A4A66C
AccurateRip v1 signature : B3C43F8B
AccurateRip v2 signature : 0920C8DB
->Track not present in AccurateRip database.
Statistics
Read error : 0
Jitter error (maybe fixed) : 0
Retry sector count : 0
Damaged sector count : 0

Track 17
Filename : /Volumes/Fonsett Village/Paolo Cherici folder/(2012) - Spinacino; Dalza: Lute Music [FLAC]/17 - Spinacino: Intabulatura De Lauto, Book 1 - Ricercare.flac

Track gain : -3.24 dB
Peak : 0.806549
CRC32 hash : 2424A232
CRC32 hash (skip zero) : 2F827876
AccurateRip v1 signature : 622221BB
AccurateRip v2 signature : C07E410B
->Track not present in AccurateRip database.
Statistics
Read error : 0
Jitter error (maybe fixed) : 0
Retry sector count : 0
Damaged sector count : 0

Track 18
Filename : /Volumes/Fonsett Village/Paolo Cherici folder/(2012) - Spinacino; Dalza: Lute Music [FLAC]/18 - Spinacino: Intabulatura De Lauto, Book 2 - Malor Mebat.flac

Track gain : 0.33 dB
Peak : 0.694763
CRC32 hash : C2529744
CRC32 hash (skip zero) : C7E2964C
AccurateRip v1 signature : 8815E729
AccurateRip v2 signature : F1227AB6
->Track not present in AccurateRip database.
Statistics
Read error : 0
Jitter error (maybe fixed) : 0
Retry sector count : 0
Damaged sector count : 0

Track 19
Filename : /Volumes/Fonsett Village/Paolo Cherici folder/(2012) - Spinacino; Dalza: Lute Music [FLAC]/19 - Dalza: Intabolatura De Lauto, Book 4 - Calata Dito Zigonze.flac

Track gain : -2.62 dB
Peak : 0.844482
CRC32 hash : 852F727F
CRC32 hash (skip zero) : B39D19A9
AccurateRip v1 signature : DC2F11A3
AccurateRip v2 signature : B520EF8E
->Track not present in AccurateRip database.
Statistics
Read error : 0
Jitter error (maybe fixed) : 0
Retry sector count : 0
Damaged sector count : 0

Track 20
Filename : /Volumes/Fonsett Village/Paolo Cherici folder/(2012) - Spinacino; Dalza: Lute Music [FLAC]/20 - Dalza: Intabolatura De Lauto, Book 4 - Poi Che Volse La Mia Stella.flac

Track gain : -0.65 dB
Peak : 0.720703
CRC32 hash : 973A30DC
CRC32 hash (skip zero) : E3CE5256
AccurateRip v1 signature : 5237A7AD
AccurateRip v2 signature : 61C0D97E
->Track not present in AccurateRip database.
Statistics
Read error : 0
Jitter error (maybe fixed) : 0
Retry sector count : 0
Damaged sector count : 0

Track 21
Filename : /Volumes/Fonsett Village/Paolo Cherici folder/(2012) - Spinacino; Dalza: Lute Music [FLAC]/21 - Dalza: Intabolatura De Lauto, Book 4 - Ricercar.flac

Track gain : -1.61 dB
Peak : 0.705170
CRC32 hash : 21C5F6E3
CRC32 hash (skip zero) : 3B946DC2
AccurateRip v1 signature : 6DFE570D
AccurateRip v2 signature : 7B089A7D
->Track not present in AccurateRip database.
Statistics
Read error : 0
Jitter error (maybe fixed) : 0
Retry sector count : 0
Damaged sector count : 0

Track 22
Filename : /Volumes/Fonsett Village/Paolo Cherici folder/(2012) - Spinacino; Dalza: Lute Music [FLAC]/22 - Spinacino: Intabulatura De Lauto, Book 1 - Ave Maria De Josquin.flac

Track gain : -0.46 dB
Peak : 0.675171
CRC32 hash : 43A55FCC
CRC32 hash (skip zero) : 012D251B
AccurateRip v1 signature : 0751F626
AccurateRip v2 signature : EA5CC645
->Track not present in AccurateRip database.
Statistics
Read error : 0
Jitter error (maybe fixed) : 0
Retry sector count : 0
Damaged sector count : 0

Track 23
Filename : /Volumes/Fonsett Village/Paolo Cherici folder/(2012) - Spinacino; Dalza: Lute Music [FLAC]/23 - Dalza: Intabolatura De Lauto, Book 4 - Tastar De Corde Col Suo Ricercar Dietro.flac

Track gain : -0.75 dB
Peak : 0.803375
CRC32 hash : 8CB712F7
CRC32 hash (skip zero) : E34ED532
AccurateRip v1 signature : 05326A7B
AccurateRip v2 signature : A892C240
->Track not present in AccurateRip database.
Statistics
Read error : 0
Jitter error (maybe fixed) : 0
Retry sector count : 0
Damaged sector count : 0

Track 24
Filename : /Volumes/Fonsett Village/Paolo Cherici folder/(2012) - Spinacino; Dalza: Lute Music [FLAC]/24 - Spinacino: Intabulatura De Lauto, Book 1 - Bassadans.flac

Track gain : -3.36 dB
Peak : 0.925446
CRC32 hash : 970C7B5D
CRC32 hash (skip zero) : CEEF7CEF
AccurateRip v1 signature : C0F2261D
AccurateRip v2 signature : 85681AC3
->Track not present in AccurateRip database.
Statistics
Read error : 0
Jitter error (maybe fixed) : 0
Retry sector count : 0
Damaged sector count : 0

Track 25
Filename : /Volumes/Fonsett Village/Paolo Cherici folder/(2012) - Spinacino; Dalza: Lute Music [FLAC]/25 - Spinacino: Intabulatura De Lauto, Book 1 - Ricercare.flac

Track gain : 0.82 dB
Peak : 0.655762
CRC32 hash : E18C88CB
CRC32 hash (skip zero) : D65B47B5
AccurateRip v1 signature : 2F198AA1
AccurateRip v2 signature : 9010C6E4
->Track not present in AccurateRip database.
Statistics
Read error : 0
Jitter error (maybe fixed) : 0
Retry sector count : 0
Damaged sector count : 0

Track 26
Filename : /Volumes/Fonsett Village/Paolo Cherici folder/(2012) - Spinacino; Dalza: Lute Music [FLAC]/26 - Spinacino: Intabulatura De Lauto, Book 1 - Ricercare.flac

Track gain : -3.24 dB
Peak : 0.924591
CRC32 hash : F32E47D0
CRC32 hash (skip zero) : 0BA5B04D
AccurateRip v1 signature : 472B0DDC
AccurateRip v2 signature : E6A33CEF
->Track not present in AccurateRip database.
Statistics
Read error : 0
Jitter error (maybe fixed) : 0
Retry sector count : 0
Damaged sector count : 0

Track 27
Filename : /Volumes/Fonsett Village/Paolo Cherici folder/(2012) - Spinacino; Dalza: Lute Music [FLAC]/27 - Spinacino: Intabulatura De Lauto, Book 2 - La Stanghetta.flac

Track gain : -2.37 dB
Peak : 0.924927
CRC32 hash : A7530C58
CRC32 hash (skip zero) : D03A01A7
AccurateRip v1 signature : 13C867A5
AccurateRip v2 signature : A409F531
->Track not present in AccurateRip database.
Statistics
Read error : 0
Jitter error (maybe fixed) : 0
Retry sector count : 0
Damaged sector count : 0

Track 28
Filename : /Volumes/Fonsett Village/Paolo Cherici folder/(2012) - Spinacino; Dalza: Lute Music [FLAC]/28 - Dalza: Intabolatura De Lauto, Book 4 - Calata Ala Spagnola.flac

Track gain : -2.74 dB
Peak : 0.902527
CRC32 hash : 702503D0
CRC32 hash (skip zero) : DD725E2D
AccurateRip v1 signature : 89216243
AccurateRip v2 signature : 6BF38DD7
->Track not present in AccurateRip database.
Statistics
Read error : 0
Jitter error (maybe fixed) : 0
Retry sector count : 0
Damaged sector count : 0

Track 29
Filename : /Volumes/Fonsett Village/Paolo Cherici folder/(2012) - Spinacino; Dalza: Lute Music [FLAC]/29 - Spinacino: Intabulatura De Lauto, Book 1 - Ricercare.flac

Track gain : -1.43 dB
Peak : 0.805023
CRC32 hash : DB5E8311
CRC32 hash (skip zero) : 40D8C97F
AccurateRip v1 signature : 0348F288
AccurateRip v2 signature : 5F7885C3
->Track not present in AccurateRip database.
Statistics
Read error : 0
Jitter error (maybe fixed) : 0
Retry sector count : 0
Damaged sector count : 0

Track 30
Filename : /Volumes/Fonsett Village/Paolo Cherici folder/(2012) - Spinacino; Dalza: Lute Music [FLAC]/30 - Spinacino: Intabulatura De Lauto, Book 1 - Ricercare.flac

Track gain : 2.18 dB
Peak : 0.603394
CRC32 hash : 882D6E57
CRC32 hash (skip zero) : 120A36FC
AccurateRip v1 signature : D4E961A0
AccurateRip v2 signature : 7081C8B3
->Track not present in AccurateRip database.
Statistics
Read error : 0
Jitter error (maybe fixed) : 0
Retry sector count : 0
Damaged sector count : 0

Track 31
Filename : /Volumes/Fonsett Village/Paolo Cherici folder/(2012) - Spinacino; Dalza: Lute Music [FLAC]/31 - Spinacino: Intabulatura De Lauto, Book 2 - Ricercare.flac

Track gain : -0.99 dB
Peak : 0.701874
CRC32 hash : E90A6D41
CRC32 hash (skip zero) : 9D131B6C
AccurateRip v1 signature : 39AAF1CC
AccurateRip v2 signature : 9BF3FD2E
->Track not present in AccurateRip database.
Statistics
Read error : 0
Jitter error (maybe fixed) : 0
Retry sector count : 0
Damaged sector count : 0

Track 32
Filename : /Volumes/Fonsett Village/Paolo Cherici folder/(2012) - Spinacino; Dalza: Lute Music [FLAC]/32 - Dalza: Intabolatura De Lauto, Book 4 - Poi Che Il Ciel Contrario Adverso.flac

Track gain : 0.69 dB
Peak : 0.655243
CRC32 hash : DCC9242F
CRC32 hash (skip zero) : FE5CF080
AccurateRip v1 signature : 98EB2728
AccurateRip v2 signature : C19077B3
->Track not present in AccurateRip database.
Statistics
Read error : 0
Jitter error (maybe fixed) : 0
Retry sector count : 0
Damaged sector count : 0

Track 33
Filename : /Volumes/Fonsett Village/Paolo Cherici folder/(2012) - Spinacino; Dalza: Lute Music [FLAC]/33 - Dalza: Intabolatura De Lauto, Book 4 - Tastar De Corde Col Suo Ricercar Dietro.flac

Track gain : -2.37 dB
Peak : 0.925140
CRC32 hash : E483EF40
CRC32 hash (skip zero) : 1991749C
AccurateRip v1 signature : B1EB492E
AccurateRip v2 signature : 78A9F0A5
->Track not present in AccurateRip database.
Statistics
Read error : 0
Jitter error (maybe fixed) : 0
Retry sector count : 0
Damaged sector count : 0

Track 34
Filename : /Volumes/Fonsett Village/Paolo Cherici folder/(2012) - Spinacino; Dalza: Lute Music [FLAC]/34 - Dalza: Intabolatura De Lauto, Book 4 - Pavana Alla Ferrarese, Saltarello E Piva, Ricercar Detto Coda.flac

Track gain : -5.88 dB
Peak : 0.925568
CRC32 hash : EF551B0F
CRC32 hash (skip zero) : D801D60F
AccurateRip v1 signature : 6B3A303C
AccurateRip v2 signature : 3A8EBBEE
->Track not present in AccurateRip database.
Statistics
Read error : 0
Jitter error (maybe fixed) : 0
Retry sector count : 0
Damaged sector count : 0

No errors occurred

End of status report

––-BEGIN XLD SIGNATURE––-
wirYd4KifkgXFrQNm7qIBvdG6xOc8OIIottL25xC1JSKjKV1QS.93zk2m_lKZAj_5SnVsk8EQtQtfgr49j7NbRgAUuHTKv52vJ0cZuS
––-END XLD SIGNATURE––-