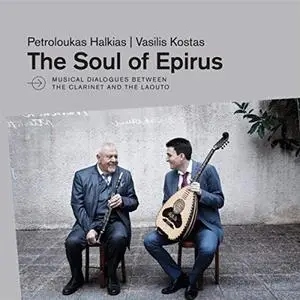 Petroloukas Halkias & Vasilis Kostas - The Soul of Epirus (2019)
WEB FLAC (Tracks) 216 MB | Cover | 38:01 | MP3 CBR 320 kbps | 87 MB
World, Folk, Instrumental | Label: Technotropon
One of the foremost representatives of Greek demotic (folk) music, Petroloukas Halkias is a living legend and master of the clarino (clarinet). At 85 years old, he is a keeper of the musical traditions of Epirus, a region in northwest Greece known for music with strong melodic lines, mournful lyrics, and slow rhythms. Vasilis Kostas, a groundbreaking performer on the laouto (a long-necked, fretted lute with four paired strings), represents the next generation brought up in this tradition. The two met four years ago, sparking a musical partnership that is redefining the typical relationship between clarinet and laouto.
The music of Epirus has an immense and rich repertoire, expressing feelings of joy and sorrow, paying tribute to people no longer alive or to those living in far-away lands, and celebrating life and nature. Its unique musical idioms vary significantly from the rest of Greece's musical traditions, featuring instrumental and vocal pieces based mostly on pentatonic sounds and slow tempos. Central to Epirotic tradition are panegyria—multiday, music-filled religious festivals in which communities mourn their losses and celebrate what remains. The typical instrumentation is clarinet, violin, laouto, defi (frame drum), and vocals. Traditionally, clarinet and violin are melody instruments, and the laouto serves as an accompanying instrument and is strummed. Both clarinet and violin allow performers to execute the characteristic melodic slides and tonal inflections, giving the music its distinctive ability to powerfully evoke human emotion.
Born in the village of Delvinaki in Pogoni, Epirus, Petroloukas Halkias comes from a long line of Epirotic musicians. He began learning music as a small child from such notable musicians as Philippos Rountas and Kitsos Harisiadis; the latter is credited with establishing today's playing style. Petroloukas's father, Periklis Halkias, was well-regarded in Greece and in the United States, where he immigrated to before World War II. He was later awarded a National Heritage Fellowship by the National Endowment for the Arts, our nation's highest honor for traditional artists. Petroloukas later followed in his father's footsteps, immigrating to the United States in 1960, where he lived for 20 years. He performed with many groups, spreading the musical heritage of Epirus—including a concert at the White House. On returning to Greece in the 1980s, he began recording albums that gained great success in his country and abroad.
Vasilis Kostas grew up in Epirus listening to his grandfather sing at home each night, and started learning the guitar in order to accompany him. A move to the United States to pursue jazz guitar at Berklee School of Music, however, led him back to the music of his homeland—playing the laouto in a presentation of Greek music, his passion for Epirotic music was reignited. He sought out laouto master Christos Zotos, who was among the first to change laouto technique and the instrument's place in the ensemble from that of accompanist to soloist. Vasilis continued this work, eventually delving into Halkias's recordings, learning how to adapt the complex melodic lines of the clarinet to the fretted laouto. A fateful performance with Petroloukas in November 2015 opened the door to direct collaborations between the two, creating their own legacy of Epirotic repertoire to pass on to future generations. "As musicians, we know that learning music is a lifelong journey that never ends," Halkias reflects. "However, each new generation can add its own small gem to whatever the previous generation has created, just as my generation did."
Petroloukas and Vasilis are releasing their first album together, The Soul of Epirus, in the fall of 2019. In Richmond, they will be joined by Panagiotis Georgakopoulos (defi) and Beth Bahia Cohen (violin).
TRACKLIST
1. Petroloukas Halkias;Vasilis Kostas - Palio Zagorisio
2. Petroloukas Halkias;Vasilis Kostas - Grava
3. Petroloukas Halkias;Vasilis Kostas - Potamia
4. Petroloukas Halkias;Vasilis Kostas - Zagorisio
5. Petroloukas Halkias;Vasilis Kostas - Skaros
6. Petroloukas Halkias;Vasilis Kostas - Gkekas
7. Petroloukas Halkias;Vasilis Kostas - To Parapono Tou Laoutou
8. Petroloukas Halkias;Vasilis Kostas - Fysouni
9. Petroloukas Halkias;Vasilis Kostas - Mariola (Miroloi)
–––––––––––-
DON'T MODIFY THIS FILE
–––––––––––-
PERFORMER: auCDtect Task Manager, ver. 1.6.0 RC1 build 1.6.0.1
Copyright © 2008-2010 y-soft. All rights reserved
http://y-soft.org
ANALYZER: auCDtect: CD records authenticity detector, version 0.8.2
Copyright © 2004 Oleg Berngardt. All rights reserved.
Copyright © 2004 Alexander Djourik. All rights reserved.
FILE: 9 - Mariola (Miroloi).flac
Size: 58414715 Hash: 7661F57DD606CA815138825FBC8F1077 Accuracy: -m0
Conclusion: CDDA 100%
Signature: CD925B2F8D16EA14ACB47A289584F4359370E9A6
FILE: 8 - Fysouni.flac
Size: 30225236 Hash: E597EF99D6BF52113B1947DD7A821DAC Accuracy: -m0
Conclusion: CDDA 100%
Signature: F70D3C34C3C1FC4982617C5EFAC4160911F1AF95
FILE: 7 - To Parapono Tou Laoutou.flac
Size: 13634428 Hash: 089DA6E948FD8D7A2EEB0EE821673BAE Accuracy: -m0
Conclusion: CDDA 100%
Signature: 9A1458905CB5F6BA02B7A2023C18E917013BD043
FILE: 6 - Gkekas.flac
Size: 23530653 Hash: 8E0BC54263905A8F18702E97618C487A Accuracy: -m0
Conclusion: CDDA 100%
Signature: C575825FBEC6D7342E8C5B1834A08954A4D5982E
FILE: 5 - Skaros.flac
Size: 20124393 Hash: 1929CD452D9D6A0EF9DECDD9D088B90E Accuracy: -m0
Conclusion: CDDA 100%
Signature: 60B2E04B10D4067E59673B1A64BF0C898A0CF7EF
FILE: 4 - Zagorisio.flac
Size: 15519332 Hash: 9AFD3A2EA55CACC088BCB1955847E450 Accuracy: -m0
Conclusion: CDDA 100%
Signature: 2A7E36A828FA080963A7F8D5B15C3C31C1CEDDAE
FILE: 3 - Potamia.flac
Size: 14848936 Hash: 0D812580107CC6A70098014F0B3A15E3 Accuracy: -m0
Conclusion: CDDA 100%
Signature: 758E984C60CBC5826A678108EC6A31E30D5650CA
FILE: 2 - Grava.flac
Size: 27985978 Hash: 9BC47D9292E8A88B92F977EFFF1D3205 Accuracy: -m0
Conclusion: CDDA 100%
Signature: 152FD962CBAC481B9232B151E272462A0035EF0B
FILE: 1 - Palio Zagorisio.flac
Size: 22347474 Hash: 185A295475376F909C0C9B8D4B26F91B Accuracy: -m0
Conclusion: CDDA 94%
Signature: CBCF1969C92BEC5CAA9DCCD1746BB49A069B8710