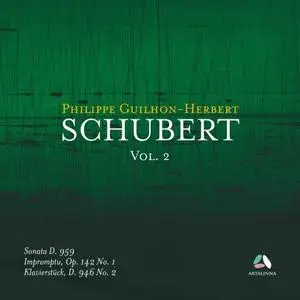 Philippe Guilhon-Herbert - Schubert, Vol. 2: Piano Sonata D. 959, Impromptu Op. 142 No. 1 & Klavierstück D. 956 No. 2 (2020)
FLAC tracks +booklet | 67:48 | 188 Mb
Genre: Classical / Label: ARTALINNA
Philippe Guilhon-Herbert, being especially attuned to the twilight elements in Schubert's music, was eager to press ahead with his exploration of the composer's later works, following a very well received recital in 2013, in which he brought together two very sombre and complex pieces, Sonatas D. 784 and D. 958. The cornerstone of this programme is the second of the last three sonatas (D. 959), to which he added three pieces from three other major Schubert collections, the Impromptus, the Klavierstücke and Moments musicaux. Once again Philippe Guilhon-Herbert masterfully immerses us in the heart of German romantic Sehnsucht, that unique, poignant state of mind, between yearning and melancholy.
Track List:
01. Schubert: 4 Impromptus, Op. 142, D. 935: No. 1 in F Minor (Allegro moderato) (10:35)
02. Schubert: Piano Sonata in A Major, D. 959: I. Allegro (14:33)
03. Schubert: Piano Sonata in A Major, D. 959: II. Andantino (Sections A, B) (4:54)
04. Schubert: Piano Sonata in A Major, D. 959: II. Andantino (Reprise Section A) (2:11)
05. Schubert: Piano Sonata in A Major, D. 959: III. Scherzo (Allegro vivace) - Trio (Un poco più lento) (4:58)
06. Schubert: Piano Sonata in A Major, D. 959: IV. Rondo (Allegretto) (10:50)
07. Schubert: 6 Moments musicaux, D. 780: No. 6 in A-Flat Major (Allegretto - Trio) (8:46)
08. Schubert: 3 Klavierstücke, D. 946: No. 2 in E-Flat Major (Allegretto) (11:07)
ANALYZER: auCDtect: CD records authenticity detector, version 0.8.2
Copyright © 2004 Oleg Berngardt. All rights reserved.
Copyright © 2004 Alexander Djourik. All rights reserved.


FILE: 01. Schubert 4 Impromptus, Op. 142, D. 935 No. 1 in F Minor (Allegro moderato).flac
Size: 30220006 Hash: 9F0F3B027A4DD822918C39E40FF68420 Accuracy: -m40
Conclusion: CDDA 43%
Signature: CDE9434011F84C1C8E45ECA787233DD9806D94D5
FILE: 02. Schubert Piano Sonata in A Major, D. 959 I. Allegro.flac
Size: 43979775 Hash: 56F4B450A7E7A71E6C18115CCDAC2C04 Accuracy: -m40
Conclusion: CDDA 87%
Signature: 1DEA53CCED6469544D385DA8E7A5DC8D70394B27
FILE: 03. Schubert Piano Sonata in A Major, D. 959 II. Andantino (Sections A, B).flac
Size: 13486285 Hash: 858A040F8822A29FA72A8E2783A62FDE Accuracy: -m40
Conclusion: CDDA 43%
Signature: 97522F4634F2960147C00EDA3E38426BB59590F6
FILE: 04. Schubert Piano Sonata in A Major, D. 959 II. Andantino (Reprise Section A).flac
Size: 4980946 Hash: A47FFCB2259901C4F2205082AE5E5057 Accuracy: -m40
Conclusion: CDDA 100%
Signature: 3E071A0740199432ACB76C2755A617B085BD048F
FILE: 05. Schubert Piano Sonata in A Major, D. 959 III. Scherzo (Allegro vivace) - Trio (Un poco più lento).flac
Size: 14339296 Hash: AA036F268EF58A2FC5965F377D6C32E8 Accuracy: -m40
Conclusion: CDDA 76%
Signature: F03116084C5CC56935984F6C0368AE65676135A9
FILE: 06. Schubert Piano Sonata in A Major, D. 959 IV. Rondo (Allegretto).flac
Size: 35258308 Hash: 4F8D044745C2F6FA8F1312FFCCD6DD6D Accuracy: -m40
Conclusion: CDDA 92%
Signature: 0D8D7F313B3F49F233F5A1CF04DB75DC697B437D
FILE: 07. Schubert 6 Moments musicaux, D. 780 No. 6 in A-Flat Major (Allegretto - Trio).flac
Size: 21654582 Hash: 25D5B365B9919DBB6A5499D5BD7A1AD6 Accuracy: -m40
Conclusion: CDDA 62%
Signature: 33BBB1355ACE83A7D09B2790985746E2009BF7C0
FILE: 08. Schubert 3 Klavierstücke, D. 946 No. 2 in E-Flat Major (Allegretto).flac
Size: 32802211 Hash: 34E0E1CF481E909AB30311C89BA0D756 Accuracy: -m40
Conclusion: CDDA 62%
Signature: EF346DC67C13FBD263523D1EC506E29EE3A2BF55