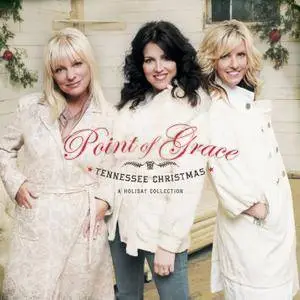 Point Of Grace - Tennessee Christmas; A Holiday Collection (2008)
MP3 CBR 320kbps | Tracks: 15 | 60:17 min | 138 Mb
Style: Pop | Label: Word Records
A long-running and top-selling CCM vocal group, Point of Grace were originally formed in the early '90s around Denise Jones, Heather Floyd, and Terry Lang. The women knew each other while growing up in Norman, Oklahoma, but only began singing together (as the Ouachitones) when they all attended Ouachita Baptist University in Arkadelphia. By 1991, the group had added Shelley Phillips to form Say So (later Point of Grace). The CCM quartet began touring, and a first-place finish in the group competition at the Christian Artists Seminar in Estes Park, Colorado caught the eye of the Word label, which signed the quartet, releasing a self-titled debut album in 1993.
Their 1995 follow-up, The Whole Truth, expanded the pop-R&B sound of their first album with rock and folk influences. A year later, Life, Love & Other Mysteries topped Christian charts and became a platinum best-seller. In 1998 Point of Grace returned with Steady On, which, as the title suggests, found them true to the course set out on previous releases. Christmas Story followed in 1999 with a mix of holiday chestnuts and original songs. Their next new album, Free to Fly, didn't appear until spring of 2001, but was preceded by the release of a rarities collection entitled Rarities & Remixes.
Point of Grace's next project was an ambitious one. They organized a series of concerts and conferences targeted at teenage girls, with ample time at each meeting for question-and-answer sessions. A companion CD to the conferences, Girls of Grace, was released in 2002, featuring a host of female Christian artists all interested in addressing the issues and pitfalls of growing up. The next year a double-CD retrospective, 24, was released with many of POG's hits and one new song. In 2004, a former member of Christian choir Truth, Leigh Cappillino, replaced Terry Lang Jones, and the quartet released I Choose You, followed a year later by Winter Wonderland. The country-infused How You Live was released in 2007, and in 2008 (Floyd) Payne left the group. Later that year, Tennessee Christmas: A Holiday Collection was issued.
Sticking with a more countrified sound, the remaining trio released No Changin' Us in 2010, followed by another Christmas album, Home for the Holidays, and the 2011 collection Turn Up the Music: The Hits of Points of Grace. Their typically uplifting and harmony-charged A Thousand Little Things arrived in 2012, and a covers album, Directions Home (Songs We Love, Songs You Know), which featured guest appearances by Vince Gill and Ricky Skaggs, followed in early 2015. In 2017, POG issued a double-album career retrospective, Our Recollections, to celebrate their 25th anniversary. ~ John Bush & Marcy Donelson.
Tracklist:
01. It's The Most Wonderful Time Of The Year
02. Jingle Bells
03. Winter Wonderland
04. Let It Snow, Let It Snow, Let It Snow/Sleigh Ride
05. Let There Be Light
06. Little Town
07. Santa Claus Is Comin' To Town
08. Jingle Bell Rock
09. Emmanuel God Is With Us/O Come, O Come, Emmanuel
10. Angels We Have Heard On High
11. For Unto Us
12. O Holy Night!
13. Joy To The World
14. Breath Of Heaven (Mary's Song)
15. Tennessee Christmas