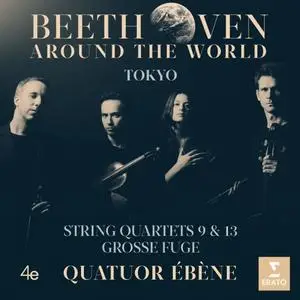 Quatuor Ébène - Beethoven Around the World: Tokyo, String Quartets Nos 9, 13 & Grosse fuge (2020)
FLAC tracks | 01:22:20 | 418 Mb
Genre: Classical / Label: Warner Classics
Beethoven's 16 string quartets occupy a place of honour in the chamber repertoire and, like his nine symphonies and 32 piano sonatas, trace his progression through his creative life. 2020 marks the 250th anniversary of the composer's birth, and Quatuor Ébène is recognising this with an extensive tour, entitled Beethoven Around the World, which runs from Spring 2019 to December 2020. Over that period the French ensemble will give over 120 concerts in a total of 21 countries on six continents, focusing on complete cycles of the quartets from February 2020. Beethoven Around the World encompasses live recordings for Erato, building a complete cycle, made in seven of the world's great cities: Vienna (at the Konzerthaus); Philadelphia (Kimmel Center); Tokyo (Suntory Hall); São Paulo (Sala São Paulo); Melbourne (Melbourne Recital Centre); Nairobi, and, with the support of UNESCO, Paris (Philharmonie de Paris).
Track List:
1. Beethoven: String Quartet No. 9 in C Major, Op. 59 No. 3, "Razumovsky": I. Introduzione (Andante con moto - Allegro vivace) (11:15)
2. Beethoven: String Quartet No. 9 in C Major, Op. 59 No. 3, "Razumovsky": II. Andante con moto quasi allegretto (9:26)
3. Beethoven: String Quartet No. 9 in C Major, Op. 59 No. 3, "Razumovsky": III. Minuet. Grazioso - Trio (5:16)
4. Beethoven: String Quartet No. 9 in C Major, Op. 59 No. 3, "Razumovsky": IV. Allegro molto (5:49)
5. Beethoven: String Quartet No. 13 in B-Flat Major, Op. 130: I. Adagio ma non troppo - Allegro (13:33)
6. Beethoven: String Quartet No. 13 in B-Flat Major, Op. 130: II. Presto (1:53)
7. Beethoven: String Quartet No. 13 in B-Flat Major, Op. 130: III. Andante con moto, ma non troppo. Poco scherzando (7:02)
8. Beethoven: String Quartet No. 13 in B-Flat Major, Op. 130: IV. Alla danza tedesca (Allegro assai) (3:12)
9. Beethoven: String Quartet No. 13 in B-Flat Major, Op. 130: V. Cavatina (Adagio molto espressivo) (8:37)
10. Beethoven: Grosse fuge in B-Flat Major, Op. 133 (16:21)
ANALYZER: auCDtect: CD records authenticity detector, version 0.8.2
Copyright © 2004 Oleg Berngardt. All rights reserved.
Copyright © 2004 Alexander Djourik. All rights reserved.


FILE: 01 - String Quartet No. 9 in C Major, Op. 59 No. 3, -Razumovsky.flac
Size: 58255573 Hash: E3D2EA8DC814E663695FBCBB5E56619E Accuracy: -m40
Conclusion: CDDA 99%
Signature: 7EF15D4AE9CBC494C562D7B686D7B7279066BF55
FILE: 02 - String Quartet No. 9 in C Major, Op. 59 No. 3, -Razumovsky– II. Andante con moto quasi allegretto.flac
Size: 45150838 Hash: DBADAA139FD2D6B444821DEEB1CB964A Accuracy: -m40
Conclusion: CDDA 100%
Signature: 492ED48AB1F99DD6327CE102B3E124DEF664A190
FILE: 03 - String Quartet No. 9 in C Major, Op. 59 No. 3, -Razumovsky– III. Minuet. Grazioso - Trio.flac
Size: 27398651 Hash: 8FB1E43865A15377619D5673795352B7 Accuracy: -m40
Conclusion: CDDA 100%
Signature: D1E1DCFFCC5918B0DEDE031210B4A733EFD7B96F
FILE: 04 - String Quartet No. 9 in C Major, Op. 59 No. 3, -Razumovsky– IV. Allegro molto.flac
Size: 34263713 Hash: C9681B2AB4E23D27073CA2EA1E383718 Accuracy: -m40
Conclusion: CDDA 99%
Signature: BE2D412B88C1B95282C4EB7BF2EC02FF061340A9
FILE: 05 - String Quartet No. 13 in B-Flat Major, Op. 130- I. Adagio ma non troppo - Allegro.flac
Size: 69936752 Hash: 9C5DC153052BCC016124D6FE444B98E6 Accuracy: -m40
Conclusion: CDDA 99%
Signature: C061CC51882D8E5624B373CCBB54F6B8A41A5CC6
FILE: 06 - String Quartet No. 13 in B-Flat Major, Op. 130- II. Presto.flac
Size: 9706996 Hash: 2A64B3B2804386A86727B81D41857995 Accuracy: -m40
Conclusion: CDDA 100%
Signature: 3153F150D49520113941A3DD7A2E8806903F2E31
FILE: 07 - String Quartet No. 13 in B-Flat Major, Op. 130- III. Andante con moto, ma non troppo.flac
Size: 34165639 Hash: 1AD95797F08FAC0542D824014BFC536D Accuracy: -m40
Conclusion: CDDA 99%
Signature: AE1D74BDC3BA0A7693F1707D63BBCAFB1FED75A4
FILE: 08 - String Quartet No. 13 in B-Flat Major, Op. 130- IV. Alla danza tedesca (Allegro assai).flac
Size: 17158391 Hash: 8F15BF7884F6853C27D46DE2882BB57B Accuracy: -m40
Conclusion: CDDA 99%
Signature: 2CD9E4D63EB153619413770F37494370F9219E59
FILE: 09 - String Quartet No. 13 in B-Flat Major, Op. 130- V. Cavatina (Adagio molto espressivo).flac
Size: 39296496 Hash: B85E4C3B6F4E8628E7B4ED022AA43F33 Accuracy: -m40
Conclusion: CDDA 99%
Signature: EAD362BE15D68B541F50463BAB576A47B0EF87AC
FILE: 10 - Grosse fuge in B-Flat Major, Op. 133.flac
Size: 95973123 Hash: 9D40AA06FCEE9AE99FE90EF7BB87B3F3 Accuracy: -m40
Conclusion: CDDA 100%
Signature: 0BED17CD43BFB6B1D6FF1DBCA79BC34A0D226D95