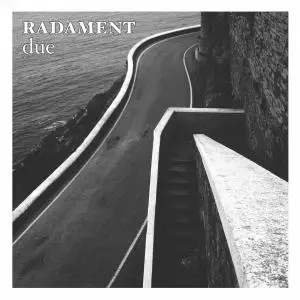 Radament - Due (2019)
WEB FLAC (tracks) - 281 MB | Tracks: 9 | 54:51 min
Style: Jazz | Label: Giant Pulse
Radament presents its second album "due" after the good reviews received by its homonymous first record in 2017.
Formed in Barcelona by the Galician pianist and composer Juanjo Fernández and the Italian drummer Giorgio Fausto Menossi, the duo keeps the original formula of its debut, with instinctive and raw arrangements, and it is capable to add a compositional maturity that gives more interest and depth.
Radament's jazz is still blended with classical and rock music, but the spectrum of influences is increasingly wider.
Tracklist:
01. Otro día
02. Beatus ille
03. Vuelve al mar
04. Danza involuntaria
05. Ensimismado
06. Dithiramba
07. Bla bla
08. Claroscuro
09. 7th St, Vancouver

FILE: 01. Otro día.flac
Size: 40619443 Hash: C5A48F9221FCF7220AAA10F228AE4D92 Accuracy: -m0
Conclusion: CDDA 100%
Signature: 4E1862246650B6A0C50B7192A38F64506C5018AB
FILE: 02. Beatus ille.flac
Size: 39851584 Hash: 178A6F7C8141D6A30A51BA8F99144253 Accuracy: -m0
Conclusion: CDDA 100%
Signature: 502F8BA018937BED8273FCEFD44BD3104DFAED78
FILE: 03. Vuelve al mar.flac
Size: 44799231 Hash: 684F50BF9683A2C9195B21C214CC33EF Accuracy: -m0
Conclusion: CDDA 100%
Signature: CF2A70A3EB75B64EA0866772397F0A7DE9B9F82B
FILE: 04. Danza involuntaria.flac
Size: 27643117 Hash: 6C818FFBA8BE8A13D3EABAA20F571FEB Accuracy: -m0
Conclusion: CDDA 100%
Signature: 0163542A05223D22714587BC3535909AB71626C2
FILE: 05. Ensimismado.flac
Size: 22373912 Hash: A3540C57CC34C24A41453FA29BB06988 Accuracy: -m0
Conclusion: CDDA 100%
Signature: 22EA882F7F6002581294C0BB466DD15F8A394AA9
FILE: 06. Dithiramba.flac
Size: 26222936 Hash: D99366F00EDEB6353DC729ECC426FD73 Accuracy: -m0
Conclusion: CDDA 100%
Signature: 10CE2F30FD8AD3A4A096C9ED158BCA802B21A9A1
FILE: 07. Bla bla.flac
Size: 26330469 Hash: E5CCD833909477C3651ABD8296889DD6 Accuracy: -m0
Conclusion: CDDA 99%
Signature: 5FC58DF7A3812C2DABEB1F98E3A5A690E3FD6224
FILE: 08. Claroscuro.flac
Size: 27738119 Hash: 6C285854309E353DF30A42E17C7B42F5 Accuracy: -m0
Conclusion: CDDA 100%
Signature: C07A55BD0EC899FF55FC09AD4DC661E3916F1993
FILE: 09. 7th St, Vancouver.flac
Size: 39514905 Hash: 93544C7F71CFB10CCB4CBAB48C78BBE2 Accuracy: -m0
Conclusion: CDDA 100%
Signature: C46FECEC7D381FDCBFBF0CE52486E6ED28DE3281