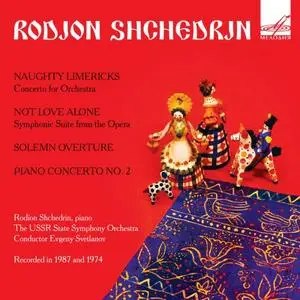 Rodion Shchedrin, Evgeny Svetlanov & USSR State Symphony Orchestra - Shchedrin Symphonic Works (2019)
FLAC tracks | 01:06:56 | 316 Mb
Genre: Classical / Label: Melodiya
Shchedrin's early music is tonal, colourfully orchestrated and often includes snatches of folk music, while some later pieces use aleatoric and serial techniques. In the west the music of Shchedrin has won popularity mainly through the work of Mstislav Rostropovich who has made several successful recordings. Among his works are the ballets The Little Hump-backed Horse (1955), Carmen Suite (1967), an arrangement by Tony Vernon, Anna Karenina (1971, on the novel by Leo Tolstoy), and Lady with a Lapdog (1985); the operas Not Only Love (1961), and Dead Souls (1976, after Nikolai Gogol's novel); piano concertos, symphonies, chamber and piano music and other works. He composed 24 Preludes and Fugues after he heard those of Shostakovich.
Track List:
01. Nautghly Limericks
02. Not Love Alone : I. Introduction
03. Not Love Alone: II. Rain
04. Not Love Alone: III. Quadrille
05. Not Love Alone: IV. Night Meeting
06. Not Love Alone: V. Finale
07. Solemn Overture
08. Piano Concerto No. 2: I. Dialogues (Live)
09. Piano Concerto No. 2: II. Improvisations (Live)
10. Piano Concerto No. 2: III. Contrasts (Live)
ANALYZER: auCDtect: CD records authenticity detector, version 0.8.2
Copyright © 2004 Oleg Berngardt. All rights reserved.
Copyright © 2004 Alexander Djourik. All rights reserved.


FILE: 01. Nautghly Limericks.flac
Size: 45571213 Hash: C014E230C64EF90EBE6B2489E097337A Accuracy: -m40
Conclusion: CDDA 100%
Signature: 8234E8D5D9C1FA207149FAAA7B7CBEA0323AC5B1
FILE: 02. Not Love Alone I. Introduction.flac
Size: 15075028 Hash: 7862319B8970760FC0391B3E61C1F2ED Accuracy: -m40
Conclusion: CDDA 100%
Signature: 98D54E57D3E89BE5AB866A4DC2C4F28580E3941B
FILE: 03. Not Love Alone II. Rain.flac
Size: 19053277 Hash: D76FF4898978A29FAFB39571B484C0AE Accuracy: -m40
Conclusion: CDDA 100%
Signature: F37ED3F6B7C17C583510660785F31051E89BFFD6
FILE: 04. Not Love Alone III. Quadrille.flac
Size: 34131596 Hash: 7B7D191FDD589DDDB9F57665D647BAC9 Accuracy: -m40
Conclusion: CDDA 100%
Signature: 0E5943B363E41FF6955AA192E59F78D1972FBC89
FILE: 05. Not Love Alone IV. Night Meeting.flac
Size: 42004048 Hash: 7C0462C4861A40986944F02A89D0EF79 Accuracy: -m40
Conclusion: CDDA 100%
Signature: B679AB568E5A62EC9A07F77A848CE35D8A6A92F1
FILE: 06. Not Love Alone V. Finale.flac
Size: 25828547 Hash: 6C7CF0511603AD1F5D7043A8C4FBCAEF Accuracy: -m40
Conclusion: CDDA 100%
Signature: 63DB746807416098F5152994038707DFA9015C3E
FILE: 07. Solemn Overture.flac
Size: 31789671 Hash: 2D74D7E051849B07FBDB226CD80508F1 Accuracy: -m40
Conclusion: CDDA 100%
Signature: 1F657BA527AF9DC7BA4650AD4B5EFEE9380D052C
FILE: 08. Piano Concerto No. 2 I. Dialogues (Live).flac
Size: 49917319 Hash: F8738DAFF8823D05D4BC782C6F515552 Accuracy: -m40
Conclusion: CDDA 100%
Signature: C1898CADB8071C3D1E93977678B3A34157C2AC36
FILE: 09. Piano Concerto No. 2 II. Improvisations (Live).flac
Size: 25170454 Hash: 55F247E62EB0E3D99A04CDD4C2FCB194 Accuracy: -m40
Conclusion: CDDA 100%
Signature: 661982184CB0663BC50C8731DE126B70E0F605C1
FILE: 10. Piano Concerto No. 2 III. Contrasts (Live).flac
Size: 43210744 Hash: 604A2C46C40B66E634F4E1916773CD30 Accuracy: -m40
Conclusion: CDDA 100%
Signature: D4F96A27F207972A1B53F93099F69AFD815AA6A9