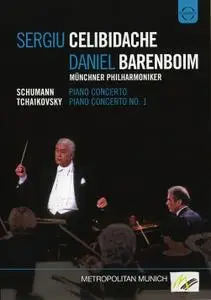 Daniel Barenboim, Sergiu Celibidache, Münchner Philharmoniker - Schumann: Piano Concerto; Tchaikovsky: Piano Concerto No.1 (2011/1991)
NTSC 4:3 (720x480) | (LinearPCM, 2 ch) | 4.53 Gb (DVD9) | 81 min
Classical | EuroArts
Today Daniel Barenboim is internationally recognized and revered as an orchestral and operatic conductor, pianist, and a musical ambassador and also as a humanitarian. Partnering him is the remarkable conductor Sergiu Celibidache. "He was one of the greatest musicians I ever encountered", says Barenboim. Sergiu Celibidache has been called a musical giant, a magician, a brilliant lion-tamer and an enfant terrible of classical music. He was a legend in his own lifetime, mesmerizing orchestras audiences and critics with his intensity and brilliance.
Tchaikovsky's Piano Concerto No.1 is one of the most popular of his compositions and among the best known of all piano concerti. The Schumann concerto is no less influential with its influence heard in Grieg's Piano Concerto. Both works show Barenboim at his consummate best.
Cast:
Daniel Barenboim, piano
Münchner Philharmoniker
Sergiu Celibidache, conductor
Track List:
01. Opening
Robert Schumann (1810-1856)
Piano Concerto in A minor, Op. 54
02. I. Allegro affettuoso
03. II. Intermezzo: Andantino grazioso
04. III. Allegro vivace
05. Credits
Pyotr Il'yich Tchaikovsky (1840-1893)
Piano Concerto No. 1 in B flat minor, Op. 23
07. I. Allegro non troppo e molto maestoso
08. II. Andantino semplice - Prestissimo
09. III. Allegro con fuoco
10. Credits