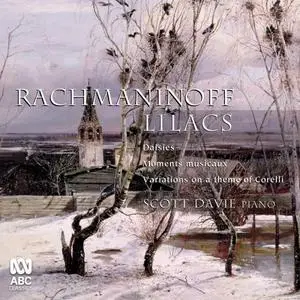 Scott Davie - Rachmaninoff Lilacs (2019)
FLAC (tracks) | 01:01:00 | 185 Mb
Genre: Classical / Label: Australian Broadcasting Corp (ABC)
Scott Davie presents a program of enchanting works for piano by Rachmaninoff - one of the world's favourite composers of works for piano. Sometimes playful, sometimes profound, his music always captures the imagination. Recorded on the Overs Piano, a very expressive new Australian instrument designed for greater responsiveness to the pianist, allowing more smooth and rapid playing.
Track List:
01. Rachmaninoff: Daisies, Op. 38 No. 3
02. Rachmaninoff: Lilacs, Op. 21 No. 5
03. Rachmaninoff: Variations on a Theme of Corelli, Op. 42
04. Rachmaninov: 6 Moments Musicaux, Op.16-No. 1 in B-Flat Minor, Andantino
05. Rachmaninov: 6 Moments Musicaux, Op.16-No. 2 in E-Flat Minor, Allegretto
06. Rachmaninov: 6 Moments Musicaux, Op.16-No. 3 in B Minor, Andante cantabile
07. Rachmaninov: 6 Moments Musicaux, Op.16-No. 4 in E Minor, Presto
08. Rachmaninov: 6 Moments Musicaux, Op.16-No. 5 in D-Flat Major, Adagio sostenuto
09. Rachmaninov: 6 Moments Musicaux, Op.16-No. 6 in C Major, Maestoso
10. Mussorgsky: Sorochintsy Fai-Hopak (Transcr. by Sergei Rachmaninoff)
11. Tchaikovsky: Lullaby, Op. 16 No. 1
12. Rimsky-Korsakov: The Tale Of Tsar Saltan-The Flight of the Bumble-Bee (Arr. by Sergei Rachmaninov)
ANALYZER: auCDtect: CD records authenticity detector, version 0.8.2
Copyright © 2004 Oleg Berngardt. All rights reserved.
Copyright © 2004 Alexander Djourik. All rights reserved.


FILE: 01. Daisies, Op. 38 No. 3.flac
Size: 7560988 Hash: B5BFB9C253774C5AC2057A1C0031A07E Accuracy: -m40
Conclusion: CDDA 100%
Signature: 2EC4A8D003AE1617627CF79D61D9E8200B5499BC
FILE: 02. Lilacs, Op. 21 No. 5.flac
Size: 8283902 Hash: 7C9F1A35F33A644596B25ED91250C667 Accuracy: -m40
Conclusion: CDDA 100%
Signature: 20CB02305FB21680F7EE9023617D3747C17F3249
FILE: 03. Variations on a Theme of Corelli, Op. 42.flac
Size: 60036748 Hash: 2B83DADBEBC965BB14C183CDFEF6EE84 Accuracy: -m40
Conclusion: CDDA 100%
Signature: D4056D49E8EAE0EAE11A9FC9DCC0FF1CAF5DC51F
FILE: 04. 6 Moments Musicaux, Op.16 No. 1 in B-Flat Minor, Andantino.flac
Size: 23307724 Hash: A029B691F5DDEE1D3F28646A4E829DA5 Accuracy: -m40
Conclusion: CDDA 100%
Signature: 2178648E61BDA76D7B32FE973BCA9B4D590B9788
FILE: 05. 6 Moments Musicaux, Op.16 No. 2 in E-Flat Minor, Allegretto.flac
Size: 11124582 Hash: C9CD5984411326048D02DC7B45C10851 Accuracy: -m40
Conclusion: CDDA 99%
Signature: 1EB2FD55F39315A33E36C82DB61045905FF01388
FILE: 06. 6 Moments Musicaux, Op.16 No. 3 in B Minor, Andante cantabile.flac
Size: 14318752 Hash: FA3F1DCEB3D521B60EECFD6A205230C3 Accuracy: -m40
Conclusion: CDDA 100%
Signature: EEC5236A9E06E6002FF49B8B462EC6A28ABD913C
FILE: 07. 6 Moments Musicaux, Op.16 No. 4 in E Minor, Presto.flac
Size: 12248381 Hash: C478D9BCA6FB3587DE75E89736D2E3C5 Accuracy: -m40
Conclusion: MPEG 100%
Signature: 7229D397E3488732501A5ACEFE4E10EFC424CCF6
FILE: 08. 6 Moments Musicaux, Op.16 No. 5 in D-Flat Major, Adagio sostenuto.flac
Size: 12647327 Hash: A7FDF08A85E630B7CB5690022A4DC8DF Accuracy: -m40
Conclusion: CDDA 100%
Signature: 4803B7C73E93D75150314010821233DEE519982D
FILE: 09. 6 Moments Musicaux, Op.16 No. 6 in C Major, Maestoso.flac
Size: 19804956 Hash: 1583FC502F7BC5A45544377BBCE9A7E1 Accuracy: -m40
Conclusion: MPEG 89%
Signature: C4254E5C460F20BD82BBBBC2E7FFF59BE59BFC0D
FILE: 10. Sorochintsy Fai Hopak (Transcr. by Sergei Rachmaninoff).flac
Size: 6558360 Hash: 18438E5493127E70A7CCFF1650C2E965 Accuracy: -m40
Conclusion: CDDA 100%
Signature: 81DC351FB15EF5F35DBB60A79F042C3CFD02B0D5
FILE: 11. Lullaby, Op. 16 No. 1.flac
Size: 13718227 Hash: A65D943774305A19311B4404E8502598 Accuracy: -m40
Conclusion: CDDA 99%
Signature: 58AB2AE4E6AE25C53B69D34C9463DC297ED18016
FILE: 12. The Tale Of Tsar Saltan The Flight of the Bumble-Bee (Arr. by Sergei Rachmaninov).flac
Size: 4435516 Hash: 79A7442B79761C8C48AAB5C94C592AF1 Accuracy: -m40
Conclusion: CDDA 42%
Signature: 88DFCADDE3C3EDFC197C3D0961F2C5A614540DDA