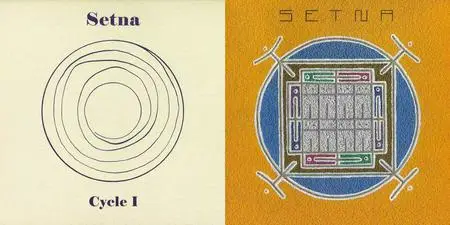 Setna - Discography [2 Studio Albums] (2007-2013)
EAC Rip | FLAC (image+.cue+log) - 687 MB | MP3 CBR 320 kbps (LAME 3.93) - 273 MB | Covers - 170 MB
Genre: Progressive Rock, Zeuhl | RAR 3% Rec. | Label: Soleil Zeuhl
Cycle I (2007). This French band incorporate two Fender Rhodes players, a female vocalist, drums, bass and sax. James MacGaw from One Shot and Magma guests on guitar here as well. By the way Udi Koomran mastered this beauty. To the casual prog fan this venture by French band Setna just might be the best way of approaching the Zeuhl brand. The mad and overtly gibberish laden characteristics that often sound like showering opera singers and piano playing walruses here are exchanged for something softer and far sweeter.
Guerison (2013). Coming almost 6 years after their highly regarded debut, Setna's follow-up marks a shift in the band line-up, most notably the replacement of the distinctive female vocalist Natascha Jouet with charismatic male Yannick Duschene, but still highlights the musicians forging ahead with their own interpretation of the Zeuhl genre, with heavy inclusions of Canterbury sound jazz, fusion, avant- garde and experimental electronic elements. This makes Setna much lighter in tone for a Zeuhl band in some respects, but never any less dramatic or complex. Although indexed into 17 tracks on the CD, it's really three extended pieces and two bonus tracks, but all coming together to form a continious, sweeping and near-orchestral grandiose work.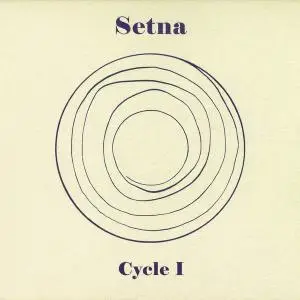 Setna - Cycle I (2007)
EAC Rip | FLAC (image+.cue+log) - 340 MB | MP3 CBR 320 kbps (LAME 3.93) - 139 MB | Covers - 33 MB
Genre: Progressive Rock, Zeuhl | RAR 3% Rec. | Label: Soleil Zeuhl (SZ17)
Tracklist:
01. Ombres
02. Tristesse
03. Intuition
04. Voir
05. Ouverture
06. Conscience
07. Connaître
08. Être
09. Unité
Total time:
58:57
Exact Audio Copy V1.0 beta 3 from 29. August 2011

Отчёт EAC об извлечении, выполненном 9. апреля 2013, 16:33

SETNA / Cycle I

Дисковод: TSSTcorpCD/DVDW SH-S183A Adapter: 4 ID: 1

Режим чтения : Достоверность
Использование точного потока : Да
Отключение кэша аудио : Да
Использование указателей C2 : Нет

Коррекция смещения при чтении : 6
Способность читать области Lead-in и Lead-out : Нет
Заполнение пропущенных сэмплов тишиной : Да
Удаление блоков с тишиной в начале и конце : Нет
При вычислениях CRC использовались нулевые сэмплы : Да
Интерфейс : Встроенный Win32-интерфейс для Win NT/2000

Выходной формат : Внутренние WAV-операции
Формат сэмплов : 44.100 Гц; 16 бит; стерео


TOC извлечённого CD

Трек | Старт | Длительность | Начальный сектор | Конечный сектор
––––––––––––––––––––––––––––––––––-
1 | 0:00.00 | 2:44.03 | 0 | 12302
2 | 2:44.03 | 4:35.52 | 12303 | 32979
3 | 7:19.55 | 13:07.04 | 32980 | 92008
4 | 20:26.59 | 6:34.12 | 92009 | 121570
5 | 27:00.71 | 1:22.02 | 121571 | 127722
6 | 28:22.73 | 5:05.46 | 127723 | 150643
7 | 33:28.44 | 8:12.41 | 150644 | 187584
8 | 41:41.10 | 6:20.36 | 187585 | 216120
9 | 48:01.46 | 10:55.05 | 216121 | 265250


Характеристики диапазона извлечения и сообщения об ошибках

Выбранный диапазон

Имя файла D:\TEMP\SETNA - 2007 - Cycle I [Soleil Zeuhl SZ17].wav

Пиковый уровень 97.7 %
Скорость извлечения 5.2 X
Качество диапазона 100.0 %
CRC теста 7176C44A
CRC копии 7176C44A
Копирование… OK

Ошибок не произошло


AccurateRip: сводка

Трек 1 : извлечено точно (доверие 4) [567C68A5] (AR v1)
Трек 2 : извлечено точно (доверие 4) [57241F2F] (AR v1)
Трек 3 : извлечено точно (доверие 4) [5DCAB1D7] (AR v1)
Трек 4 : извлечено точно (доверие 4) [DD7F940E] (AR v1)
Трек 5 : извлечено точно (доверие 4) [AD6B25AC] (AR v1)
Трек 6 : извлечено точно (доверие 4) [A9FDCBFF] (AR v1)
Трек 7 : извлечено точно (доверие 4) [87B64C3F] (AR v1)
Трек 8 : извлечено точно (доверие 4) [390DE18F] (AR v1)
Трек 9 : извлечено точно (доверие 4) [34528C52] (AR v1)

Все треки извлечены точно

Конец отчёта
[CUETools log; Date: 27.11.2021 16:47:28; Version: 2.1.4]
[CTDB TOCID: sSOWCfbfWOpYWgcXbKqTZDBUJCQ-] found.
Track | CTDB Status
1 | (11/11) Accurately ripped
2 | (11/11) Accurately ripped
3 | (11/11) Accurately ripped
4 | (11/11) Accurately ripped
5 | (11/11) Accurately ripped
6 | (11/11) Accurately ripped
7 | (11/11) Accurately ripped
8 | (11/11) Accurately ripped
9 | (11/11) Accurately ripped
[AccurateRip ID: 001267ab-00899cc3-5e0dd009] found.
Track [ CRC | V2 ] Status
01 [567c68a5|4ac39a07] (05+06/11) Accurately ripped
02 [57241f2f|b0b87265] (05+06/11) Accurately ripped
03 [5dcab1d7|74c2c9e9] (05+06/11) Accurately ripped
04 [dd7f940e|1f32ab0e] (05+06/11) Accurately ripped
05 [ad6b25ac|a0e54935] (05+06/11) Accurately ripped
06 [a9fdcbff|b9895e42] (05+06/11) Accurately ripped
07 [87b64c3f|de5cf280] (05+06/11) Accurately ripped
08 [390de18f|ed80dbe9] (05+06/11) Accurately ripped
09 [34528c52|a394d272] (05+06/11) Accurately ripped

Track Peak [ CRC32 ] [W/O NULL] [ LOG ]
– 97,7 [7176C44A] [66AF0A03] CRC32
01 97,7 [DC744E07] [4E030608]
02 97,7 [0492D3B5] [37808F61]
03 97,7 [C32AFC5D] [F634B1EC]
04 97,7 [39CF90CE] [D183A475]
05 97,7 [59F36346] [6153C7CC]
06 97,7 [3D89C043] [119082EA]
07 97,7 [6135AEF6] [7F5DD89A]
08 97,7 [63750E3C] [0CEDA8C5]
09 97,7 [896DE087] [4913B55F]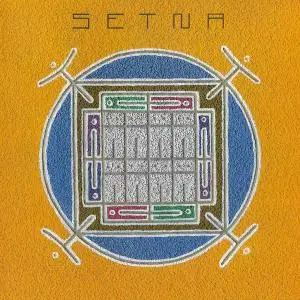 Setna - Guérison (2013)
EAC Rip | FLAC (image+.cue+log) - 347 MB | MP3 CBR 320 kbps (LAME 3.93) - 134 MB | Covers - 137 MB
Genre: Progressive Rock, Zeuhl | RAR 3% Rec. | Label: Soleil Zeuhl (SZ37)
Tracklist:
01. Cycle II (a)
02. Cycle II (b)
03. Cycle II ©
04. Triptyque I (a)
05. Triptyque I (b)
06. Triptyque I ©
07. Triptyque II (a)
08. Triptyque II (b)
09. Triptyque III (a)
10. Triptyque III (b)
11. Triptyque III ©
12. Guérison (a)
13. Guérison (b)
14. Guérison ©
15. Guérison (d)
16. Le Parasite (Bonus track, alternate take of "Guérison")
17. Hymne au Soleil (Bonus track)
Total time:
57:02
Exact Audio Copy V1.0 beta 3 from 29. August 2011

Отчёт EAC об извлечении, выполненном 8. апреля 2013, 18:56

SETNA / Guérison

Дисковод: TSSTcorpCD/DVDW SH-S183A Adapter: 4 ID: 1

Режим чтения : Достоверность
Использование точного потока : Да
Отключение кэша аудио : Да
Использование указателей C2 : Нет

Коррекция смещения при чтении : 6
Способность читать области Lead-in и Lead-out : Нет
Заполнение пропущенных сэмплов тишиной : Да
Удаление блоков с тишиной в начале и конце : Нет
При вычислениях CRC использовались нулевые сэмплы : Да
Интерфейс : Встроенный Win32-интерфейс для Win NT/2000

Выходной формат : Внутренние WAV-операции
Формат сэмплов : 44.100 Гц; 16 бит; стерео


TOC извлечённого CD

Трек | Старт | Длительность | Начальный сектор | Конечный сектор
––––––––––––––––––––––––––––––––––-
1 | 0:00.00 | 6:20.25 | 0 | 28524
2 | 6:20.25 | 1:47.08 | 28525 | 36557
3 | 8:07.33 | 1:47.32 | 36558 | 44614
4 | 9:54.65 | 2:28.63 | 44615 | 55777
5 | 12:23.53 | 2:04.32 | 55778 | 65109
6 | 14:28.10 | 3:53.71 | 65110 | 82655
7 | 18:22.06 | 5:19.66 | 82656 | 106646
8 | 23:41.72 | 4:24.54 | 106647 | 126500
9 | 28:06.51 | 3:26.43 | 126501 | 141993
10 | 31:33.19 | 2:32.43 | 141994 | 153436
11 | 34:05.62 | 2:04.58 | 153437 | 162794
12 | 36:10.45 | 4:13.30 | 162795 | 181799
13 | 40:24.00 | 4:48.65 | 181800 | 203464
14 | 45:12.65 | 2:29.60 | 203465 | 214699
15 | 47:42.50 | 3:26.31 | 214700 | 230180
16 | 51:09.06 | 3:10.11 | 230181 | 244441
17 | 54:19.17 | 2:42.53 | 244442 | 256644


Характеристики диапазона извлечения и сообщения об ошибках

Выбранный диапазон

Имя файла D:\TEMP\SETNA - 2013 - Guerison [Soleil Zeuhl SZ37].wav

Пиковый уровень 97.7 %
Скорость извлечения 5.2 X
Качество диапазона 99.9 %
CRC теста 4652D70A
CRC копии 4652D70A
Копирование… OK

Ошибок не произошло


AccurateRip: сводка

Трек 1 отсутствует в базе данных
Трек 2 отсутствует в базе данных
Трек 3 отсутствует в базе данных
Трек 4 отсутствует в базе данных
Трек 5 отсутствует в базе данных
Трек 6 отсутствует в базе данных
Трек 7 отсутствует в базе данных
Трек 8 отсутствует в базе данных
Трек 9 отсутствует в базе данных
Трек 10 отсутствует в базе данных
Трек 11 отсутствует в базе данных
Трек 12 отсутствует в базе данных
Трек 13 отсутствует в базе данных
Трек 14 отсутствует в базе данных
Трек 15 отсутствует в базе данных
Трек 16 отсутствует в базе данных
Трек 17 отсутствует в базе данных

Ни одного трека нет в базе AccurateRip

Конец отчёта
[CUETools log; Date: 27.11.2021 16:48:47; Version: 2.1.4]
[CTDB TOCID: 0YWE2__3mMc.HUkT9eM9wOH0uMQ-] found.
Track | CTDB Status
1 | (14/14) Accurately ripped
2 | (14/14) Accurately ripped
3 | (14/14) Accurately ripped
4 | (14/14) Accurately ripped
5 | (14/14) Accurately ripped
6 | (14/14) Accurately ripped
7 | (14/14) Accurately ripped
8 | (14/14) Accurately ripped
9 | (14/14) Accurately ripped
10 | (14/14) Accurately ripped
11 | (14/14) Accurately ripped
12 | (14/14) Accurately ripped
13 | (14/14) Accurately ripped
14 | (14/14) Accurately ripped
15 | (14/14) Accurately ripped
16 | (14/14) Accurately ripped
17 | (14/14) Accurately ripped
[AccurateRip ID: 0023a469-01c2b1d9-f50d5d11] found.
Track [ CRC | V2 ] Status
01 [92d0be26|e3abcbf1] (0+5/5) Accurately ripped
02 [9f5d6813|1d324d28] (0+5/5) Accurately ripped
03 [605b1260|b55f93ec] (0+5/5) Accurately ripped
04 [b1d0add3|17f0311f] (0+5/5) Accurately ripped
05 [fba3bdc2|e99851b7] (0+5/5) Accurately ripped
06 [4a678598|c77542ea] (0+5/5) Accurately ripped
07 [2ef05ab5|40f95f81] (0+5/5) Accurately ripped
08 [3d79b08f|af404861] (0+5/5) Accurately ripped
09 [d6d040e0|d37f92ea] (0+5/5) Accurately ripped
10 [65ce46aa|1927c53a] (0+5/5) Accurately ripped
11 [38dc13b3|2dd0682d] (0+5/5) Accurately ripped
12 [8f7cb1b7|2118cd4f] (0+5/5) Accurately ripped
13 [03169ef6|75b523d7] (0+5/5) Accurately ripped
14 [8a71c60a|65a4c8cb] (0+5/5) Accurately ripped
15 [73ec7b2d|5ce682cb] (0+5/5) Accurately ripped
16 [dc2eb713|34b5c318] (0+5/5) Accurately ripped
17 [152ad858|14af9a01] (0+5/5) Accurately ripped

Track Peak [ CRC32 ] [W/O NULL] [ LOG ]
– 97,7 [4652D70A] [D1016197] CRC32
01 97,5 [887CA309] [282A54D4]
02 92,4 [F2525301] [5025B2FC]
03 69,5 [11EB5EA8] [8D10C6DC]
04 88,3 [F2B6851C] [8A7C5282]
05 93,2 [79E15259] [1F709F22]
06 94,2 [22D3624F] [32CFE29E]
07 92,2 [9E9A552D] [BD968A15]
08 93,6 [70DF0FFC] [0CB73EB3]
09 81,9 [D699FDA6] [D5B9D491]
10 97,7 [317BC2AC] [1A88EC68]
11 94,3 [F99BE7D1] [6EF44F5B]
12 93,3 [D38BACC6] [3E802624]
13 95,5 [BB14A469] [0300DC94]
14 94,3 [317DF74A] [87B8D81A]
15 95,1 [A4BDBBCD] [EDF5E158]
16 93,5 [96B2C172] [325C43FB]
17 93,3 [97053146] [6514DA98]
Thanks to
spAceLover