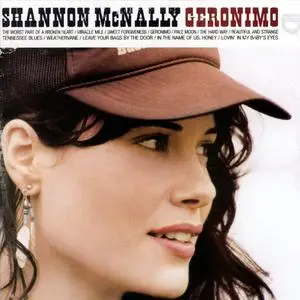 Shannon McNally - Geronimo (2005)
WEB | FLAC (tracks) - 373 MB | MP3 (CBR 320 kbps) - 132 MB | 50:49
Genre: Country-Rock, Americana | Label: Back Porch Music
While Shannon McNally's 2002 debut Jukebox Sparrows had promising stretches, it also opted too much for middle of the road, adult-ish pop/rock. 2005's Geronimo arrives via Back Porch, a Capitol boutique imprint that also carries mature acts like the BoDeans and Chip Taylor and Carrie Rodriguez, so there's an adult quality to this one, too. But it's a huge step forward stylistically, punching up the country influences and humid barroom swagger that simmered beneath Jukebox's too-clean surface, and letting the smoky ends of McNally's syllables linger over the warmth of acoustic guitars, standup bass, Hammond B3, and pedal-steel. The title track has a great, mournful echo about it, like Paula Frazer's songs, and her laconic cover of Bobby Charles' "Tennessee Blues" nods to the record's New Orleans recording sessions. (Not to mention the Band overtones coursing through most of it.) The urgent "Hard Way" has a Little Feat feel, and "Leave Your Bags by the Door" is the album's tender moment, a dusky love theme awash in pump organ and McNally's hushed delivery. It also features some of her strongest lyrics. McNally really has something with Geronimo. It's a record of a piece with peers like Shivaree, because McNally understands that pain, mystery, and storytelling aren't part of a formula.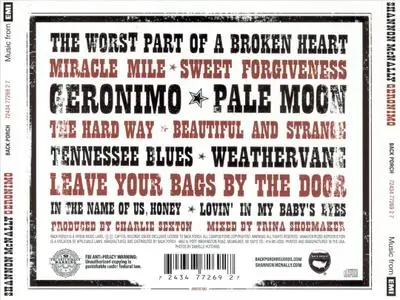 Track List:
01. The Worst Part Of A Broken Heart (03:28)
02. Miracle Mile (05:18)
03. Sweet Forgiveness (04:05)
04. Geronimo (03:51)
05. Pale Moon (05:13)
06. The Hard Way (04:28)
07. Beautiful And Strange (04:10)
08. Tennessee Blues (03:41)
09. Weathervane (04:10)
10. Leave Your Bags By The Door (04:47)
11. In The Name Of Us, Honey (04:13)
12. Lovin' In My Baby's Eyes (03:56)
–––––––––––-
DON'T MODIFY THIS FILE
–––––––––––-
PERFORMER: auCDtect Task Manager, ver. 1.6.0 RC1 build 1.6.0.1
Copyright © 2008-2010 y-soft. All rights reserved
http://y-soft.org
ANALYZER: auCDtect: CD records authenticity detector, version 0.8.2
Copyright © 2004 Oleg Berngardt. All rights reserved.
Copyright © 2004 Alexander Djourik. All rights reserved.
FILE: 1 The Worst Part Of A Broken Heart.flac
Size: 24609077 Hash: 00A0DC0C1AFAEB6EF1226CD1FA71D947 Accuracy: -m0
Conclusion: CDDA 99%
Signature: C515AFEF18FE7D8218AC36338317F76EA9160CDB
FILE: 10 Leave Your Bags By The Door.flac
Size: 28600252 Hash: 4DAE1E0E345726D2A92DD9DA1021F903 Accuracy: -m0
Conclusion: CDDA 100%
Signature: F957EF5D620DF32B0CBE6256EA6BE59543F75592
FILE: 11 In The Name Of Us, Honey.flac
Size: 30411350 Hash: FFCA04B98B568821FA41463C1D1F3660 Accuracy: -m0
Conclusion: CDDA 99%
Signature: 1EACA0577C5EE52226AE6E62D755AFC6A62930EE
FILE: 12 Lovin' In My Baby's Eyes.flac
Size: 26832587 Hash: 9402F9F6C2293E99CCF8A80E69A50335 Accuracy: -m0
Conclusion: CDDA 99%
Signature: 4FCA1EAAB7D72DF7218FBBAF6DF9847681052589
FILE: 2 Miracle Mile.flac
Size: 38741771 Hash: 9B1A46B11184FFE601CA9D78B3DFE54F Accuracy: -m0
Conclusion: CDDA 100%
Signature: 757C76BF33AA6CAA9BD69D70CDEA51761EF0E65A
FILE: 3 Sweet Forgiveness.flac
Size: 29042646 Hash: 022D043E7F56507C39D62486A40CC89D Accuracy: -m0
Conclusion: CDDA 100%
Signature: 757781D1808D9B905007F09D5151A6101D78D76D
FILE: 4 Geronimo.flac
Size: 25742525 Hash: C3C7C64592682A3E807670AC46F7162B Accuracy: -m0
Conclusion: CDDA 100%
Signature: EC7643EE4DAA428088A0B08F1EC602889B2AD588
FILE: 5 Pale Moon.flac
Size: 36553121 Hash: C4D4175FF54D25B74EAC5D7BCA9E776C Accuracy: -m0
Conclusion: CDDA 100%
Signature: C31349D8746040DA7E1B95E04B041B62A944CF21
FILE: 6 The Hard Way.flac
Size: 32562455 Hash: 4FEF40786372DE05954E1316D5E2A99A Accuracy: -m0
Conclusion: CDDA 100%
Signature: C0616CAA3D18CFD4ABEB4C43E282A85066D091D1
FILE: 9 Weathervane.flac
Size: 29579785 Hash: AB813167A062E8B3E2F5297C0A15011C Accuracy: -m0
Conclusion: CDDA 100%
Signature: F43B677D08C8FBCB9D64FC76387B7249C524037F
FILE: 8 Tennessee Blues.flac
Size: 23297503 Hash: D5D2CA04B047775A8A9137DDB8396BE5 Accuracy: -m0
Conclusion: CDDA 100%
Signature: B11DB52D93A48FC4E1EA5129116038538A938685
FILE: 7 Beautiful And Strange.flac
Size: 30106127 Hash: 7384C41A9726D562CCF94A786C13320E Accuracy: -m0
Conclusion: CDDA 100%
Signature: C06B692DED1813B8FC4DFAA097D8367EAC471892
Download: