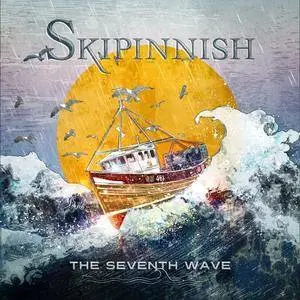 Skipinnish - The Seventh Wave (2017)
Pop, Folk, Celtic | MP3 CBR 320 kbps | 01:01:33 | 141 MB
Label: Skipinnish Records
The latest release from the award winning band Skipinnish with their distinctive, authentic and vibrant Scottish Highland West Coast sound. Co-founders Andrew MacPhail (Tiree) and Andrew Stevenson (Lochaber) met while studying at the highly acclaimed R.S.A.M.D in Glasgow. With a similar passion for authentic traditional Scottish music by early 1999 'Skipinnish' was established. Since then Skipinnish have gone from strength to strength and are indeed one of the busiest sought after bands on the scene.
The combined talents of the original duo has proved a successful liason, their common bond, enthusiasm and progressive outlook in promoting Traditional Scottish Music remains rock solid. Crashing to the shore, the Seventh Wave, follows the successful recent releases Atlantic Roar and Western Ocean albums. The mix of Highland tradition and contemporary sounds, thrilling and exhilarating live performances award winning Skipinnish are a class act.
TRACKLIST
01. Alive
02. The Hag: The Hag at the Churn / The Gathering / Dolina MacKay / Michael Rankins
03. Harvest of the Homeland
04. Ocean of the Free
05. The Iolaire
06. December
07. The Old Woman: The Soup Dragon / Jerry's Pipe Jig / Mackenna's Jig / The Old Woman's Dance / Rory Gallacher's
08. The Island Intro
09 The Island
10. Home on the Sea
11. Alba
12. Walking on the Waves
13. MacNab's Set: MacNab's Quickstep / Devil in the Kitchen / B' fhearr mar a bha mi 'n uiridh / S iomadh rud a chunna mi
14. Crò Chinn t-Sàile