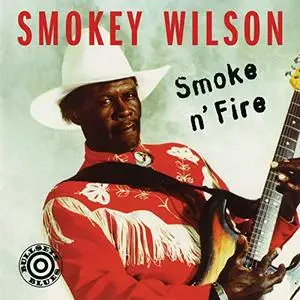 Smokey Wilson - Smoke 'N' Fire (1993/2019)
WEB FLAC (Tracks) - 269 MB | Cover | MP3 CBR 320 kbps - 115 MB | 00:48:49
Blues | Label: Bullseye Blues
Transplanted Mississippian Smokey Wilson has made plenty of records, but usually for poorly distributed regional labels. So although he is far from a newcomer, he might as well be a fledgling rookie to the average listener. The songs, aside from the lyrically commendable but awkward "Don't Burn Down L.A.," are primarily his own urgent expositions on love, life's unfairness, and pain. His playing blends slamming fills, chunky riffs, and sonic barrages mixed with expert uses of distortion, bent notes, and flashy chords. This is the kind of no-nonsense set that has earned Rounder/Bullseye its exemplary reputation.
TRACKLIST
01. Don't Burn Down L.A.
02. You Took Everything From Me
03. Smoke N' Fire
04. Tired Of Cryin'
05. 88th Street Blues
06. Killin' Floor
07. Tired Of Waiting On You
08. Nobody's Bid'ness
09. I Didn't Know
10. Just Messin' Around
11. Why Don't You Let Me Be
–––––––––––-
DON'T MODIFY THIS FILE
–––––––––––-
PERFORMER: auCDtect Task Manager, ver. 1.6.0 RC1 build 1.6.0.1
Copyright © 2008-2010 y-soft. All rights reserved
http://y-soft.org
ANALYZER: auCDtect: CD records authenticity detector, version 0.8.2
Copyright © 2004 Oleg Berngardt. All rights reserved.
Copyright © 2004 Alexander Djourik. All rights reserved.
FILE: 11. Smokey Wilson - Why Don't You Let Me Be.flac
Size: 29797368 Hash: BC5B23538AF8FB7FD2EDA812BF92DD21 Accuracy: -m0
Conclusion: CDDA 100%
Signature: 116BA69C576441DA7B335F998B50C76F7AD6B507
FILE: 10. Smokey Wilson - Just Messin' Around.flac
Size: 22693023 Hash: F77DAC51F8EA0657DBD23B178AAC548C Accuracy: -m0
Conclusion: CDDA 100%
Signature: 7B943A6E105E2031009E1445AF1FB2796DA12DA3
FILE: 09. Smokey Wilson - I Didn't Know.flac
Size: 21827417 Hash: 9877E4FA5B6458CD271C65DA46556A54 Accuracy: -m0
Conclusion: CDDA 100%
Signature: 452A537F9B7EB2E93DF04CA28FF2521E902F86DA
FILE: 08. Smokey Wilson - Nobody's Bid'ness.flac
Size: 24383660 Hash: 8D7612D518EBEA7CFF7E217C04AB4CBE Accuracy: -m0
Conclusion: CDDA 100%
Signature: 6339577E0F5C857B0193FD59AB14DC627A73ECD1
FILE: 07. Smokey Wilson - Tired Of Waiting On You.flac
Size: 17334026 Hash: EBCF51242EFE65CEEA82AFECB9BBCF15 Accuracy: -m0
Conclusion: CDDA 100%
Signature: 0B0ED8461A5A4ADBA361D6314CD3EFCA9F8BD92F
FILE: 06. Smokey Wilson - Killin' Floor.flac
Size: 36458242 Hash: 7BDCC302C64383CB333DB6B835DC367D Accuracy: -m0
Conclusion: CDDA 100%
Signature: 7453EAFE9BD260EBA179EB8A35503CAA17FE70AB
FILE: 05. Smokey Wilson - 88th Street Blues.flac
Size: 36793404 Hash: 8469CFEB74FA53409FA18017B0433B62 Accuracy: -m0
Conclusion: CDDA 99%
Signature: E4CD9334DC6D50FBEA6D9A3F8F857D696E1EA9AC
FILE: 04. Smokey Wilson - Tired Of Cryin'.flac
Size: 23611549 Hash: 47A1F623D307B9D3F6710DC04C8B4BB0 Accuracy: -m0
Conclusion: CDDA 99%
Signature: E3903859B0274338B065140E7EFE15ABD8FE2D1C
FILE: 03. Smokey Wilson - Smoke N' Fire.flac
Size: 21150204 Hash: E504891E3B543725198CF27770C87DD0 Accuracy: -m0
Conclusion: CDDA 99%
Signature: 2C06F9CA5F23CD970031D1B68F26714AE5F6B73E
FILE: 02. Smokey Wilson - You Took Everything From Me.flac
Size: 25694845 Hash: 6FDC186C6CC8C97E0D44B1FA46737BFF Accuracy: -m0
Conclusion: CDDA 100%
Signature: D8F061C81D1DB41C60D639254190538A597D3F7A
FILE: 01. Smokey Wilson - Don't Burn Down L.A-.flac
Size: 22197786 Hash: 74A174B09E30F5768CAD6F107F8A75A7 Accuracy: -m0
Conclusion: CDDA 99%
Signature: 4E935117D26AC35FF68F03A8889411A03F3EA6D5
All thanks go to the original releaser