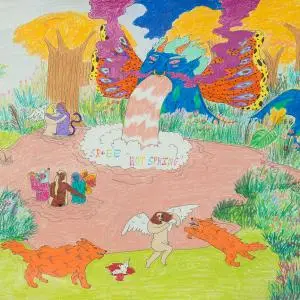 Spencer radcliffe - Hot Spring (2019)
WEB FLAC (tracks) - 285 MB | MP3 CBR 320 kbps - 107 MB | Tracks: 10 | 46:49 min
Style: Indie Pop, Indie Rock, Lo-Fi | Label: Run For Cover Records
Spencer Radcliffe's new album Hot Spring arrives this May on Run For Cover Records. The Chicago-based songwriter has teamed up again with his ensemble of collaborators, simply referred to as "Everyone Else" for simplicity's sake, for the follow up to 2017's standout Enjoy The Great Outdoors. Radcliffe & Everyone Else expand on those same natural themes on Hot Spring, expanding their talent for making laid-back, country-inspired rock songs into a full-blown pastoral. Radcliffe himself produced & engineered Hot Spring in Chicago with contributions from Grant Engstrom, Pat Lyons, Tina Scarpello & Jack Shemenauer. The album's outlandish and wonderful art was illustrated by Anwar Mahdi and serves as the perfect companion piece to the ten dizzying and blissful songs contained therein.
Tracklist:
01. The Birds
02. Bloodletting
03. True Love's Territory
04. Clocktower
05. Here Comes The Snow
06. Floss For The Future
07. Thick Fog
08. Walking Back
09. No Money
10. Centaur's Song

FILE: 01. The Birds.flac
Size: 22877784 Hash: 010D3F8BF80D3D291983A34CE3AD0262 Accuracy: -m0
Conclusion: CDDA 100%
Signature: E7E7AAC1FDE5D23451D5E4D8326E0188BF320621
FILE: 02. Bloodletting.flac
Size: 22103880 Hash: 232FDB4D26CE0091F35E0D888AA80CEE Accuracy: -m0
Conclusion: CDDA 100%
Signature: 42ECD5F85B053D988D5164899FB4D8052F54957C
FILE: 03. True Love's Territory.flac
Size: 22934039 Hash: 58835C8B368DADF410DED16E9EDEE5BF Accuracy: -m0
Conclusion: CDDA 100%
Signature: 341D95FE35BFB98E4886C2F7BAE7208B0BEA54DE
FILE: 04. Clocktower.flac
Size: 43525110 Hash: CB35192085F1AB9CA5692261E69F45AB Accuracy: -m0
Conclusion: CDDA 100%
Signature: DDD3B3B4342B6B2A42C7B273E6BC75E25C38CA3F
FILE: 05. Here Comes The Snow.flac
Size: 39800189 Hash: D30B38985DBFD38B3B03F9B43C868E52 Accuracy: -m0
Conclusion: MPEG 95%
Signature: 1996567F1D4BB80FD3886A86F502C032ACF22792
FILE: 06. Floss For The Future.flac
Size: 30212587 Hash: C77D0E38301CFDB3EC91C7A1C85B5766 Accuracy: -m0
Conclusion: CDDA 100%
Signature: 0B01A3FC4D2287449747BAB4508A0AFED89FD120
FILE: 07. Thick Fog.flac
Size: 26097759 Hash: F05A90C5B68E6D07DEBBBE4042D76E64 Accuracy: -m0
Conclusion: CDDA 100%
Signature: 06A60B738E550FB09A8DC35440384181234D3F9B
FILE: 08. Walking Back.flac
Size: 21768525 Hash: 877B273AEB24F9CA058A8533FDFA516F Accuracy: -m0
Conclusion: CDDA 100%
Signature: A452397D1E4ADF0311C31A07A0C9951812A1A0D5
FILE: 09. No Money.flac
Size: 26116111 Hash: 25CD40C41548BD272261C114503D8096 Accuracy: -m0
Conclusion: CDDA 100%
Signature: 15D56A67B6EC3F5E6FFDCA070F331B905AD8536B
FILE: 10. Centaur's Song.flac
Size: 43462576 Hash: 9C5DDC79594ED681A24BED8D640974DC Accuracy: -m0
Conclusion: CDDA 100%
Signature: B40A2D37CB3FE78DC3B8C63D657E3E9AD037D69C