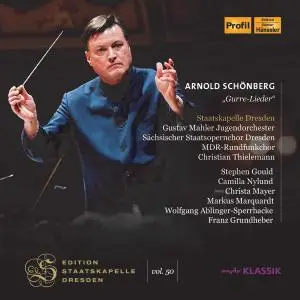 Staatskapelle Dresden - Schoenberg: Gurre-Lieder (Live at Semperoper, Dresden) (2020)
WEB FLAC (tracks+booklet) - 411 MB | Tracks: 17 | 110:16
Style: Classical | Label: Profil
To say that Christian Thielemann's March 3rd 2020 Semperoper Dresden performance of Schoenberg's colossal Gurre-Lieder didn't take place a moment too soon is something of an understatement, when under a fortnight later Europe's international-level live music making scene had been reduced to solo recitals self-filmed on mobile phones and posted onto social media. Equally fortuitously, it was recorded live, meaning we can now all listen to this ambitious project with its international line-up that would, had 2020 turned out differently, have received a second airing the following month at the Salzburg Easter Festival.
Broad brushstrokes first, and in orchestral terms there's a wonderful transparency to the sound from the Staatskapelle Dresden bolstered by members of the Gustav Mahler Youth Orchestra. As for tone colour, think silvery luminosity from the upper strings and woodwind, balanced by warm, rounded richness from the brass and lower strings - it's both luxuriously warm and sharply defined, making for a heavenly Prelude and Zwischenspiel, and full-throttle drama for the conclusion of Part 2. As for the chorus, there's some thrilling singing from the MDR-Rundfunkchor and Staatsopernchor Dresden, and while "Seht die Sonne" would possibly have packed even more of a punch when heard in the hall (they are perhaps slightly further back in the sound than a studio recording might have given us), "Gegrüßt, o König, an Gurre-Seestrand!" is unequivocally edge-of-the-seat stuff. Thielemann's overall architecture is also eminently satisfying, including a notably seamless-feeling transition over the stylistic shift between parts two and three.
On to the soloists, and Camilla Nylund's Tove is warm and supple, losing not an iota of its mellow roundedness as she soars up high, with the climax of her "Du sendest mir einen Liebesblick" truly tingle-inducing. Dark-toned Stephen Gould as Waldemar is ardent in love, and especially compelling in despair, always in control of his own high-register leaps. Christa Mayer's Woodtaube is rich-voiced and passionate, and Kwangchul Youn's Bauer ringing and energetic. Wolfgang Ablinger-Sperrhacke makes for a colourful and enjoyably semi- raucous Klaus-Narr; and while Franz Grundheber may no longer be in his baritone prime, his voice is deliciously expressive and multicoloured in his sprechstimme Speaker role, and with a flexibility and strength thoroughly belying his eighty-plus years.
Tracklist:
CD1:
01. Gurre-Lieder, Pt. 1: Orchestral Prelude (Live)
02. Gurre-Lieder, Pt. 1: No. 1, Nun dämpft die Dämm'rung (Live)
03. Gurre-Lieder, Pt. 1: No. 2, O, wenn des Mondes Strahlen (Live)
04. Gurre-Lieder, Pt. 1: No. 3, Roß! Mein Roß! Was schleigst du so träg! (Live)
05. Gurre-Lieder, Pt. 1: No. 4, Sterne jubeln, das Meer, es leuchtet (Live)
06. Gurre-Lieder, Pt. 1: No. 5, So tanzen die Engel vor Gottes Thron nicht (Live)
07. Gurre-Lieder, Pt. 1: No. 6, Nun sag ich dir zum ersten Mal (Live)
08. Gurre-Lieder, Pt. 1: No. 7, Es ist Mitternachtszeit (Live)
09. Gurre-Lieder, Pt. 1: No. 8, Du sendest mir einen Liebesblick (Live)
10. Gurre-Lieder, Pt. 1: No. 9, Du wunderliche Tove! (Live)
11. Gurre-Lieder, Pt. 1: Orchestral Interlude (Live)
12. Gurre-Lieder, Pt. 1: No. 10, Tauben von Gurre! (Live)
CD2:
01. Gurre-Lieder, Pt. 2: Herrgott, weißt du, was du tatest (Live)
02. Gurre-Lieder, Pt. 3: No. 1, Erwacht, König Waldemars Mannen wert! (Live)
03. Gurre-Lieder, Pt. 3: No. 2, Deckel des Sarges klappert und klappt (Live)
04. Gurre-Lieder, Pt. 3: No. 3, Gegrüßt, o König, an Gurre-Seestrand! (Live)
05. Gurre-Lieder, Pt. 3: No. 4, Mit Toves Stimme flüstert der Wald (Live)
06. Gurre-Lieder, Pt. 3: No. 5, Ein seltsamer Vogel ist so'n Aal (Live)
07. Gurre-Lieder, Pt. 3: No. 6, Du strenger Richter droben (Live)
08. Gurre-Lieder, Pt. 3: No. 7, Der Hahn erhebt den Kopf zur Kraht (Live)
09. Gurre-Lieder, Pt. 3: Des Sommerwindes wilde Jagd (Live)
10. Gurre-Lieder, Pt. 3: No. 8, Herr Gänsefuß, Frau Gänsekraut (Live)
11. Gurre-Lieder, Pt. 3: No. 9, Seht die Sonne farbenfroh am Himmelssaum (Live)


CD1:

FILE: 01. Gurre-Lieder, Pt. 1_ Orchestral Prelude (Live).flac
Size: 22175265 Hash: 53E28E633B555F505F06902A33FE173E Accuracy: -m0
Conclusion: CDDA 54%
Signature: FC745B96B2E46E2BBFD6674408C4EC0A2D770100
FILE: 02. Gurre-Lieder, Pt. 1_ No. 1, Nun dämpft die Dämm'rung (Live).flac
Size: 13978865 Hash: F436F35BFAA60DF50D086651AD57E6DA Accuracy: -m0
Conclusion: CDDA 62%
Signature: A2ACE3167321DC72722246005E74827E6B8D0D77
FILE: 03. Gurre-Lieder, Pt. 1_ No. 2, O, wenn des Mondes Strahlen (Live).flac
Size: 11168272 Hash: 0D8BF1EB1BD611E5947F99475B4FE1D9 Accuracy: -m0
Conclusion: CDDA 100%
Signature: AB954A39576BF4923A92E0069C971834E8AB425B
FILE: 04. Gurre-Lieder, Pt. 1_ No. 3, Roß! Mein Roß! Was schleigst du so träg! (Live).flac
Size: 18707333 Hash: C67BE6C1F264A03E1EAA6B0861BFC137 Accuracy: -m0
Conclusion: CDDA 100%
Signature: FF3ACF9FECDFCEFBD1DC9583CA7257B9EE9F7805
FILE: 05. Gurre-Lieder, Pt. 1_ No. 4, Sterne jubeln, das Meer, es leuchtet (Live).flac
Size: 12832185 Hash: 5071E930B53B01D1F210C2AA0F78D75F Accuracy: -m0
Conclusion: CDDA 99%
Signature: 03AB64D728CB1A298BEBEE4492891FF3D5F3A2A4
FILE: 06. Gurre-Lieder, Pt. 1_ No. 5, So tanzen die Engel vor Gottes Thron nicht (Live).flac
Size: 11158593 Hash: 8F0D7F304D7B646BEC6FA11F0BB851C7 Accuracy: -m0
Conclusion: CDDA 100%
Signature: 766BA821542DE75289765C65BE23F2EEC834096A
FILE: 09. Gurre-Lieder, Pt. 1_ No. 8, Du sendest mir einen Liebesblick (Live).flac
Size: 20284732 Hash: D44AD1CC2D4111AF25F65CF2FA9F4AB4 Accuracy: -m0
Conclusion: CDDA 99%
Signature: 496C58F0E83BFAEE14581EA1667C27482CB26166
FILE: 10. Gurre-Lieder, Pt. 1_ No. 9, Du wunderliche Tove! (Live).flac
Size: 15622551 Hash: 8BFEEC2A55FEC2C916FE166D81AE62DC Accuracy: -m0
Conclusion: CDDA 94%
Signature: A2B4C9AE17DD049C9A4CB89B31BB53E7031613DB
FILE: 11. Gurre-Lieder, Pt. 1_ Orchestral Interlude (Live).flac
Size: 26150910 Hash: 601EB0DD6C49F1BB49E6FA40EFA0E753 Accuracy: -m0
Conclusion: CDDA 99%
Signature: 17AD7F7114B7182A779459C474C9CA76B8F81743
FILE: 12. Gurre-Lieder, Pt. 1_ No. 10, Tauben von Gurre! (Live).flac
Size: 41885202 Hash: 69D36BC05920D08F213FFCC748AA6CDD Accuracy: -m0
Conclusion: CDDA 86%
Signature: 609E6DEEDDA855A2B445AB76A921F27563E446AA

CD2:

FILE: 01. Gurre-Lieder, Pt. 2_ Herrgott, weißt du, was du tatest (Live).flac
Size: 21068030 Hash: 26CAA495D23E85882EF15B6F34093FEB Accuracy: -m0
Conclusion: CDDA 100%
Signature: E5F58227E279581361F46B252B70A78603BEB8F1
FILE: 02. Gurre-Lieder, Pt. 3_ No. 1, Erwacht, König Waldemars Mannen wert! (Live).flac
Size: 10977699 Hash: 74DFFD01D125E07A783DEF927F1FCBE8 Accuracy: -m0
Conclusion: CDDA 100%
Signature: 8228F73CFB276076DAE69D6EF05DD04C0C7C4966
FILE: 03. Gurre-Lieder, Pt. 3_ No. 2, Deckel des Sarges klappert und klappt (Live).flac
Size: 12516239 Hash: AFD75163E15BFC1584ABC01ACFBE042A Accuracy: -m0
Conclusion: CDDA 100%
Signature: 8A62F59C8B21BA2368ACC1E564D46D9E3CA4DBC8
FILE: 04. Gurre-Lieder, Pt. 3_ No. 3, Gegrüßt, o König, an Gurre-Seestrand! (Live).flac
Size: 28170465 Hash: 1BD6E2E0A8FF2703FDC381F093011298 Accuracy: -m0
Conclusion: CDDA 100%
Signature: 0221EDAB2E5323013867E661DAEACE0C6A551D65
FILE: 05. Gurre-Lieder, Pt. 3_ No. 4, Mit Toves Stimme flüstert der Wald (Live).flac
Size: 12744668 Hash: 3C0EC2CF53FD27E7175505CE28065E19 Accuracy: -m0
Conclusion: CDDA 43%
Signature: DF05AFB4F463D17F5F6A0533B29B844CB7531A66
FILE: 06. Gurre-Lieder, Pt. 3_ No. 5, Ein seltsamer Vogel ist so'n Aal (Live).flac
Size: 28389502 Hash: 572F3E35E8CECC43C1A8D75ACF1B24E9 Accuracy: -m0
Conclusion: CDDA 99%
Signature: 35487FE51E3957273DF2005279AD0EB0434BEDDC
FILE: 07. Gurre-Lieder, Pt. 3_ No. 6, Du strenger Richter droben (Live).flac
Size: 12208502 Hash: 7157733DAFA9029861F36B44CDC2FDAF Accuracy: -m0
Conclusion: CDDA 99%
Signature: C0D3B59AA9AD58912DE145CA05A33435D6B36241
FILE: 08. Gurre-Lieder, Pt. 3_ No. 7, Der Hahn erhebt den Kopf zur Kraht (Live).flac
Size: 13852090 Hash: C0E1E72A75B541F9854570CEB380EE05 Accuracy: -m0
Conclusion: ???
Signature: 7E3C1507F059B4CAC027FFB6426577949BBE0B86
FILE: 09. Gurre-Lieder, Pt. 3_ Des Sommerwindes wilde Jagd (Live).flac
Size: 10154673 Hash: 29F3E7DFDB45424B6571D318AAF183A2 Accuracy: -m0
Conclusion: ???
Signature: FCD318FDEC3F0768EDEC33013A13327525A3B86A
FILE: 10. Gurre-Lieder, Pt. 3_ No. 8, Herr Gänsefuß, Frau Gänsekraut (Live).flac
Size: 22356384 Hash: 1BF81CA6814376C90405A58AC9D85DB1 Accuracy: -m0
Conclusion: CDDA 100%
Signature: A624B3975FDEA5A952AC5DAD15FB9E566A815676
FILE: 11. Gurre-Lieder, Pt. 3_ No. 9, Seht die Sonne farbenfroh am Himmelssaum (Live).flac
Size: 26556419 Hash: 4B70CA2525A02CE892CE2D17A9215457 Accuracy: -m0
Conclusion: CDDA 100%
Signature: 4318D90517F783054F9C12C415673ED831357635