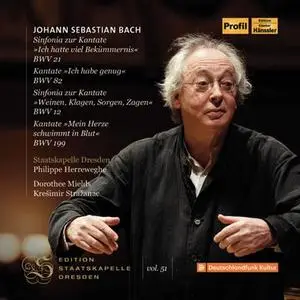 Philippe Herreweghe, Staatskapelle Dresden - Edition Staatskapelle Dresden, Vol. 51 (2022)
FLAC tracks | 2:03:19 | 522 Mb
Genre: Classical / Label: Profil
The musicians of the Sächsische Staatskapelle Dresden were committed to their tradition of staging an annual commemorative concert even under these difficult circumstances and decided to organize a Memento Mori to mark this date that is inscribed in the annals of city history. The program comprised a small ensemble conducted by an expert for Baroque music and two ideally suited voices for the format. The concert was recorded for the Deutschlandfunk Kultur station and broadcast as a message of peace in the world. There were fewer than ten people in the auditorium of the Semperoper, all socially distanced and listening raptly to this unique event. Ultimately this was the first sign of life, the first musical greeting from the orchestra in a concert not open to the public after months of inactivity due to the pandemic. When, barely a year ago, Arnold Schoenberg's "Gurre-Lieder" (featuring more than 300 performers on stage to a full house!) were performed and produced for album shortly afterwards (Edition Staatskapelle Vol. 50, PH 20052), no one would have predicted that this sonorous performance would be followed by a long phase of silence. May the present recording serve as testimony in the form of a contemporary sign of a cultural reawakening.