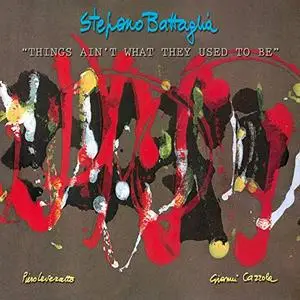 Stefano Battaglia Trio - Things Ain't What They Used to Be (1987/2019)
WEB FLAC (Tracks) - 264 MB | Cover | MP3 CBR 320 kbps - 105 MB | 00:45:20
Jazz | Label: Splasc(h) Records
Three master piano trio records from the 1980s when the prestigious Italian jazz label Splasc (h) was released in the 1980s, was released on LP, and this is the first CD reprint! The jacket was also painted with a watercolor that the label owner had a hobby of, but this is a reprint without changing the original design. Please take this opportunity to add to your collection!
Stefano Butteria, now one of the leading pianists on the ECM label, is the initial work left on the Splasc (h) label alongside "AURYN" (Splasc (h) CDH162). In recent years, Butteria has developed its own world, but at that time, it was pushed through the elegant ad lib that leads to Keith and Enrico and the orthodox European piano trio that smells romanticism. Following Stevie Wonder's "All In Love Is Fair", Gershwin, Victor Young, Rainer & Rowe, Henry Mancini, Martha Ellington and the music selection are also good.
TRACKLIST
01. All in Love Is Fair
02. Our Love Is Here to Stay
03. When I Fall in Love
04. I've Grown Accustomed to Your Face
05. Moon River
06. Things Ain't What They Used to Be
Personnel:
Stefano Battaglia (piano)
Piero Leveratto (bass)
Gianni Cazzola (drums)
–––––––––––-
DON'T MODIFY THIS FILE
–––––––––––-
PERFORMER: auCDtect Task Manager, ver. 1.6.0 RC1 build 1.6.0.1
Copyright © 2008-2010 y-soft. All rights reserved
http://y-soft.org
ANALYZER: auCDtect: CD records authenticity detector, version 0.8.2
Copyright © 2004 Oleg Berngardt. All rights reserved.
Copyright © 2004 Alexander Djourik. All rights reserved.
FILE: 06. Stefano Battaglia Trio - Things Ain't What They Used to Be.flac
Size: 43964175 Hash: 71E0AB96C54ED57B90524C87EC9F8390 Accuracy: -m0
Conclusion: CDDA 100%
Signature: 860DB53DC1B828FDA996EC646DEF4253938FB90E
FILE: 05. Stefano Battaglia Trio - Moon River.flac
Size: 52472677 Hash: DF06D61F950EE843946D94891BA9C4E7 Accuracy: -m0
Conclusion: CDDA 100%
Signature: 2126951E00F7A73F0DF466FC07454783559369E9
FILE: 04. Stefano Battaglia Trio - I've Grown Accustomed to Your Face.flac
Size: 38381668 Hash: 48453694C37FDE00F8E288E648EB83F9 Accuracy: -m0
Conclusion: CDDA 100%
Signature: 0BC6A6FF35E02D0703A2A471F25F8819A9EC5208
FILE: 03. Stefano Battaglia Trio - When I Fall in Love.flac
Size: 47164879 Hash: 5D37EE9A2F7A880B243FFFECF211663B Accuracy: -m0
Conclusion: CDDA 100%
Signature: D63CBBEDED5AF4E9BE53CA790480A6ACDEA5AA32
FILE: 02. Stefano Battaglia Trio - Our Love Is Here to Stay.flac
Size: 37056979 Hash: D76EDBA9700ACD429094BF3CA409EA83 Accuracy: -m0
Conclusion: CDDA 100%
Signature: C744EBF7B20B19C1962C41CEBE52A4831556D9E9
FILE: 01. Stefano Battaglia Trio - All in Love Is Fair.flac
Size: 58406960 Hash: 37FF5EE93A9F5B924D0C92CC5BA3F0DC Accuracy: -m0
Conclusion: CDDA 100%
Signature: E466146F6401CD387AC8956BC5E6609075B709B3
All thanks go to the original releaser