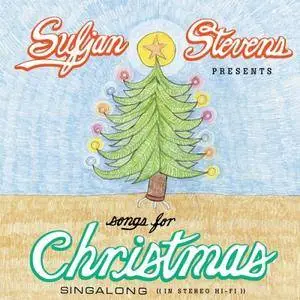 Sufjan Stevens - Presents Songs For Christmas (5CD Box Set, 2006)
Indie rock, Folk Rock | MP3 CBR 320 kbps | 287 Mb
Label: Asthmatic Kitty Records
Every year it's an issue: how does one stomach the onset of holiday music? With an endless stream of overplayed pop stars stirring what Sufjan Stevens calls "That Creepy Christmas Feeling," how does one navigate the sound of the season? Back in 2001, Stevens began making annual EPs of traditional carols and songs mixed with his own holiday-themed tunes. With 2006 and Volume 5, he's compiled a perfect gift for the Christmas-inclined indie rockster: all five EPs in one box, separately slipcased, plus a booklet filled with lyric sheets, chord charts, a Rick Moody essay, and more. Yes, Stevens knows that "Jingle Bells" features him playing (as he notes) "insipid piano," but he also writes gorgeous arrangements. Check out the three versions of "O Come O Come Emmanuel"; each aches. And "O Holy Night" from Volume 3 is lo-fi genius, never mind anyone's resistance to theology; it's a time-stopper. Stevens's own tunes are unmistakably his, hushed vocals highlighting a unique mix of whimsy and yearning–much like the justly-lauded Illinois and Michigan. In the end of the liner essay, Stevens writes that the Christmas story is about love, and on that note, he proclaims that these songs and the "Creepy Christmas Feeling" prompt "a transformation of the heart" for him and bring out affection and reflection. Isn't that a great holiday vibe?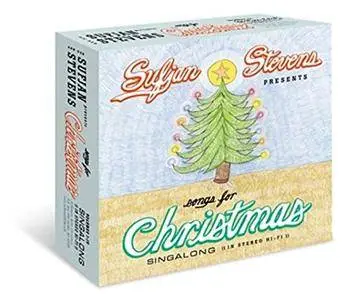 Contents:CD1:
Noel (2001) Vol. I
CD2:
Hark! (2002) Vol. II
CD3:
Ding! Dong! (2003) Vol. III
CD4:
Joy! (2005) Vol. IV
CD5:
Peace (2006) Vol. V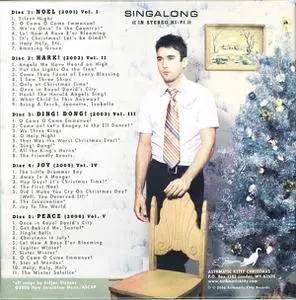 Noel (2001) Vol. I

1.1 Silent Night (0:44)
Acoustic Guitar, Guitar [Electric] - Sufjan Stevens

1.2 O Come O Come Emmanuel (4:00)
Vocals, Banjo, Acoustic Guitar, Drums, Recorder, Effects [Reverb] - Sufjan Stevens
Vocals, Guitar [Electric] - Matt Morgan

1.3 We're Goin' To The Country! (2:17)
Banjo, Acoustic Guitar, Backing Vocals, Bells [Sleigh], Other [Stocking Stuffers] - Sufjan Stevens
Lead Vocals, Guitar [Electric] - Matt Morgan

1.4 Lo! How A Rose E'Er Blooming (3:22)
Acoustic Guitar, Guitar [Electric], Vocals, Glockenspiel - Sufjan Stevens
Vocals, Banjo - Matt Morgan

1.5 It's Christmas! Let's Be Glad! (1:55)
Acoustic Guitar, Banjo, Organ [Electric], Drums, Vocals, Bells [Sleigh], Other [Mistletoe, Gloria In Eggshells Faygo] - Sufjan Stevens
Vocals, Guitar [Electric] - Matt Morgan

1.6 Holy Holy, Etc (0:41)
Arranged By, Guitar [Many Electric Guitars, Nimbly Played] - Matt Morgan

1.7 Amazing Graze (4:09)
Vocals, Banjo, Acoustic Guitar - Sufjan Stevens
Vocals, Guitar [Electric] - Matt Morgan

Hark! (2002) Vol. II

2.1 Angels We Have Heard On High (0:45)
Bells [Various], Glockenspiel - Sufjan Stevens

2.2 Put The Lights On The Tree (1:48)
Backing Vocals - Marla Hansen
Backing Vocals, Other [Elfin Chuckles And Raindeer Giggles] - Monique Aiuto , Vito Aiuto
Drums, Percussion - James McAlister
Vocals, Keyboards [Electronic], Piano, Glockenspiel, Bells, Recorder, Oboe - Sufjan Stevens

2.3 Come Thou Fount Of Every Blessing (4:43)
Vocals - Monique Aiuto
Vocals, Acoustic Guitar - Vito Aiuto
Vocals, Banjo, Piano, Electric Piano [Electronic], Glockenspiel, Bells [Sleigh] - Sufjan Stevens

2.4 I Saw Three Ships (2:34)
Backing Vocals, Banjo, Oboe, Recorder, Drums, Bass, Bells [Sleigh] - Sufjan Stevens
Vocals [Lead], Guitar - Vito Aiuto

2.5 Only At Christmas Time (2:14)
Backing Vocals, Other [Holly, Ivy] - Monique Aiuto , Vito Aiuto
Vocals, Acoustic Guitar, Piano [Electronic], Bells [Sleigh], Drums - Sufjan Stevens

2.6 Once In Royal David's City (3:40)
Backing Vocals, Banjo, Piano, Drums, Bells [Sleigh], Oboe - Sufjan Stevens
Lead Vocals, Guitar - Vito Aiuto

2.7 Hark! The Herald Angels Sing! (0:45)
Bells, Glockenspiel [Played Through Various Special Effects] - Sufjan Stevens

2.8 What Child Is This Anyway? (6:47)
Acoustic Guitar, Vocals - Vito Aiuto
Backing Vocals - Monique Aiuto
Vocals, Banjo, Bass, Keyboards [Electronic], Organ, Drums, Bells [Sleigh], Piano, Other [That Creepy Christmas Feeling, Gold, Frankincense, Myrrh] - Sufjan Stevens

2.9 Bring A Torch, Jeanette, Isabella (1:39)
Lead Vocals, Acoustic Guitar - Vito Aiuto
Other [Telephone] - Sufjan Stevens

Ding! Dong! (2003) Vol. III

3.1 O Come, O Come Emmanuel (1:03)
Piano, Vocals - Sufjan Stevens

3.2 Come On! Let's Boogey To The Elf Dance! (3:49)
Backing Vocals, Other [Christmas Cheer] - Colin Stevens , Laura Myers
Vocals - Denison Witmer
Vocals, Piano, Guitar, Banjo, Bass, Drums, Bells [Sleigh], Tambourine, Recorder, Flute, Shaker, Glockenspiel, Other [Awesome Lyrics] - Sufjan Stevens

3.3 We Three Kings (2:58)
Vocals, Acoustic Guitar - Denison Witmer
Vocals, Banjo, Organ [Electric], Electric Piano [Electronic], Bass, Recorder [Funny], Glockenspiel, Tambourine - Sufjan Stevens

3.4 O Holy Night (4:04)
Backing Vocals, Other [Christmas Cheer] - Colin Stevens
Banjo, Vocals, Organ, Piano, Recorder, Glockenspiel, Bass, Drums, Tambourine, Shaker, Other [Bravado] - Sufjan Stevens
Vocals, Acoustic Guitar - Denison Witmer
Vocals, Other [High Notes, Christmas Cheer] - Shara Worden

3.5 That Was The Worst Christmas Ever! (3:18)
Vocals [Angelic] - Shara Worden
Vocals [Earthly], Piano, Acoustic Guitar, Banjo, Other [Sad Feelings] - Sufjan Stevens

3.6 Ding! Dong! (0:55)
Bells [Various], Glockenspiel [Various], Recorder - Sufjan Stevens

3.7 All The King's Horns (2:59)
Vocals [Creepy] - Monique Aiuto , Vito Aiuto
Vocals, Banjo, Acoustic Guitar, Piano, Bass, Drums, Tambourine, Electric Piano [Electronic], Glockenspiel, Other [More Of That Creepy Christmas Feeling] - Sufjan Stevens

3.8 The Friendly Beasts (3:42)
Piano, Guitar, Recorder, Oboe, Drums, Bass, Shaker, Tambourine, Glockenspiel, Banjo, Electric Piano [Electronic], Voice [The Narrator] - Sufjan Stevens
Voice [The Cow] - Laura Myers
Voice [The Donkey] - Denison Witmer
Voice [The Doves] - Monique Aiuto , Vito Aiuto
Voice [The Sheep] - Shara Worden

Joy! (2005) Vol. IV

4.1 The Little Drummer Boy (3:43)
Vocals - Bridgit DeCook
Vocals, Acoustic Guitar, Guitar [Electric], Bells [Sleigh], Tambourine - Sufjan Stevens

4.2 Away In A Manager (2:54)
Vocals - Bridgit DeCook
Vocals, Banjo, Acoustic Guitar, Guitar [Electric], Other [Nostalgia, Eggnog] - Sufjan Stevens

4.3 Hey Guys! It's Christmas Time! (4:41)
Vocals - Bridgit DeCook
Vocals, Drums, Percussion, Bass, Guitar [Electric], Bells [Sleigh], Other [Positive Feedback, Negative Feedback, Christmas Cheer] - Sufjan Stevens

4.4 The First Noel (0:52)
Banjo, Acoustic Guitar, Guitar [Electric], Vocals, Other [Loneliness] - Sufjan Stevens

4.5 Did I Make You Cry On Christmas? (Well, You Deserved It!) (3:21)
Vocals - Bridgit DeCook
Vocals, Banjo, Acoustic Guitar, Guitar [Electric], Tambourine, Bells [Sleigh], Keyboards [Electric], Shaker, Other [Irony] - Sufjan Stevens

4.6 The Incarnation (2:23)
Guitar [Electric], Effects [Reverb], Other [Even More Of That Creepy Christmas Feeling] - Sufjan Stevens

4.7 Joy To The World (4:20)
Vocals - Bridgit DeCook
Vocals, Acoustic Guitar, Guitar [Electric], Bells [Sleigh], Tambourine, Other [Mistletoe, Tidings Of Comfort & Joy] - Sufjan Stevens

Peace (2006) Vol. V

5.1 Once In Royal David's City (2:01)
Piano [Four Slightly Out Of Tune Pianos] - Sufjan Stevens

5.2 Get Behind Me, Santa! (3:49)
Drums - James McAlister
Trombone - Ben Lanz
Trumpet - C. J. Camerieri
Vocals - Marla Hansen
Vocals, Bass, Guitar [Electric], Organ [Hammond], Piano, Electric Piano [Rhodes], Bells [Sleigh], Shaker, Synthesizer [Weird Synthesizer Sounds], Other [Mashed Potatoes And Gravy] - Sufjan Stevens

5.3 Jingle Bells (0:36)
Piano [More Insipid Piano] - Sufjan Stevens

5.4 Christmas In July (3:16)
Cello - Maria Bella Jeffers
Drums - James McAlister
Trombone - Ben Lanz
Trumpet - C. J. Camerieri
Violin - Naho Tsutsui , Rob Moose
Vocals, Piano, Electric Piano [Rhodes], Organ [Hammond], Guitar [Electric], Bass, Tambourine, Bells [Sleigh], Shaker, Other [Chestnuts Roasting On Open Fire] - Sufjan Stevens
Vocals, Viola - Marla Hansen

5.5 Lo! How A Rose E'Er Blooming (1:45)
Piano [Multiple Pianos, Played Very Earnestly] - Sufjan Stevens

5.6 Jupiter Winter (3:50)
Cello - Maria Bella Jeffers
Drums - James McAlister
Trombone - Ben Lanz
Trumpet - C. J. Camerieri
Violin - Naho Tsutsui , Rob Moose
Vocals, Electric Piano [Rhodes], Piano, Acoustic Guitar, Bass, Organ [Electronic], Bells [Sleigh], Shaker, Other [Figgy Pudding] - Sufjan Stevens
Vocals, Viola - Marla Hansen

5.7 Sister Winter (5:04)
Cello - Maria Bella Jeffers
Drums, Celeste, Chimes [Wind], Vibraslap, Other [Christmas Cheer] - James McAlister
Engineer [Drums, Percussion] - Casey Foubert
Trombone - Ben Lanz
Trumpet - C. J. Camerieri
Violin - Naho Tsutsui , Rob Moose
Vocals, Piano, Acoustic Guitar, Guitar [Electric], Bass, Drums, Bells [Sleigh], Tambourine, Other [Apologies, Cranberry Sauce] - Sufjan Stevens
Vocals, Viola - Marla Hansen

5.8 O Come O Come Emmanuel (1:06)
Piano - Sufjan Stevens

5.9 Star Of Wonder (7:07)
Trombone - Ben Lanz
Trumpet - C. J. Camerieri
Vocals - Marla Hansen
Vocals, Piano, Guitar [Electric], Acoustic Guitar, Organ, Bass, Drums, Bells [Sleigh], Recorder, Flute, Oboe, Synthesizer [Funny Synthesizer Sounds] - Sufjan Stevens

5.10 Holy, Holy, Holy (3:50)
Piano, Vocals, Guitar - Sufjan Stevens
Vocals - Marla Hansen

5.11 The Winter Solstice (3:25)
Voice, Vibraphone, Piano, Guitar, Organ [Hammond], Synthesizer [Funny Synthesizer Sounds], Bells [Sleigh], Tambourine - Sufjan Stevens