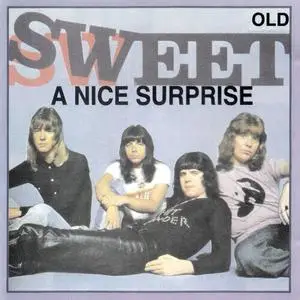 The Sweet - A Nice Surprise (1994) {OLD}
EAC Rip | FLAC (no CUE or log) | scans | 425 mb
MP3 CBR 320kbps | RAR | 165 mb
Genre: rock, glam rock
A Nice Surprise
is a 1994 bootleg CD by British glam rock band Sweet, a collection of rare broadcasts, B-sides, live material and more. While the CD lists the word OLD as a possible label, it may or may not be the name of the company.
01. Paperback Writer
02. Chop Chop
03. Funny Funny
04. Rock Medley:
Summertime Blues
Lucille
New Orleans
05. Baby What You Want Me To Do
06. Great Balls Of Fire
07. Mr. Business Man
08. Alexander Graham Bell
09. The Juicer
10. You're Not Wrong For Loving Me
11. Ballroom Blitz Mix
12. Own Up Take A Look At Yourself
13. The Sixteens
14. Action
15. The Lies In Your Eyes
16. Fever Of Love
17. Why Don't You Do It To Me
18. That Girl
19. Why Don't You
20. Oh Yeah
21. Action Back Track
22. Action '88
23. Ballroom Blitz '88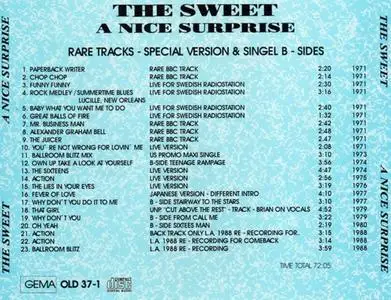 Thank you to the original uploader.