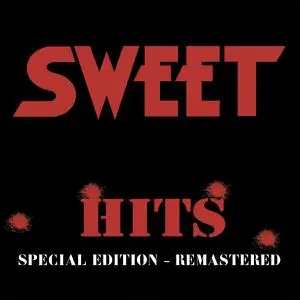 Sweet - Hits (Special Edition - Remastered) (2022)
WEB FLAC (tracks) - 404 MB | MP3 CBR 320 kbps - 133 MB
58:02 | Rock, Pop Rock | Label: Angel Air
In some ways, the Sweet epitomized all the tacky hubris and garish silliness of the early '70s. Fusing bubblegum melodies with crunching, fuzzy guitars, the band looked like a heavy metal band, but were as tame as any pop group. It was a dichotomy that served them well, as they racked up a number of hits in both the U.K. and the U.S. Most of those songs were written by Nicky Chinn and Mike Chapman, a pair of British songwriters who had a way with silly, simple, and catchy hooks. Chinn/Chapman and Sweet were smart enough to latch on to the British glam rock fad, building a safer, radio-friendly, and teen-oriented version of Queen, T. Rex, and Gary Glitter. By the end of the '70s, the group's time at the top of the charts had expired but their hit singles lived on not only as cultural artifacts, but also as the predecessors for the pop-metal of the '80s. Originally, the Sweet were called the Sweetshop and consisted of Brian Connolly (vocals), Mick Tucker (vocals, drums), Frank Torpey (guitar), and Steve Priest (bass).