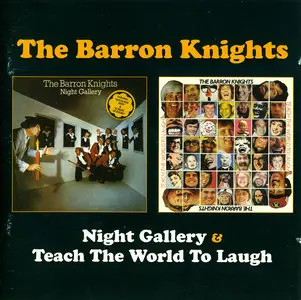 The Barron Knights - Night Gallery (1978) + Teach The World To Laugh (1979)
EAC | FLAC | Tracks (Cue&Log) ~ 435 Mb | Mp3 (CBR320) ~ 182 Mb | Scans ~ 166 Mb
Label: Wisecrack/Cherry Red | # CRAIC 004 | Time: 01:19:33
Comedy Pop/Rock, Novelty, Parody
These two albums are released on CD for the first time ever. Founder member Peter Langford has been interviewed by Mojo's Daryl Easlea for the extensive notes, on a release that promises to bring back the fun into music! The Barron Knights are a British humorous pop group, originally formed in 1959, they became the Barron Knights on 5th October 1960. Although the Barron Knights undoubtedly had their own style and produced regular `beat group recordings' in their own right, it was their production of comedy parodies that brought them the greatest success. In fact, their catalogue of recordings - although impressive - does not reflect their success as stage entertainers. By adapting their act to each new wave of emerging performers they were able to survive longer than their more conventional contemporaries, and even today can still be regularly found in cabaret or performing a seaside summer season.
A fixture of the U.K. musical comedy/novelty scene since the mid-'60s, the Barron Knights had just emerged from nearly a decade without a British hit when Night Gallery (1978) and Teach the World to Laugh (1979) appeared in the late '70s. "Live in Trouble" and "A Taste of Aggro" gave them Top Ten U.K. hits, the latter appearing on Night Gallery, which made number 15 in their native land. Both of these albums are stuffed with musical parodies that haven't translated well overseas, though the Barron Knights would continue to have small British chart entries for a few years, and perform (with changing lineups) for decades to come. Though adept at mimicking and re-creating contemporary (and sometimes not-so-contemporary) styles as backdrops for their satire, their droll humor is far milder than, say, the average track heard on Dr. Demento's radio show. Two albums (here presented on two separate CDs, though the running times indicate they could just about have fit onto one disc) at once is too much for all but the staunchest comedy collector. Give the Barron Knights this, though: the records were nothing if not diverse, taking on disco, John Denver ("Heaving on a Jet Plane," har har), reggae ("Boy Scouts Out Camping" is one of the better cuts), "MacArthur Park" (never mind that it had been a hit ten years previously), Supertramp ("The Topical Song"), classical ("Air on a G String"), even a cappella traditional British folk ("The Hand on the Ear Folk Song"). It's rather like a very long musical variety-comedy show that never gets too cutting or out there, but the packaging is conscientious, with historical liner notes featuring comments by bassist/guitarist Pete Langford.



Review by Richie Unterberger, Allmusic.com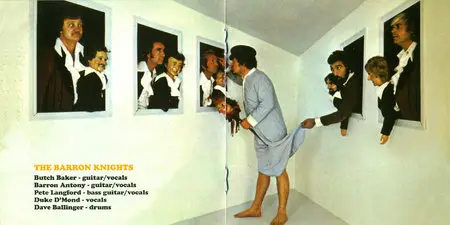 Tracklist:
CD1 - Night Gallery (1978):

01. Get Down Shep (02:46)
02. Air On A G String (01:36)
03. Boozy Nights (Boogie Nights) (03:24)
04. Little White Bum (Little White Bull) (03:29)
05. Lazy Fitter (Lazy River) (02:12)
06. The Big V-Asectomy (02:36)
07. The Chapel Lead Is Missing (The Three Bells) (04:44)
08. A Taste Of Aggro (03:53)
09. The Hand On The Ear Folk Song (01:50)
10. Remember - Decimalisation (03:41)
11. Awful Seance (Floral Dance) (02:20)
12. Boy Scouts Out Camping (Up Town Top Ranking) (04:25)
13. My Will (I Will) (03:43)

CD2 - Teach The World To Laugh (1979):

01. Food For Thought Medley (03:59)
02. Evolution (02:36)
03. Telephone Line (00:56)
04. Herbie The Head (02:16)
05. The Fleetwood Bus (The Deadwood Stage) (03:22)
06. Mr. Tambourine Man (00:30)
07. The Topical Song (The Logical Song) (03:22)
08. Nanu Nanu (Shazbot) (02:36)
09. Arthur Clark (Macarthur Park) (05:37)
10. Preservation (00:38)
11. Farewell To Punk (02:16)
12. The Busker (02:38)
13. Heaving On A Jet Plane (Leaving On A Jet Plane) (04:25)
14. Here Here (03:29)
Exact Audio Copy V1.0 beta 3 from 29. August 2011

Отчёт EAC об извлечении, выполненном 24. июля 2015, 18:06

The Barron Knights / Night Gallery

Дисковод: ATAPI iHAS124 W Adapter: 2 ID: 0

Режим чтения : Достоверность
Использование точного потока : Да
Отключение кэша аудио : Да
Использование указателей C2 : Нет

Коррекция смещения при чтении : 48
Способность читать области Lead-in и Lead-out : Нет
Заполнение пропущенных сэмплов тишиной : Да
Удаление блоков с тишиной в начале и конце : Нет
При вычислениях CRC использовались нулевые сэмплы : Да
Интерфейс : Встроенный Win32-интерфейс для Win NT/2000
Обработка зазоров : Добавлено к предыдущему треку

Выходной формат : Пользовательский кодировщик
Выбранный битрейт : 128 kBit/s
Качество : Высокий
Добавление ID3-тега : Нет
Утилита сжатия : C:\Program Files\Exact Audio Copy\Flac\flac.exe
Дополнительные параметры : -V -8 -T "Genre=%genre%" -T "Artist=%artist%" -T "Title=%title%" -T "Album=%albumtitle%" -T "Date=%year%" -T "Tracknumber=%tracknr%" -T "Comment=%comment%" %source%


TOC извлечённого CD

Трек | Старт | Длительность | Начальный сектор | Конечный сектор
––––––––––––––––––––––––––––––––––-
1 | 0:00.00 | 2:46.35 | 0 | 12484
2 | 2:46.35 | 1:36.07 | 12485 | 19691
3 | 4:22.42 | 3:24.17 | 19692 | 35008
4 | 7:46.59 | 3:29.46 | 35009 | 50729
5 | 11:16.30 | 2:12.72 | 50730 | 60701
6 | 13:29.27 | 2:36.56 | 60702 | 72457
7 | 16:06.08 | 4:44.01 | 72458 | 93758
8 | 20:50.09 | 3:53.09 | 93759 | 111242
9 | 24:43.18 | 1:50.68 | 111243 | 119560
10 | 26:34.11 | 3:41.49 | 119561 | 136184
11 | 30:15.60 | 2:20.48 | 136185 | 146732
12 | 32:36.33 | 4:25.66 | 146733 | 166673
13 | 37:02.24 | 3:43.68 | 166674 | 183466


Трек 1

Имя файла C:\EAC\01. Get Down Shep.wav

Длина предзазора 0:00:02.00

Пиковый уровень 97.7 %
Скорость извлечения 4.2 X
Качество трека 100.0 %
CRC теста DBA0D89D
CRC копии DBA0D89D
Точное извлечение (достоверность 1) [BBA46074] (AR v1)
Копирование… OK

Трек 2

Имя файла C:\EAC\02. Air On A G String.wav

Длина предзазора 0:00:02.55

Пиковый уровень 97.7 %
Скорость извлечения 4.0 X
Качество трека 100.0 %
CRC теста 4C9CE489
CRC копии 4C9CE489
Точное извлечение (достоверность 1) [9F6D807E] (AR v1)
Копирование… OK

Трек 3

Имя файла C:\EAC\03. Boozy Nights (Boogie Nights).wav

Длина предзазора 0:00:02.07

Пиковый уровень 97.7 %
Скорость извлечения 5.0 X
Качество трека 100.0 %
CRC теста 10444F45
CRC копии 10444F45
Точное извлечение (достоверность 1) [86771981] (AR v1)
Копирование… OK

Трек 4

Имя файла C:\EAC\04. Little White Bum (Little White Bull).wav

Длина предзазора 0:00:04.10

Пиковый уровень 97.7 %
Скорость извлечения 5.4 X
Качество трека 100.0 %
CRC теста 5C812A5D
CRC копии 5C812A5D
Точное извлечение (достоверность 1) [A7C3A623] (AR v1)
Копирование… OK

Трек 5

Имя файла C:\EAC\05. Lazy Fitter (Lazy River).wav

Длина предзазора 0:00:02.57

Пиковый уровень 97.7 %
Скорость извлечения 5.3 X
Качество трека 100.0 %
CRC теста 505F65D6
CRC копии 505F65D6
Точное извлечение (достоверность 1) [FB1F82C5] (AR v1)
Копирование… OK

Трек 6

Имя файла C:\EAC\06. The Big V-Asectomy.wav

Длина предзазора 0:00:02.17

Пиковый уровень 97.7 %
Скорость извлечения 5.6 X
Качество трека 100.0 %
CRC теста 6F66D1D5
CRC копии 6F66D1D5
Точное извлечение (достоверность 1) [F9626D68] (AR v1)
Копирование… OK

Трек 7

Имя файла C:\EAC\07. The Chapel Lead Is Missing (The Three Bells).wav

Длина предзазора 0:00:02.70

Пиковый уровень 97.7 %
Скорость извлечения 6.5 X
Качество трека 100.0 %
CRC теста 4ACF6587
CRC копии 4ACF6587
Точное извлечение (достоверность 1) [85863767] (AR v1)
Копирование… OK

Трек 8

Имя файла C:\EAC\08. A Taste Of Aggro (Rivers Of Babylon,The Smurf Song,Matchstalk Men And Matchstalk Cats And Dogs).wav

Длина предзазора 0:00:03.06

Пиковый уровень 97.7 %
Скорость извлечения 6.7 X
Качество трека 100.0 %
CRC теста 32638D22
CRC копии 32638D22
Точное извлечение (достоверность 1) [D2E4E149] (AR v1)
Копирование… OK

Трек 9

Имя файла C:\EAC\09. The Hand On The Ear Folk Song.wav

Длина предзазора 0:00:02.27

Пиковый уровень 65.2 %
Скорость извлечения 3.2 X
Качество трека 99.9 %
CRC теста 22FC868F
CRC копии 22FC868F
Точное извлечение (достоверность 1) [3FC399D0] (AR v1)
Копирование… OK

Трек 10

Имя файла C:\EAC\10. Remember - Decimalisation.wav

Длина предзазора 0:00:02.64

Пиковый уровень 97.7 %
Скорость извлечения 7.1 X
Качество трека 100.0 %
CRC теста 637F0038
CRC копии 637F0038
Точное извлечение (достоверность 1) [2AE6DE40] (AR v1)
Копирование… OK

Трек 11

Имя файла C:\EAC\11. Awful Seance (Floral Dance).wav

Длина предзазора 0:00:01.49

Пиковый уровень 97.7 %
Скорость извлечения 6.7 X
Качество трека 100.0 %
CRC теста 91C7752C
CRC копии 91C7752C
Точное извлечение (достоверность 1) [65B16367] (AR v1)
Копирование… OK

Трек 12

Имя файла C:\EAC\12. Boy Scouts Out Camping (Up Town Top Ranking).wav

Длина предзазора 0:00:02.03

Пиковый уровень 97.7 %
Скорость извлечения 7.7 X
Качество трека 100.0 %
CRC теста A7F86EE5
CRC копии A7F86EE5
Точное извлечение (достоверность 1) [90882CBE] (AR v1)
Копирование… OK

Трек 13

Имя файла C:\EAC\13. My Will (I Will).wav

Длина предзазора 0:00:02.23

Пиковый уровень 97.7 %
Скорость извлечения 7.7 X
Качество трека 100.0 %
CRC теста 3F910795
CRC копии 3F910795
Точное извлечение (достоверность 1) [263AA472] (AR v1)
Копирование… OK


Все треки извлечены точно

Ошибок не произошло

Конец отчёта

==== Контрольная сумма отчёта 4A6E7606753B94B0D1A5CCA4F6221B445DA8D0982DF97581E14F4E085A8B0E20 ====
foobar2000 1.2 / Dynamic Range Meter 1.1.1
log date: 2015-08-06 23:58:40

––––––––––––––––––––––––––––––––––––––––
Analyzed: The Barron Knights / Night Gallery
––––––––––––––––––––––––––––––––––––––––

DR Peak RMS Duration Track
––––––––––––––––––––––––––––––––––––––––
DR12 -0.20 dB -14.66 dB 2:46 01-Get Down Shep
DR14 -0.20 dB -16.20 dB 1:36 02-Air On A G String
DR13 -0.20 dB -15.05 dB 3:24 03-Boozy Nights (Boogie Nights)
DR14 -0.20 dB -16.50 dB 3:30 04-Little White Bum (Little White Bull)
DR12 -0.20 dB -14.71 dB 2:13 05-Lazy Fitter (Lazy River)
DR13 -0.20 dB -14.89 dB 2:37 06-The Big V-Asectomy
DR13 -0.20 dB -16.80 dB 4:44 07-The Chapel Lead Is Missing (The Three Bells)
DR13 -0.20 dB -16.19 dB 3:53 08-A Taste Of Aggro (Rivers Of Babylon,The Smurf Song,Matchstalk Men And Matchstalk Cats And Dogs)
DR13 -3.71 dB -18.14 dB 1:51 09-The Hand On The Ear Folk Song
DR14 -0.20 dB -17.66 dB 3:42 10-Remember - Decimalisation
DR13 -0.20 dB -15.09 dB 2:21 11-Awful Seance (Floral Dance)
DR14 -0.20 dB -15.68 dB 4:26 12-Boy Scouts Out Camping (Up Town Top Ranking)
DR14 -0.20 dB -15.90 dB 3:44 13-My Will (I Will)
––––––––––––––––––––––––––––––––––––––––

Number of tracks: 13
Official DR value: DR13

Samplerate: 44100 Hz
Channels: 2
Bits per sample: 16
Bitrate: 676 kbps
Codec: FLAC
================================================================================
Exact Audio Copy V1.0 beta 3 from 29. August 2011

Отчёт EAC об извлечении, выполненном 24. июля 2015, 18:43

The Barron Knights / Teach The World To Laugh

Дисковод: ATAPI iHAS124 W Adapter: 2 ID: 0

Режим чтения : Достоверность
Использование точного потока : Да
Отключение кэша аудио : Да
Использование указателей C2 : Нет

Коррекция смещения при чтении : 48
Способность читать области Lead-in и Lead-out : Нет
Заполнение пропущенных сэмплов тишиной : Да
Удаление блоков с тишиной в начале и конце : Нет
При вычислениях CRC использовались нулевые сэмплы : Да
Интерфейс : Встроенный Win32-интерфейс для Win NT/2000
Обработка зазоров : Добавлено к предыдущему треку

Выходной формат : Пользовательский кодировщик
Выбранный битрейт : 128 kBit/s
Качество : Высокий
Добавление ID3-тега : Нет
Утилита сжатия : C:\Program Files\Exact Audio Copy\Flac\flac.exe
Дополнительные параметры : -V -8 -T "Genre=%genre%" -T "Artist=%artist%" -T "Title=%title%" -T "Album=%albumtitle%" -T "Date=%year%" -T "Tracknumber=%tracknr%" -T "Comment=%comment%" %source%


TOC извлечённого CD

Трек | Старт | Длительность | Начальный сектор | Конечный сектор
––––––––––––––––––––––––––––––––––-
1 | 0:00.00 | 3:59.65 | 0 | 17989
2 | 3:59.65 | 2:36.38 | 17990 | 29727
3 | 6:36.28 | 0:56.41 | 29728 | 33968
4 | 7:32.69 | 2:16.46 | 33969 | 44214
5 | 9:49.40 | 3:22.17 | 44215 | 59381
6 | 13:11.57 | 0:30.74 | 59382 | 61705
7 | 13:42.56 | 3:22.42 | 61706 | 76897
8 | 17:05.23 | 2:36.46 | 76898 | 88643
9 | 19:41.69 | 5:37.40 | 88644 | 113958
10 | 25:19.34 | 0:38.13 | 113959 | 116821
11 | 25:57.47 | 2:16.42 | 116822 | 127063
12 | 28:14.14 | 2:38.12 | 127064 | 138925
13 | 30:52.26 | 4:25.47 | 138926 | 158847
14 | 35:17.73 | 3:29.29 | 158848 | 174551


Трек 1

Имя файла C:\EAC\01. Food For Thought Medley (Lucky Number,Pop Musik,If I Said You Had A Beautiful Body Would You Hold It Against Me).wav

Длина предзазора 0:00:02.00

Пиковый уровень 97.7 %
Скорость извлечения 1.9 X
Качество трека 100.0 %
CRC теста 5DE63F32
CRC копии 5DE63F32
Точное извлечение (достоверность 1) [E9AB92C3] (AR v1)
Копирование… OK

Трек 2

Имя файла C:\EAC\02. Evolution.wav

Длина предзазора 0:00:03.74

Пиковый уровень 90.5 %
Скорость извлечения 1.9 X
Качество трека 100.0 %
CRC теста E48D928B
CRC копии E48D928B
Точное извлечение (достоверность 1) [6DFF0420] (AR v1)
Копирование… OK

Трек 3

Имя файла C:\EAC\03. Telephone Line.wav

Длина предзазора 0:00:02.61

Пиковый уровень 97.7 %
Скорость извлечения 1.5 X
Качество трека 100.0 %
CRC теста 57384B1E
CRC копии 57384B1E
Точное извлечение (достоверность 1) [44108D1E] (AR v1)
Копирование… OK

Трек 4

Имя файла C:\EAC\04. Herbie The Head.wav

Пиковый уровень 91.4 %
Скорость извлечения 2.0 X
Качество трека 100.0 %
CRC теста 584D0125
CRC копии 584D0125
Точное извлечение (достоверность 1) [4557B0E7] (AR v1)
Копирование… OK

Трек 5

Имя файла C:\EAC\05. The Fleetwood Bus (The Deadwood Stage).wav

Длина предзазора 0:00:01.65

Пиковый уровень 97.7 %
Скорость извлечения 2.3 X
Качество трека 100.0 %
CRC теста 688DD845
CRC копии 688DD845
Точное извлечение (достоверность 1) [5E053775] (AR v1)
Копирование… OK

Трек 6

Имя файла C:\EAC\06. Mr. Tambourine Man.wav

Длина предзазора 0:00:02.07

Пиковый уровень 54.2 %
Скорость извлечения 1.3 X
Качество трека 100.0 %
CRC теста 16CC7602
CRC копии 16CC7602
Точное извлечение (достоверность 1) [5FA8D908] (AR v1)
Копирование… OK

Трек 7

Имя файла C:\EAC\07. The Topical Song (The Logical Song).wav

Длина предзазора 0:00:02.36

Пиковый уровень 97.7 %
Скорость извлечения 2.5 X
Качество трека 100.0 %
CRC теста F3823D97
CRC копии F3823D97
Точное извлечение (достоверность 1) [547EF818] (AR v1)
Копирование… OK

Трек 8

Имя файла C:\EAC\08. Nanu Nanu (Shazbot).wav

Длина предзазора 0:00:03.26

Пиковый уровень 97.7 %
Скорость извлечения 2.5 X
Качество трека 100.0 %
CRC теста 37BF4994
CRC копии 37BF4994
Точное извлечение (достоверность 1) [8B90D467] (AR v1)
Копирование… OK

Трек 9

Имя файла C:\EAC\09. Arthur Clark (Macarthur Park).wav

Длина предзазора 0:00:02.60

Пиковый уровень 97.0 %
Скорость извлечения 2.9 X
Качество трека 100.0 %
CRC теста CF823533
CRC копии CF823533
Точное извлечение (достоверность 1) [73EC3066] (AR v1)
Копирование… OK

Трек 10

Имя файла C:\EAC\10. Preservation.wav

Длина предзазора 0:00:02.46

Пиковый уровень 97.7 %
Скорость извлечения 1.1 X
Качество трека 99.7 %
CRC теста 8A41C355
CRC копии 8A41C355
Точное извлечение (достоверность 1) [89E437F9] (AR v1)
Копирование… OK

Трек 11

Имя файла C:\EAC\11. Farewell To Punk.wav

Длина предзазора 0:00:02.44

Пиковый уровень 97.7 %
Скорость извлечения 2.7 X
Качество трека 100.0 %
CRC теста 03085968
CRC копии 03085968
Точное извлечение (достоверность 1) [8648FB11] (AR v1)
Копирование… OK

Трек 12

Имя файла C:\EAC\12. The Busker.wav

Длина предзазора 0:00:02.40

Пиковый уровень 97.4 %
Скорость извлечения 2.9 X
Качество трека 100.0 %
CRC теста 19D1BAC7
CRC копии 19D1BAC7
Точное извлечение (достоверность 1) [76EA0E03] (AR v1)
Копирование… OK

Трек 13

Имя файла C:\EAC\13. Heaving On A Jet Plane (Leaving On A Jet Plane).wav

Длина предзазора 0:00:01.65

Пиковый уровень 90.9 %
Скорость извлечения 3.2 X
Качество трека 100.0 %
CRC теста 192928A2
CRC копии 192928A2
Точное извлечение (достоверность 1) [7F9017E7] (AR v1)
Копирование… OK

Трек 14

Имя файла C:\EAC\14. Here Here.wav

Пиковый уровень 97.7 %
Скорость извлечения 3.2 X
Качество трека 100.0 %
CRC теста A941846F
CRC копии A941846F
Точное извлечение (достоверность 1) [BA2A1561] (AR v1)
Копирование… OK


Все треки извлечены точно

Ошибок не произошло

Конец отчёта

==== Контрольная сумма отчёта E9F5806E40F52FC4457637F8422AE10BC6E26F209CAED44113343F45F559AC82 ====
foobar2000 1.2 / Dynamic Range Meter 1.1.1
log date: 2015-08-06 23:58:51

––––––––––––––––––––––––––––––––––––––––
Analyzed: The Barron Knights / Teach The World To Laugh
––––––––––––––––––––––––––––––––––––––––

DR Peak RMS Duration Track
––––––––––––––––––––––––––––––––––––––––
DR16 -0.20 dB -18.04 dB 4:00 01-Food For Thought Medley (Lucky Number,Pop Musik,If I Said You Had A Beautiful Body Would You Hold It Against Me)
DR16 -0.86 dB -18.81 dB 2:37 02-Evolution
DR18 -0.20 dB -23.16 dB 0:57 03-Telephone Line
DR13 -0.78 dB -15.81 dB 2:17 04-Herbie The Head
DR17 -0.20 dB -18.71 dB 3:22 05-The Fleetwood Bus (The Deadwood Stage)
DR13 -5.31 dB -23.19 dB 0:31 06-Mr. Tambourine Man
DR14 -0.20 dB -17.09 dB 3:23 07-The Topical Song (The Logical Song)
DR16 -0.20 dB -18.38 dB 2:37 08-Nanu Nanu (Shazbot)
DR13 -0.26 dB -15.40 dB 5:38 09-Arthur Clark (Macarthur Park)
DR13 -0.20 dB -15.62 dB 0:38 10-Preservation
DR13 -0.20 dB -15.58 dB 2:17 11-Farewell To Punk
DR15 -0.23 dB -17.24 dB 2:38 12-The Busker
DR14 -0.83 dB -16.26 dB 4:26 13-Heaving On A Jet Plane (Leaving On A Jet Plane)
DR17 -0.20 dB -18.57 dB 3:29 14-Here Here
––––––––––––––––––––––––––––––––––––––––

Number of tracks: 14
Official DR value: DR15

Samplerate: 44100 Hz
Channels: 2
Bits per sample: 16
Bitrate: 812 kbps
Codec: FLAC
================================================================================