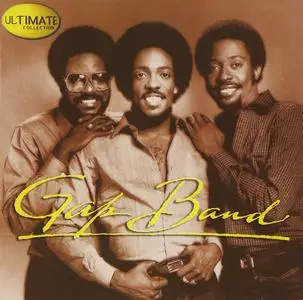 The Gap Band - Ultimate Collection (Remastered) (2001)
XLD Rip | FLAC (tracks, cue, log) - 557 MB
1:19:36 | Soul, Funk, R&B, Pop | Label: Hip-O Records
There's been a "gap" thus far in the anthologies of these funk/soul stars-none has compiled their multi-label hits from the '70s to the '90s. This one does, including single versions of Early in the Morning; Burn Rubber (Why You Wanna Hurt Me); You Dropped a Bomb on Me; Going in Circles; Shake ; songs from two out-of-print soundtracks, and more. 19 tracks, every one a Top 40 R&B hit!
Tracklist
1. Shake (Single Version)
2. Open Up Your Mind (Wide) (Single Version)
3. Steppin' (Out) (Single Version)
4. I Don't Believe You Want To Get Up And Dance (Oops Up Side Your Head)
5. Burn Rubber (Why You Wanna Hurt Me) (Single Version)
6. Yearning For Your Love (Single Version)
7. Early In The Morning (Single Version)
8. You Dropped A Bomb On Me (Single Version)
9. Outstanding (Single Version)
10. Party Train (Single Version)
11. Beep A Freak (Original Album Version Edit)
12. I Found My Baby (Original Album Version Edit)
13. Going In Circles (Original Album Version)
14. Big Fun (Single Version)
15. Sweeter Than Candy-From Penitentiary III (Single Version)
16. I'm Gonna Git U Sucka (Album Version)
17. All Of My Love (Album Version)
18. Addicted To Your Love (Album Version)
19. We Can Make It Alright (Album Version)
X Lossless Decoder version 20210101 (153.1)

XLD extraction logfile from 2021-05-15 19:38:35 -0700

The Gap Band / Ultimate Collection

Used drive : Slimtype EB1 (revision HLE2)
Media type : Pressed CD

Ripper mode : XLD Secure Ripper
Disable audio cache : OK for the drive with a cache less than 1375KiB
Make use of C2 pointers : NO
Read offset correction : 667
Max retry count : 100
Gap status : Analyzed, Appended (except HTOA)

TOC of the extracted CD
Track | Start | Length | Start sector | End sector
––––––––––––––––––––––––––––-
1 | 00:00:00 | 03:33:57 | 0 | 16031
2 | 03:33:57 | 04:04:73 | 16032 | 34404
3 | 07:38:55 | 04:27:30 | 34405 | 54459
4 | 12:06:10 | 03:35:72 | 54460 | 70656
5 | 15:42:07 | 04:11:45 | 70657 | 89526
6 | 19:53:52 | 04:04:63 | 89527 | 107889
7 | 23:58:40 | 03:58:47 | 107890 | 125786
8 | 27:57:12 | 04:04:30 | 125787 | 144116
9 | 32:01:42 | 03:18:55 | 144117 | 159021
10 | 35:20:22 | 04:42:48 | 159022 | 180219
11 | 40:02:70 | 04:16:47 | 180220 | 199466
12 | 44:19:42 | 04:10:18 | 199467 | 218234
13 | 48:29:60 | 04:29:60 | 218235 | 238469
14 | 52:59:45 | 04:04:62 | 238470 | 256831
15 | 57:04:32 | 04:22:00 | 256832 | 276481
16 | 61:26:32 | 03:37:08 | 276482 | 292764
17 | 65:03:40 | 04:52:05 | 292765 | 314669
18 | 69:55:45 | 04:52:45 | 314670 | 336614
19 | 74:48:15 | 04:45:40 | 336615 | 358029

List of alternate offset correction values
# | Absolute | Relative | Confidence
–––––––––––––––––––––
1 | 671 | 4 | 11
2 | 661 | -6 | 10

AccurateRip Summary (DiscID: 00350113-02ea6c3f-0f12a513)
Track 01 : OK (v2, confidence 3/24)
Track 02 : OK (v2, confidence 3/24)
Track 03 : OK (v2, confidence 3/23)
Track 04 : OK (v2, confidence 3/24)
Track 05 : OK (v2, confidence 3/23)
Track 06 : OK (v2, confidence 3/24)
Track 07 : OK (v2, confidence 3/23)
Track 08 : OK (v2, confidence 3/23)
Track 09 : OK (v2, confidence 3/23)
Track 10 : OK (v2, confidence 3/23)
Track 11 : OK (v2, confidence 3/20)
Track 12 : OK (v2, confidence 3/21)
Track 13 : OK (v2, confidence 3/21)
Track 14 : OK (v2, confidence 3/21)
Track 15 : OK (v2, confidence 3/21)
Track 16 : OK (v2, confidence 3/22)
Track 17 : OK (v2, confidence 3/21)
Track 18 : OK (v2, confidence 3/20)
Track 19 : OK (v2, confidence 3/17)
->All tracks accurately ripped.

All Tracks
Album gain : -9.02 dB
Peak : 0.988831
Statistics
Read error : 0
Jitter error (maybe fixed) : 0
Retry sector count : 0
Damaged sector count : 0

Track 01
Filename : /Volumes/El Segundo/Rips/The Gap Band - Ultimate Collection (2001) [FLAC]/01 Shake.flac
Pre-gap length : 00:02:00

Track gain : -8.26 dB
Peak : 0.988800
CRC32 hash (test run) : EB356B93
CRC32 hash : EB356B93
CRC32 hash (skip zero) : 55A1FD2C
AccurateRip v1 signature : 5899CC55
AccurateRip v2 signature : F9C4C715
->Accurately ripped (v2, confidence 3/24)
Statistics
Read error : 0
Jitter error (maybe fixed) : 0
Retry sector count : 0
Damaged sector count : 0

Track 02
Filename : /Volumes/El Segundo/Rips/The Gap Band - Ultimate Collection (2001) [FLAC]/02 Open Up Your Mind (Wide).flac
Pre-gap length : 00:01:05

Track gain : -9.66 dB
Peak : 0.988800
CRC32 hash (test run) : 8EB30C0E
CRC32 hash : 8EB30C0E
CRC32 hash (skip zero) : 6A08E87E
AccurateRip v1 signature : 887F3833
AccurateRip v2 signature : 2A93986C
->Accurately ripped (v2, confidence 3/24)
Statistics
Read error : 0
Jitter error (maybe fixed) : 0
Retry sector count : 0
Damaged sector count : 0

Track 03
Filename : /Volumes/El Segundo/Rips/The Gap Band - Ultimate Collection (2001) [FLAC]/03 Steppin' (Out).flac
Pre-gap length : 00:01:05

Track gain : -8.04 dB
Peak : 0.988800
CRC32 hash (test run) : BA618146
CRC32 hash : BA618146
CRC32 hash (skip zero) : 02ED1341
AccurateRip v1 signature : D99989BB
AccurateRip v2 signature : C8F1BC2C
->Accurately ripped (v2, confidence 3/23)
Statistics
Read error : 0
Jitter error (maybe fixed) : 0
Retry sector count : 0
Damaged sector count : 0

Track 04
Filename : /Volumes/El Segundo/Rips/The Gap Band - Ultimate Collection (2001) [FLAC]/04 I Don't Believe You Want to Get Up and Dance.flac
Pre-gap length : 00:01:05

Track gain : -9.27 dB
Peak : 0.988831
CRC32 hash (test run) : A326D06F
CRC32 hash : A326D06F
CRC32 hash (skip zero) : 32CDDA97
AccurateRip v1 signature : 905CA1FB
AccurateRip v2 signature : C5B381CA
->Accurately ripped (v2, confidence 3/24)
Statistics
Read error : 0
Jitter error (maybe fixed) : 0
Retry sector count : 0
Damaged sector count : 0

Track 05
Filename : /Volumes/El Segundo/Rips/The Gap Band - Ultimate Collection (2001) [FLAC]/05 Burn Rubber (Why You Wanna Hurt Me).flac
Pre-gap length : 00:01:05

Track gain : -10.10 dB
Peak : 0.988800
CRC32 hash (test run) : 6F688F4E
CRC32 hash : 6F688F4E
CRC32 hash (skip zero) : 741D602D
AccurateRip v1 signature : 81EAFBDA
AccurateRip v2 signature : 51582E08
->Accurately ripped (v2, confidence 3/23)
Statistics
Read error : 0
Jitter error (maybe fixed) : 0
Retry sector count : 0
Damaged sector count : 0

Track 06
Filename : /Volumes/El Segundo/Rips/The Gap Band - Ultimate Collection (2001) [FLAC]/06 Yearning for Your Love.flac
Pre-gap length : 00:01:05

Track gain : -9.10 dB
Peak : 0.988800
CRC32 hash (test run) : 98E9913B
CRC32 hash : 98E9913B
CRC32 hash (skip zero) : DA991613
AccurateRip v1 signature : D4132446
AccurateRip v2 signature : 9BC7A42A
->Accurately ripped (v2, confidence 3/24)
Statistics
Read error : 0
Jitter error (maybe fixed) : 0
Retry sector count : 0
Damaged sector count : 0

Track 07
Filename : /Volumes/El Segundo/Rips/The Gap Band - Ultimate Collection (2001) [FLAC]/07 Early in the Morning.flac
Pre-gap length : 00:01:05

Track gain : -9.37 dB
Peak : 0.988831
CRC32 hash (test run) : 2B9C247B
CRC32 hash : 2B9C247B
CRC32 hash (skip zero) : 0A0A2280
AccurateRip v1 signature : DB22C07D
AccurateRip v2 signature : D75B5ECF
->Accurately ripped (v2, confidence 3/23)
Statistics
Read error : 0
Jitter error (maybe fixed) : 0
Retry sector count : 0
Damaged sector count : 0

Track 08
Filename : /Volumes/El Segundo/Rips/The Gap Band - Ultimate Collection (2001) [FLAC]/08 You Dropped the Bomb on Me.flac
Pre-gap length : 00:01:05

Track gain : -9.63 dB
Peak : 0.988831
CRC32 hash (test run) : 684E1494
CRC32 hash : 684E1494
CRC32 hash (skip zero) : AA8766D1
AccurateRip v1 signature : 435C4BA3
AccurateRip v2 signature : 46B138DA
->Accurately ripped (v2, confidence 3/23)
Statistics
Read error : 0
Jitter error (maybe fixed) : 0
Retry sector count : 0
Damaged sector count : 0

Track 09
Filename : /Volumes/El Segundo/Rips/The Gap Band - Ultimate Collection (2001) [FLAC]/09 Outstanding.flac
Pre-gap length : 00:01:05

Track gain : -9.65 dB
Peak : 0.988800
CRC32 hash (test run) : BAE66CE4
CRC32 hash : BAE66CE4
CRC32 hash (skip zero) : 9AEAE047
AccurateRip v1 signature : 60F3B2EA
AccurateRip v2 signature : EFA79796
->Accurately ripped (v2, confidence 3/23)
Statistics
Read error : 0
Jitter error (maybe fixed) : 0
Retry sector count : 0
Damaged sector count : 0

Track 10
Filename : /Volumes/El Segundo/Rips/The Gap Band - Ultimate Collection (2001) [FLAC]/10 Party Train.flac
Pre-gap length : 00:01:05

Track gain : -9.51 dB
Peak : 0.988800
CRC32 hash (test run) : AAD05AFF
CRC32 hash : AAD05AFF
CRC32 hash (skip zero) : 8DF533B9
AccurateRip v1 signature : EE439033
AccurateRip v2 signature : A1291E3D
->Accurately ripped (v2, confidence 3/23)
Statistics
Read error : 0
Jitter error (maybe fixed) : 0
Retry sector count : 0
Damaged sector count : 0

Track 11
Filename : /Volumes/El Segundo/Rips/The Gap Band - Ultimate Collection (2001) [FLAC]/11 Beep a Freak.flac
Pre-gap length : 00:01:05

Track gain : -9.53 dB
Peak : 0.988800
CRC32 hash (test run) : 063C930F
CRC32 hash : 063C930F
CRC32 hash (skip zero) : 304FB658
AccurateRip v1 signature : 74AC7E5A
AccurateRip v2 signature : 3B8D6FC2
->Accurately ripped (v2, confidence 3/20)
Statistics
Read error : 0
Jitter error (maybe fixed) : 0
Retry sector count : 0
Damaged sector count : 0

Track 12
Filename : /Volumes/El Segundo/Rips/The Gap Band - Ultimate Collection (2001) [FLAC]/12 I Found My Baby.flac
Pre-gap length : 00:01:05

Track gain : -8.13 dB
Peak : 0.988800
CRC32 hash (test run) : 5207D1DA
CRC32 hash : 5207D1DA
CRC32 hash (skip zero) : 4728746D
AccurateRip v1 signature : 2C1D160F
AccurateRip v2 signature : FD8F88D7
->Accurately ripped (v2, confidence 3/21)
Statistics
Read error : 0
Jitter error (maybe fixed) : 0
Retry sector count : 0
Damaged sector count : 0

Track 13
Filename : /Volumes/El Segundo/Rips/The Gap Band - Ultimate Collection (2001) [FLAC]/13 Going in Circles.flac
Pre-gap length : 00:01:05

Track gain : -9.26 dB
Peak : 0.988800
CRC32 hash (test run) : 9AC741E0
CRC32 hash : 9AC741E0
CRC32 hash (skip zero) : 2780A711
AccurateRip v1 signature : 5F9B0DC6
AccurateRip v2 signature : 3BE7733D
->Accurately ripped (v2, confidence 3/21)
Statistics
Read error : 0
Jitter error (maybe fixed) : 0
Retry sector count : 0
Damaged sector count : 0

Track 14
Filename : /Volumes/El Segundo/Rips/The Gap Band - Ultimate Collection (2001) [FLAC]/14 Big Fun.flac
Pre-gap length : 00:01:05

Track gain : -9.18 dB
Peak : 0.988800
CRC32 hash (test run) : D63768D5
CRC32 hash : D63768D5
CRC32 hash (skip zero) : 6B976A9F
AccurateRip v1 signature : 82A25AE2
AccurateRip v2 signature : 519E7722
->Accurately ripped (v2, confidence 3/21)
Statistics
Read error : 0
Jitter error (maybe fixed) : 0
Retry sector count : 0
Damaged sector count : 0

Track 15
Filename : /Volumes/El Segundo/Rips/The Gap Band - Ultimate Collection (2001) [FLAC]/15 Sweeter Than Candy.flac
Pre-gap length : 00:01:05

Track gain : -8.14 dB
Peak : 0.988770
CRC32 hash (test run) : 6B0810B7
CRC32 hash : 6B0810B7
CRC32 hash (skip zero) : E900C217
AccurateRip v1 signature : B17C7308
AccurateRip v2 signature : 02810FE2
->Accurately ripped (v2, confidence 3/21)
Statistics
Read error : 0
Jitter error (maybe fixed) : 0
Retry sector count : 0
Damaged sector count : 0

Track 16
Filename : /Volumes/El Segundo/Rips/The Gap Band - Ultimate Collection (2001) [FLAC]/16 I'm Gonna Git U Sucka.flac

Track gain : -8.55 dB
Peak : 0.988800
CRC32 hash (test run) : 800A6867
CRC32 hash : 800A6867
CRC32 hash (skip zero) : 8FCAF6C0
AccurateRip v1 signature : 7E24009B
AccurateRip v2 signature : 1F7E03D4
->Accurately ripped (v2, confidence 3/22)
Statistics
Read error : 0
Jitter error (maybe fixed) : 0
Retry sector count : 0
Damaged sector count : 0

Track 17
Filename : /Volumes/El Segundo/Rips/The Gap Band - Ultimate Collection (2001) [FLAC]/17 All of My Love.flac
Pre-gap length : 00:01:05

Track gain : -7.68 dB
Peak : 0.988831
CRC32 hash (test run) : 617F8801
CRC32 hash : 617F8801
CRC32 hash (skip zero) : E578052D
AccurateRip v1 signature : 0B1EA076
AccurateRip v2 signature : E0E9DD7C
->Accurately ripped (v2, confidence 3/21)
Statistics
Read error : 0
Jitter error (maybe fixed) : 0
Retry sector count : 0
Damaged sector count : 0

Track 18
Filename : /Volumes/El Segundo/Rips/The Gap Band - Ultimate Collection (2001) [FLAC]/18 Addicted to Your Love.flac

Track gain : -9.21 dB
Peak : 0.988800
CRC32 hash (test run) : E8F68376
CRC32 hash : E8F68376
CRC32 hash (skip zero) : 11461C38
AccurateRip v1 signature : 7C478B99
AccurateRip v2 signature : 1EF72F94
->Accurately ripped (v2, confidence 3/20)
Statistics
Read error : 0
Jitter error (maybe fixed) : 0
Retry sector count : 0
Damaged sector count : 0

Track 19
Filename : /Volumes/El Segundo/Rips/The Gap Band - Ultimate Collection (2001) [FLAC]/19 We Can Make It Alright.flac
Pre-gap length : 00:01:05

Track gain : -8.55 dB
Peak : 0.988800
CRC32 hash (test run) : DCD19117
CRC32 hash : DCD19117
CRC32 hash (skip zero) : 3C8B89A0
AccurateRip v1 signature : 4943BE2F
AccurateRip v2 signature : 95B81B41
->Accurately ripped (v2, confidence 3/17)
Statistics
Read error : 0
Jitter error (maybe fixed) : 0
Retry sector count : 0
Damaged sector count : 0

No errors occurred

End of status report

––-BEGIN XLD SIGNATURE––-
SfQbGy_NxUXnJN8ae5.GYK2ms_TcmVJyvccZQ0ntw9lOiylXNPVRnbUbGJoR0eKuiageFVWn8yRcpapM3_bqiRs10coDo3sVh2Uk6dS
––-END XLD SIGNATURE––-