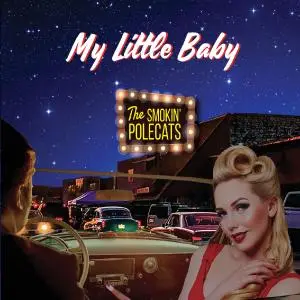 The Smokin' Polecats - My Little Baby (2019)
WEB FLAC (tracks) - 302 MB | MP3 CBR 320 kbps - 109 MB | Tracks: 12 | 47:35 min
Style: Blues | Label: Quiet Knight Records
"Virtuosos of electric blues"…. that's how William Tripplett of Washingtonian Magazine describes the Smokin' Polecats. They are the best blues band in the DC metropolitan area. It's the years and depth of experience that The Smokin' Polecats share that have afforded them that reputation. Their sound comes from the Post-World War 2 ensemble sound of the Chicago Masters like Jimmy Rogers, Little Walter, and Hubert Sumlin; the West Coast Jump/Swing sound of Tiny Grimes, Pee Wee Crayton, and T-Bone Walker; the Rock'a'Billy sound of Carl Perkins and Johnny Burnette; and the Louisiana swamp blues of Slim Harpo. They don't just play songs by these artists, they have their own sound that consists of a melding together of their years of playing experience.
Tracklist:
01. Darlin'
02. My Rough and Ready Man
03. It Better Get Better
04. My Little Baby
05. I Don't Hurt Anymore
06. Mama, He Treats Your Daughter Mean
07. It Won't Be Long
08. Mojo Boogie
09. I Believe I'm in Love with You
10. You Got What It Takes
11. So Long Baby, Goodbye
12. Jumpin' Bad

FILE: 01. Darlin'.flac
Size: 25804485 Hash: 79CF9717596E5D14303F21785266A4D9 Accuracy: -m0
Conclusion: CDDA 100%
Signature: 7935E5B51D5910D8A3E15E6228F0F70853EAD7C4
FILE: 02. My Rough and Ready Man.flac
Size: 16623056 Hash: 3836B6DDD608E2DE6E4709F27593A0B4 Accuracy: -m0
Conclusion: MPEG 73%
Signature: 10E59E2479D56C844437AD71DCACBC339C47499E
FILE: 03. It Better Get Better.flac
Size: 22123358 Hash: 84F1DC946E84AF804615D65944B3951E Accuracy: -m0
Conclusion: CDDA 100%
Signature: 7964043FBDC31BEF89C90CBBD914AA0F90001A13
FILE: 04. My Little Baby.flac
Size: 29011834 Hash: A7410B607BE56F1F176DB06BCABCD16B Accuracy: -m0
Conclusion: CDDA 100%
Signature: F6360F4FC97731DBAA4AFE6B98DF417F08BFE778
FILE: 05. I Don't Hurt Anymore.flac
Size: 31230261 Hash: 4C727DF441EF82E286AF8A1E304EE80B Accuracy: -m0
Conclusion: CDDA 100%
Signature: C28254BFE342FEA690765C001FB9B6431EF24C83
FILE: 06. Mama, He Treats Your Daughter Mean.flac
Size: 37466139 Hash: 5F6124CFA2B0D530A871541DABDAC11D Accuracy: -m0
Conclusion: CDDA 99%
Signature: 8DE86AB7C20B25E9A4E3754392DE5BBEEFD13262
FILE: 07. It Won't Be Long.flac
Size: 25507702 Hash: 0EEDD2C5817F42D81C0A2FDE41CA195F Accuracy: -m0
Conclusion: CDDA 100%
Signature: F5D867D7D63112F4B14A9CDA48236D8EF2E78FEE
FILE: 08. Mojo Boogie.flac
Size: 39365745 Hash: 117D671849184B0C92D2281F8093A9C3 Accuracy: -m0
Conclusion: CDDA 100%
Signature: 560581C72538DB42ADB9D8B4555984BDED471480
FILE: 09. I Believe I'm in Love with You.flac
Size: 23182593 Hash: A28E2FC7A808EFD65FB05601CD2CBF32 Accuracy: -m0
Conclusion: CDDA 100%
Signature: DA2D9EF3E13697C1BF7F79457376F582458B63C0
FILE: 10. You Got What It Takes.flac
Size: 29225423 Hash: 0AA18EB5CD3C957506756DC6C2D84434 Accuracy: -m0
Conclusion: CDDA 100%
Signature: 781AF76BAB909445FAD9613C27666D2E03276ED7
FILE: 11. So Long Baby, Goodbye.flac
Size: 20931882 Hash: 3E54D2BC8D236F4C4EE663CF837C712F Accuracy: -m0
Conclusion: CDDA 100%
Signature: 2E392A5E653DDE5EDA15B7404DDF8C42AD4BCD59
FILE: 12. Jumpin' Bad.flac
Size: 16724030 Hash: A242FB7158C2DD8CF6A8B737BE4D65F0 Accuracy: -m0
Conclusion: CDDA 100%
Signature: 84FDF25D192FE543D2E0F5108C41AC6E6EF15565