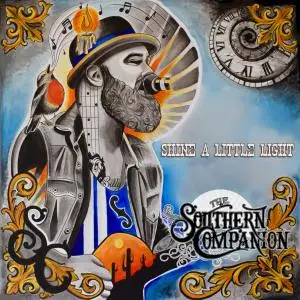 The Southern Companion - Shine A Little Light (2019)
WEB FLAC (tracks) - 261 MB | MP3 CBR 320 kbps - 96 MB | Tracks: 11 | 41:48 min
Style: Country | Label: Eleven33 Records
Fronted by singer/songwriter and guitarist Darren Hodson, The Southern Companion are made up of some of the UK's finest session musicians who's CV's include industry big hitters Tom Jones, Take That, Mel C, Lulu, Rumer, James Morrison, Pete Townsend, Amy Macdonald.. the list goes on and on.
After recording an "Under The Apple Tree" session for Bob Harris in 2016, an appearance at the C2C festival in London soon followed and a string of UK festivals that summer brought The Southern Companion firmly into the hearts of Country & Americana fans.
2 years of UK, European and USA tour dates came next supporting songstress Rumer and 60's legend Lulu.
Multiple British CMA Awards, Live shows for The AMA-UK, National air play on BBC Radio 2 from Bob Harris, as well as a featured song in the upcoming smash hit movie "Wild Rose" feat. Jessie Buckley & Julie Walters, 2019 looks set to be a big year for the band.
Tracklist:
1. Billy's Brother
2. Can I Get a Witness
3. Songbird
4. Can't Get There From Here
5. Few Too Many Hours
6. Great American Mistake
7. Lie To Me
8. Already Gone
9. You Are Not Alone
10. And In the End
11. Last Rays of the Sun
ANALYZER: auCDtect: CD records authenticity detector, version 0.8.2
Copyright © 2004 Oleg Berngardt. All rights reserved.
Copyright © 2004 Alexander Djourik. All rights reserved.


FILE: 01. Billy's Brother.flac
Size: 40668145 Hash: FCEAA8015F1E0D7D2BED70DA918A5A22 Accuracy: -m0
Conclusion: CDDA 100%
Signature: 785EBFF23691A6F794FAB514668ABCF1039F8FCC
FILE: 02. Can I Get A Witness.flac
Size: 19669232 Hash: B659C5B81EDD216328188A7BC32FBF65 Accuracy: -m0
Conclusion: CDDA 100%
Signature: 70E2B88E3D73F37089F6AB6EA676E92E37443B48
FILE: 03. Songbird.flac
Size: 30167371 Hash: 82933CBCBAE283AAA523431315B02372 Accuracy: -m0
Conclusion: CDDA 100%
Signature: C04D35C41A5A61F6E2A171081A24798DC4DD0267
FILE: 04. Can't Get There From Here.flac
Size: 25163886 Hash: 638515CBE799801AE9C2531DD82B754B Accuracy: -m0
Conclusion: CDDA 100%
Signature: CCA4E5BA401E9480B361B1709CC5578208A17793
FILE: 05. Few Too Many Hours.flac
Size: 16596175 Hash: A70A9F665DEBEF830D3893B10E01CF13 Accuracy: -m0
Conclusion: CDDA 100%
Signature: 7A6B0B73933AFAE525FE2BEA56A5D9F0E96DB5B7
FILE: 06. Great American Mistake.flac
Size: 20155264 Hash: F0D9D20BC22A25390B63557BC70527DE Accuracy: -m0
Conclusion: CDDA 100%
Signature: 7D41793BAF53FC6576E70C6B4D4B8E77641CC819
FILE: 07. Lie To Me.flac
Size: 36183352 Hash: AA86E0E793F0C71F679E1BFB11CE7814 Accuracy: -m0
Conclusion: CDDA 100%
Signature: F7F3005AAD06014EE0ACB4819A8A636EBF8C3574
FILE: 08. Already Gone.flac
Size: 27471708 Hash: B9A5417498194A9B8291663B35B22D32 Accuracy: -m0
Conclusion: CDDA 100%
Signature: BE96492F0F607B539F70D5068D597790E571CB8C
FILE: 09. You Are Not Alone.flac
Size: 29099220 Hash: 284B302B497D297A8F26A00A70442ADB Accuracy: -m0
Conclusion: CDDA 100%
Signature: 17B5ECB6E91113BAB6EA13C4CBDFCB66EA92E8BA
FILE: 10. And In The End.flac
Size: 5277016 Hash: 14633FEAE243C5551673128ACB670371 Accuracy: -m0
Conclusion: CDDA 100%
Signature: 008DAF60FBF85D15161FF54613288E64633D571A
FILE: 11. Last Rays Of The Sun.flac
Size: 23602463 Hash: 3DC1D50E5D5A4A329CF42F49FF9A82C1 Accuracy: -m0
Conclusion: CDDA 100%
Signature: 3229442BB04DF5D9219F44E12B28DEFB267E958A