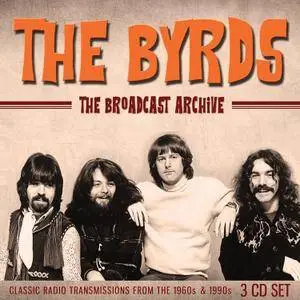 The Byrds - The Broadcast Archive (Live) (2017)
Classic Rock, Folk Rock, Psychedelic Rock | MP3 CBR 320 kbps | 02:38:27 | 371 MB
Label: Video Music, Inc.
The Broadcast Archive is a three CD set of radio broadcasts – semi-professional bootlegs in other words. Two of the albums have actually been out (on this label!) since 2015, one is new for 2017 and the whole have been repackaged into a single box set. The Byrds isn't an exactly honest representation of the box, as Electric Ladyland 1991 is a Roger McGuinn concert. This isn't such a problem since it's by far the best CD in the set – the sound is pretty good quality and amongst several Byrds songs there are plenty from his last big studio album Back From Rio. It's good to hear McGuinn with a full band – the trees are all gone boils with eco-concern, King of the Hill is a jangly tale of rock star drug abuse, Eight Miles High is a fine set closer.
TRACKLIST
01. Old John Robertson (Live at the Piper Club, Rome, Italy 1968)
02. You Don't Miss Your Water (Live at the Piper Club, Rome, Italy 1968)
03. Hickory Wind (Live at the Piper Club, Rome, Italy 1968)
04. I'll Feel a Whole Lot Better (Live at the Piper Club, Rome, Italy 1968)
05. Chimes of Freedom (Live at the Piper Club, Rome, Italy 1968)
06. The Christian Life (Live at the Piper Club, Rome, Italy 1968)
07. Turn! Turn! Turn! (Live at the Piper Club, Rome, Italy 1968)
08. My Back Pages/B.J. Blues/Baby What You Want Me to Do (Live at the Piper Club, Rome, Italy 1968)
09. Mr Spaceman (Live at the Piper Club, Rome, Italy 1968)
10. You Ain't Going Nowhere (Live at the Piper Club, Rome, Italy 1968)
11. I Knew I'd Want You (Instrumental) (Live at Ardent Studios, Baton Rouge, La1968)
12. It's No Use (Live at Ardent Studios, Baton Rouge, La1968)
13. The Bells of Rhymney (Live at Ardent Studios, Baton Rouge, La1968)
14. I'll Feel a Whole Lot Better (Live at Ardent Studios, Baton Rouge, La1968)
15. It Won't Be Wrong (Live at Ardent Studios, Baton Rouge, La1968)
16. The World Turns All Around Her (Live at Ardent Studios, Baton Rouge, La1968)
17. Satisfied Mind (Live at Ardent Studios, Baton Rouge, La1968)
18. Goin' Back (Live at Ardent Studios, Baton Rouge, La1968)
19. Don't Make Waves (Live at Ardent Studios, Baton Rouge, La1968)
20. He Was a Friend of Mine (Live at Ardent Studios, Baton Rouge, La1968)
21. My Back Pages/Baby What You Want Me to Do (Live at Ardent Studios, Baton Rouge, La1968)
22. Turn! Turn! Turn! (Live at the Lee Jeans Living Rock Concert, Fillmore West, San Francisco, Ca 1969)
23. Ballad of Easy Rider (Live at the Lee Jeans Living Rock Concert, Fillmore West, San Francisco, Ca 1969)
24. It Won't Be Wrong (Live at the Lee Jeans Living Rock Concert, Fillmore West, San Francisco, Ca 1969)
25. The Water Is Wide (Live at the Lee Jeans Living Rock Concert, Fillmore West, San Francisco, Ca 1969)
26. Mr. Tambourine Man (Live at the Lee Jeans Living Rock Concert, Fillmore West, San Francisco, Ca 1969)
27. Nashville West (Live at the Lee Jeans Living Rock Concert, Fillmore West, San Francisco, Ca 1969)
28. Lover of the Bayou (Live at the Lee Jeans Living Rock Concert, Fillmore West, San Francisco, Ca 1969)
29. Jesus Is Just Alright (Live at the Lee Jeans Living Rock Concert, Fillmore West, San Francisco, Ca 1969)
30. Jesus Is Just Alright (Live at Bridges Auditorium, Claremont, Ca, 1969)
31. This Wheel's on Fire (Live at Bridges Auditorium, Claremont, Ca, 1969)
32. Jesus Is Just Alright (Reprise) (Live at Bridges Auditorium, Claremont, Ca, 1969)
33. Eight Miles High (Live at Bridges Auditorium, Claremont, Ca, 1969)
34. Break Song (Live at Bridges Auditorium, Claremont, Ca, 1969)
35. Someone to Love (Live at Electric Ladyland Studios, New York City, NY, 1991)
36. Car Phone (Live at Electric Ladyland Studios, New York City, NY, 1991)
37. You Bowed Down (Live at Electric Ladyland Studios, New York City, NY, 1991)
38. Tiffany Queen (Live at Electric Ladyland Studios, New York City, NY, 1991)
39. The Trees Are All Gone (Live at Electric Ladyland Studios, New York City, NY, 1991)
40. Love That Never Dies (Live at Electric Ladyland Studios, New York City, NY, 1991)
41. If We Never Meet Again (Live at Electric Ladyland Studios, New York City, NY, 1991)
42. King of the Hill (Live at Electric Ladyland Studios, New York City, NY, 1991)
43. Mr. Tambourine Man (Live at Electric Ladyland Studios, New York City, NY, 1991)
44. Turn! Turn! Turn! (Live at Electric Ladyland Studios, New York City, NY, 1991)
45. Eight Miles High (Live at Electric Ladyland Studios, New York City, NY, 1991)