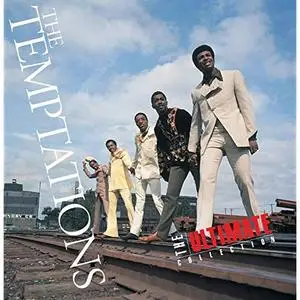 The Temptations - The Ultimate Collection (1997/2019)
WEB FLAC (Tracks) - 308 MB | Cover | MP3 CBR 320 kbps - 167 MB | 01:09:52
Soul, Funk, RnB | Label: Uni/Motown
With the exception of Stevie Wonder and Marvin Gaye, one would be hard pressed to name a Motown act who went through as many creative shifts as the Temptations. While Wonder's and Gaye's changes of direction were a product of their own creative rebellion against Berry Gordy's brilliant but often formulaic vision, the Temptations seemed to be the label's official "keeping up with the times" artists, starting out as interpreters of Smokey Robinson's silky-smooth sweet soul confections and going on to embrace rock guitars, work with members of Funkadelic, and be produced by Rick James, all while holding onto their trademark vocal style. The length and breadth of the Temptations' career would make it practically impossible for a single-disc career retrospective to be truly comprehensive, and The Ultimate Collection is missing a few essential tracks (most notably "Psychedelic Shack" and "Runaway Child, Running Wild"), while two latter-day hits, "Treat Her Like a Lady" and "Error of Our Ways," don't exactly bring this set to a triumphant conclusion. But if you're only going to own one Temptations disc, The Ultimate Collection is a very good one to get; it includes the majority of the group's biggest hits, the remastering sounds great, and the chronological sequence gives a fine picture of the group's constant musical evolution. The Ultimate Collection isn't the last word on the Temptations, but it's a splendid starting point to their music, and will add a satisfying portion of sweet-and-sour soul to your next party. Special added attraction: a rare a cappella take of "My Girl" is included as a bonus.
TRACKLIST
01. The Way You Do The Things You Do
02. My Girl (Single Version / Mono)
03. It's Growing
04. Since I Lost My Baby
05. Don't Look Back
06. Get Ready
07. Ain't Too Proud To Beg
08. (I Know) I'm Losing You
09. All I Need
10. You're My Everything (Single Version / Mono)
11. Angel Doll
12. I Wish It Would Rain
13. Cloud Nine
14. I Can't Get Next To You (Single Version / Mono)
15. Ball Of Confusion (That's What The World Is Today) (Single Version / Mono)
16. Just My Imagination (Running Away With Me) (Single Version / Mono)
17. Papa Was A Rollin' Stone (Single Version)
18. Shakey Ground
19. Treat Her Like A Lady
20. Error Of Our Ways
21. My Girl (A Cappella (Excerpt))
–––––––––––-
DON'T MODIFY THIS FILE
–––––––––––-
PERFORMER: auCDtect Task Manager, ver. 1.6.0 RC1 build 1.6.0.1
Copyright © 2008-2010 y-soft. All rights reserved
http://y-soft.org
ANALYZER: auCDtect: CD records authenticity detector, version 0.8.2
Copyright © 2004 Oleg Berngardt. All rights reserved.
Copyright © 2004 Alexander Djourik. All rights reserved.
FILE: 21. The Temptations - My Girl (A Cappella (Excerpt)).flac
Size: 4311758 Hash: 29817AB89280FF6EB911AC5A65F143F3 Accuracy: -m0
Conclusion: CDDA 100%
Signature: FC63E13E31F455A636606F3E5CE1E0E50D668D69
FILE: 20. The Temptations - Error Of Our Ways.flac
Size: 36184486 Hash: E33C3F828210B3EC1D7401F05240AADA Accuracy: -m0
Conclusion: CDDA 100%
Signature: 6E1A97DCFFD06812296F943EDE3EA499996AB574
FILE: 19. The Temptations - Treat Her Like A Lady.flac
Size: 33365555 Hash: EB9E0C66E2BED998B350EEE9A269115E Accuracy: -m0
Conclusion: CDDA 99%
Signature: 2FE96E6D8B95811BDE6008BB90A041E57D79BE97
FILE: 18. The Temptations - Shakey Ground.flac
Size: 25296949 Hash: 03D59C5713C224DEFE0DA7126D6B83A8 Accuracy: -m0
Conclusion: CDDA 100%
Signature: 8AB49393DA030B4082863DEB51C61BD954B05BAE
FILE: 17. The Temptations - Papa Was A Rollin' Stone (Single Version).flac
Size: 45142578 Hash: 23F3CEE7D374650BA6BFA9460BD511FB Accuracy: -m0
Conclusion: CDDA 100%
Signature: DBFBB42D8BBD472482213326C7E08BBE04A8825E
FILE: 16. The Temptations - Just My Imagination (Running Away With Me) (Single Version - Mono).flac
Size: 12749711 Hash: 6B51D3FB0DDCA8252CE05DABB1367659 Accuracy: -m0
Conclusion: CDDA 100%
Signature: BACD90D51FD3AE1A804E100CEF87B384F3D1CD40
FILE: 15. The Temptations - Ball Of Confusion (That's What The World Is Today) (Single Version - Mono).flac
Size: 16031159 Hash: EC01817E1E32D95A05F33AC9EC5885DA Accuracy: -m0
Conclusion: CDDA 100%
Signature: 6FFA7594F950B08B71C26D03517331A294F86B9C
FILE: 14. The Temptations - I Can't Get Next To You (Single Version - Mono).flac
Size: 12615159 Hash: C78BF9DF3EA8B2E3CE102060C8E4C774 Accuracy: -m0
Conclusion: CDDA 100%
Signature: 4D584C1D62C24D98327B9155380A2890E6BA7F37
FILE: 13. The Temptations - Cloud Nine.flac
Size: 13180324 Hash: 6D36E15E2F7D36FA6C06AC44D0D0DA85 Accuracy: -m0
Conclusion: CDDA 100%
Signature: 5397BD839BB567AC19AC2E0FA42AA6C338861FE7
FILE: 12. The Temptations - I Wish It Would Rain.flac
Size: 10169839 Hash: 5BDB094F4969F62C8DC8662C75E72110 Accuracy: -m0
Conclusion: CDDA 100%
Signature: C28F3363E739C73019EB0E6B80F1EA07F716F4BD
FILE: 11. The Temptations - Angel Doll.flac
Size: 9057219 Hash: 257D82D2933CC875E7D80DBB7F2C146D Accuracy: -m0
Conclusion: CDDA 100%
Signature: BE3A820E56714B1962DD765FCB0B540795883A9F
FILE: 10. The Temptations - You're My Everything (Single Version - Mono).flac
Size: 12038216 Hash: 751A698F6ACCD8236CEB784D1F4741F6 Accuracy: -m0
Conclusion: CDDA 100%
Signature: B58B58FED0885210E34F6C8F8C3BA834A177123E
FILE: 09. The Temptations - All I Need.flac
Size: 12603542 Hash: 7F604622456004A24E0F79C9EAFF7A9B Accuracy: -m0
Conclusion: CDDA 100%
Signature: 5A8A7403B69EC2A4E092DFEC3C4B4E4B77DF58ED
FILE: 08. The Temptations - (I Know) I'm Losing You.flac
Size: 8524185 Hash: B28FEF96B65DA464BF59C807CCC5AFB6 Accuracy: -m0
Conclusion: CDDA 100%
Signature: 4261F1C4147F9EB21844326E98E9C384D55A68DA
FILE: 07. The Temptations - Ain't Too Proud To Beg.flac
Size: 11755334 Hash: 9090FA43FA5075CD1769FCA8BB6747FF Accuracy: -m0
Conclusion: CDDA 100%
Signature: 3A152EBCB1BFC0193F52F930D67D272E0A935711
FILE: 06. The Temptations - Get Ready.flac
Size: 9535976 Hash: 89115DBE3A2BA1FDE706E9AB851AD36E Accuracy: -m0
Conclusion: CDDA 99%
Signature: 10E27A7E6E24BDCC4B334DA110F2315EC5AB08BA
FILE: 05. The Temptations - Don't Look Back.flac
Size: 10677083 Hash: 7860CCC8552D590632B226D8BDE7447A Accuracy: -m0
Conclusion: CDDA 100%
Signature: 99ED0D196EFECB2DEF337741D1807B6E451077A7
FILE: 04. The Temptations - Since I Lost My Baby.flac
Size: 10177630 Hash: 2C75EC0D031F2EF2A7DF4078708111D1 Accuracy: -m0
Conclusion: CDDA 100%
Signature: 414607AB31A2ABC5DBD8329A4AA2B6ACFF44383F
FILE: 03. The Temptations - It's Growing.flac
Size: 10131451 Hash: 089CF8B92BB4D40054E0F6F4E972016E Accuracy: -m0
Conclusion: CDDA 100%
Signature: 4F19562E46D1D17175FCE5201D1DD51B589C872A
FILE: 02. The Temptations - My Girl (Single Version - Mono).flac
Size: 10263100 Hash: 6096A2B79FE9E0657B3FA7E9394CE4D0 Accuracy: -m0
Conclusion: CDDA 100%
Signature: 739D0DA4FCDC320CFE71719884FFD7585A8AB8F2
FILE: 01. The Temptations - The Way You Do The Things You Do.flac
Size: 9514467 Hash: B0A2BA29C3F6C2C5E88135770D1871CD Accuracy: -m0
Conclusion: CDDA 100%
Signature: 63FF0B16E52448C1F81315ED8B7F4E5E99A1D0F4
All thanks go to the original releaser