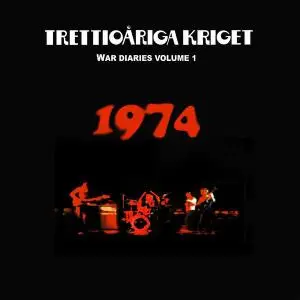 Trettioariga Kriget - War Diaries Vol. 1: 1974 (2018)
WEB FLAC (tracks) - 379 MB | Front cover
Genre: Progressive Rock | RAR 3% Rec. | Label: Self-released
Trettioåriga Kriget is a Swedish progressive rock band that was formed in Saltsjöbaden outside Stockholm in 1970. They released their s/t debut album in 1974. They have earned critical acclaim from critics and fellow musicians, developed a cult following, and became an influence for a new generation of Swedish and Scandinavian progressive rock bands.
Between 1974 and 1981 TK did 4 appearances at the National Swedish Radio live music show "Tonkraft". The artists performed in studio, but in front of an audience, to get a real live feeling. These 4 appearances TK did, coincided with the releases of their first 3 albums plus their 5th album. This live album is the first show taped on the 20th of May 1974. There are also some bonus tracks from the same period taken from the archives and never before released. 3 of the bonus tracks were recorded live on multichannel equipment at the Concert Hall in Kristianstad, Sweden on the 23rd of February 1975 and one is a demo of an unfinished song recorded in the rehearsal room early 1974. Finally there is a live recording from Stockholm recorded on the 10th of May 1974.
Tracklist:
01. Fjärilsattityder (Swedish Radio 1974 Live)
02. Ur Djupen (Swedish Radio 1974 Live)
03. Perspektiv (Swedish Radio 1974 Live)
04. Handlingens Skugga (Swedish Radio 1974 Live)
05. Kaledoniska Orogenesen (Teknorama, Stockholm 1974 Live)
06. Från Grunden (Demo unfinished song 1974)
07. Mina Löjen (Concert Hall, Kristianstad 1975 Live)
08. Röster Från Minus Till Plus (Concert Hall, Kristianstad 1975 Live)
09. Fjärilsattityder (Concert Hall. Kristianstad 1975 Live)
Total time:
01:00:15

PERFORMER: auCDtect Task Manager, ver. 1.6.0 RC1 build 1.6.0.1
Copyright © 2008-2010 y-soft. All rights reserved

ANALYZER: auCDtect: CD records authenticity detector, version 0.8.2
Copyright © 2004 Oleg Berngardt. All rights reserved.
Copyright © 2004 Alexander Djourik. All rights reserved.


FILE: Trettioariga Kriget - War Diaries Vol. 1- 1974 - 09 Fjärilsattityder (Concert Hall. Kristianstad 1975 Live).flac
Size: 47937860 Hash: C873EB74EDD364BEB34330E642C420DF Accuracy: -m0
Conclusion: CDDA 43%
Signature: 599F8DA0DFD75A5F50082D5464404C2CBC0D68B9
FILE: Trettioariga Kriget - War Diaries Vol. 1- 1974 - 08 Röster Från Minus Till Plus (Concert Hall, Kristianstad 1975 Live).flac
Size: 48834657 Hash: 05DCD32B6A1918DE7E9E681F5A0D91E7 Accuracy: -m0
Conclusion: CDDA 100%
Signature: 7D929FA4ADD5BCAA6D064549FAAE88187D1783F9
FILE: Trettioariga Kriget - War Diaries Vol. 1- 1974 - 07 Mina Löjen (Concert Hall, Kristianstad 1975 Live).flac
Size: 54533139 Hash: 0B3ABB5A83FA1FE70BAD66364D4E6FFE Accuracy: -m0
Conclusion: CDDA 92%
Signature: D41945E7E608F213A69A24A7395DF15A2085361D
FILE: Trettioariga Kriget - War Diaries Vol. 1- 1974 - 06 Från Grunden (Demo unfinished song 1974).flac
Size: 17388668 Hash: 37CF1EDE12E4C795330A5C50C4DAC937 Accuracy: -m0
Conclusion: CDDA 100%
Signature: 8AE7D9E3E9CD1FC350F8F2FD47240C2E5379727A
FILE: Trettioariga Kriget - War Diaries Vol. 1- 1974 - 05 Kaledoniska Orogenesen (Teknorama, Stockholm 1974 Live).flac
Size: 39408162 Hash: 7E752F7E95B50601C7979579F6074CB4 Accuracy: -m0
Conclusion: CDDA 100%
Signature: 3FAA4E0FA863EDDB98F2805004AE0F1DB865B434
FILE: Trettioariga Kriget - War Diaries Vol. 1- 1974 - 04 Handlingens Skugga (Swedish Radio 1974 Live).flac
Size: 49984633 Hash: 1B1483672961298721FDBEDC24C23106 Accuracy: -m0
Conclusion: CDDA 100%
Signature: A8DF4B32EA2615CB20E3CD55D8EBB99DF9D595F0
FILE: Trettioariga Kriget - War Diaries Vol. 1- 1974 - 03 Perspektiv (Swedish Radio 1974 Live).flac
Size: 66510117 Hash: 7857F4580B69E01541AC5E7C8ACAF500 Accuracy: -m0
Conclusion: CDDA 99%
Signature: 8EA2D56E5A4B29913C628804EB5E94B14EDF74AF
FILE: Trettioariga Kriget - War Diaries Vol. 1- 1974 - 02 Ur Djupen (Swedish Radio 1974 Live).flac
Size: 23426916 Hash: CC511997A6131699D41F342184B5DF72 Accuracy: -m0
Conclusion: CDDA 99%
Signature: 5D692BA4C0C6A2320C4BA128A125D25AC11BF246
FILE: Trettioariga Kriget - War Diaries Vol. 1- 1974 - 01 Fjärilsattityder (Swedish Radio 1974 Live).flac
Size: 38199417 Hash: 3C3AF2FBED185CFEF5C0C6448BC8BE28 Accuracy: -m0
Conclusion: CDDA 100%
Signature: 2A5A59FAAC759072749D5AC6FA653EF72A047162