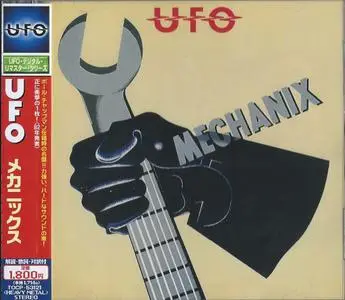 UFO - Mechanix (1982) [Japan]
XLD Rip | FLAC (Image) +CUE, LOG | 456 MB | Scans
Genre: Rock | Label: Toshiba-EMI Ltd. Records | Catalog Number: TOCP-53121
Mechanix is the tenth album by the British hard rock band UFO; it was released in 1982. The contemporary music-press adverts on the album's release carried the tag-line 'Mechanix: it will tighten your nuts'. Immediately after the completion of the tour in support of the album, founding member and bassist Pete Way left the band to join former Motörhead guitarist "Fast" Eddie Clarke in Fastway. There is no denying UFO was not the hard rocking force it was just a few years before this release, but Mechanix is still a terrific album. No doubt Mechanix is more commercial and on the lighter side of rock, so what! it still rocks and it's still top quality music! The song "Doing It All For You" alone is worth the price of admission (has anyone heard the amazing live version on the hard-to-find Headstone CD?) Let me put this straight: UFO ruled the world when Schenker was in, but UFO also produced some of the best rock albums when Paul Chapman was the axeman. Different styles… who cares?! UFO still made some of the best rock music back in 1982. Schenker was not UFO, just another very talented member, the man is one of the world's best guitarists but his compositions as a solo artist pale in comparison to the ones he made with UFO… Mechanix with Paul Chapman is much better than other releases from "classic bands" from that era, including MSG's solo albums, period. An absolute must, but only for real objective ears.
X Lossless Decoder version 20160920 (149.2)

XLD extraction logfile from 2017-04-13 20:26:31 +0300

UFO / MECHANIX

Used drive : OPTIARC DVD RW AD-5630A (revision 2CH9)
Media type : Pressed CD

Ripper mode : XLD Secure Ripper
Disable audio cache : OK for the drive with a cache less than 1375KiB
Make use of C2 pointers : NO
Read offset correction : 48
Max retry count : 20
Gap status : Analyzed, Appended

TOC of the extracted CD
Track | Start | Length | Start sector | End sector
––––––––––––––––––––––––––––-
1 | 00:00:00 | 04:12:02 | 0 | 18901
2 | 04:12:02 | 03:21:60 | 18902 | 34036
3 | 07:33:62 | 04:59:30 | 34037 | 56491
4 | 12:33:17 | 03:10:03 | 56492 | 70744
5 | 15:43:20 | 05:02:07 | 70745 | 93401
6 | 20:45:27 | 03:57:43 | 93402 | 111219
7 | 24:42:70 | 04:01:72 | 111220 | 129366
8 | 28:44:67 | 03:53:45 | 129367 | 146886
9 | 32:38:37 | 04:07:43 | 146887 | 165454
10 | 36:46:05 | 03:57:22 | 165455 | 183251
11 | 40:43:27 | 04:05:58 | 183252 | 201684

List of alternate offset correction values
# | Absolute | Relative | Confidence
–––––––––––––––––––––
1 | -616 | -664 | 3
2 | -132 | -180 | 2

AccurateRip Summary (DiscID: 00127c34-00a04f26-980a810b)
Track 01 : OK (v1+v2, confidence 4/9)
Track 02 : OK (v1+v2, confidence 4/9)
Track 03 : OK (v1+v2, confidence 4/9)
Track 04 : OK (v1+v2, confidence 4/9)
Track 05 : OK (v1+v2, confidence 4/9)
Track 06 : OK (v1+v2, confidence 4/9)
Track 07 : OK (v1+v2, confidence 4/9)
Track 08 : OK (v1+v2, confidence 4/9)
Track 09 : OK (v1+v2, confidence 4/9)
Track 10 : OK (v1+v2, confidence 4/9)
Track 11 : OK (v1+v2, confidence 4/9)
->All tracks accurately ripped.

All Tracks
Filename : /Users/dima/Documents/MECHANIX.flac
Album gain : -9.41 dB
Peak : 0.986633
CRC32 hash (test run) : F20D8D4D
CRC32 hash : F20D8D4D
CRC32 hash (skip zero) : DC34B1F7
Statistics
Read error : 0
Jitter error (maybe fixed) : 0
Retry sector count : 0
Damaged sector count : 0

Track 01
Pre-gap length : 00:02:00

Track gain : -10.77 dB
Peak : 0.986053
CRC32 hash (test run) : B9B659DF
CRC32 hash : B9B659DF
CRC32 hash (skip zero) : 2A39B7D5
AccurateRip v1 signature : DEC0B850
AccurateRip v2 signature : D52D9F21
->Accurately ripped (v1+v2, confidence 2+2/9)
Statistics
Read error : 0
Jitter error (maybe fixed) : 0
Retry sector count : 0
Damaged sector count : 0

Track 02
Pre-gap length : 00:03:07

Track gain : -9.19 dB
Peak : 0.959076
CRC32 hash (test run) : 70766C25
CRC32 hash : 70766C25
CRC32 hash (skip zero) : 718DDB57
AccurateRip v1 signature : 1A203F3A
AccurateRip v2 signature : C1261D75
->Accurately ripped (v1+v2, confidence 2+2/9)
Statistics
Read error : 0
Jitter error (maybe fixed) : 0
Retry sector count : 0
Damaged sector count : 0

Track 03
Pre-gap length : 00:03:15

Track gain : -8.68 dB
Peak : 0.986633
CRC32 hash (test run) : 87C5F136
CRC32 hash : 87C5F136
CRC32 hash (skip zero) : D4E2E9E2
AccurateRip v1 signature : D4CA2250
AccurateRip v2 signature : A8340831
->Accurately ripped (v1+v2, confidence 2+2/9)
Statistics
Read error : 0
Jitter error (maybe fixed) : 0
Retry sector count : 0
Damaged sector count : 0

Track 04
Pre-gap length : 00:03:30

Track gain : -9.80 dB
Peak : 0.980347
CRC32 hash (test run) : EDFEA986
CRC32 hash : EDFEA986
CRC32 hash (skip zero) : CCAFEB46
AccurateRip v1 signature : FA7EEC05
AccurateRip v2 signature : 8F856243
->Accurately ripped (v1+v2, confidence 2+2/9)
Statistics
Read error : 0
Jitter error (maybe fixed) : 0
Retry sector count : 0
Damaged sector count : 0

Track 05
Pre-gap length : 00:02:38

Track gain : -9.21 dB
Peak : 0.985138
CRC32 hash (test run) : E79E187A
CRC32 hash : E79E187A
CRC32 hash (skip zero) : F1EA42FE
AccurateRip v1 signature : 43E3DE81
AccurateRip v2 signature : A30654B3
->Accurately ripped (v1+v2, confidence 2+2/9)
Statistics
Read error : 0
Jitter error (maybe fixed) : 0
Retry sector count : 0
Damaged sector count : 0

Track 06
Pre-gap length : 00:02:27

Track gain : -9.02 dB
Peak : 0.946350
CRC32 hash (test run) : CACA6F18
CRC32 hash : CACA6F18
CRC32 hash (skip zero) : E35D14B4
AccurateRip v1 signature : EEB37943
AccurateRip v2 signature : CC1C43C9
->Accurately ripped (v1+v2, confidence 2+2/9)
Statistics
Read error : 0
Jitter error (maybe fixed) : 0
Retry sector count : 0
Damaged sector count : 0

Track 07

Track gain : -9.44 dB
Peak : 0.979095
CRC32 hash (test run) : 9DCBE2AD
CRC32 hash : 9DCBE2AD
CRC32 hash (skip zero) : 1FA110D1
AccurateRip v1 signature : 1658BA12
AccurateRip v2 signature : 97BAF729
->Accurately ripped (v1+v2, confidence 2+2/9)
Statistics
Read error : 0
Jitter error (maybe fixed) : 0
Retry sector count : 0
Damaged sector count : 0

Track 08
Pre-gap length : 00:01:70

Track gain : -8.91 dB
Peak : 0.955048
CRC32 hash (test run) : EB8C01A1
CRC32 hash : EB8C01A1
CRC32 hash (skip zero) : F1B1C2E2
AccurateRip v1 signature : DABDD1B2
AccurateRip v2 signature : BF05CAEB
->Accurately ripped (v1+v2, confidence 2+2/9)
Statistics
Read error : 0
Jitter error (maybe fixed) : 0
Retry sector count : 0
Damaged sector count : 0

Track 09
Pre-gap length : 00:03:32

Track gain : -9.81 dB
Peak : 0.980774
CRC32 hash (test run) : 55712274
CRC32 hash : 55712274
CRC32 hash (skip zero) : EEA8B2BE
AccurateRip v1 signature : 6EF10EF8
AccurateRip v2 signature : E25D5939
->Accurately ripped (v1+v2, confidence 2+2/9)
Statistics
Read error : 0
Jitter error (maybe fixed) : 0
Retry sector count : 0
Damaged sector count : 0

Track 10
Pre-gap length : 00:02:73

Track gain : -9.23 dB
Peak : 0.978149
CRC32 hash (test run) : 2E783081
CRC32 hash : 2E783081
CRC32 hash (skip zero) : 56869851
AccurateRip v1 signature : A4B2C82A
AccurateRip v2 signature : BDDCCC2C
->Accurately ripped (v1+v2, confidence 2+2/9)
Statistics
Read error : 0
Jitter error (maybe fixed) : 0
Retry sector count : 0
Damaged sector count : 0

Track 11
Pre-gap length : 00:03:57

Track gain : -8.08 dB
Peak : 0.980438
CRC32 hash (test run) : A747FFB9
CRC32 hash : A747FFB9
CRC32 hash (skip zero) : 1144305C
AccurateRip v1 signature : 726E4CFF
AccurateRip v2 signature : 27AB6A38
->Accurately ripped (v1+v2, confidence 2+2/9)
Statistics
Read error : 0
Jitter error (maybe fixed) : 0
Retry sector count : 0
Damaged sector count : 0

No errors occurred

End of status report
Tracklist :::
01. The Writer (04:09)
02. Something Else (03:19)
03. Back Into My Life (04:56)
04. You'll Get Love (03:07)
05. Doing It All For You (04:59)
06. We Belong To The Night (03:57)
07. Let It Rain (04:00)
08. Terri (03:50)
09. Feel It (04:04)
10. Dreaming (03:53)
Personnel :::
- Phil Mogg — vocals
- Paul Chapman — guitars
- Neil Carter — keyboards, guitar, backing vocals, sax, orchestral arrangements
- Pete Way — bass
- Andy Parker — drums
- Gary Lyons — Producer