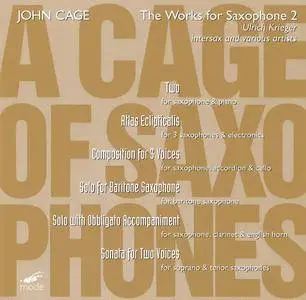 Ulrich Krieger - John Cage: The Works For Saxophone, Vol.2 (2006)
MP3 (CBR 320 kbps) | 71:52 | 174 MB
Genre: Modern Classical, Avant-garde | Label: Mode
The 35th volume in Mode's Complete John Cage Edition is also the second release in Ulrich Krieger's series of interpretations for solo saxophone and saxophones with other instruments. Ensemble pieces of comparatively large dimensions were gathered on A Cage of Saxophones: Vol. 1, so this follow-up disc presents pieces for smaller combinations and solos, though with no less originality or charm. Even though most of these works were composed for open instrumentation, saxophones suit Cage's music especially well, not only because of their clean tone quality, wide dynamic range, and exceptional variety of timbres, but also because of their interesting associations with jazz and modernism. Listeners may be excused for thinking the opening Sonata for Two Voices (1933) is a little like bebop avant la lettre, and the Composition for Three Voices (1934) offers an example of the young composer's serious-minded counterpoint, not too far removed from Stravinsky's "objective" examples. But the Cage most will recognize is found in the mature works, Solo for Baritone Saxophone (1957-1958) and the adaptation for three soprano saxophones and electronics of a portion of Atlas Eclipticalis (1961); these works are more spacious and contemplative in their long silences and briefly held pitches, and the control Krieger displays in the softest passages makes his performances utterly compelling. Because the more conventional compositions of the 1930s are in a completely different style than the later, more expansive works, some listeners may feel the need to skip around to find tracks to suit their mood; listening to the CD straight through produces an oddly unsettling and expectant feeling that seems inappropriate for the timeless stillness and sublime aesthetics one associates with Cage at his purest. Mode's sound quality is, as usual, excellent.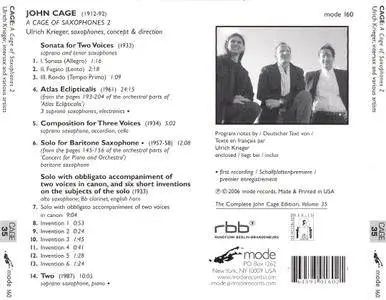 Track List:
I. Sonata for Two Voices (1933)
for soprano & tenor saxophones
I. Sonata (Allegro) 1:16
II. Fugato (Lento) 2:18
III. Rondo (Tempo Primo) 1:09
II. Atlas Eclipticalis (1961) 24:15
(From the pages 193-204 of the orchestral parts of 'Atlas Eclipticalis')
for 3 soprano saxophones & electronics
III. Composition for Three Voices (1934) 5:02
for soprano saxophone, accordion & cello
IV. Solo for Baritone Saxophone (1957-58) 12:08
(from the pages 145-156 of the orchestral parts of 'Concert for Piano and Orchestra')
for baritone saxophone
V. Solo with obbligato accompaniment of two voices in canon, and six short inventions on the subjects of the solo (1933)
for alto saxophone, Bb clarinet & english horn
Performers:
Ulrich Krieger - sopranino sax , soprano sax , alto sax
Tobias Rüger - tenor sax
Reimar Volker - alto sax, baritone sax
Kathrin Wagner - alto sax, tenor sax
Mario Bertoncini - piano
Reinhold Friedl - piano
Gerhard Scherer - accordion
Friedemann Werzlau - percussion
Raymond Kaczynski - percussion
Andreas Peters - percussion
Download: