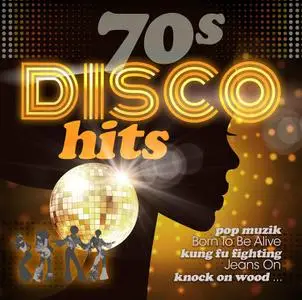 VA - 70s Disco Hits (2019)
MP3 320 kbps | 01:13:41 | 173 Mb
Genre: Dance, Disco, RnB, Pop / Label: ZYX Music
The great Disco Hits of the 70s on one CD. Who stands on music of the 70s comes with this Sampler fully at his expense. Hits like "Pop Muzik", "Born to Be Alive", "Ring My Bell", "Jeans On", " Kung Fu Fighting" are known today as then.
Track List:
01. Patrick Hernandez - Born To Be Alive 3:08
02. Amii Stewart - Knock On Wood 3:45
03. M - Pop Muzik 4:57
04. Anita Ward - Ring My Bell 3:31
05. The Trammps - Disco Inferno 3:36
06. Loleatta Holloway - Hit And Run 3:38
07. David Dundas - Jeans On 3:20
08. Bonnie Tyler - It's A Heartache 3:30
09. Ashford & Simpson - Found A Cure 3:43
10. Gloria Gaynor - Never Can Say Goodbye 4:08
11. Candi Staton - Young Hearts Run Free 3:57
12. Three Degrees - When Will I See You Again 2:43
13. Fifth Dimension - Monday, Monday 2:43
14. Jennifer - Do It For Me 3:03
15. Calvin Davis - Train Ride To Nowhere 3:18
16. Karen Young - Hot Shot 3:13
17. Carl Douglas - Kung Fu Fighting 3:18
18. Dee D. Jackson - Automatic Lover 4:06
19. Luv - Trojan Horse 3:24
20. D.D. Sound - She´s Not A Disco Lady 6:39