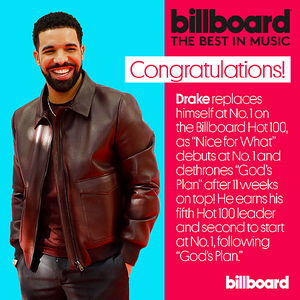 VA - Billboard Hot 100 Singles Chart, 28 April (2018)
MP3 CBR 320 kbps | 05:50:57 | 826 Mb
Genre: Reggae, RnB, Pop, Hip Hop, Rap, Rock, Dance / Label: Billboard Media Group
Look Alive is a song by American rapper BlocBoy JB featuring Canadian rapper Drake. Gods Plan is a song by musician Drake from his Scary Hours. Freaky Friday is a song recorded by American rapper Lil Dicky, featuring guest vocals from singer Chris Brown. Written by Dicky, Brown, Wilbart McCoy III, Ammo and its producers DJ Mustard, Benny Blanco and Twice as Nice. Woman, Amen is a song co-written and recorded by American country music singer Dierks Bentley.
Track List:
01. Drake, Big Freedia, 5thward Weebie - Nice For What 3:31
02. Drake - God's Plan 3:19
03. Bebe Rexha, Florida Georgia Line - Meant To Be (Feat. Florida Georgia Line) 2:44
04. Post Malone, Ty Dolla $Ign - Psycho 3:41
05. Zedd, Maren Morris, Grey - The Middle 3:05
06. Blocboy Jb, Drake - Look Alive (Feat. Drake) 3:01
07. Ed Sheeran - Perfect 4:23
08. Lil Dicky, Chris Brown - Freaky Friday (Feat. Chris Brown) 3:37
09. Cardi B, Bad Bunny, J Balvin - I Like It 4:13
10. Nicki Minaj - Chun-Li 3:12
11. Migos, Drake - Walk It Talk It 4:36
12. Bruno Mars, Cardi B - Finesse (Remix) [Feat. Cardi B] 3:37
13. Camila Cabello - Never Be The Same 3:47
14. Bazzi - Mine 2:14
15. Rich The Kid - Plug Walk 2:55
16. Cardi B - Be Careful 3:31
17. The Weeknd - Call Out My Name 3:48
18. The Weeknd, Kendrick Lamar - Pray For Me 3:32
19. Camila Cabello, Young Thug - Havana 3:37
20. Imagine Dragons - Whatever It Takes 3:22
21. Marshmello, Anne-Marie - Friends 3:23
22. Xxxtentacion, John Cunningham - Sad! 2:47
23. Migos - Stir Fry 3:10
24. Lil Pump - Esskeetit 3:02
25. Nicki Minaj - Barbie Tingz 3:12
26. Kane Brown - Heaven 3:00
27. Post Malone, 21 Savage - Rockstar 3:38
28. Famous Dex - Japan 2:24
29. Jason Aldean - You Make It Easy 3:17
30. Dua Lipa - New Rules 3:29
31. Kendrick Lamar, Sza - All The Stars 3:52
32. Offset, Metro Boomin, Offset & Metro Boomin - Ric Flair Drip 2:53
33. Cardi B, Migos - Drip (Feat. Migos) 4:24
34. Imagine Dragons - Thunder 3:08
35. Rae Sremmurd, Swae Lee, Slim Jxmmi, Juicy J - Powerglide 5:32
36. Maroon 5 - Wait 3:11
37. Nf - Let You Down 3:32
38. Shawn Mendes, Teddy Geiger, Geoff Warburton, Scott Harris - In My Blood 3:32
39. Portugal. The Man - Feel It Still 2:43
40. Cardi B, 21 Savage - Bartier Cardi (Feat. 21 Savage) 3:45
41. Justin Timberlake, Chris Stapleton - Say Something 4:39
42. Cardi B, Sza - I Do (Feat. Sza) 3:20
43. Luke Bryan - Most People Are Good 3:42
44. Cardi B, Kehlani - Ring (Feat. Kehlani) 2:57
45. Max, Gnash, Max And Gnash - Lights Down Low 3:45
46. Post Malone - I Fall Apart 3:43
47. G-Eazy, Halsey - Him & I 4:29
48. Carrie Underwood, David Garcia, Chris Mchugh, Jimmie Lee Sloas, Tom Bukovac, Rob Mcnelley, Ilya Toshinskiy, Dave Cohen, Dan Dugmore - Cry Pretty 4:07
49. Jay Rock, Kendrick Lamar, Future, James Blake - King's Dead 3:50
50. Halsey - Bad At Love 3:01
51. Taylor Swift - Delicate 3:52
52. Rich The Kid, Kendrick Lamar - New Freezer 3:13
53. Meghan Trainor - No Excuses 2:33
54. Khalid, Normani, Khalid & Normani - Love Lies 3:22
55. Nicky Jam, J Balvin - X 2:54
56. Thomas Rhett - Marry Me 3:26
57. Dan + Shay - Tequila 3:16
58. Youngboy Never Broke Again - Outside Today 2:09
59. Jordan Davis - Singles You Up 3:03
60. Dua Lipa - Idgaf 3:38
61. Youngboy Never Broke Again - Diamond Teeth Samurai 2:43
62. Ella Mai - Boo'd Up 4:16
63. Logic, Marshmello - Everyday 3:25
64. Calvin Harris, Dua Lipa - One Kiss 3:35
65. Brett Eldredge - The Long Way 3:29
66. Blake Shelton - I Lived It 3:40
67. Cardi B, Chance The Rapper - Best Life (Feat. Chance The Rapper) 4:45
68. Cardi B - Bickenhead 3:02
69. Xxxtentacion, John Cunningham, Jahseh Onfroy - Changes 2:02
70. Luke Combs - One Number Away 3:42
71. Ozuna, Romeo Santos - El Farsante (Remix) 4:18
72. Daddy Yankee - Dura 3:21
73. Zayn - Let Me 3:06
74. Bad Wolves - Zombie 4:15
75. Cardi B - Thru Your Phone 3:09
76. The Weeknd - Wasted Times 3:40
77. Cardi B - Get Up 10 3:52
78. Kenny Chesney - Get Along 3:20
79. Lauv - I Like Me Better 3:18
80. Foster The People - Sit Next To Me 4:03
81. Dierks Bentley - Woman, Amen 3:00
82. Darius Rucker - For The First Time 3:18
83. Keala Settle, The Greatest Showman Ensemble - This Is Me 3:55
84. Swae Lee, Slim Jxmmi, Rae Sremmurd - Guatemala 4:16
85. Xxxtentacion, John Cunningham - Moonlight 2:15
86. Morgan Wallen, Florida Georgia Line - Up Down 3:16
87. Cardi B - Money Bag 3:49
88. Jhené Aiko, Rae Sremmurd - Sativa 4:00
89. Young Thug, Nicki Minaj - Anybody (Feat. Nicki Minaj) 4:15
90. Cardi B, Yg - She Bad 3:51
91. 6ix9ine - Billy 1:53
92. Tank - When We 5:09
93. Lil Skies, Landon Cube - Red Roses (Feat. Landon Cube) 4:22
94. Dj Khaled, Dj Khaled Feat. Jay Z, Future & Beyoncé, Jay-Z - Top Off 3:51
95. High Valley - She's With Me 3:00
96. Daniel Caesar - Get You (Feat. Kali Uchis) 4:37
97. Sza - Broken Clocks 3:51
98. Scotty Mccreery - Five More Minutes 3:59
99. 6ix9ine - Gotti 2:47
100. Derez De'shon - Hardaway 3:53