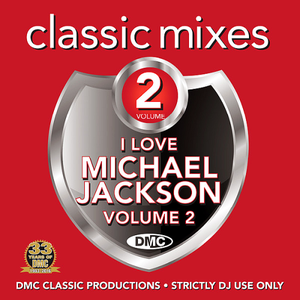 VA - DMC Classic Mixes: I Love Michael Jackson Vol 2 (2017)
MP3 CBR 320 kbps | 1:20:05 | 182 Mb
Genre: Funk, Dance, Disco, R&B, Swing, Neo Soul / Label: DMC Records
Essential & Exclusive - The best megamixes, 2-Trackers & Remixes from the Legend, Icon and King of Pop. Highly Collectable & Great For That Dance-Floor Wow-Factor When DJ-ing! Welcome to the world of DMC. Serving the global Dance Music Community. Beat It is a song written and performed by American singer Michael Jackson single from the singers sixth solo album. Human Nature is a song performed by American recording artist Michael Jackson.
Track List:
01. Jacksons Vs Big Fun - Blame It On The Boogies (Rkl 2017 Mix) (Mixed By Rod Layman) 05:01
02. Michael Jackson - Beat It (Rachel's Thrillatronic Mix) (Remixed By Rachel Ellektra) 05:58
03. Michael Jackson - Billie Jean (Rachel Ellektra Tribute Mix) 06:19
04. Michael Jackson - Black Or White (Rkl Remix 2017) (Remixed By Rod Layman) 04:53
05. Michael Jackson - Dakeyne's Illegal Cut Up (Mixed By Dakeyne) 05:48
06. Michael Jackson - Human Nature (Dmc Remix) (Remixed By Dj Ivan Santana) 05:51
07. Michael Jackson - Michael Jackson House Hits Mix (1 & 2) (Mixed By Dj Ivan Santana) 15:00
08. Michael Jackson - Michael Jackson Tribute Mini Cut-Up (Mixed By Bernd Loorbach) 03:42
09. Michael Jackson - Remember The Time (The Msk Band Remix) 06:57
10. Michael Jackson - Rock With You (Soulful House Remix 2015) (Remixed By Dj Ivan Santana) 06:25
11. Michael Jackson & Paul Mccartney - Say Say Say (Dj Ivan Santana & Master Chic Soulful House Remix 2017) 05:24
12. Michael Jackson Vs Gorgon City - Remember The Wall - Remember The Time Vs All Four Walls (Mixed By Bergwall) 03:37
13. Ray Parker Jr. Vs Michael Jackson - Badbusters (Two Tracker) (Bootimix) Ghostbusters Vs Bad (Afrojack Mix) (Dj Ivan Santana) 05:07