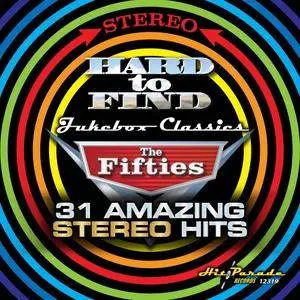 VA - Hard To Find Jukebox Classics - The Fifties 31 Amazing Stereo Hits (2017) MP3
MP3 CBR 320 kbps | 1:18:48 | 214 Mb
Genre: Pop, Rock, Jazz, Oldies / Label: Eric Records
These stereo mixes will surround you with vocal harmonies, orchestras, drums, and electric guitars. The swelling strings and stirring crescendos of The Skyliners' "Since I Don't Have You" and Nelson Riddle's "Lisbon Antigua" will sweep you off your feet. You'll hear instruments, voices, and other details that you never noticed before, on a selection of hits that span the full spectrum of Fifties pop music: R&B, rock & roll, pre-rock pop, orchestral instrumentals, and more! Check out the track list and then listen to the sound samples below.
Track List:
1/31. Bill Haley And His Comets - (We're Gonna) Rock Around The Clock
2/31. Fats Domino - Blueberry Hill
3/31. Paul Anka - Diana
4/31. Elvis Presley - Jailhouse Rock
5/31. The Platters - Only You (And You Alone)
6/31. The Platters - My Prayer
7/31. Gogi Grant - The Wayward Wind
8/31. Perry Como - Catch A Falling Star
9/31. The Ames Brothers - Melodie D'Amour (Melody Of Love)
10/31. The Ames Brothers - Tammy
11/31. Johnny Mathis - Wonderful! Wonderful!
12/31. Johnny Mathis - It's Not For Me To Say
13/31. Patti Page - The Tennessee Waltz
14/31. Bobby Helms - My Special Angel
15/31. The Platters - The Great Pretender
16/31. Elvis Presley - Heartbreak Hotel
17/31. Jim Lowe - The Green Door
18/31. The Kirby Stone Four - Baubles, Bangles And Beads
19/31. Bobby Darin - Mack The Knife
20/31. Bobby Darin - Splish Splash
21/31. Clyde McPhatter - A Lover's Question
22/31. The Showmen - It Will Stand
23/31. Johnny Tillotson - Without You
24/31. Johnny Mathis - The Twelfth Of Never
25/31. The Skyliners - Since I Don't Have You
26/31. The Fleetwoods - Come Softly To Me
27/31. The Tempos - See You In September
28/31. The Four Preps - 26 Miles (Santa Catalina)
29/31. Don Robertson - Happy Whistler
30/31. Eddie Heywood - Soft Summer Breeze
31/31. Nelson Riddle - Lisbon Antigua