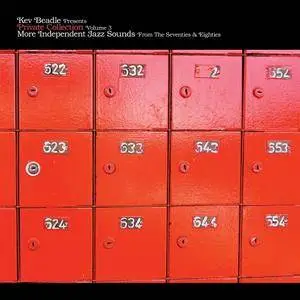 VA - Kev Beadle Presents Private Collection Vol 3 (2017)
MP3 CBR 320 kbps | 1:33:23 | 230 Mb
Genre: Jazz / Label: BBE
Quite a lot has happened in the 3 years since 'Private Collection Vol.2' was released, not least Kev's announcement last year that he was hanging up his headphones. We hope, selfishly, that his retirement won't last, but either way, the news has given this compilation some added significance for us. A founder of London's legendary Dingwalls and former Wag club resident, Kev has been at the very centre of the UK's jazz-dance scene for decades, locked in (friendly) competition with the likes of Gilles Peterson, Patrick Forge, Bob Jones and many others on a never-ending quest for that perfect track.
Track List:
1. Quiet Fire - Roy Haynes 8:12
2. Don't Touch - Don Rader 7:50
3. Infinite Jones (feat. Gary Bartz, Gerry Brown & Chris Hinze) - John Lee 6:38
4. Maryke - John Thomas & Lifeforce 5:52
5. Lá Em Guayaquil - Banda Metalurgia 2:50
6. Samba for a Cold Warrior - Belair 8:24
7. Samba de Amor - Francisco Mora Catlett 7:03
8. Little Sunflower (feat. Leon Thomas) - Louis Hayes Group 6:41
9. The World Is a Ghetto - Lee Willhite 5:19
10. No Other Love but You - Clarice Labbe & Charlie Hampton 3:26
11. Latinetta - Ronald Snijders 4:01
12. Misturada - Finn Savery Trio 3:20
13. The Kingdom Within You - Ira Sullivan 6:05
14. Do You Believe (Alternative Version) - Webster Lewis 17:15