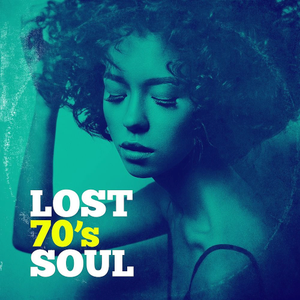 VA - Lost 70s Soul (2019)
MP3 320 kbps | 02:02:40 | 281 Mb
Genre: Soul, R&B, Funk, Disco / Label: Warner Music
Lost 70's Soul displays a variety of stylistic content of the material, that is, will be, and perhaps will be, just a discovery. As well as an addition to your collection and archives. And undoubtedly the acquisition of a definitely sustainable mood!
Track List:
01. Aretha Franklin - Jump 2:20
02. Prince Phillip Mitchell - One On One 4:16
03. Donny Hathaway - Voices Inside (Everything Is Everything) 3:26
04. Curtis Mayfield - Keep On Keeping On 5:08
05. Barbara Lynn - Nice And Easy 1:50
06. Donny Hathaway - Come Little Children 3:42
07. Earth, Wind & Fire - Fan The Fire 5:16
08. The Enticers - Calling For Your Love 2:39
09. Betty Lavette - Waiting For Tomorrow 3:16
10. The Persuaders - Some Guys Have All The Luck 3:31
11. Blue Magic - Look Me Up (Anita Wexler Remix) 5:53
12. Al Hudson;The Soul Partners - I'm About Loving You 2:55
13. Garland Green - Plain And Simple Girl 3:27
14. Wilson Pickett - Can't Stop A Man In Love 3:13
15. Walter Jackson - Coldest Days Of My Life (Single Version) 4:36
16. Sister Sledge - Pain Reliever 3:44
17. The Pointer Sisters - Send Him Back 2:39
18. Bloodstone - Wasted Time 3:47
19. Tami Lynn - That's Understanding 5:06
20. The Hypnotics - Beware Of The Stranger (Single Version) 2:55
21. Black Heat - Super Cool 4:06
22. Ben E. King - Do It In The Name Of Love 4:21
23. Larry Graham - How Does It Feel 4:01
24. The Spinners - I'm Coming Home 3:24
25. Eugene Record - Laying Beside You 4:40
26. Tower Of Power - Don't Change Horses (In The Middle Of A Stream) 4:44
27. Gerald Sims - You'll Never Be Sorry 2:54
28. Brook Benton - Shoes 2:56
29. Major Harris - Sideshow 5:12
30. Margie Joseph - I Feel His Love Getting Stronger 3:42
31. Sam Dees - Fragile, Handle With Care 3:26
32. Betty Wright - Baby Sitter 2:52
33. Dee Dee Warwick - Only The One You Love 2:44