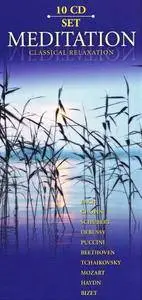 V.A. - Meditation: Classical Relaxation [10 CD Set] (1991) [Reissue 2002]
EAC Rip | FLAC: Image+Cue+Log | 2.3 Gb | Scans
LaserLight Digital/Delta Music GmbH | 40077
Classical, Baroque, Modern, Romantic, Easy Listening, Meditation, Mood Music
This is a GREAT 10-CD set, if you like strings and bits of things. There are lots of `adagio sostenutos,' intermezzos, and movements from such and such. However, Delta Music didn't stint on the performers. The Budapest Philharmonic is a major presence, along with the Berlin Chamber Orchestra, the Vienna Mozart Ensemble, Budapest String Quartet, and Prague Festival Orchestra.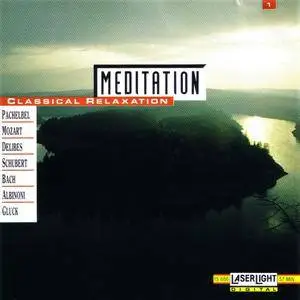 Meditation: Classical Relaxation - Vol. 1
EAC Rip | FLAC: Image+Cue+Log | 228 Mb
LaserLight Digital | 15 686-1
Track Listing
[01] Pachelbel: Kanon ………………………………………………. [4'19]
Neues Bachisches Collegium Musicum Leipzig, Max Pommer
[02] Mozart: Andante aus dem Klavierkonzert Nr. 21 "Elvira Madigan" ………. [5'33]
Istvan Szekelyi, Klavier; Franz-Liszt-Kammerorchester, János Rolla
[03] Delibes: Notturno aus "Coppélia" ………………………………… [2'23]
Rundfunk-Sinfonie-Orchester Berlin, Heinz Fricke
[04] Schubert: Adagio aus dem Strechquintett C-Dur …………………….. [13'19]
Miklos Perenyi, Violoncello; Bartök-Quartett
[05] Bach: "Air" aus der Orchestersuite Nr. 3 ………………………….. [4'02]
Neues Bachisches Collegium Musicum Leipzig, Max Pommer
[06] Mozart: Adagio aus dem Klarinettenkonzert ………………………… [6,55]
Bela Kovacs, Klarinette; Franz-Liszt-Kammerorchester, János Rolla
[07] Schubert: Andante con moto aus der Sinfonie Nr. 8 ………………….. [10'20]
Budapester Philharmoniker, János Kovacs
[08] Albinoni: Adagio aus dem Konzert op.9 Nr. 2 ……………………….. [3'37]
Budapest Strings
[09] Gluck: Reigen seliger Geister aus "Orpheus und Eurydike" …………… [6'26]
Helmut Rucjer, Flöte; Dresdner Philharmonie, Herbert Kegel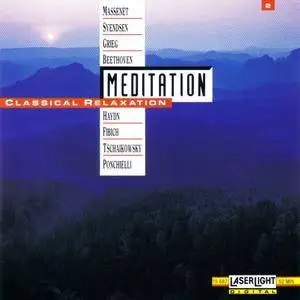 Meditation: Classical Relaxation - Vol. 2
EAC Rip | FLAC: Image+Cue+Log | 223 Mb
LaserLight Digital | 15 687-1
Track Listing
[01] Massenet: Meditation aus "Thais" ………………………………… [5'05]
Budapester Philharmoniker, Andras Korodi
[02] Svendsen: Romanze g-Dur op.26 …………………………………… [7'58]
Miklos Szenthelyi, Violine
Ungarische NationalPhilharmonie, György Gyorivayi-Rath
[03] Grieg: Letzter Frühling ………………………………………… [6'01]
Dresdner Philharmonie, Herbert Kegel
[04] Beethoven: Menuett …………………………………………….. [2'99]
Budapest Strings
[05] Haydn: Serenade op.3 Nr. 5 ………………………………………. [4'37]
Budapest Strings
[06] Fibich: Poème op.41 Nr. 6 ……………………………………….. [2'24]
Budapest Strings
[07] Grieg: Elegische Melodie Nr. 1 …………………………………… [4'20]
Dresdner Philharmonie, Herbert Kegel
[08] Tschaikowsky: Elegia aus der Streichelserenade ……………………. [7'50]
Franz-Liszt-Kammerorchester
[09] Grieg: Ich liebe dich ………………………………………….. [1'29]
Budapest Strings
[10] Ponchielli: Tanz der Stunden aus "La Gioconda" ……………………. [9'32]
Budapester Philharmoniker, Andras Korodi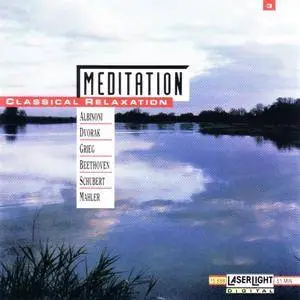 Meditation: Classical Relaxation - Vol. 3
EAC Rip | FLAC: Image+Cue+Log | 216 Mb
LaserLight Digital | 15 688-1
Track Listing
[01] Albinoni: Adagio ……………………………………………… [9'48]
Dresdner Philarmonie, Herbert Kegel
[02] Dvorak: Romanze in f-Moll op.11 ………………………………… [10'28]
Budapest Strings
[03] Grieg: Solveigs Lied aus "Peer Gynt" ……………………………. [5'08]
Wiener Symphoniker, Yyri Ahronovitch
[04] Beethoven: Violinromanze Nr. 2 F-Dur op.50 ……………………….. [9'23]
Miklos Szenthelyi, Violine
Ungarische Nationalphilharmonie, György Gyorivanyi-Rath
[05] Schubert: Balletmusik G-Dur aus "Rosamunde" ……………………… [6'31]
Budapester Philharminiker, János Kovacs
[06] Mahler: Adagietto aus der Sinfonie Nr. 5 …………………………. [9'43]
Budapester Festival-Orchester, Ivan Fischer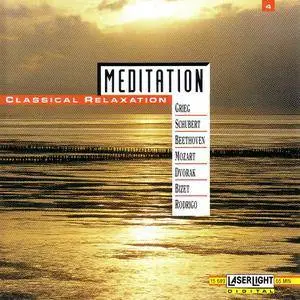 Meditation: Classical Relaxation - Vol. 4
EAC Rip | FLAC: Image+Cue+Log | 238 Mb
LaserLight Digital | 15 689-1
Track Listing
[01] Grieg: Morgenstimmung aus "Peer Gynt" ……………………………. [3'30]
Budapester Philharmoniker, János Sándor
[02] Schubert: Ständchen ……………………………………………. [3'17]
Budapest Strings
[03] Tschaikowsky/Mozart: Preghiera (Ave Verum) aus der "Mozartiana" - Suite … [3'43]
Radio-Sinfonieorchester Stuttgart, Sir Neville Marriner
[04] Beethoven: Adagio sostenuto aus der "Mondschen" - Sonate …………….. [5'21]
Evelyne Dubourg, Klavier
[05] Mozart: Klavierkonzert Nr. 23 A-Dur, 2. Satz ……………………….. [5'53]
Daniel Gerard, Klavier; Wiener Mozart-Ensamble, Herbert Kraus
[06] Schubert: Intermezzo aus "Rosamunde" …………………………….. [8'16]
Budapester Philarmoniker, János Kovacs
[07] Mendelssohn: Violinkonzert e-Moll, 2. Satz ………………………… [8'11]
Emmy Verhey, Violine; Budapester Symphoniker, Arpad Joo
[08] Dvorak: Streicherserenade, 1. Satz ……………………………….. [4'02]
Berliner Kammerorchester, Peter Wohlert
[09] Bizet: Intermezzo aus "L'Arlesienne" - Suite Nr. 2 …………………… [4'01]
Budapester Pholharmoniker, János Sándor
[10] Rodrigo: Concierto de Aranjuez, 2. Satz …………………………… [11'15]
Zoltan Tokos, Gitarre; Budapest Strings
[11] Schubert: "Forellenquintett" - Thema und Variationen ………………. [7'25]
Evelyne Dubourg, Klavier; Emmy Verhey, Violine; Ferdinand Erblich, Viola
Jean Decroos, Violoncello; Peter Jansen, Kontrabass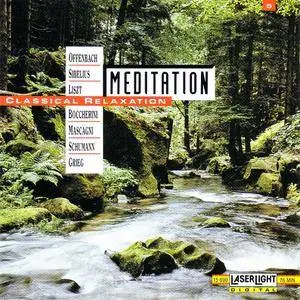 Meditation: Classical Relaxation - Vol. 5
EAC Rip | FLAC: Image+Cue+Log | 274 Mb
LaserLight Digital | 15 690-1
Track Listing
[01] Offenbach: Barkarole aus "Hoffmanns Erzählungen" ……………………… [3'27]
Budapester Philharmoniker, János Sándor
[02] Sibelius: Valse triste …………………………………………….. [4'41]
Dresdner Philhalmonie, Herbert Kegel
[03] Liszt: Liebestraum Nr. 3 As-Dur ……………………………………… [4'12]
Donatella Failoni, Klavier
[04] Boccherini: Minuett ……………………………………………….. [3'32]
Budapest Strings
[05] Bach: Oboenkonzert d-Moll (Auszug) ………………………………….. [3'03]
Burkhard Glaetzner, Oboe
Neues Bachisches Collegium Musicum Leipzig, Max Pommer
[06] Beethoven: Klaviersonate Nr. 8 "Pathétique", 2. Satz ……………………. [4'59]
Istvan Szekely, Klavier
[07] Mascagni: Intermezzo sinfonico aus "Cavalleria rusticana" ……………… [3'29]
Budapester Philharmoniker, Andras Korodi
[08] Bach: Sinfonia aus dem Weihnachtsoratorium …………………………… [5'34]
Berliner Kammerorchester, Peter Wohert
[09] SChubert: Ave Maria ……………………………………………….. [4'45]
Budapest Strings
[10] Mozart: Sinfonie Nr. 30, 2. Satz ……………………………………. [3'54]
Mozarteum-Orchester Salzburg, Hans Graf
[11] Mahler: Sinfonie Nr. 1, 3. Satz ……………………………………… [10'20]
Prager Festival-Orchester, Pavel Urbanek
[12] Schumann: Träumerei ………………………………………………. [3'05]
Budapest Strings
[13] Grieg: Ases Tod aus "Peer Gynt" ……………………………………. [5'14]
Budapester Philharmoniker, János Sándor
[14] Händel: Largo aus "Xerxes" ………………………………………… [3'01]
Budapest Strings
[15] Dvorak: Sinfonie Nr. 9 "Aus der Neuen Welt", 2. Akt ……………………. [12'41]
Prager Festival Orchester, Pavel Urbanek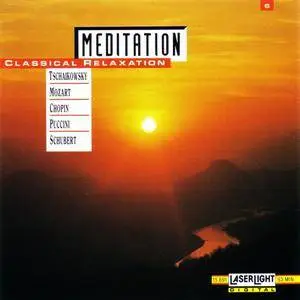 Meditation: Classical Relaxation - Vol. 6
EAC Rip | FLAC: Image+Cue+Log | 222 Mb
LaserLight Digital | 15 691-1
Track Listing
[01] Tschaikowsky: Schwanensee - Szene ………………………………….. [2'46]
Sinfonieorchester des Bayerischen Rundfunks, Hans Vonk
[02] Mozart: Eine kleine Nachtmusik - Romanze ……………………………. [5'41]
Berliner Kammerorchester, Peter Wohlert
[03] Chopin: Nocturne H-Dur op.9 Nr. 3 …………………………………… [6'I7]
Krzysztof Jablonski, Klavier
[04] Puccini: Summchor aus "Madame Bovary" ………………………………. [3'06]
Chor und Orchester der Nationaloper Sofia, Rouslan Raychev
[04] Mendelssohn: Notturno aus "Sommernachtstraum" ……………………….. [6'42]
Budapester Philharmoniker, Janos Kovacs
[05] Mozart: Sinfonie Nr. 35 "Haffner" - Sinfonie - Andante ………………….. [6'32]
Mozarteum-Orchester Salzburg, Hans Graf
[07] Bizet: "Carmen"-Suite Nr. 1 - Intermezzo ……………………………. [2'39]
Budapester Philharmoniker, János Sándor
[08] Schubert: Klaviersonata in В-Dur, D.960 - Andante sostenuto …………… [9'47]
Peter Roscl, Kavier
[09] Mozart: Sinfonia Concertante Es-Dur - Andante ……………………….. [10'39]
Christian Altenburger, Violine; Wolfgang Christ, Viola;
Deutsche Bachsolisten, Helmut Winschermann
[10] Chopin: Klavierkonzert Nr. 2 - Larghetto …………………………….. [8'24]
Adam Harasicwicz, Klavier; Nationalphilarmonie Warschau, Kazimierz Kord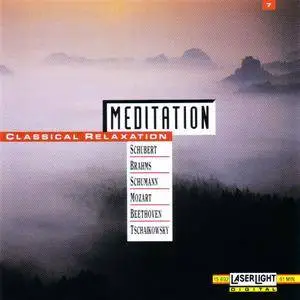 Meditation: Classical Relaxation - Vol. 7
EAC Rip | FLAC: Image+Cue+Log | 227 Mb
LaserLight Digital | 15 692-1
Track Listing
[01] Schubert: Impromptu Ges-Dur ……………………………………….. [5'23]
Jeno Jando, Klavier
[02| Rheinberger: Abendlied ……………………………………………. [3'59]
Ernö Sebestyen, Violine; Andreas Juffinger, Orgel
[03] Brahms: Serenade Nr. 1 …………………………………………….. [12'23]
Berliner Kammerorchester, Peter Wohlert
[04] Schumann: Fröhlicher Landmann ……………………………………… [0'50]
Evelyne Dubourg, KLavier
[05] Mozart: Flötenquartett in G-Dur ……………………………………. [8'16]
Eckart Haupt, Flöte; Peter Murrig, Violine;
Peter Schikora, Violine; Gerhard Pluskwik, Violoncello
[06] Beethoven: Sinfony Nr. 7 - Allegretto ……………………………….. [9'23]
Dresden Philharmonic, Herbert Kegel
[07] Brahms: Wiegenlied ………………………………………………. [1'45]
Budapest Strings
[08] Schubert: Thema und Variationen (aus dem Quartet G-Dur) ………………. [4'35]
Laszlo Szendrey-Karper, Gitarre; Zoltan Jenez, Flöte;
Pal Lukacz, Viola; Ede Banda, Violoncello
[09] Tschaikowsky: Die Jahreszeiten - Juni (Barkarole) ……………………. [5'09]
Jeno Jando, Klavier
[10] Mozart: Sinfonie Nr. 36 "Linzer" - Sinfonie - Poco adagio ………………. [9'34]
Mozarteum-Orchester Salzburg, Hans Graf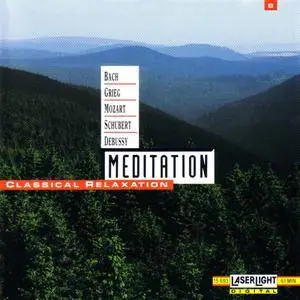 Meditation: Classical Relaxation - Vol. 8
EAC Rip | FLAC: Image+Cue+Log | 228 Mb
LaserLight Digital | 15 693-1
Track Listing
[01] Bach: Präludium c-Moll ……………………………………………. [2'05]
Franz Just, Laute
[02] Grieg: Klavierkonzert a-Moll ………………………………………. [7'05]
Daniel Gerard, piano; Radio-Sinfonie-Orchester Berlin, Peter Wohlert
[03] Mozart: Flötenkonzert Nr. 2 - Adagio non troppo ………………………. [5'24]
Kurt Berger, Flöte; Wiener Mozart-Ensemble, Herbert Kraus
[04] Donizetti: Andante ……………………………………………….. [4'53]
Evert Van Trigt, Oboe; Benno Pierweijer, Klavier
[05] Schubert: Impromptu B-Dur ………………………………………… [10'45]
Jenö Jando, Klavier
[06] Debussy: Clair de lune ……………………………………………. [4'16]
Rundfunksinfonieorchester Leipzig, Max Pommer
[07] Mozart: Divertimento D-Dur KV 251 - Andantino ……………………….. [3'58]
Camerata Academica des Mozarteums Salzburg, Sándor Végh
[08] Giordani: Caro mio ben ……………………………………………. [3'07]
Budapest Strings
[09] Mozart: Klavierkonzert Nr. 9 "Jeunehomme" - Andante …………………… [10'43]
Daniel Gerard, Klavier; Wiener Mozart-Ensemble, Herbert Kraus
[10] Rheinberger: Thema und Variationen …………………………………. [8'12]
Emo Sebestyen, Violine; Andreas Juffinger, Organ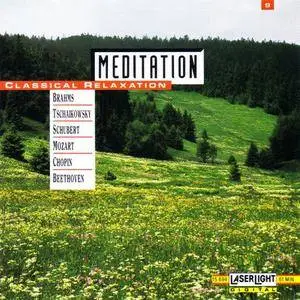 Meditation: Classical Relaxation - Vol. 9
EAC Rip | FLAC: Image+Cue+Log | 225 Mb
LaserLight Digital | 15 694-1
Track Listing
[01] Tschaikowsky: Dornröschen - Panorama ……………………………….. [2'58]
Sinfonieorchester des Bayerischen Rundfunks, Hans Vonk
[02] Brahms: Walzer op.39 Nr. 15 ………………………………………… [2'22]
Budapest Strings
[03] Buflardin. Flötenkonzert g-Moll - Adante …………………………… [3'32]
Eckart Haupt, Flöte; Dresdner Barocksolisten
[04] Schubert: Impromptu As-Dur ………………………………………… [7'19]
Evelyne Dubourg, Klavier
[05] Mozart: Violinkonzert Nr. 5 - Adagio ………………………………… [9'59]
Christian Altenburger, Violine
Deutsche Bachsolisten, Helmut Winschermann
[06] Schubert: Sinfonie Nr. 3 - Allegretto ………………………………. [4'30]
Budapester Philharmoniker, János Kovacs
[07] Bach: Brandenburgisches Konzert Nr. 2 - Andante ………………………. [3'32]
Neues Bachisches Collegium Musicum Leipzig, Max Pommer
[08] Chopin: Klaviersonate Nr. 3 - Largo …………………………………. [8'40]
Garrick Ohlsson, Klavier (Live-Aufnahme ADD)
[09] Tschaikowsky: Suite Nr. 1 - Intermezzo ………………………………. [7'44]
Radio-Sinfonieorchester Stuttgart, Sir Neville Marnner
[10] Beethoven: Klavierkonzert Nr. 3 - Largo ……………………………… [10'01]
Anton Dikov, Klavier; Philharmonisches Orchester Sofia, Emil Tabakov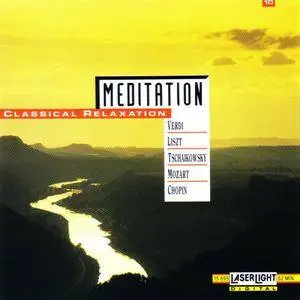 Meditation: Classical Relaxation - Vol. 10
EAC Rip | FLAC: Image+Cue+Log | 236 Mb
LaserLight Digital | 15 695-1
Track Listing
[01] Verdi: La Traviata - Vorspiel 1. Akt …………………………………. [3'42]
Sinfonieorchester Sofia, Vassil Stefanov
[02] Schumann: Von fernen Ländern und Menschen (aus "Kinderszenen") …………. [1'32]
Evelyne Dubourg, Klavier
[03] Tschaikowsky: Chanson triste ……………………………………….. [3'12]
Budapest Strings
[04] Schubert: Sinfonie Nr. 5 - Andante ………………………………….. [9'32]
Englisches Kammerorchester, Geoffrey Simon
[05] Liszt: La Campanella ………………………………………………. [5'42]
Donatella Failoni, Klavier
[06] C.P.Bach: Flötenkonzert B-Dur - Adagio ………………………………. [7'20]
Eckart Haupt, Flöte
Kammerorchester "Carl Philipp Emanuell Bach", Hartmut Haenchen
[07] Chopin: Trauermarsch aus der Klaviersonate Nr. 2 …………………….. [6'09]
Ivo Pogorelich, Klavier (Live-Aufnahme, ADD)
[08] Haydn; Sinfonie Nr. 94 "Mit dem Paukenschlag" - Andante ……………….. [6'27]
Ungarische Nationalphilharmonie, János Ferencsik
[09] Mozart: Konzert für Flöte, Harfe und Orchester - Andantino …………….. [8'34]
Hans Friedrich, Flöte; Angelika Berger, Harfe
Wiener Mozart-Ensamble, Herbert Kraus
[10] Tschaikowsky: Sinfonie Nr. 6 "Pathétique" - Adagio lamentoso ………….. [9'59]
Prager Festival-Orchester, Pavel Urbanek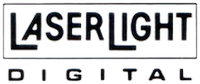 Exact Audio Copy V0.99 prebeta 5 from 4. May 2009

EAC extraction logfile from 10. March 2010, 9:42

Various / Meditation - Classical Relaxation Vol.01

Used drive : TSSTcorpCD/DVDW TS-L632D Adapter: 0 ID: 0

Read mode : Secure
Utilize accurate stream : Yes
Defeat audio cache : Yes
Make use of C2 pointers : No

Read offset correction : 6
Overread into Lead-In and Lead-Out : No
Fill up missing offset samples with silence : Yes
Delete leading and trailing silent blocks : No
Null samples used in CRC calculations : Yes
Used interface : Installed external ASPI interface
Gap handling : Appended to previous track

Used output format : User Defined Encoder
Selected bitrate : 1024 kBit/s
Quality : High
Add ID3 tag : No
Command line compressor : C:\Program Files\Exact Audio Copy\FLAC\FLAC.EXE
Additional command line options : -6 -V -T "ARTIST=%a" -T "TITLE=%t" -T "ALBUM=%g" -T "DATE=%y" -T "TRACKNUMBER=%n" -T "GENRE=%m" -T "COMMENT=%e" %s -o %d


TOC of the extracted CD

Track | Start | Length | Start sector | End sector
––––––––––––––––––––––––––––-
1 | 0:00.00 | 4:20.69 | 0 | 19568
2 | 4:20.69 | 5:34.07 | 19569 | 44625
3 | 9:55.01 | 2:23.10 | 44626 | 55360
4 | 12:18.11 | 13:19.10 | 55361 | 115295
5 | 25:37.21 | 4:03.10 | 115296 | 133530
6 | 29:40.31 | 6:56.44 | 133531 | 164774
7 | 36:37.00 | 10:20.17 | 164775 | 211291
8 | 46:57.17 | 5:50.46 | 211292 | 237587
9 | 52:47.63 | 6:23.30 | 237588 | 266342


Track 1

Filename D:\Meditation - Classical Relaxation FLAC\Meditation - Classical Relaxation Vol. 01\01. Johann Pachelbel - Kanon.wav

Pre-gap length 0:00:02.00

Peak level 75.9 %
Track quality 100.0 %
Test CRC 67F7E10E
Copy CRC 67F7E10E
Accurately ripped (confidence 3) [76C76682]
Copy OK

Track 2

Filename D:\Meditation - Classical Relaxation FLAC\Meditation - Classical Relaxation Vol. 01\02. Wolfgang Amadeus Mozart - Andante aus dem Klavierkonzert No.21 'Elvira Madigan'.wav

Pre-gap length 0:00:02.00

Peak level 37.0 %
Track quality 100.0 %
Test CRC AAC5335B
Copy CRC AAC5335B
Accurately ripped (confidence 3) [CFD30B71]
Copy OK

Track 3

Filename D:\Meditation - Classical Relaxation FLAC\Meditation - Classical Relaxation Vol. 01\03. Leo Delibes - Notturno aus 'Coppelia'.wav

Pre-gap length 0:00:02.00

Peak level 16.2 %
Track quality 99.9 %
Test CRC FD21F288
Copy CRC FD21F288
Accurately ripped (confidence 3) [0A44DC22]
Copy OK

Track 4

Filename D:\Meditation - Classical Relaxation FLAC\Meditation - Classical Relaxation Vol. 01\04. Franz Schubert - Adagio aus Streichquartet C-Dur.wav

Pre-gap length 0:00:02.00

Peak level 32.2 %
Track quality 100.0 %
Test CRC D7F58FAD
Copy CRC D7F58FAD
Accurately ripped (confidence 3) [E07FA4AA]
Copy OK

Track 5

Filename D:\Meditation - Classical Relaxation FLAC\Meditation - Classical Relaxation Vol. 01\05. Johann Sebastian Bach - Air ( aus Orchestersuite No.3 ).wav

Pre-gap length 0:00:02.00

Peak level 22.2 %
Track quality 100.0 %
Test CRC 696E5F61
Copy CRC 696E5F61
Accurately ripped (confidence 3) [C17F8BF6]
Copy OK

Track 6

Filename D:\Meditation - Classical Relaxation FLAC\Meditation - Classical Relaxation Vol. 01\06. Wolfgang Amadeus Mozart - Adagio aus dem Klarinettenkonzert.wav

Pre-gap length 0:00:02.00

Peak level 38.3 %
Track quality 100.0 %
Test CRC 308615FB
Copy CRC 308615FB
Accurately ripped (confidence 3) [F7F6DC82]
Copy OK

Track 7

Filename D:\Meditation - Classical Relaxation FLAC\Meditation - Classical Relaxation Vol. 01\07. Franz Schubert - Andante con moto aus der Sinfonie No.8 'Unvollendete'.wav

Pre-gap length 0:00:02.00

Peak level 55.8 %
Track quality 100.0 %
Test CRC 855C3BC1
Copy CRC 855C3BC1
Accurately ripped (confidence 3) [3D24234C]
Copy OK

Track 8

Filename D:\Meditation - Classical Relaxation FLAC\Meditation - Classical Relaxation Vol. 01\08. Tommaso Albinoni - Adagio (aus dem Konzert Op. 9 No.2).wav

Pre-gap length 0:00:02.00

Peak level 67.6 %
Track quality 100.0 %
Test CRC 80EE406B
Copy CRC 80EE406B
Accurately ripped (confidence 3) [C197A43C]
Copy OK

Track 9

Filename D:\Meditation - Classical Relaxation FLAC\Meditation - Classical Relaxation Vol. 01\09. Christoph Willibald Ritter von Gluck - Reigen seliger Geister aus 'Orpheus und Eurydike'.wav

Pre-gap length 0:00:02.00

Peak level 17.6 %
Track quality 100.0 %
Test CRC 9D1DA708
Copy CRC 9D1DA708
Accurately ripped (confidence 3) [D0B265B9]
Copy OK


All tracks accurately ripped

No errors occurred

End of status report
Exact Audio Copy V0.99 prebeta 5 from 4. May 2009

EAC extraction logfile from 10. March 2010, 10:15

Various Artists / Meditation - Classical Relaxation Vol.02

Used drive : TSSTcorpCD/DVDW TS-L632D Adapter: 0 ID: 0

Read mode : Secure
Utilize accurate stream : Yes
Defeat audio cache : Yes
Make use of C2 pointers : No

Read offset correction : 6
Overread into Lead-In and Lead-Out : No
Fill up missing offset samples with silence : Yes
Delete leading and trailing silent blocks : No
Null samples used in CRC calculations : Yes
Used interface : Installed external ASPI interface
Gap handling : Appended to previous track

Used output format : User Defined Encoder
Selected bitrate : 1024 kBit/s
Quality : High
Add ID3 tag : No
Command line compressor : C:\Program Files\Exact Audio Copy\FLAC\FLAC.EXE
Additional command line options : -6 -V -T "ARTIST=%a" -T "TITLE=%t" -T "ALBUM=%g" -T "DATE=%y" -T "TRACKNUMBER=%n" -T "GENRE=%m" -T "COMMENT=%e" %s -o %d


TOC of the extracted CD

Track | Start | Length | Start sector | End sector
––––––––––––––––––––––––––––-
1 | 0:00.00 | 5:10.00 | 0 | 23249
2 | 5:10.00 | 8:04.02 | 23250 | 59551
3 | 13:14.02 | 6:07.73 | 59552 | 87149
4 | 19:22.00 | 2:35.00 | 87150 | 98774
5 | 21:57.00 | 4:43.00 | 98775 | 119999
6 | 26:40.00 | 2:30.00 | 120000 | 131249
7 | 29:10.00 | 4:25.72 | 131250 | 151196
8 | 33:35.72 | 7:56.03 | 151197 | 186899
9 | 41:32.00 | 1:34.00 | 186900 | 193949
10 | 43:06.00 | 9:32.25 | 193950 | 236874


Track 1

Filename D:\Meditation - Classical Relaxation FLAC\Meditation - Classical Relaxation Vol. 02\01. Budapest Philharmonic Orchestra - Massenet Meditation (Thais).wav

Pre-gap length 0:00:02.00

Peak level 71.3 %
Track quality 100.0 %
Test CRC A9799066
Copy CRC A9799066
Cannot be verified as accurate (confidence 6) [779436BC], AccurateRip returned [F2464B2A]
Copy OK

Track 2

Filename D:\Meditation - Classical Relaxation FLAC\Meditation - Classical Relaxation Vol. 02\02. Hungarian State Orchestra - Svendsen Romance in G, Op 26.wav

Pre-gap length 0:00:04.33

Peak level 74.3 %
Track quality 100.0 %
Test CRC 4C1E51C2
Copy CRC 4C1E51C2
Cannot be verified as accurate (confidence 6) [9CE95299], AccurateRip returned [0A2EB3F3]
Copy OK

Track 3

Filename D:\Meditation - Classical Relaxation FLAC\Meditation - Classical Relaxation Vol. 02\03. Dresden Philharmonic - Grieg The Last Spring.wav

Pre-gap length 0:00:05.40

Peak level 33.5 %
Track quality 100.0 %
Test CRC 993DC365
Copy CRC 993DC365
Cannot be verified as accurate (confidence 6) [089AE646], AccurateRip returned [C4ED8D7C]
Copy OK

Track 4

Filename D:\Meditation - Classical Relaxation FLAC\Meditation - Classical Relaxation Vol. 02\04. Budapest Strings - Beethoven Minuet.wav

Pre-gap length 0:00:05.57

Peak level 39.1 %
Track quality 100.0 %
Test CRC 086E766A
Copy CRC 086E766A
Cannot be verified as accurate (confidence 6) [7D680A6B], AccurateRip returned [AB3AECB5]
Copy OK

Track 5

Filename D:\Meditation - Classical Relaxation FLAC\Meditation - Classical Relaxation Vol. 02\05. Budapest Strings - Haydn Serenade, Op 3 No.5.wav

Pre-gap length 0:00:05.04

Peak level 24.7 %
Track quality 100.0 %
Test CRC 93BCA3C5
Copy CRC 93BCA3C5
Cannot be verified as accurate (confidence 6) [B0FBB71B], AccurateRip returned [431146DF]
Copy OK

Track 6

Filename D:\Meditation - Classical Relaxation FLAC\Meditation - Classical Relaxation Vol. 02\06. Budapest Strings - Fibich Poeme, Op 41 No.6.wav

Pre-gap length 0:00:05.37

Peak level 51.6 %
Track quality 100.0 %
Test CRC 7F2C99ED
Copy CRC 7F2C99ED
Cannot be verified as accurate (confidence 6) [0957F4CE], AccurateRip returned [19E28DAC]
Copy OK

Track 7

Filename D:\Meditation - Classical Relaxation FLAC\Meditation - Classical Relaxation Vol. 02\07. Dresden Philharmonic - Grieg Elegiac Melody No.1.wav

Pre-gap length 0:00:05.17

Peak level 62.0 %
Track quality 99.9 %
Test CRC 850D4446
Copy CRC 850D4446
Cannot be verified as accurate (confidence 6) [F0744E01], AccurateRip returned [D4AAB7B7]
Copy OK

Track 8

Filename D:\Meditation - Classical Relaxation FLAC\Meditation - Classical Relaxation Vol. 02\08. Franz Liszt Chamber Orchestra - Tchaikovsky Elegia (Serenade for String Orchestra).wav

Pre-gap length 0:00:05.40

Peak level 64.5 %
Track quality 100.0 %
Test CRC 0AC74C0B
Copy CRC 0AC74C0B
Cannot be verified as accurate (confidence 6) [B983A872], AccurateRip returned [AD5D8A1A]
Copy OK

Track 9

Filename D:\Meditation - Classical Relaxation FLAC\Meditation - Classical Relaxation Vol. 02\09. Budapest Strings - Grieg I Love You.wav

Pre-gap length 0:00:05.84

Peak level 56.5 %
Track quality 100.0 %
Test CRC 9C8BD531
Copy CRC 9C8BD531
Cannot be verified as accurate (confidence 6) [5A5BA4D0], AccurateRip returned [D8E79D48]
Copy OK

Track 10

Filename D:\Meditation - Classical Relaxation FLAC\Meditation - Classical Relaxation Vol. 02\10. Budapest Philharmonic Orchestra - Ponchielli Dance of the Hours (La Gioconda).wav

Pre-gap length 0:00:04.04

Peak level 100.0 %
Track quality 100.0 %
Test CRC 75E97A70
Copy CRC 75E97A70
Cannot be verified as accurate (confidence 6) [21773A4F], AccurateRip returned [A15B1D76]
Copy OK


No tracks could be verified as accurate
You may have a different pressing from the one(s) in the database

No errors occurred

End of status report
Exact Audio Copy V0.99 prebeta 5 from 4. May 2009

EAC extraction logfile from 10. March 2010, 10:47

Various Artists / Meditation - Classical Relaxation Vol. 03

Used drive : TSSTcorpCD/DVDW TS-L632D Adapter: 0 ID: 0

Read mode : Secure
Utilize accurate stream : Yes
Defeat audio cache : Yes
Make use of C2 pointers : No

Read offset correction : 6
Overread into Lead-In and Lead-Out : No
Fill up missing offset samples with silence : Yes
Delete leading and trailing silent blocks : No
Null samples used in CRC calculations : Yes
Used interface : Installed external ASPI interface
Gap handling : Appended to previous track

Used output format : User Defined Encoder
Selected bitrate : 1024 kBit/s
Quality : High
Add ID3 tag : No
Command line compressor : C:\Program Files\Exact Audio Copy\FLAC\FLAC.EXE
Additional command line options : -6 -V -T "ARTIST=%a" -T "TITLE=%t" -T "ALBUM=%g" -T "DATE=%y" -T "TRACKNUMBER=%n" -T "GENRE=%m" -T "COMMENT=%e" %s -o %d


TOC of the extracted CD

Track | Start | Length | Start sector | End sector
––––––––––––––––––––––––––––-
1 | 0:00.00 | 9:54.50 | 0 | 44599
2 | 9:54.50 | 10:33.72 | 44600 | 92146
3 | 20:28.47 | 5:14.03 | 92147 | 115699
4 | 25:42.50 | 9:29.00 | 115700 | 158374
5 | 35:11.50 | 6:37.00 | 158375 | 188149
6 | 41:48.50 | 9:43.22 | 188150 | 231896


Track 1

Filename D:\Meditation - Classical Relaxation FLAC\Meditation - Classical Relaxation Vol. 03\01. Dresden Philharmonic - Albinoni's Adagio.wav

Pre-gap length 0:00:02.00

Peak level 45.7 %
Track quality 100.0 %
Test CRC 74588CFF
Copy CRC 74588CFF
Accurately ripped (confidence 4) [A00CD061]
Copy OK

Track 2

Filename D:\Meditation - Classical Relaxation FLAC\Meditation - Classical Relaxation Vol. 03\02. Budapest Strings - Dvorak's Romance in F minor, Op 11.wav

Pre-gap length 0:00:05.80

Peak level 78.8 %
Track quality 100.0 %
Test CRC A18867FE
Copy CRC A18867FE
Accurately ripped (confidence 3) [4A8136F9]
Copy OK

Track 3

Filename D:\Meditation - Classical Relaxation FLAC\Meditation - Classical Relaxation Vol. 03\03. Vienna Symphony Orchestra - Grieg's Solveig's Song (Peer Gynt).wav

Pre-gap length 0:00:05.25

Peak level 30.2 %
Track quality 100.0 %
Test CRC 915F7518
Copy CRC 915F7518
Accurately ripped (confidence 3) [778218F3]
Copy OK

Track 4

Filename D:\Meditation - Classical Relaxation FLAC\Meditation - Classical Relaxation Vol. 03\04. Hungarian State Orchestra - Beethoven's Romance for Violin No.2 in F, Op 50.wav

Pre-gap length 0:00:05.24

Peak level 70.7 %
Track quality 100.0 %
Test CRC A7D5027A
Copy CRC A7D5027A
Accurately ripped (confidence 3) [E097CAAB]
Copy OK

Track 5

Filename D:\Meditation - Classical Relaxation FLAC\Meditation - Classical Relaxation Vol. 03\05. Budapest Philharmonic Orchestra - Schubert's Ballet Music in G (Rosamunde).wav

Pre-gap length 0:00:05.17

Peak level 45.7 %
Track quality 100.0 %
Test CRC 2BFE1E6C
Copy CRC 2BFE1E6C
Accurately ripped (confidence 3) [31C6B14A]
Copy OK

Track 6

Filename D:\Meditation - Classical Relaxation FLAC\Meditation - Classical Relaxation Vol. 03\06. Budapest Festival Orchestra - Mahler's Adagietto (Symphony No.5).wav

Pre-gap length 0:00:06.00

Peak level 66.5 %
Track quality 100.0 %
Test CRC A7FB09C3
Copy CRC A7FB09C3
Accurately ripped (confidence 3) [A7A2355A]
Copy OK


All tracks accurately ripped

No errors occurred

End of status report
Exact Audio Copy V0.99 prebeta 5 from 4. May 2009

EAC extraction logfile from 10. March 2010, 12:05

Various / Meditation - Classical Relaxation Vol.04

Used drive : TSSTcorpCD/DVDW TS-L632D Adapter: 0 ID: 0

Read mode : Secure
Utilize accurate stream : Yes
Defeat audio cache : Yes
Make use of C2 pointers : No

Read offset correction : 6
Overread into Lead-In and Lead-Out : No
Fill up missing offset samples with silence : Yes
Delete leading and trailing silent blocks : No
Null samples used in CRC calculations : Yes
Used interface : Installed external ASPI interface
Gap handling : Appended to previous track

Used output format : User Defined Encoder
Selected bitrate : 1024 kBit/s
Quality : High
Add ID3 tag : No
Command line compressor : C:\Program Files\Exact Audio Copy\FLAC\FLAC.EXE
Additional command line options : -6 -V -T "ARTIST=%a" -T "TITLE=%t" -T "ALBUM=%g" -T "DATE=%y" -T "TRACKNUMBER=%n" -T "GENRE=%m" -T "COMMENT=%e" %s -o %d


TOC of the extracted CD

Track | Start | Length | Start sector | End sector
––––––––––––––––––––––––––––-
1 | 0:00.00 | 3:34.02 | 0 | 16051
2 | 3:34.02 | 3:22.00 | 16052 | 31201
3 | 6:56.02 | 3:46.73 | 31202 | 48224
4 | 10:43.00 | 5:25.27 | 48225 | 72626
5 | 16:08.27 | 5:56.48 | 72627 | 99374
6 | 22:05.00 | 8:19.50 | 99375 | 136849
7 | 30:24.50 | 8:15.10 | 136850 | 173984
8 | 38:39.60 | 4:05.10 | 173985 | 192369
9 | 42:44.70 | 4:04.60 | 192370 | 210729
10 | 46:49.55 | 11:18.55 | 210730 | 261634
11 | 58:08.35 | 7:25.20 | 261635 | 295029


Track 1

Filename D:\Meditation - Classical Relaxation FLAC\Meditation - Classical Relaxation Vol. 04\01. Grieg - Morning from Peer Gynt.wav

Pre-gap length 0:00:02.00

Peak level 67.7 %
Track quality 100.0 %
Test CRC 0B7E87DF
Copy CRC 0B7E87DF
Accurately ripped (confidence 3) [5507DF6B]
Copy OK

Track 2

Filename D:\Meditation - Classical Relaxation FLAC\Meditation - Classical Relaxation Vol. 04\02. Schubert - Standchen (Serenade).wav

Pre-gap length 0:00:04.42

Peak level 35.6 %
Track quality 100.0 %
Test CRC FF2D5E0B
Copy CRC FF2D5E0B
Accurately ripped (confidence 3) [8B6CAD66]
Copy OK

Track 3

Filename D:\Meditation - Classical Relaxation FLAC\Meditation - Classical Relaxation Vol. 04\03. Tchaikovsky - Preghiera (Ave Verum) from 'Mozartiana' Suite.wav

Pre-gap length 0:00:04.76

Peak level 32.8 %
Track quality 100.0 %
Test CRC E1A5A0A2
Copy CRC E1A5A0A2
Accurately ripped (confidence 4) [65778D71]
Copy OK

Track 4

Filename D:\Meditation - Classical Relaxation FLAC\Meditation - Classical Relaxation Vol. 04\04. Beethoven - Adagio sostenuto from 'Moonlight' Sonata.wav

Pre-gap length 0:00:04.06

Peak level 16.9 %
Track quality 100.0 %
Test CRC FE650FA2
Copy CRC FE650FA2
Accurately ripped (confidence 4) [414B2F9C]
Copy OK

Track 5

Filename D:\Meditation - Classical Relaxation FLAC\Meditation - Classical Relaxation Vol. 04\05. Mozart - Piano Concerto No.23 in A, 2nd movement.wav

Pre-gap length 0:00:03.89

Peak level 41.6 %
Track quality 99.9 %
Test CRC C450F5A1
Copy CRC C450F5A1
Accurately ripped (confidence 3) [F88F76E6]
Copy OK

Track 6

Filename D:\Meditation - Classical Relaxation FLAC\Meditation - Classical Relaxation Vol. 04\06. Schubert - Intermezzo from 'Rosamunde'.wav

Pre-gap length 0:00:03.53

Peak level 34.3 %
Track quality 100.0 %
Test CRC 42CD6103
Copy CRC 42CD6103
Accurately ripped (confidence 3) [14AADF57]
Copy OK

Track 7

Filename D:\Meditation - Classical Relaxation FLAC\Meditation - Classical Relaxation Vol. 04\07. Mendelssohn - Violin Concerto in E Minor, 2nd Movement.wav

Pre-gap length 0:00:03.60

Peak level 56.7 %
Track quality 100.0 %
Test CRC B3144803
Copy CRC B3144803
Accurately ripped (confidence 3) [ECAAFB84]
Copy OK

Track 8

Filename D:\Meditation - Classical Relaxation FLAC\Meditation - Classical Relaxation Vol. 04\08. Dvorak - Serenade for String Orchestra, 1st movement.wav

Pre-gap length 0:00:03.84

Peak level 41.4 %
Track quality 100.0 %
Test CRC E9C794DE
Copy CRC E9C794DE
Accurately ripped (confidence 2) [053AA370]
Copy OK

Track 9

Filename D:\Meditation - Classical Relaxation FLAC\Meditation - Classical Relaxation Vol. 04\09. Bizet - Intermezzo, from 'L'Arlesienne', Suite No.2.wav

Pre-gap length 0:00:03.46

Peak level 33.3 %
Track quality 100.0 %
Test CRC C02C73D7
Copy CRC C02C73D7
Accurately ripped (confidence 3) [9752AE82]
Copy OK

Track 10

Filename D:\Meditation - Classical Relaxation FLAC\Meditation - Classical Relaxation Vol. 04\10. Rodrigo - Concierto de Aranjuez - 2nd movement.wav

Pre-gap length 0:00:04.06

Peak level 48.8 %
Track quality 99.9 %
Test CRC 16020126
Copy CRC 16020126
Accurately ripped (confidence 3) [3AD3A846]
Copy OK

Track 11

Filename D:\Meditation - Classical Relaxation FLAC\Meditation - Classical Relaxation Vol. 04\11. Schubert - 'Trout' Quintet - Theme and Variations.wav

Pre-gap length 0:00:03.60

Peak level 59.2 %
Track quality 100.0 %
Test CRC 0EA441DB
Copy CRC 0EA441DB
Cannot be verified as accurate (confidence 4) [5DF741C0], AccurateRip returned [309342E7]
Copy OK


10 track(s) accurately ripped
1 track(s) could not be verified as accurate

Some tracks could not be verified as accurate

No errors occurred

End of status report
Exact Audio Copy V0.99 prebeta 5 from 4. May 2009

EAC extraction logfile from 10. March 2010, 13:29

Various / Meditation - Classical Relaxation Vol.05

Used drive : TSSTcorpCD/DVDW TS-L632D Adapter: 0 ID: 0

Read mode : Secure
Utilize accurate stream : Yes
Defeat audio cache : Yes
Make use of C2 pointers : No

Read offset correction : 6
Overread into Lead-In and Lead-Out : No
Fill up missing offset samples with silence : Yes
Delete leading and trailing silent blocks : No
Null samples used in CRC calculations : Yes
Used interface : Installed external ASPI interface
Gap handling : Appended to previous track

Used output format : User Defined Encoder
Selected bitrate : 1024 kBit/s
Quality : High
Add ID3 tag : No
Command line compressor : C:\Program Files\Exact Audio Copy\FLAC\FLAC.EXE
Additional command line options : -6 -V -T "ARTIST=%a" -T "TITLE=%t" -T "ALBUM=%g" -T "DATE=%y" -T "TRACKNUMBER=%n" -T "GENRE=%m" -T "COMMENT=%e" %s -o %d


TOC of the extracted CD

Track | Start | Length | Start sector | End sector
––––––––––––––––––––––––––––-
1 | 0:00.00 | 3:27.38 | 0 | 15562
2 | 3:27.38 | 4:38.71 | 15563 | 36483
3 | 8:06.34 | 4:13.01 | 36484 | 55459
4 | 12:19.35 | 3:33.44 | 55460 | 71478
5 | 15:53.04 | 3:04.11 | 71479 | 85289
6 | 18:57.15 | 4:58.44 | 85290 | 107683
7 | 23:55.59 | 3:29.48 | 107684 | 123406
8 | 27:25.32 | 5:33.47 | 123407 | 148428
9 | 32:59.04 | 4:46.67 | 148429 | 169945
10 | 37:45.71 | 3:52.04 | 169946 | 187349
11 | 41:38.00 | 10:20.54 | 187350 | 233903
12 | 51:58.54 | 3:04.07 | 233904 | 247710
13 | 55:02.61 | 5:11.43 | 247711 | 271078
14 | 60:14.29 | 3:01.65 | 271079 | 284718
15 | 63:16.19 | 12:38.21 | 284719 | 341589


Track 1

Filename D:\Meditation - Classical Relaxation FLAC\Meditation - Classical Relaxation Vol. 05\01. Jacques Offenbach - Barkarole aus 'Hoffmanns Erzaelungen'.wav

Pre-gap length 0:00:02.00

Peak level 24.8 %
Track quality 100.0 %
Test CRC 3EC1670D
Copy CRC 3EC1670D
Accurately ripped (confidence 2) [03B62D3A]
Copy OK

Track 2

Filename D:\Meditation - Classical Relaxation FLAC\Meditation - Classical Relaxation Vol. 05\02. Jean Sibelius - Valse Triste.wav

Pre-gap length 0:00:02.00

Peak level 35.0 %
Track quality 99.9 %
Test CRC CB99A6D8
Copy CRC CB99A6D8
Accurately ripped (confidence 3) [7DB0562F]
Copy OK

Track 3

Filename D:\Meditation - Classical Relaxation FLAC\Meditation - Classical Relaxation Vol. 05\03. Franz von Liszt - Liebestraum No.3 As-Dur.wav

Pre-gap length 0:00:02.00

Peak level 60.1 %
Track quality 99.9 %
Test CRC 3017029E
Copy CRC 3017029E
Accurately ripped (confidence 3) [4C1A07EE]
Copy OK

Track 4

Filename D:\Meditation - Classical Relaxation FLAC\Meditation - Classical Relaxation Vol. 05\04. Luigi Boccherini - Menuett.wav

Pre-gap length 0:00:02.00

Peak level 24.7 %
Track quality 100.0 %
Test CRC E6F3FBC8
Copy CRC E6F3FBC8
Accurately ripped (confidence 3) [DE93C68D]
Copy OK

Track 5

Filename D:\Meditation - Classical Relaxation FLAC\Meditation - Classical Relaxation Vol. 05\05. Johann Sebastian Bach - Oboenkonzert D-Moll (Auszug).wav

Pre-gap length 0:00:02.00

Peak level 24.3 %
Track quality 100.0 %
Test CRC 3682A4BA
Copy CRC 3682A4BA
Accurately ripped (confidence 3) [021B9827]
Copy OK

Track 6

Filename D:\Meditation - Classical Relaxation FLAC\Meditation - Classical Relaxation Vol. 05\06. Ludwig van Beethoven - Klaviersonate No.8 'Pathetique' 2.Satz.wav

Pre-gap length 0:00:02.00

Peak level 40.3 %
Track quality 100.0 %
Test CRC 67BF6A3F
Copy CRC 67BF6A3F
Accurately ripped (confidence 4) [9ADC8015]
Copy OK

Track 7

Filename D:\Meditation - Classical Relaxation FLAC\Meditation - Classical Relaxation Vol. 05\07. Pietro Macagni - Intermezzo Sinfonico aus 'Cavalleria Rusticana'.wav

Pre-gap length 0:00:02.00

Peak level 43.4 %
Track quality 100.0 %
Test CRC 787E5D9C
Copy CRC 787E5D9C
Accurately ripped (confidence 3) [A7074F9D]
Copy OK

Track 8

Filename D:\Meditation - Classical Relaxation FLAC\Meditation - Classical Relaxation Vol. 05\08. Johann Sebastian Bach - Symphonie aus dem Weihnachtoratorium.wav

Pre-gap length 0:00:02.00

Peak level 30.8 %
Track quality 100.0 %
Test CRC FE42D189
Copy CRC FE42D189
Accurately ripped (confidence 3) [08B82130]
Copy OK

Track 9

Filename D:\Meditation - Classical Relaxation FLAC\Meditation - Classical Relaxation Vol. 05\09. Franz Schubert - Ave Maria.wav

Pre-gap length 0:00:02.00

Peak level 34.1 %
Track quality 99.9 %
Test CRC D715E57C
Copy CRC D715E57C
Accurately ripped (confidence 4) [DC490363]
Copy OK

Track 10

Filename D:\Meditation - Classical Relaxation FLAC\Meditation - Classical Relaxation Vol. 05\10. Wolfgang Amadeus Mozart - Symphonie No.30, 2.Satz.wav

Pre-gap length 0:00:02.00

Peak level 44.4 %
Track quality 100.0 %
Test CRC FE1AF050
Copy CRC FE1AF050
Accurately ripped (confidence 3) [371F66FE]
Copy OK

Track 11

Filename D:\Meditation - Classical Relaxation FLAC\Meditation - Classical Relaxation Vol. 05\11. Gustav Mahler - Symphonie No.1, 3.Satz.wav

Pre-gap length 0:00:02.00

Peak level 23.7 %
Track quality 100.0 %
Test CRC 9BDDF898
Copy CRC 9BDDF898
Accurately ripped (confidence 3) [17A1E6C9]
Copy OK

Track 12

Filename D:\Meditation - Classical Relaxation FLAC\Meditation - Classical Relaxation Vol. 05\12. Robert Schumann - Traeumerei.wav

Pre-gap length 0:00:02.00

Peak level 13.5 %
Track quality 100.0 %
Test CRC E3D29A9E
Copy CRC E3D29A9E
Accurately ripped (confidence 4) [427A0123]
Copy OK

Track 13

Filename D:\Meditation - Classical Relaxation FLAC\Meditation - Classical Relaxation Vol. 05\13. Edvard Grieg - Ase's Tod (Aus 'Peer Gynt').wav

Pre-gap length 0:00:02.00

Peak level 51.6 %
Track quality 100.0 %
Test CRC 764E4C20
Copy CRC 764E4C20
Accurately ripped (confidence 4) [CE8199E5]
Copy OK

Track 14

Filename D:\Meditation - Classical Relaxation FLAC\Meditation - Classical Relaxation Vol. 05\14. Georg Friedrich Händel - Largo aus 'Xerxes'.wav

Pre-gap length 0:00:02.00

Peak level 32.4 %
Track quality 100.0 %
Test CRC E181DC9B
Copy CRC E181DC9B
Accurately ripped (confidence 3) [2E421AC0]
Copy OK

Track 15

Filename D:\Meditation - Classical Relaxation FLAC\Meditation - Classical Relaxation Vol. 05\15. Antonin Dvorak - Symphonie No.9 'Aus der Neuen Welt', 2.Satz.wav

Pre-gap length 0:00:02.00

Peak level 85.1 %
Track quality 100.0 %
Test CRC D62C5C98
Copy CRC D62C5C98
Accurately ripped (confidence 3) [10A3B05C]
Copy OK


All tracks accurately ripped

No errors occurred

End of status report
Exact Audio Copy V0.99 prebeta 5 from 4. May 2009

EAC extraction logfile from 10. March 2010, 14:24

Various / Meditation - Classical Relaxation Vol. 06

Used drive : TSSTcorpCD/DVDW TS-L632D Adapter: 0 ID: 0

Read mode : Secure
Utilize accurate stream : Yes
Defeat audio cache : Yes
Make use of C2 pointers : No

Read offset correction : 6
Overread into Lead-In and Lead-Out : No
Fill up missing offset samples with silence : Yes
Delete leading and trailing silent blocks : No
Null samples used in CRC calculations : Yes
Used interface : Installed external ASPI interface
Gap handling : Appended to previous track

Used output format : User Defined Encoder
Selected bitrate : 1024 kBit/s
Quality : High
Add ID3 tag : No
Command line compressor : C:\Program Files\Exact Audio Copy\FLAC\FLAC.EXE
Additional command line options : -6 -V -T "ARTIST=%a" -T "TITLE=%t" -T "ALBUM=%g" -T "DATE=%y" -T "TRACKNUMBER=%n" -T "GENRE=%m" -T "COMMENT=%e" %s -o %d


TOC of the extracted CD

Track | Start | Length | Start sector | End sector
––––––––––––––––––––––––––––-
1 | 0:00.00 | 2:50.21 | 0 | 12770
2 | 2:50.21 | 5:43.43 | 12771 | 38538
3 | 8:33.64 | 6:20.26 | 38539 | 67064
4 | 14:54.15 | 3:09.29 | 67065 | 81268
5 | 18:03.44 | 6:46.10 | 81269 | 111728
6 | 24:49.54 | 6:35.09 | 111729 | 141362
7 | 31:24.63 | 2:42.27 | 141363 | 153539
8 | 34:07.15 | 9:51.53 | 153540 | 197917
9 | 43:58.68 | 10:43.08 | 197918 | 246150
10 | 54:42.01 | 8:24.12 | 246151 | 283962


Track 1

Filename D:\Meditation - Classical Relaxation FLAC\Meditation - Classical Relaxation Vol. 06\01. Pjotr Iljitsch Tschaikowsky - Schwanensee - Szene.wav

Pre-gap length 0:00:02.00

Peak level 80.5 %
Track quality 100.0 %
Test CRC 0AC7E42A
Copy CRC 0AC7E42A
Cannot be verified as accurate (confidence 1) [FCEB96D4], AccurateRip returned [3006FE0D]
Copy OK

Track 2

Filename D:\Meditation - Classical Relaxation FLAC\Meditation - Classical Relaxation Vol. 06\02. Wolfgang Amadeus Mozart - Eine kleine Nachtmusik - Romanze.wav

Peak level 31.1 %
Track quality 100.0 %
Test CRC 7C20D728
Copy CRC 7C20D728
Cannot be verified as accurate (confidence 1) [BEA6B367], AccurateRip returned [3859B439]
Copy OK

Track 3

Filename D:\Meditation - Classical Relaxation FLAC\Meditation - Classical Relaxation Vol. 06\03. Frederic Chopin - Nocturne H-Dur Op9 No.3 - Frederic Chopin - Nocturne H-Dur Op9 No.3.wav

Peak level 33.4 %
Track quality 100.0 %
Test CRC 5B197A2F
Copy CRC 5B197A2F
Cannot be verified as accurate (confidence 1) [4324E1E3], AccurateRip returned [04CEBF59]
Copy OK

Track 4

Filename D:\Meditation - Classical Relaxation FLAC\Meditation - Classical Relaxation Vol. 06\04. GIACOMO PUCCINI Summchor (aus,,Madame Butterfly') - GIACOMO PUCCINI Summchor (aus,,Madame Butterfly').wav

Peak level 17.5 %
Track quality 100.0 %
Test CRC 2BFF477D
Copy CRC 2BFF477D
Cannot be verified as accurate (confidence 1) [9769C4F7], AccurateRip returned [C4F684B3]
Copy OK

Track 5

Filename D:\Meditation - Classical Relaxation FLAC\Meditation - Classical Relaxation Vol. 06\05. Arnold Mendelssohn - Notturno aus 'Ein Sommernachtstraum' - Arnold Mendelssohn - Notturno aus 'Ein Sommernachtstraum'.wav

Peak level 29.0 %
Track quality 100.0 %
Test CRC 84A6302B
Copy CRC 84A6302B
Cannot be verified as accurate (confidence 1) [4FC02A42], AccurateRip returned [C8E3BC19]
Copy OK

Track 6

Filename D:\Meditation - Classical Relaxation FLAC\Meditation - Classical Relaxation Vol. 06\06. Wolfgang Amadeus Mozart - Sinfonie No.35 Haffner-Sinfonie Andante - Wolfgang Amadeus Mozart - Sinfonie No.35 Haffner-Sinfonie Andante.wav

Peak level 50.3 %
Track quality 100.0 %
Test CRC 8216B6B2
Copy CRC 8216B6B2
Cannot be verified as accurate (confidence 1) [39395E74], AccurateRip returned [7DE86092]
Copy OK

Track 7

Filename D:\Meditation - Classical Relaxation FLAC\Meditation - Classical Relaxation Vol. 06\07. Georges Bizet - Carmen Suite No.1 - Intermezzo.wav

Peak level 44.6 %
Track quality 99.9 %
Test CRC 933E5D4A
Copy CRC 933E5D4A
Cannot be verified as accurate (confidence 1) [99B5ED6F], AccurateRip returned [37938D44]
Copy OK

Track 8

Filename D:\Meditation - Classical Relaxation FLAC\Meditation - Classical Relaxation Vol. 06\08. Franz Schubert - Klaviersonate B-Dur D.969 - Andante Sostenuto - Franz Schubert - Klaviersonate B-Dur D.969 - Andante Sostenuto.wav

Peak level 42.9 %
Track quality 100.0 %
Test CRC D515C8F6
Copy CRC D515C8F6
Cannot be verified as accurate (confidence 1) [9D83F3E9], AccurateRip returned [41B9D91D]
Copy OK

Track 9

Filename D:\Meditation - Classical Relaxation FLAC\Meditation - Classical Relaxation Vol. 06\09. Wolfgang Amadeus Mozart - Sinfonia Concertante in Es-Dur - Andante - Wolfgang Amadeus Mozart - Sinfonia Concertante in Es-Dur - Andante.wav

Peak level 42.5 %
Track quality 100.0 %
Test CRC 29E73374
Copy CRC 29E73374
Cannot be verified as accurate (confidence 1) [F9004185], AccurateRip returned [6C276983]
Copy OK

Track 10

Filename D:\Meditation - Classical Relaxation FLAC\Meditation - Classical Relaxation Vol. 06\10. Frederic Chopin - Klavierkonzert No.2 - Larghetto - Frederic Chopin - Klavierkonzert No.2 - Larghetto.wav

Peak level 46.4 %
Track quality 100.0 %
Test CRC 26C191B1
Copy CRC 26C191B1
Cannot be verified as accurate (confidence 1) [33F6E5FF], AccurateRip returned [6F3DEBC9]
Copy OK


No tracks could be verified as accurate
You may have a different pressing from the one(s) in the database

No errors occurred

End of status report
Exact Audio Copy V0.99 prebeta 5 from 4. May 2009

EAC extraction logfile from 10. March 2010, 14:59

Various Artists / Meditation - Classical Relaxation Vol. 07

Used drive : TSSTcorpCD/DVDW TS-L632D Adapter: 0 ID: 0

Read mode : Secure
Utilize accurate stream : Yes
Defeat audio cache : Yes
Make use of C2 pointers : No

Read offset correction : 6
Overread into Lead-In and Lead-Out : No
Fill up missing offset samples with silence : Yes
Delete leading and trailing silent blocks : No
Null samples used in CRC calculations : Yes
Used interface : Installed external ASPI interface
Gap handling : Appended to previous track

Used output format : User Defined Encoder
Selected bitrate : 1024 kBit/s
Quality : High
Add ID3 tag : No
Command line compressor : C:\Program Files\Exact Audio Copy\FLAC\FLAC.EXE
Additional command line options : -6 -V -T "ARTIST=%a" -T "TITLE=%t" -T "ALBUM=%g" -T "DATE=%y" -T "TRACKNUMBER=%n" -T "GENRE=%m" -T "COMMENT=%e" %s -o %d


TOC of the extracted CD

Track | Start | Length | Start sector | End sector
––––––––––––––––––––––––––––-
1 | 0:00.37 | 5:27.00 | 37 | 24561
2 | 5:27.37 | 4:03.25 | 24562 | 42811
3 | 9:30.62 | 12:27.50 | 42812 | 98886
4 | 21:58.37 | 0:53.25 | 98887 | 102886
5 | 22:51.62 | 8:19.50 | 102887 | 140361
6 | 31:11.37 | 9:27.00 | 140362 | 182886
7 | 40:38.37 | 1:49.25 | 182887 | 191086
8 | 42:27.62 | 4:39.00 | 191087 | 212011
9 | 47:06.62 | 5:13.00 | 212012 | 235486
10 | 52:19.62 | 9:34.15 | 235487 | 278551


Track 1

Filename D:\Meditation - Classical Relaxation FLAC\Meditation - Classical Relaxation Vol. 07\01. Schubert - Impromptu in G flat major.wav

Pre-gap length 0:00:02.49

Peak level 41.7 %
Track quality 100.0 %
Test CRC E7C61807
Copy CRC E7C61807
Track not present in AccurateRip database
Copy OK

Track 2

Filename D:\Meditation - Classical Relaxation FLAC\Meditation - Classical Relaxation Vol. 07\02. Rheinberger - Evening Song.wav

Pre-gap length 0:00:03.53

Peak level 30.6 %
Track quality 100.0 %
Test CRC 4F9ADD27
Copy CRC 4F9ADD27
Track not present in AccurateRip database
Copy OK

Track 3

Filename D:\Meditation - Classical Relaxation FLAC\Meditation - Classical Relaxation Vol. 07\03. Brahms - Serenade No.1 - Adagio non troppo.wav

Pre-gap length 0:00:04.26

Peak level 44.9 %
Track quality 100.0 %
Test CRC 6286E065
Copy CRC 6286E065
Track not present in AccurateRip database
Copy OK

Track 4

Filename D:\Meditation - Classical Relaxation FLAC\Meditation - Classical Relaxation Vol. 07\04. Schumann - The Merry Peasant.wav

Pre-gap length 0:00:04.80

Peak level 21.7 %
Track quality 100.0 %
Test CRC C24E78CE
Copy CRC C24E78CE
Track not present in AccurateRip database
Copy OK

Track 5

Filename D:\Meditation - Classical Relaxation FLAC\Meditation - Classical Relaxation Vol. 07\05. Mozart - Flute Quartet in G major.wav

Pre-gap length 0:00:03.69

Peak level 36.2 %
Track quality 100.0 %
Test CRC 4177CBBA
Copy CRC 4177CBBA
Track not present in AccurateRip database
Copy OK

Track 6

Filename D:\Meditation - Classical Relaxation FLAC\Meditation - Classical Relaxation Vol. 07\06. Beethoven - Symphonie No.7 (Allegretto) - Beethoven - Symphonie No.7 (Allegretto).wav

Pre-gap length 0:00:03.93

Peak level 95.2 %
Track quality 100.0 %
Test CRC 3E1D7C57
Copy CRC 3E1D7C57
Track not present in AccurateRip database
Copy OK

Track 7

Filename D:\Meditation - Classical Relaxation FLAC\Meditation - Classical Relaxation Vol. 07\07. Brahms - Cradle Song.wav

Pre-gap length 0:00:04.29

Peak level 25.0 %
Track quality 100.0 %
Test CRC 4BBC8018
Copy CRC 4BBC8018
Track not present in AccurateRip database
Copy OK

Track 8

Filename D:\Meditation - Classical Relaxation FLAC\Meditation - Classical Relaxation Vol. 07\08. Schubert - Theme and Variations (Quartet in G major).wav

Pre-gap length 0:00:04.16

Peak level 24.2 %
Track quality 100.0 %
Test CRC 41EC58E0
Copy CRC 41EC58E0
Track not present in AccurateRip database
Copy OK

Track 9

Filename D:\Meditation - Classical Relaxation FLAC\Meditation - Classical Relaxation Vol. 07\09. Tchaikovsky - The Seasons - June (Barcarolle) - Tchaikovsky - The Seasons - June (Barcarolle).wav

Pre-gap length 0:00:03.80

Peak level 72.5 %
Track quality 100.0 %
Test CRC 1888B443
Copy CRC 1888B443
Track not present in AccurateRip database
Copy OK

Track 10

Filename D:\Meditation - Classical Relaxation FLAC\Meditation - Classical Relaxation Vol. 07\10. Mozart - Symphony No.36 ''Linz'' - Poco adagio.wav

Pre-gap length 0:00:04.20

Peak level 66.5 %
Track quality 99.8 %
Test CRC D6C64C94
Copy CRC D6C64C94
Track not present in AccurateRip database
Copy OK


None of the tracks are present in the AccurateRip database

No errors occurred

End of status report
Exact Audio Copy V0.99 prebeta 5 from 4. May 2009

EAC extraction logfile from 10. March 2010, 15:33

Various / Meditation - Classical Relaxation Vol. 08

Used drive : TSSTcorpCD/DVDW TS-L632D Adapter: 0 ID: 0

Read mode : Secure
Utilize accurate stream : Yes
Defeat audio cache : Yes
Make use of C2 pointers : No

Read offset correction : 6
Overread into Lead-In and Lead-Out : No
Fill up missing offset samples with silence : Yes
Delete leading and trailing silent blocks : No
Null samples used in CRC calculations : Yes
Used interface : Installed external ASPI interface
Gap handling : Appended to previous track

Used output format : User Defined Encoder
Selected bitrate : 1024 kBit/s
Quality : High
Add ID3 tag : No
Command line compressor : C:\Program Files\Exact Audio Copy\FLAC\FLAC.EXE
Additional command line options : -6 -V -T "ARTIST=%a" -T "TITLE=%t" -T "ALBUM=%g" -T "DATE=%y" -T "TRACKNUMBER=%n" -T "GENRE=%m" -T "COMMENT=%e" %s -o %d


TOC of the extracted CD

Track | Start | Length | Start sector | End sector
––––––––––––––––––––––––––––-
1 | 0:00.37 | 2:08.50 | 37 | 9686
2 | 2:09.12 | 7:09.25 | 9687 | 41886
3 | 9:18.37 | 5:29.25 | 41887 | 66586
4 | 14:47.62 | 4:56.50 | 66587 | 88836
5 | 19:44.37 | 10:50.00 | 88837 | 137586
6 | 30:34.37 | 4:19.00 | 137587 | 157011
7 | 34:53.37 | 4:01.50 | 157012 | 175136
8 | 38:55.12 | 3:11.63 | 175137 | 189524
9 | 42:07.00 | 10:48.37 | 189525 | 238161
10 | 52:55.37 | 8:12.08 | 238162 | 275069


Track 1

Filename D:\Meditation - Classical Relaxation FLAC\Meditation - Classical Relaxation Vol. 08\01. Bach - Prelude in C minor.wav

Pre-gap length 0:00:02.49

Peak level 15.3 %
Track quality 100.0 %
Test CRC 0C34F8B0
Copy CRC 0C34F8B0
Accurately ripped (confidence 3) [F4B5D6FB]
Copy OK

Track 2

Filename D:\Meditation - Classical Relaxation FLAC\Meditation - Classical Relaxation Vol. 08\02. Grieg - Piano Concerto in A Minor Adagio.wav

Pre-gap length 0:00:03.93

Peak level 57.9 %
Track quality 99.9 %
Test CRC 28A68002
Copy CRC 28A68002
Accurately ripped (confidence 3) [86E28A87]
Copy OK

Track 3

Filename D:\Meditation - Classical Relaxation FLAC\Meditation - Classical Relaxation Vol. 08\03. Mozart - Flute Concerto No.2 - Adagio non troppo - Mozart - Flute Concerto No.2 - Adagio non troppo.wav

Pre-gap length 0:00:03.96

Peak level 43.1 %
Track quality 100.0 %
Test CRC F6084D95
Copy CRC F6084D95
Accurately ripped (confidence 3) [AA25E457]
Copy OK

Track 4

Filename D:\Meditation - Classical Relaxation FLAC\Meditation - Classical Relaxation Vol. 08\04. Donizetti - Andante.wav

Pre-gap length 0:00:04.96

Peak level 35.6 %
Track quality 100.0 %
Test CRC 3E3D0B7A
Copy CRC 3E3D0B7A
Accurately ripped (confidence 4) [902190DE]
Copy OK

Track 5

Filename D:\Meditation - Classical Relaxation FLAC\Meditation - Classical Relaxation Vol. 08\05. Schubert - Impromptu in B flat major - Schubert - Impromptu in B flat major.wav

Pre-gap length 0:00:03.53

Peak level 65.0 %
Track quality 100.0 %
Test CRC 61989A5D
Copy CRC 61989A5D
Accurately ripped (confidence 3) [4E144925]
Copy OK

Track 6

Filename D:\Meditation - Classical Relaxation FLAC\Meditation - Classical Relaxation Vol. 08\06. Debussy - Clair De Lune.wav

Pre-gap length 0:00:05.46

Peak level 43.2 %
Track quality 99.9 %
Test CRC 772449CD
Copy CRC 772449CD
Accurately ripped (confidence 3) [210E7593]
Copy OK

Track 7

Filename D:\Meditation - Classical Relaxation FLAC\Meditation - Classical Relaxation Vol. 08\07. Mozart - Divertimento in D K251 - Adnantino - Mozart - Divertimento in D K251 - Adnantino.wav

Pre-gap length 0:00:02.89

Peak level 43.1 %
Track quality 100.0 %
Test CRC 5E2751F3
Copy CRC 5E2751F3
Accurately ripped (confidence 3) [F4E26E66]
Copy OK

Track 8

Filename D:\Meditation - Classical Relaxation FLAC\Meditation - Classical Relaxation Vol. 08\08. Giordani - Caro mio ben.wav

Pre-gap length 0:00:03.93

Peak level 35.9 %
Track quality 100.0 %
Test CRC C455093D
Copy CRC C455093D
Accurately ripped (confidence 4) [AB4FD2BF]
Copy OK

Track 9

Filename D:\Meditation - Classical Relaxation FLAC\Meditation - Classical Relaxation Vol. 08\09. Mozart -Piano Concerto No.9 Jeunehomme - Andante - Mozart -Piano Concerto No.9 Jeunehomme - Andante.wav

Pre-gap length 0:00:04.76

Peak level 68.7 %
Track quality 100.0 %
Test CRC 6ED5FF15
Copy CRC 6ED5FF15
Accurately ripped (confidence 3) [CCD15A99]
Copy OK

Track 10

Filename D:\Meditation - Classical Relaxation FLAC\Meditation - Classical Relaxation Vol. 08\10. Rheinberger - Theme and Variations.wav

Pre-gap length 0:00:05.53

Peak level 37.5 %
Track quality 99.9 %
Test CRC ABF05BEB
Copy CRC ABF05BEB
Accurately ripped (confidence 3) [A80CEA92]
Copy OK


All tracks accurately ripped

No errors occurred

End of status report
Exact Audio Copy V0.99 prebeta 5 from 4. May 2009

EAC extraction logfile from 10. March 2010, 16:07

Various / Meditation - Classical Relaxation Vol. 09

Used drive : TSSTcorpCD/DVDW TS-L632D Adapter: 0 ID: 0

Read mode : Secure
Utilize accurate stream : Yes
Defeat audio cache : Yes
Make use of C2 pointers : No

Read offset correction : 6
Overread into Lead-In and Lead-Out : No
Fill up missing offset samples with silence : Yes
Delete leading and trailing silent blocks : No
Null samples used in CRC calculations : Yes
Used interface : Installed external ASPI interface
Gap handling : Appended to previous track

Used output format : User Defined Encoder
Selected bitrate : 1024 kBit/s
Quality : High
Add ID3 tag : No
Command line compressor : C:\Program Files\Exact Audio Copy\FLAC\FLAC.EXE
Additional command line options : -6 -V -T "ARTIST=%a" -T "TITLE=%t" -T "ALBUM=%g" -T "DATE=%y" -T "TRACKNUMBER=%n" -T "GENRE=%m" -T "COMMENT=%e" %s -o %d


TOC of the extracted CD

Track | Start | Length | Start sector | End sector
––––––––––––––––––––––––––––-
1 | 0:00.37 | 3:01.38 | 37 | 13649
2 | 3:02.00 | 2:25.00 | 13650 | 24524
3 | 5:27.00 | 3:34.37 | 24525 | 40611
4 | 9:01.37 | 7:22.50 | 40612 | 73811
5 | 16:24.12 | 10:03.25 | 73812 | 119061
6 | 26:27.37 | 4:34.00 | 119062 | 139611
7 | 31:01.37 | 3:35.25 | 139612 | 155761
8 | 34:36.62 | 8:44.50 | 155762 | 195111
9 | 43:21.37 | 7:49.25 | 195112 | 230311
10 | 51:10.62 | 10:00.73 | 230312 | 275384


Track 1

Filename D:\Meditation - Classical Relaxation FLAC\Meditation - Classical Relaxation Vol. 09\01. Tchaikovsky - The Sleeping Beauty, Panorama.wav

Pre-gap length 0:00:02.49

Peak level 15.6 %
Track quality 100.0 %
Test CRC 0EBB84FF
Copy CRC 0EBB84FF
Accurately ripped (confidence 2) [46EAED5B]
Copy OK

Track 2

Filename D:\Meditation - Classical Relaxation FLAC\Meditation - Classical Relaxation Vol. 09\02. Brahms - Waltz Op. 39 No.15.wav

Pre-gap length 0:00:03.13

Peak level 38.3 %
Track quality 100.0 %
Test CRC B0ECDF83
Copy CRC B0ECDF83
Accurately ripped (confidence 2) [3655A404]
Copy OK

Track 3

Filename D:\Meditation - Classical Relaxation FLAC\Meditation - Classical Relaxation Vol. 09\03. Buffardin - Flute Concerto in G minor, Andante.wav

Pre-gap length 0:00:03.37

Peak level 17.4 %
Track quality 99.9 %
Test CRC 1B309E70
Copy CRC 1B309E70
Accurately ripped (confidence 2) [8AEAC461]
Copy OK

Track 4

Filename D:\Meditation - Classical Relaxation FLAC\Meditation - Classical Relaxation Vol. 09\04. Schubert - Impromptu in A Flat.wav

Pre-gap length 0:00:02.76

Peak level 64.1 %
Track quality 100.0 %
Test CRC 2C848C4E
Copy CRC 2C848C4E
Accurately ripped (confidence 2) [2AA4E905]
Copy OK

Track 5

Filename D:\Meditation - Classical Relaxation FLAC\Meditation - Classical Relaxation Vol. 09\05. Mozart - Violin Concerto No.5 - Adagio - Mozart - Violin Concerto No.5 - Adagio.wav

Pre-gap length 0:00:03.49

Peak level 53.4 %
Track quality 99.9 %
Test CRC BC7B3693
Copy CRC BC7B3693
Accurately ripped (confidence 2) [C8035F83]
Copy OK

Track 6

Filename D:\Meditation - Classical Relaxation FLAC\Meditation - Classical Relaxation Vol. 09\06. Schubert - Symphony No.3, Allegretto.wav

Pre-gap length 0:00:04.09

Peak level 20.1 %
Track quality 100.0 %
Test CRC 10FE919E
Copy CRC 10FE919E
Accurately ripped (confidence 2) [78C96406]
Copy OK

Track 7

Filename D:\Meditation - Classical Relaxation FLAC\Meditation - Classical Relaxation Vol. 09\07. Bach- Brandenburg Concerto No.2 - Andante - Bach- Brandenburg Concerto No.2 - Andante.wav

Pre-gap length 0:00:03.76

Peak level 28.4 %
Track quality 100.0 %
Test CRC F7273A15
Copy CRC F7273A15
Accurately ripped (confidence 2) [9E274A03]
Copy OK

Track 8

Filename D:\Meditation - Classical Relaxation FLAC\Meditation - Classical Relaxation Vol. 09\08. Chopin - Piano Sonata No.3, Largo.wav

Pre-gap length 0:00:03.40

Peak level 40.8 %
Track quality 99.9 %
Test CRC 9F22CE4C
Copy CRC 9F22CE4C
Accurately ripped (confidence 2) [CE1A0252]
Copy OK

Track 9

Filename D:\Meditation - Classical Relaxation FLAC\Meditation - Classical Relaxation Vol. 09\09. Tchaikovsky - Suite No.1, Intermezzo.wav

Pre-gap length 0:00:04.46

Peak level 78.1 %
Track quality 100.0 %
Test CRC E7AD3B5E
Copy CRC E7AD3B5E
Accurately ripped (confidence 2) [B36735D2]
Copy OK

Track 10

Filename D:\Meditation - Classical Relaxation FLAC\Meditation - Classical Relaxation Vol. 09\10. Beethoven - Piano Concerto No.3 ~ Largo.wav

Pre-gap length 0:00:04.89

Peak level 37.0 %
Track quality 100.0 %
Test CRC 7C748280
Copy CRC 7C748280
Accurately ripped (confidence 2) [9C1C8DEE]
Copy OK


All tracks accurately ripped

No errors occurred

End of status report
Exact Audio Copy V0.99 prebeta 5 from 4. May 2009

EAC extraction logfile from 10. March 2010, 16:42

Various / Meditation - Classical Relaxation Vol. 10

Used drive : TSSTcorpCD/DVDW TS-L632D Adapter: 0 ID: 0

Read mode : Secure
Utilize accurate stream : Yes
Defeat audio cache : Yes
Make use of C2 pointers : No

Read offset correction : 6
Overread into Lead-In and Lead-Out : No
Fill up missing offset samples with silence : Yes
Delete leading and trailing silent blocks : No
Null samples used in CRC calculations : Yes
Used interface : Installed external ASPI interface
Gap handling : Appended to previous track

Used output format : User Defined Encoder
Selected bitrate : 1024 kBit/s
Quality : High
Add ID3 tag : No
Command line compressor : C:\Program Files\Exact Audio Copy\FLAC\FLAC.EXE
Additional command line options : -6 -V -T "ARTIST=%a" -T "TITLE=%t" -T "ALBUM=%g" -T "DATE=%y" -T "TRACKNUMBER=%n" -T "GENRE=%m" -T "COMMENT=%e" %s -o %d


TOC of the extracted CD

Track | Start | Length | Start sector | End sector
––––––––––––––––––––––––––––-
1 | 0:00.00 | 3:48.30 | 0 | 17129
2 | 3:48.30 | 1:35.07 | 17130 | 24261
3 | 5:23.37 | 3:14.68 | 24262 | 38879
4 | 8:38.30 | 9:36.23 | 38880 | 82102
5 | 18:14.53 | 5:44.55 | 82103 | 107957
6 | 23:59.33 | 7:24.72 | 107958 | 141329
7 | 31:24.30 | 6:13.50 | 141330 | 169354
8 | 37:38.05 | 6:31.00 | 169355 | 198679
9 | 44:09.05 | 8:38.29 | 198680 | 237558
10 | 52:47.34 | 9:58.72 | 237559 | 282480


Track 1

Filename D:\Meditation - Classical Relaxation FLAC\Meditation - Classical Relaxation Vol. 10\01. Giuseppe Verdi - La Traviata- Vorspiel 1. Akt.wav

Pre-gap length 0:00:02.00

Peak level 19.7 %
Track quality 100.0 %
Test CRC BB050893
Copy CRC BB050893
Accurately ripped (confidence 2) [EA694C19]
Copy OK

Track 2

Filename D:\Meditation - Classical Relaxation FLAC\Meditation - Classical Relaxation Vol. 10\02. Robert Schumann - Von fernen Laendern und Menschen (aus 'Kinderszenen') - Robert Schumann - Von fernen Laendern und Menschen (aus 'Kinderszenen').wav

Peak level 11.5 %
Track quality 100.0 %
Test CRC D311FC5E
Copy CRC D311FC5E
Accurately ripped (confidence 2) [EAB568A8]
Copy OK

Track 3

Filename D:\Meditation - Classical Relaxation FLAC\Meditation - Classical Relaxation Vol. 10\03. Pjotr Iljitsch Tschaikowsky - Chanson triste - Pjotr Iljitsch Tschaikowsky - Chanson triste.wav

Peak level 44.9 %
Track quality 99.9 %
Test CRC 9DE93A5B
Copy CRC 9DE93A5B
Accurately ripped (confidence 2) [98A2E6F0]
Copy OK

Track 4

Filename D:\Meditation - Classical Relaxation FLAC\Meditation - Classical Relaxation Vol. 10\04. Robert Schubert - Sinfonie No.5 - Andante - Robert Schubert - Sinfonie No.5 - Andante.wav

Peak level 35.9 %
Track quality 100.0 %
Test CRC F8F73263
Copy CRC F8F73263
Accurately ripped (confidence 2) [1DD65AFF]
Copy OK

Track 5

Filename D:\Meditation - Classical Relaxation FLAC\Meditation - Classical Relaxation Vol. 10\05. Franz von Liszt - La Campanella - Franz von Liszt - La Campanella.wav

Peak level 75.8 %
Track quality 100.0 %
Test CRC 6AFFE952
Copy CRC 6AFFE952
Accurately ripped (confidence 2) [F0A8953C]
Copy OK

Track 6

Filename D:\Meditation - Classical Relaxation FLAC\Meditation - Classical Relaxation Vol. 10\06. Carl Philipp Emanuel Bach - Floetenkonzert B-Dur - Adagio - Carl Philipp Emanuel Bach - Floetenkonzert B-Dur - Adagio.wav

Peak level 54.6 %
Track quality 99.9 %
Test CRC 34BF183C
Copy CRC 34BF183C
Accurately ripped (confidence 2) [4705DE42]
Copy OK

Track 7

Filename D:\Meditation - Classical Relaxation FLAC\Meditation - Classical Relaxation Vol. 10\07. Jacques Chopin - Trauermarsch aus der Klaviersonate No.2 - Jacques Chopin - Trauermarsch aus der Klaviersonate No.2.wav

Peak level 65.7 %
Track quality 100.0 %
Test CRC 9C327561
Copy CRC 9C327561
Accurately ripped (confidence 2) [DB58D748]
Copy OK

Track 8

Filename D:\Meditation - Classical Relaxation FLAC\Meditation - Classical Relaxation Vol. 10\08. Joseph Haydn - Sinfonie No.94 'Mit dem Paukenschlag' - Andante - Joseph Haydn - Sinfonie No.94 'Mit dem Paukenschlag' - Andante.wav

Peak level 76.6 %
Track quality 100.0 %
Test CRC 9E7A4AF5
Copy CRC 9E7A4AF5
Accurately ripped (confidence 2) [D38DC6BF]
Copy OK

Track 9

Filename D:\Meditation - Classical Relaxation FLAC\Meditation - Classical Relaxation Vol. 10\09. Wolfgang Amadeus Mozart - Konzert fuer Floete, Harfe und Orchester - Andantino - Wolfgang Amadeus Mozart - Konzert fuer Floete, Harfe und Orchester - Andan

Peak level 41.4 %
Track quality 100.0 %
Test CRC 60676AD3
Copy CRC 60676AD3
Accurately ripped (confidence 2) [29CB55FC]
Copy OK

Track 10

Filename D:\Meditation - Classical Relaxation FLAC\Meditation - Classical Relaxation Vol. 10\10. Pjotr Iljitsch Tschaikowsky - Sinfonie No.6 'Pathetique' - Adagio lamentoso - Pjotr Iljitsch Tschaikowsky - Sinfonie No.6 'Pathetique' - Adagio lamentoso.w

Peak level 76.9 %
Track quality 100.0 %
Test CRC AE4FCE29
Copy CRC AE4FCE29
Accurately ripped (confidence 2) [1DA97F65]
Copy OK


All tracks accurately ripped

No errors occurred

End of status report
Many thanks to the original uploader
Password: pass