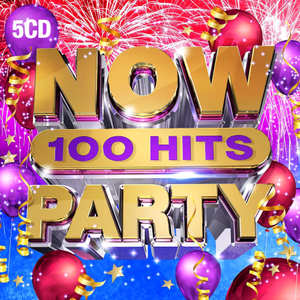 VA - NOW 100 Hits Party (5CD, 2019)
MP3 320 kbps | 06:30:30 | 923 Mb
Genre: Dance, Disco, Reggae, RnB, Pop, HipHop, Rap / Label: Universal Music
NOW 100 Hits Party is designed and signed as a reference on your choice of several exchangers file. 5 × CD, Compilation, Box Set reliability and availability, is the property of our portal, efficiency and commitment to new heights, as well as the immensity of the creative transformation! Now Twic displays a variety of stylistic content of the material, that is, will be, and perhaps will be, just a discovery. As well as an addition to your collection and archives! With the support of the performers Mike Einziger, Peter Dyer, Kevin Kadish, Craig David, Big Narstie, Olly Murs, Nicola Roberts, Kimberley Walsh, Dexys Midnight Runners the contrast of this selection is filled! For this time of the season, an excellent project has gathered a lot of excellent data from artists, of various musical orientations!
Track List:
01. Calvin Harris, Dua Lipa - One Kiss 3:35
02. Justin Timberlake - Can't Stop The Feeling! (Original Song From Dreamworks Animation's "Trolls") 3:56
03. Avicii, Aloe Blacc, Mike Einziger, Peter Dyer - Wake Me Up 4:07
04. Kylie Minogue - Can't Get You Out Of My Head 3:51
05. Mark Ronson, Bruno Mars - Uptown Funk 4:30
06. Pharrell Williams - Happy (From "Despicable Me 2") 3:53
07. Shakira, Wyclef Jean - Hips Don't Lie 3:38
08. Jennifer Lopez, Pitbull - On The Floor (Radio Edit) 3:51
09. Little Mix - Black Magic 3:32
10. Taio Cruz, Lukasz "Doctor Luke" Gottwald, Benny Blanco - Dynamite 3:23
11. Sugababes, Lukasz Gottwald, Tina Kennedy, Heidi Range, Keisha Buchanan, Amelle Berrabah - About You Now 3:33
12. Walk The Moon - Shut Up And Dance 3:18
13. Sophie Ellis-Bextor, Guy Pratt - Murder On The Dancefloor 3:50
14. Eric Prydz - Call On Me (Radio Mix) 2:51
15. The Black Eyed Peas, Will.I.Am, Apl.De.Ap, Taboo, Fergie - I Gotta Feeling 4:49
16. Jess Glynne - Hold My Hand 3:47
17. Dnce - Cake By The Ocean 3:39
18. Meghan Trainor, Kevin Kadish - All About That Bass 3:08
19. Shawn Mendes, Camila Cabello, Watt, Benny Blanco, Cashmere Cat, Camilla Cabello - Señorita 3:11
20. Lil Nas X, Billy Ray Cyrus - Old Town Road (Remix) 2:37
21. Kygo, Whitney Houston - Higher Love 3:48
22. Meduza, Mattia Vitale, Simone Giani, Luca De Gregorio, Joshua Grimmett, Goodboys - Piece Of Your Heart 2:33
23. Craig David, Big Narstie - When The Bassline Drops 3:05
24. Tiësto, Mabel, Josh Wilkinson, Violet Skies, Cameron Gower Poole - God Is A Dancer 2:48
25. Zara Larsson - Lush Life 3:21
26. George Ezra - Paradise 3:42
27. Sigala, Ella Eyre - Came Here For Love 3:23
28. Pitbull, Ke$Ha - Timber 3:24
29. Olly Murs - Dance With Me Tonight 3:22
30. Girls Aloud, Brian Higgins, Nick Coler, Cheryl Cole, Nadine Coyle, Sarah Harding, Nicola Roberts, Kimberley Walsh - Something Kinda Ooooh 3:22
31. Jessie J, Ariana Grande, Nicki Minaj, Max Martin, Rickard Göransson, Joi Gilliam, Taura Stinson, Chonita Gillespie - Bang Bang 3:19
32. Rizzle Kicks - Mama Do The Hump 3:36
33. Elvis Presley, Jxl - A Little Less Conversation (Jxl Radio Edit Remix) 3:32
34. Kelis - Milkshake 3:07
35. Scissor Sisters, Elton John, Babydaddy, Jake Shears, Ana Matronic - I Don't Feel Like Dancin' 4:09
36. Starley - Call On Me (Ryan Riback Remix) 3:42
37. Years & Years, Two Inch Punch, Olly Alexander, Emre Turkmen, Michael Goldsworthy - Desire 3:27
38. Clean Bandit, Jess Glynne - Rather Be (Feat. Jess Glynne) 3:48
39. Shawn Mendes - Stitches 3:27
40. Bastille, Mark Crew, Dan Smith, Daniel Priddy - Of The Night 3:34
41. Michael Jackson - Billie Jean 4:54
42. Whitney Houston - I Wanna Dance With Somebody (Who Loves Me) 4:51
43. A-Ha - Take On Me 3:45
44. Kenny Loggins - Footloose (From "Footloose" Soundtrack) 3:46
45. Dexys Midnight Runners - Come On Eileen 4:13
46. Cyndi Lauper - Girls Just Wanna Have Fun 3:45
47. Culture Club, Boy George, Michael Emile Craig, Roy Ernest Hay, Jon Moss, Judd Lander - Karma Chameleon 4:01
48. Spandau Ballet - Gold 3:52
49. Rick Astley - Never Gonna Give You Up 3:34
50. Backstreet Boys - Everybody (Backstreet's Back) (Radio Edit) 3:45
51. Britney Spears - …Baby One More Time 3:31
52. The B-52's - Love Shack (Edit) 4:18
53. Katrina & The Waves, Katrina Leskanich, Kimberley Charles Rew, Vince De La Cruz, Alex Cooper - Walking On Sunshine 3:59
54. Ini Kamoze - Here Comes The Hotstepper (Heartical Mix) 4:11
55. Shaggy - Boombastic 4:07
56. Vanilla Ice - Ice Ice Baby (Radio Edit) 3:52
57. Robbie Williams - Let Me Entertain You 4:22
58. Dead Or Alive - You Spin Me Round (Like A Record) 3:18
59. Soft Cell, Marc Almond, Dave Ball - Tainted Love / Where Did Our Love Go 8:58
60. Beastie Boys, Mike D, Adam Nathaniel Yauch, Adam Keefe Horovitz - (You Gotta ) Fight For Your Right (To Party) 3:31
61. The Four Seasons - December, 1963 (Oh What A Night!) 3:21
62. Abba, Björn Ulvaeus, Benny Andersson, Agnetha Fältskog, Anni-Frid Lyngstad - Dancing Queen 3:51
63. Gloria Gaynor - I Will Survive (Single Version) 3:17
64. Earth, Wind & Fire, The Emotions - Boogie Wonderland 4:48
65. The Weather Girls - It's Raining Men 3:31
66. The Jacksons - Blame It On The Boogie 3:34
67. Hot Chocolate - You Sexy Thing (7'' Version) 4:04
68. Lipps Inc., Steven Greenberg, Cynthia Johnson, Terry Grant, Tom Riopelle, David Rivkin, Roger Dumas, Ivan Rafowitz - Funkytown 4:00
69. Donna Summer - I Feel Love 3:45
70. Rose Royce, Kenji Brown, Lequeint Jobe, Victor Nix, Henry Garner, Kenny Copeland, Freddie Dunn, Michael Moore , Terry Santiel, Gwen Dickey - Car Wash 3:17
71. Chaka Khan - Ain't Nobody 4:41
72. Shalamar - A Night To Remember 3:31
73. Diana Ross - I'm Coming Out 5:20
74. Chic - Good Times 8:15
75. Sister Sledge - We Are Family 3:37
76. Sylvester - You Make Me Feel (Mighty Real) 6:35
77. Patti Labelle - Lady Marmalade 3:55
78. Aretha Franklin - Respect 2:28
79. The Gap Band, Malvin "Dino" Vice, Charles Wilson, Ronnie Wilson, Robert Wilson - I Don't Believe You Want To Get Up And Dance (Oops Up Side Your Head) 8:42
80. James Brown - Get Up (I Feel Like Being A) Sex Machine (Pt. 1 & 2) 5:17
81. Lou Bega - Mambo No.5 (A Little Bit Of…) 3:39
82. Aqua, Johnny Jam, Delgado, Søren Rasted, Claus Norreen, Lene Nystrøm, René Dif - Barbie Girl 3:18
83. Steps - Tragedy 4:31
84. John Travolta, Olivia Newton-John - The Grease Megamix 4:51
85. Whigfield - Saturday Night (Radio Edit) 3:44
86. Village People - Ymca (Original Version 1978) 4:47
87. Reel 2 Real, The Mad Stuntman - I Like To Move It (Feat. The Mad Stuntman) (Radio Mix) 3:43
88. Psy - Gangnam Style (강남스타일) 3:40
89. Little Nell, Patricia Quinn, Richard O'brien - Time Warp 3:19
90. Bucks Fizz - Making Your Mind Up 2:39
91. Mc Hammer, M.C. Hammer - U Can't Touch This 4:17
92. Dj Casper - Cha Cha Slide (Hardino Mix) 3:43
93. Tight Fit - The Lion Sleeps Tonight 3:13
94. Los Del Río - Macarena 3:43
95. Boney M. - Brown Girl In The Ring 4:01
96. Carl Douglas - Kung Fu Fighting 3:18
97. Jermaine Stewart - We Don't Have To Take Our Clothes Off 4:53
98. Billy Ray Cyrus, Greg Fletcher, Corky Holbrook, Michael J Sagraves, Terry Shelton, Barton Stevens - Achy Breaky Heart 3:25
99. Jeff Beck - Hi Ho Silver Lining 2:57
100. The Foundations - Build Me Up Buttercup 2:59