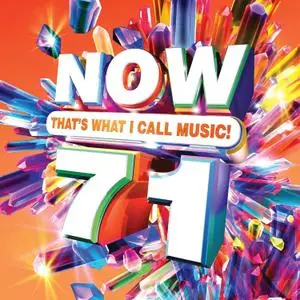 VA - NOW Thats What I Call Music Vol.71 (2019)
FLAC tracks / MP3 320 kbps |1:05:20 | 152 Mb / 370 Mb
Genre: Pop, Dance / Label: CUSTOM MARKETING GROUP
NOW That's What I Call Music! Vol. 71 features 16 major current hits from today's hottest artists, including Jonas Brothers, Ariana Grande, Billie Eilish, Shawn Mendes The Chainsmokers & Bebe Rexha, Lizzo and more! Each numeric NOW release also features 'NOW What's Next' bonus tracks, previewing tomorrow's biggest hits. NOW 71 showcases four hot new tracks from Freya Ridings, Kina featuring Snøw, Muna, and David Francisco!
Track List:
1. Sucker - Jonas Brothers
2. If I Can't Have You - Shawn Mendes
3. break up with your girlfriend, i'm bored - Ariana Grande
4. Sweet but Psycho - Ava Max
5. bad guy - Billie Eilish
6. Wow. - Post Malone feat. Roddy Ricch & Tyga
7. Old Town Road - Lil Nas X feat. Billy Ray Cyrus
8. Talk - Khalid
9. Never Really Over - Katy Perry
10. Easier - 5 Seconds of Summer
11. Call You Mine - The Chainsmokers & Bebe Rexha
12. Juice - Lizzo
13. Just Us - DJ Khaled feat. SZA
14. Be Alright - Dean Lewis
15. Someone You Loved - Lewis Capaldi
16. Speechless - Dan + Shay
17. Lost Without You - Freya Ridings
18. Get You The Moon - Kina feat. Snøw
19. Number One Fan - MUNA
20. Lionheart - David Francisco
ANALYZER: auCDtect: CD records authenticity detector, version 0.8.2
Copyright © 2004 Oleg Berngardt. All rights reserved.
Copyright © 2004 Alexander Djourik. All rights reserved.


FILE: 1 Sucker - Jonas Brothers.flac
Size: 19113727 Hash: 924BFFF1298A70CCC6037417A04154C8 Accuracy: -m40
Conclusion: CDDA 100%
Signature: BABC717BA81A05EB110F9835926360358006D06D
FILE: 10 Easier - 5 Seconds of Summer.flac
Size: 14483141 Hash: C6179E293804D1929598B4753AAF778B Accuracy: -m40
Conclusion: CDDA 100%
Signature: 741D846171A15E8C2D87FFA5D38D347CC0B0A1E8
FILE: 11 Call You Mine - The Chainsmokers & Bebe Rexha.flac
Size: 23963441 Hash: 3784EA7A2D84B10B5D7DF349CFE68F8C Accuracy: -m40
Conclusion: CDDA 100%
Signature: 3BF184C389F36148B2D45334FDD58ECA8AC000AF
FILE: 12 Juice - Lizzo.flac
Size: 23058827 Hash: E995340497F54751E3CFD15E11E938F9 Accuracy: -m40
Conclusion: CDDA 100%
Signature: DDB881FCD15B356211705977167F453582DD2061
FILE: 13 Just Us - DJ Khaled feat SZA.flac
Size: 24518311 Hash: FA88219591A347F868B5D46F5E5D40A7 Accuracy: -m40
Conclusion: CDDA 99%
Signature: B0AD353EFD3CBAB11FD918B3B95E2D87817AC8A0
FILE: 14 Be Alright - Dean Lewis.flac
Size: 19126412 Hash: 2017B6DAA2A8F21A77BB6B0BEF588930 Accuracy: -m40
Conclusion: CDDA 62%
Signature: 724DC384188A68920D1EE3A8A2CE107305A862D0
FILE: 15 Someone You Loved - Lewis Capaldi.flac
Size: 15269298 Hash: BC2647ECE9B9CCF86A414393B79A892A Accuracy: -m40
Conclusion: CDDA 58%
Signature: 5B27FE4248F3E569DAAF6B2D6E57C0E8C7237D37
FILE: 16 Speechless - Dan + Shay.flac
Size: 21392795 Hash: CFF52C45FA646C276F72C010405459FF Accuracy: -m40
Conclusion: CDDA 100%
Signature: E76513642EE69576963E6A9B7A995AC703329844
FILE: 17 Lost Without You - Freya Ridings.flac
Size: 17989575 Hash: CDAB305B7FFF29C70C754A5AC8BD154D Accuracy: -m40
Conclusion: CDDA 49%
Signature: 547486E90CDC7021A59DE3FDAEC4CBD9CF1EBCA6
FILE: 18 Get You The Moon - Kina feat Snøw.flac
Size: 14567012 Hash: 65FFAD0E21FBFA61A3B076BD6212A13F Accuracy: -m40
Conclusion: CDDA 100%
Signature: 7F70291684D3662C315E3F1C9E04C15FC9D49126
FILE: 19 Number One Fan - MUNA.flac
Size: 22418309 Hash: 4BB513E57AA0A23F398C40ADF17096C6 Accuracy: -m40
Conclusion: CDDA 100%
Signature: 4E902070BF205C1F4676892BF87EC6BE1ECF0C5E
FILE: 2 If I Can't Have You - Shawn Mendes.flac
Size: 19665783 Hash: 8F59A2FE6CBCF5C112E91A4F8265B21D Accuracy: -m40
Conclusion: CDDA 100%
Signature: F5B649781CE64FA6CDBF764D401CD341DC92808B
FILE: 20 Lionheart - David Francisco.flac
Size: 20600198 Hash: 92DF3AA9B1DD1B5B91091EF8371FB3DA Accuracy: -m40
Conclusion: CDDA 100%
Signature: FB4617A6A97B3B65779D263CE8DDA9F2F52593F4
FILE: 3 break up with your girlfriend, i'm bored - Ariana Grande.flac
Size: 20589006 Hash: 7FD68423573E52130EC3E5831A44B19C Accuracy: -m40
Conclusion: CDDA 100%
Signature: 8F273A02FF8AC38B046883383CC1E8F9075B2284
FILE: 4 Sweet but Psycho - Ava Max.flac
Size: 21173176 Hash: 46E012D1C2FF9D599ACE04B9A450DD50 Accuracy: -m40
Conclusion: CDDA 100%
Signature: C64020E605B73D0470EDAEC807775F322FB5BFC7
FILE: 5 bad guy - Billie Eilish.flac
Size: 15658745 Hash: EB95EDFC3EE87CBB503C1AEEFF582316 Accuracy: -m40
Conclusion: CDDA 100%
Signature: 2B896E38397B4BA7911119EE878F95C276B2BDCE
FILE: 6 Wow - Post Malone feat. Roddy Ricch & Tyga.flac
Size: 15181724 Hash: 9F2537FA57AD77A35105C8A379A03EFD Accuracy: -m40
Conclusion: CDDA 100%
Signature: 5ACE1E0640F3F87BA391F15827821D01BCFF3C80
FILE: 7 Old Town Road - Lil Nas X feat Billy Ray Cyrus.flac
Size: 14725190 Hash: A0A100C13BBFA594D398367108006F45 Accuracy: -m40
Conclusion: CDDA 100%
Signature: 076607E8C6656DD42423A37BAE3208F2263A8154
FILE: 8 Talk - Khalid.flac
Size: 19779429 Hash: 784EE87744928B1C7C4CA64951828BAB Accuracy: -m40
Conclusion: CDDA 100%
Signature: E5ACC21E3CC1522BA70E459E1ACFF9B014F34DF2
FILE: 9 Never Really Over - Katy Perry.flac
Size: 25004147 Hash: C0B00FC85C2BB7523A1649F52D036A66 Accuracy: -m40
Conclusion: CDDA 100%
Signature: F1D284A870EEC9A728900C53A83B507C67A3D446