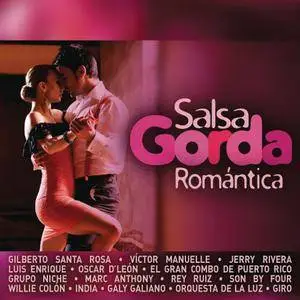 VA - Salsa Gorda Romantica (2017)
MP3 CBR 320 kbps | 01:13:03 | 180 Mb
Genre: Latin Music, Salsa, World Music / Label: Sony U.S. Latin
Salsa romántica arose at a time when classic, big-band salsa, of the kind popularized by Fania Records in the late 1970s and early 1980s, was taking a severe beating on the Latin record charts, owing to the merengue boom and the rise of Latin pop. To give the music broader commercial appeal, especially in the U.S. and Puerto Rico, emphasis was taken away from the hard-hitting orchestrations of the 1960s, 1970s and 1980s, and focused mainly on the romantic, softer aspects of salsa, creating a mixture of earlier salsa brava and the ballad style. Salsa romántica was championed in recordings by, among others, Eddie Santiago, La India, La Palabra, Giro Lopez, Frankie Ruiz, Luis Enrique, Willie Gonzalez, Lalo Rodríguez, Tito Nieves, Gilberto Santa Rosa, Tito Rojas, and Jerry Rivera. Rodven Records, PolyGram, and RMM were some of the dominant labels during this era.
Track List:
1. Si Te Dijeron - Gilberto Santa Rosa 5:20
2. Como Se Lo Explico Al Corazón - Víctor Manuelle 4:42
3. Amores Como el Nuestro - Jerry Rivera 5:02
4. Amor de Media Noche - Luis Enrique 5:43
5. Quiéreme - Oscar D'León 4:17
6. Te Veo Nena - El Gran Combo De Puerto Rico 4:25
7. Sin Sentimientos - Grupo Niche 4:54
8. Valió la Pena - Marc Anthony 4:49
9. Mi Media Mitad - Rey Ruiz 4:53
10. A Puro Dolor - Son By Four 4:21
11. Idilio - Willie Colón 5:09
12. Sedúceme - India 5:18
13. Enamorado Yo Estoy - Galy Galiano 4:43
14. El Me Ama, Yo Le Amo - Orquesta De La Luz 4:31
15. Amor Lunàtico - Giro 4:57