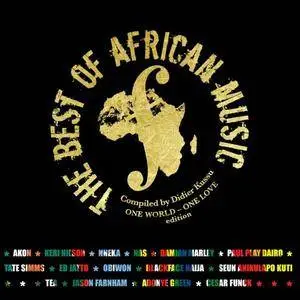 VA - The Best of African Music (One World One Love Edition) (2018)
WEB FLAC (tracks) / MP3 CBR 320 kbps | 01:30:50 | 222 Mb / 601 Mb
Genre: Pop, World, Soul / Label: Kussu Productions Inc.
The Beautiful Music is a series of compilations of great artists from across the world.
We do not select artists and music based on their popularity or charts placement, but we emphasize on the quality of the sound recordings, the level of the artist's creativity, the message in which the artist is trying to convey, and the entire creative concept of the artist or project. We love and celebrate great music by also giving unknown and independent artists the opportunity to release and present their creative works to the world.
Track List:
01. Nas & Damian Marley - Friends
02. Adonye Green - Africa
03. Ed Jatto - Ikon Allah
04. Miss Maawa - Sina Mousso
05. Denise Gordon - African Flava
06. Akon - Oh Africa (feat. Keri Hilson)
07. BLACKFACE NAIJA - Good Life feat. Seun Anikulapo Kuti
08. Nneka - Africans
09. Sunburn On Cyprus - Your Smile
10. Shaman's Dream - Afronaut
11. Tea - Afri
12. Cesar Funck - African Dance
13. Paul Play Dairo - African 'n' Proud
14. Afrotech Project feat. Shondell Mims - Afrikan Soul
15. Jason Farnham - Love Around
16. Obiora Obiwon - One Voice
17. Tate Simms - Safari
18. Gene Ka by Eddie "Sea" Caldwell - African Dreams
19. Basiru Suso - Synchronicity
20. Proofsound - Desert Cry
ANALYZER: auCDtect: CD records authenticity detector, version 0.8.2
Copyright © 2004 Oleg Berngardt. All rights reserved.
Copyright © 2004 Alexander Djourik. All rights reserved.


FILE: 01. Nas & Damian Marley - Friends.flac
Size: 33988472 Hash: CB1E61F67D7DF20EA0F43824CA6FCE9A Accuracy: -m40
Conclusion: CDDA 100%
Signature: 9052246CB58A504BD9A06DACB08E0042B4B6F1E1
FILE: 03. Ed Jatto - Ikon Allah.flac
Size: 43296521 Hash: 8FF9F151993120155E1E6C1FE1B1C1D8 Accuracy: -m40
Conclusion: CDDA 100%
Signature: 2D23412D5290485C3CD9B861F983FEBDF867F67C
FILE: 04. Miss Maawa - Sina Mousso.flac
Size: 35763430 Hash: 334865411081A3961BE4AFAB065F82CA Accuracy: -m40
Conclusion: CDDA 100%
Signature: C01ACE044288EF9E6F3CCC7B9226F837A721B5BF
FILE: 05. Denise Gordon - African Flava.flac
Size: 33648040 Hash: 52E1AA23159B646DCDC5FAE3B20E8275 Accuracy: -m40
Conclusion: CDDA 100%
Signature: 7A032A33B993DAFF914F157AD82B0B26FD81183A
FILE: 06. Akon - Oh Africa (Feat. Keri Hilson).flac
Size: 25742058 Hash: 15EC631A3B1B08FA741D87DF7ECE16E9 Accuracy: -m40
Conclusion: CDDA 100%
Signature: 9F5F5C423660C817861CA968E54879429A4B3B24
FILE: 07. Blackface Naija - Good Life Feat. Seun Anikulapo Kuti.flac
Size: 42628031 Hash: 010316B9E9417F3F05011AE9A2E10C40 Accuracy: -m40
Conclusion: CDDA 100%
Signature: 5CA0C00E1304064B13E9C439CD075CAB2C8F8A43
FILE: 08. Nneka - Africans.flac
Size: 30405923 Hash: E277ACAB64111668D5DAEBEED5462E3C Accuracy: -m40
Conclusion: CDDA 100%
Signature: 185F9F67C2653AD1FFAE2E55472006B3DD0B655F
FILE: 19. Basiru Suso - Synchronicity.flac
Size: 29506460 Hash: 890A9D37DB2A02A3EAD92727EA0114DE Accuracy: -m8
Conclusion: MPEG 95%
Signature: 4E3B9A11E697BC143693C0474261822CAA0D502D
FILE: 09. Sunburn On Cyprus - Your Smile.flac
Size: 30693673 Hash: 23150CDBD53D74BB6DF463FA231A88EC Accuracy: -m40
Conclusion: CDDA 100%
Signature: 797B604A4E7C12E351C122EB16B7405EFE22525D
FILE: 10. Shaman's Dream - Afronaut.flac
Size: 39094521 Hash: CCBFAD114483354F671E2EAB0340FCF6 Accuracy: -m40
Conclusion: CDDA 100%
Signature: 2FDD39358626E66DF90C1A4626FFADFEBF3EFF5D
FILE: 11. Tea - Afri.flac
Size: 34621960 Hash: 4D6DA14033575C28580974B11B3C59B9 Accuracy: -m40
Conclusion: CDDA 100%
Signature: 6254ED6A834A672AA5F885A675E3612CBC2242C5
FILE: 12. Cesar Funck - African Dance.flac
Size: 15186457 Hash: 9C86521E46D0C7E6AC29F04C9B2504A0 Accuracy: -m40
Conclusion: CDDA 100%
Signature: D82509F5B05E1BB94A66DBF7D77077F71F9EEF34
FILE: 13. Paul Play Dairo - African 'n' Proud.flac
Size: 31479655 Hash: 4917D9E7773E17FBC706BD317A0D5F23 Accuracy: -m40
Conclusion: CDDA 99%
Signature: EE746A8B89698B90459A16C75794967708FB1A94
FILE: 14. Afrotech Project Feat. Shondell Mims - Afrikan Soul.flac
Size: 40788032 Hash: 82F4DADED8FE6B8A24B3634D3668B5E9 Accuracy: -m40
Conclusion: CDDA 100%
Signature: 683E8CBD6A9850A121BFF7C295BDCA6C530D9CF9
FILE: 15. Jason Farnham - Love Around.flac
Size: 24048079 Hash: 30E82FAF905C0BDD6CAEDBFDCAE01805 Accuracy: -m40
Conclusion: CDDA 100%
Signature: 7832262BE9F7CC5DE8E39CFA72F63D1675851929
FILE: 02. Adonye Green - Africa.flac
Size: 28207834 Hash: DB85FC971DFAEA8FF84A2725A4BC96D1 Accuracy: -m8
Conclusion: MPEG 95%
Signature: FAFB03E055A465C21E99092120A43900579EE284
FILE: 16. Obiora Obiwon - One Voice.flac
Size: 33399715 Hash: 845246E13D1CC08A656F1B46F45EA7CA Accuracy: -m40
Conclusion: CDDA 100%
Signature: C14697D5A3C7056BA412B68DE043E00ACCD32DAA
FILE: 17. Tate Simms - Safari.flac
Size: 33568942 Hash: DE405A0805D7A01C1FED75E84D415F61 Accuracy: -m40
Conclusion: CDDA 99%
Signature: A5D9DD2D35C66CD0807AFDE19EE2103DE80F63AF
FILE: 20. Proofsound - Desert Cry.flac
Size: 19694156 Hash: FE018B307B297DD64FC094BDB295CA25 Accuracy: -m40
Conclusion: CDDA 100%
Signature: E9E897512B39938F28987E3B921028FAD911B393
FILE: 18. Gene Ka By Eddie "sea" Caldwell - African Dreams.flac
Size: 23792756 Hash: E1D66ECAD662415886EC78E7774A210D Accuracy: -m8
Conclusion: MPEG 95%
Signature: 480632BBD3EAF18336018364DEC989FA7AF837E0