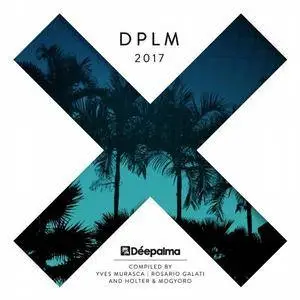 V.A. - Deepalma 2017 (Compiled by Yves Murasca, Rosario Galati, Holter & Mogyoro) (2016)
Electronica / Downtempo, House, Indie Dance / Nu Disco, Dance | MP3 320 kbps | 04:25:28 min | ~609 Mb
Label: Deepalma | Tracks: 40 | Rls.date: 2016
Germany based brand Deepalma readies its three-part 2017 album with label founder Yves Murasca and Deepalma regulars Rosario Galati and Holter & Mogyoro in charge of the music selection.
The sun-soaked, warm beaches and groove-fuelled, blissful dance floors is where Deepalma truly belongs. The label has become a worldwide brand, a melting pot of Deep House, Nu-Disco and Soul with the power to unite hedonists around the globe.
The imprint's new album "Deepalma 2017" is bringing you the best Deep House, Nu-Disco and House tracks of presence and future, and pulls off a marvellous musical guide for the new year. In the calm passages you even intend to hear the swish of the palm leaves in the sand.
Split into three parts, the album's Beach session sees a selection of sultry cuts geared for the sunshine featuring a Miguel Campbell remix of Palmer's 'Takin' Off' and original outings from Mika Olson, JazzyFunk and KANT to name a few. Up next, the Pool Party slice draws on the shuffling hats and infectious melodies of Purple Disco Machine, Roland Clark, Dario D'Attis and Fred Everything, before the Afterhour session concludes the package with more dark and driving rhythms from names such as andhim, Tube & Berger, Lexer and Robosonic.
The result is an album that succeeds in balancing daytime and evening as well as the nightclub and the outdoors to craft a musical aesthetic Deepalma Records so passionately represents. As you can feel the creators' pure passion in every single song we can fully recommend all fans of the current culb culture: take a listen and get mezmerized!
TRACKLIST
1. Mika Olson - What I Need (feat Jermaine Fleur) (07:35)
2. Fonzerelli - Moonlight Party (Touch & Go Laidback mix) (05:24)
3. Lounge Loafers - Forget About Me (original mix) (05:31)
4. Palmer - Takin' Off (Miguel Campbell Club edit) (05:22)
5. JazzyFunk - I Wanna Know (feat Rene) (05:42)
6. Andrey Exx & Fomichev - Be Good (original mix) (06:48)
7. Phil Fuldner - Needin' Someone (original mix) (05:37)
8. Rosario Galati & Yves Murasca - I Don't Need You (Holter & Mogyoro remix) (07:12)
9. Aquarian Dreams - Love & Tears (Ben Delay remix) (06:46)
10. Frame Of Mind - You Walked In (original mix) (05:53)
11. KANT - Widespread (original mix) (06:47)
12. Emma Black - 4Bidden (original mix) (07:10)
13. CarolinaBlue, MisterSmallz & Desusino Boys - Sunrise (original mix) (07:45)
14. Malachi - Burning (feat AM2PM - instrumental mix) (06:19)
15. Purple Disco Machine - Walls (original mix) (06:38)
16. Hector Couto & Cuatero - Juke Box (original mix) (06:47)
17. Regular AL - Show You Right (The Checkup remix) (05:59)
18. Giom & Deeligent Soul - Undefined State (Giom remix) (06:32)
19. Roland Clark - I Get Deep (Soulmagic remix) (07:15)
20. Mathew Anderson - Positive Reinforcement (original mix) (06:41)
21. Fred Everything - Searching (feat Jinadu - Deetron dub) (07:01)
22. Lee Stark & IDKW - Yes I Do (original mix) (05:46)
23. DJ Mimmo - The Answer (original mix) (07:10)
24. Mario Cruz - The Message (Yves Murasca & Rosario Galati remix) (06:51)
25. Dario D'Attis - Do It Right (original mix) (07:27)
26. Yves Murasca - Underground People (original mix) (06:06)
27. Divided Souls & Samuri - North (feat Sio Blackwidow - Jus Nativ remix) (06:16)
28. Doza - It Comes In Waves (original mix) (08:30)
29. Tube & Berger - Ruckus (feat Richard Judge - Club edit) (05:35)
30. Dario D'Attis & David Aurel - CuA©ntame (original mix) (06:51)
31. El Mundo & Satori - Secret Places (Satori 2016 Reinterpretation) (05:33)
32. Eating Snow - This Emptiness Is Mine (Andhim remix) (07:25)
33. Robosonic - Drowning (feat Son Little - dub) (08:01)
34. Pax - Illusion (feat Ellie Jones) (06:36)
35. Breky - Stardust (original mix) (06:56)
36. Dark Matter - Falling (original mix) (06:02)
37. Lissat & Voltaxx - Nightlife (original mix) (06:28)
38. Leo Kane - Ghosts (original mix) (07:25)
39. Lexer - Forgive Me (Raumakustik remix) (06:40)
40. Mika Olson - Now & Here (07:06)