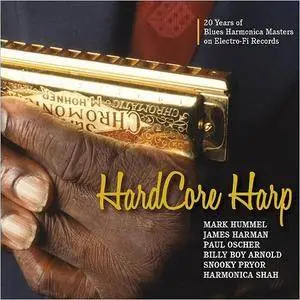 VA - Hard Core Harp: 20 Years Of Blues Harmonica Masters On Electro-Fi Records (2017)
WEB FLAC (Tracks) - 469 MB | Cover | MP3 CBR 320 kbps - 180 MB | 01:16:33
Electric Blues, Harmonica Blues | Label: Electro-Fi Records
20 Years of Blues Harmonica Masters on Electro-Fi Records. Electro-Fi Records celebrates it's 20th Anniversary with the release of HARD CORE HARP featuring the very best of today's Blues Harmonica artists. The 19 track collection from CD's released between 1997 and 2016 features 4 members of the Muddy Waters Blues Band.
TRACKLIST
01. Paul Oscher - Alone With The Blues
02. Billy Boy Arnold - Mellow Chick Swing
03. James Harman - Bonetime
04. Mark Hummel - It's Too Late Brother
05. George Harmonica Smith - Crazy 'bout You Baby
06. Harmonica Shah - She Used To Be Beautiful
07. Snooky Pryor - Rock-A-While
08. Sam Myers - Ninety Nine
09. Willie Big Eyes Smith - Don't Think I'm Crazy
10. Billy Boy Arnold - I Wish You Would
11. Al Lerman - Liquified Boogie
12. Little Mack Simmons - Leaving In The Morning
13. Sam Myers - Coming From The Old School
14. Bill Boy Arnold - Sweet Honey Bee
15. Harrison Kennedy - Afraid To Fail
16. Rip Lee Pryor - Pitch A Boogie Woogie
17. Snooky Pryor - Headed South
18. George Harmonica Smith - Juke
19. Mark Hummel - Harpoventilating
–––––––––––-

DON'T MODIFY THIS FILE

–––––––––––-

PERFORMER: auCDtect Task Manager, ver. 1.6.0 RC1 build 1.6.0.1
Copyright © 2008-2010 y-soft. All rights reserved

ANALYZER: auCDtect: CD records authenticity detector, version 0.8.2
Copyright © 2004 Oleg Berngardt. All rights reserved.
Copyright © 2004 Alexander Djourik. All rights reserved.


FILE: 19 Mark Hummel - Harpoventilating.flac
Size: 25649610 Hash: E1DB88DAE8113C0F0B6D9410500705AD Accuracy: -m0
Conclusion: CDDA 100%
Signature: DB6D08485E808669955F477A6DCBDCF623C374EF
FILE: 18 George Harmonica Smith - Juke.flac
Size: 17452590 Hash: 91667696F477716D1F0FD505C95CF146 Accuracy: -m0
Conclusion: CDDA 100%
Signature: 5372C8A0D153687F39AD7AB02024313504BFEB06
FILE: 17 Snooky Pryor - Headed South.flac
Size: 41529479 Hash: 451E022C97ADF83B740BC7C4419FB3A4 Accuracy: -m0
Conclusion: CDDA 100%
Signature: A68BC62188F9081991FC52AB2856166FC3EF5FB4
FILE: 16 Rip Lee Pryor - Pitch A Boogie Woogie.flac
Size: 23052795 Hash: 618580A84CD40410A23BAF2339C8ABD7 Accuracy: -m0
Conclusion: CDDA 100%
Signature: 2914D9DAA911CC408EB491F35D458B891E8F0744
FILE: 15 Harrison Kennedy - Afraid To Fail.flac
Size: 21783019 Hash: CDBFA9B69884B6E42C64355CD06191E2 Accuracy: -m0
Conclusion: CDDA 100%
Signature: DDC8B0F4AC5BAE507907B7B1DFA04658CB0167AA
FILE: 14 Bill Boy Arnold - Sweet Honey Bee.flac
Size: 29658123 Hash: 3747C2EB8B7BC684E34F4D27BE6F7A31 Accuracy: -m0
Conclusion: CDDA 100%
Signature: DAD2F7F63CC8422A3A38F44497AC09E9A79F1F8E
FILE: 13 Sam Myers - Coming From The Old School.flac
Size: 31089380 Hash: FCC6762E990E78A797F1A79051ADFFA8 Accuracy: -m0
Conclusion: CDDA 100%
Signature: 46CF7FB3ABCFB0C99176CBD990012A59DB315B78
FILE: 12 Little Mack Simmons - Leaving In The Morning.flac
Size: 26661275 Hash: 06D030731FB8C897B515CF7DF6A0E039 Accuracy: -m0
Conclusion: CDDA 100%
Signature: 0E1D43425FF8C07AD557F6D23FC95DB853D8D6F1
FILE: 11 Al Lerman - Liquified Boogie.flac
Size: 16227521 Hash: 7A420778AABDB4288606B6C75046D8EB Accuracy: -m0
Conclusion: CDDA 100%
Signature: F442698DF33169B7258F8780F20499E2F2A49ADB
FILE: 10 Billy Boy Arnold - I Wish You Would.flac
Size: 25804066 Hash: 76F8D47DD0970AA30C29E3E3D9D697D0 Accuracy: -m0
Conclusion: CDDA 100%
Signature: F5134FC7E53E7A35FDFC6750890D3662CDBC2788
FILE: 09 Willie Big Eyes Smith - Don't Think I'm Crazy.flac
Size: 26083240 Hash: D871233FE6E700A8A633448FA12C101A Accuracy: -m0
Conclusion: CDDA 100%
Signature: C61E497A3AD44A084492622EDEED33A48B359398
FILE: 08 Sam Myers - Ninety Nine.flac
Size: 24697725 Hash: 2F27071E22206EFC0213A32DDA4EB3B8 Accuracy: -m0
Conclusion: CDDA 100%
Signature: 998B66C95500D6EC54901C62992E40B3C02C44E8
FILE: 07 Snooky Pryor - Rock-A-While.flac
Size: 34757362 Hash: 4167E3BC96A7E7B4B7CBF3163535A5B4 Accuracy: -m0
Conclusion: CDDA 100%
Signature: B78491C78D730A57B300034FB8CC2694598664C7
FILE: 06 Harmonica Shah - She Used To Be Beautiful.flac
Size: 34803993 Hash: 2999095A8989E1BC6C43A24C8EC36290 Accuracy: -m0
Conclusion: CDDA 100%
Signature: A07E268FCACC4697435062122ABE4C909186F7AB
FILE: 05 George Harmonica Smith - Crazy 'bout You Baby.flac
Size: 24226815 Hash: 40B45F2DD89AA39572D5B03541ABAAC5 Accuracy: -m0
Conclusion: CDDA 100%
Signature: 906DC565E41975B936C2C38033A7669A822BB14A
FILE: 04 Mark Hummel - It's Too Late Brother.flac
Size: 24017728 Hash: 3AA52AD8817ACED77010F419A48FB5E2 Accuracy: -m0
Conclusion: CDDA 100%
Signature: 305765E45C2E793BAB4E4FCEB8E7E189E0DE9FD3
FILE: 03 James Harman - Bonetime.flac
Size: 21446595 Hash: 8FC5970BC2F3A4854C904363F278EF86 Accuracy: -m0
Conclusion: CDDA 99%
Signature: AF8208203357C54490D7E4E52CE2FB1004336542
FILE: 02 Billy Boy Arnold - Mellow Chick Swing.flac
Size: 13454138 Hash: E6D644928DD8EE5E0DE671BFB8B549B8 Accuracy: -m0
Conclusion: CDDA 100%
Signature: 5A2F6CBB509798D8288179C1839B7FB0E82CD0C2
FILE: 01 Paul Oscher - Alone With The Blues.flac
Size: 28205509 Hash: 85E17C8B7FC6C35D19CF3EF41E5F16F7 Accuracy: -m0
Conclusion: CDDA 100%
Signature: 0C8DDE3397824DA866BC1F5750FDE2B655DD4362
All thanks go to the original releaser