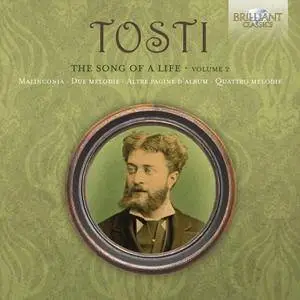 VA - Tosti: The Song of a Life, Vol. 2 (2018)
Classical | MP3 CBR 320 kbps | Digital Booklet | 03:52:31 | 554 MB
Label: Brilliant Classics
With this second volume of Tosti's songs, Brilliant Classics takes listeners just half-way through a prodigious, career-long output, in which the key-notes are unfailingly memorable melody, lively charm and a gift for story-telling that rivals the very greatest song-writers past and present, from Schubert to Dylan. Many of his songs have never been recorded, so this set makes a unique contribution to the catalogue. The booklet contains an extensive introduction to the project by Francesco Sanvitale, the scholar who devised the project and in whose memory it is being gradually realised and published after his untimely death in 2014.
There are a few French songs on Vol 2, reflecting Tosti's great popularity in Paris, but most of the texts here are by Italian poets, mostly contemporaries such as D'Annunzio and Panzacchi. The discs work chronologically through the decade 1886-1895, during which time he was singing teacher to the English royal family. Perhaps in deference to his pupils, there are songs by the likes of Longfellow and Weatherly: the last disc concludes with his delicately wistful setting of In the Hush of the Night.
The first volume on Brilliant Classics BC95201) of this extraordinary project won wide critical praise. 'All the singers are careful over nuances,' remarked MusicWeb International. 'Tosti's songs have, through the years, been bawled out of recognition by leather-lunged tenors, and it is a blessing to hear so many beautiful pianissimos and diminuendos in this repertoire. The accompaniments are discreet and the recording is well-balanced and natural-sounding.' This set will be an essential acquisition for all lovers of art-song.
TRACKLIST
01. Apri!…, serenata popolare - Monica Bacelli, Mark Milhofer & Antonio Ballista
02. At the Convent Gate, Song - Monica Bacelli, Mark Milhofer & Antonio Ballista
03. In mare, melodia - Monica Bacelli, Mark Milhofer & Antonio Ballista
04. Prière - Monica Bacelli, Mark Milhofer & Antonio Ballista
05. Sogno, melodia - Monica Bacelli, Mark Milhofer & Antonio Ballista
06. Marechiare, canto Napolitano - Monica Bacelli, Mark Milhofer & Antonio Ballista
07. Pepìta, vecchia canzone spagnuola - Monica Bacelli, Mark Milhofer & Antonio Ballista
08. Lutto, melodia - Monica Bacelli, Mark Milhofer & Antonio Ballista
09. L'ultimo bacio, romanzetta - Monica Bacelli, Mark Milhofer & Antonio Ballista
10. Chanson de Fortunio - Monica Bacelli, Mark Milhofer & Antonio Ballista
11. Love Ties - Benedetta Torre, Eugene Villanueva & Luisa Prayer
12. Malìa, melodia - Benedetta Torre, Eugene Villanueva & Luisa Prayer
13. Segreto, melodia - Benedetta Torre, Eugene Villanueva & Luisa Prayer
14. Vieni…, piccola barcarola - Benedetta Torre, Eugene Villanueva & Luisa Prayer
15. We Have Loved, Song - Benedetta Torre, Eugene Villanueva & Luisa Prayer
16. Malinconia: I. Dorme la selva - Benedetta Torre, Eugene Villanueva & Luisa Prayer
17. Malinconia: II. Quand'io ti guardo - Benedetta Torre, Eugene Villanueva & Luisa Prayer
18. Malinconia: III. L'ora è tarda - Benedetta Torre, Eugene Villanueva & Luisa Prayer
19. Malinconia: IV. Or dunque addio! - Benedetta Torre, Eugene Villanueva & Luisa Prayer
20. Malinconia: V. Chi sei tu che mi parli? - Benedetta Torre, Eugene Villanueva & Luisa Prayer
21. La viuletta. Si na scingiate te putesse dà - Benedetta Torre, Eugene Villanueva & Luisa Prayer
22. Luce d'amore!, melodia - Benedetta Torre, Eugene Villanueva & Luisa Prayer
23. Due melodie: I. Deh, ti desta, serenata - Benedetta Torre, Eugene Villanueva & Luisa Prayer
24. Due melodie: II. Au cimetière, mélodie - Benedetta Torre, Eugene Villanueva & Luisa Prayer
25. Dreams of the Summer Night, Serenade - Benedetta Torre, Eugene Villanueva & Luisa Prayer
26. Chanson d'automne - Benedetta Torre, Eugene Villanueva & Luisa Prayer
27. Ici bas, mélodie - Benedetta Torre, Eugene Villanueva & Luisa Prayer
28. Mio povero amor!, romanzetta - Benedetta Torre, Eugene Villanueva & Luisa Prayer
29. Ridonami la calma!…, preghiera - Benedetta Torre, Eugene Villanueva & Luisa Prayer
30. Tell Them!, Song - Benedetta Torre, Eugene Villanueva & Luisa Prayer
31. Altre pagine d'album: I. Lasciali dir - Désirée Rancatore & Marco Scolastra
32. Altre pagine d'album: II. Tout passe, tout lasse, tout casse! - Désirée Rancatore & Marco Scolastra
33. Altre pagine d'album: III. Automne - Désirée Rancatore & Marco Scolastra
34. Altre pagine d'album: IV. Primavera - Désirée Rancatore & Marco Scolastra
35. Altre pagine d'album: V. Mon coeur est plein de toi - Désirée Rancatore & Marco Scolastra
36. Altre pagine d'album: VI. Fiaba - Désirée Rancatore & Marco Scolastra
37. Altre pagine d'album: VII. Si vous saviez! - Désirée Rancatore & Marco Scolastra
38. Altre Pagine D'Album: VIII. Carmèn - Désirée Rancatore & Marco Scolastra
39. Altre pagine d'album: IX. Je voudrais - Désirée Rancatore & Marco Scolastra
40. Altre pagine d'album: X. Guitare - Désirée Rancatore & Marco Scolastra
41. Altre pagine d'album: XI. Si tu le volais - Désirée Rancatore & Marco Scolastra
42. Altre pagine d'album: XII. Dimmi fanciulla - Désirée Rancatore & Marco Scolastra
43. Carmela, ballatella popolare - Désirée Rancatore & Marco Scolastra
44. La serenata - Désirée Rancatore & Marco Scolastra
45. Shall We Forget, Song - Désirée Rancatore & Marco Scolastra
46. Non senti tu…, melodia - Désirée Rancatore & Marco Scolastra
47. Un bacio, canzone - Désirée Rancatore & Marco Scolastra
48. Pianto di monaca, melodia - Désirée Rancatore & Marco Scolastra
49. Io mi domando, melodia - Désirée Rancatore & Marco Scolastra
50. Cadenza a la serenata, scritta appositamente per Nellie Melba - Désirée Rancatore & Marco Scolastra
51. Beauty's Eyes, Song - Marco Moresco, Jurgita Adamonyté & Piotr Lempa
52. Ever Yours Sincerely, Chansonette - Marco Moresco, Jurgita Adamonyté & Piotr Lempa
53. Tell me to Stay, Song - Marco Moresco, Jurgita Adamonyté & Piotr Lempa
54. Venetian Song - Marco Moresco, Jurgita Adamonyté & Piotr Lempa
55. Canzone Veneziana - Marco Moresco, Jurgita Adamonyté & Piotr Lempa
56. Winged Echoes, Song - Marco Moresco, Jurgita Adamonyté & Piotr Lempa
57. Entra!, melodia - Marco Moresco, Jurgita Adamonyté & Piotr Lempa
58. Magìa, romanza - Marco Moresco, Jurgita Adamonyté & Piotr Lempa
59. My Memories, Song - Marco Moresco, Jurgita Adamonyté & Piotr Lempa
60. Triste ritorno, melodia - Marco Moresco, Jurgita Adamonyté & Piotr Lempa
61. I Dare to Love Thee, song - Marco Moresco, Jurgita Adamonyté & Piotr Lempa
62. Novena profana, melodia - Marco Moresco, Jurgita Adamonyté & Piotr Lempa
63. Neapolitan Song - Marco Moresco, Jurgita Adamonyté & Piotr Lempa
64. Per morire, melodia - Marco Moresco, Jurgita Adamonyté & Piotr Lempa
65. Comme va?, ricordo di Francavilla al Mare - Marco Moresco, Jurgita Adamonyté & Piotr Lempa
66. Nel mio segreto?, melodia - Marco Moresco, Jurgita Adamonyté & Piotr Lempa
67. Quattro melodie: I. Laggiù, laggiù! - Marco Moresco, Jurgita Adamonyté & Piotr Lempa
68. Quattro melodie: II. "La fioca anima mia" - Marco Moresco, Jurgita Adamonyté & Piotr Lempa
69. Quattro melodie: III. Non m'aspettare! - Marco Moresco, Jurgita Adamonyté & Piotr Lempa
70. Quattro melodie: IV. Per l'amor d'amore - Marco Moresco, Jurgita Adamonyté & Piotr Lempa
71. In the Hush of the Night, Song - Marco Moresco, Jurgita Adamonyté & Piotr Lempa