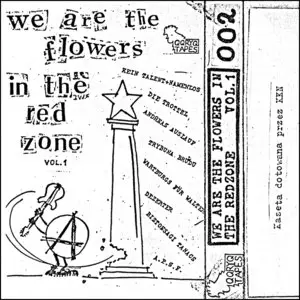 Various Artists – We Are The Flowers In The Red Zone Vol. 1 (1988)
Mp3 VBR0 16Bit/48kHz = 98 MB | Scans 400 dpi jpg | rar
Tape Cassette | QQRYQ Tapes 002 | Punk | International
Never released on CD
Another handmade Cassette release, this time from Poland with 8 bands from behind the Iron Curtain (seen from my side). The first 2 tracks have the worst sound quality, don't let them bring you down, it's getting better afterwards.
Tracks
01. Andreas Auslauf · Polizeikontrolle 02:11
02. Andreas Auslauf · Und sie liegen in der Sonne 03:08
03. Trybuna Brudu · Pająk 01:42
04. Trybuna Brudu · Kołysanka 01:45
05. Die Trottel · Eljen A Nyugodtsag 01:57
06. Die Trottel · Borderline Syndroma 04:30
07. Kein Talent + Namenlos · Tote Liebe 02:07
08. Kein Talent + Namenlos · Haß 02:17
09. Kein Talent + Namenlos · Links zwo drei vier 00:45
10. Dezerter · Kolaboracja 03:07
11. Dezerter · Jutro 03:35
12. Biztonsagi Tanacs · Terepszinu Moszkvics 01:40
13. Biztonsagi Tanacs · Minden Lehetett Volna Maskepp 02:03
14. Wartburgs Für Walter · What Will You Do If You Had A Lot Of Money? 02:48
15. Wartburgs Für Walter · After A Nuclear War 05:04
16. A.P.S.F. · Cały Ten Świat 01:31
17. -Unknown- · Brüder zur Sonne, zur Freiheit! 01:32
Total time: 41:36
Discogs