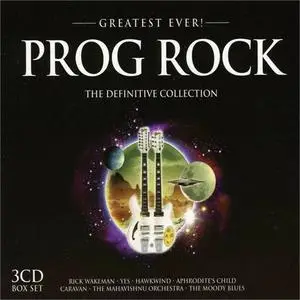 V.A. - Greatest Ever! Prog Rock: The Definitive Collection [3CD Box Set] (2012)
MP3 CBR 320 kbps | Run Time: 03:30:20 | 511 Mb
Genre: Progressive Rock, Neo-Prog | Label: Union Square Music
Greatest Ever! Prog Rock beings together some of the very finest progressive rock from the giants of the genre. Incorporating both the classic and the contemporary, this 3CD set boasts bona fide prog masterpieces from Yes, Hawkwind and Rick Wakeman, avant-garde wonders from Aphrodite s Child and The Moody Blues, plus modern tracks from Marillion, Galahad and Twelfth Night to create a brilliantly atmospheric and surprisingly accessible collection for the die-hard fan and the recent convert alike.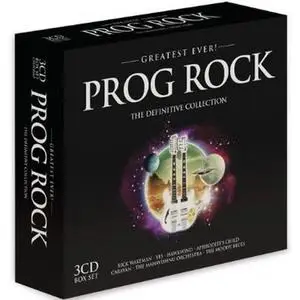 Tracklist:

Disc: 1
01. Roundabout - Single version (Yes)
02. In The Land Of Grey And Pink (Caravan)
03. I Can't Take No More (Atomic Rooster)
04. Metrognome (Camel)
05. White Rabbit (Jefferson Airplane)
06. Hold Your Head Up (Argent)
07. Don t Fear The Reaper (Blue Oyster Cult)
08. Every Mother's Son (Traffic)
09. Sea Of Immortality (Quintessence)
10. Dolphin Dance (Tangerine Dream)
11. Three Sisters (Affinity)
12. Amuso Fi - single version (Zzebra)
13. This Flight Tonight (Nazareth)
14. Empires Never Last (Galahad)
Disc: 2
01. The Four Horsemen (Aphrodite's Child)
02. Back Street Luv (Curved Air)
03. Meeting Of The Spirits (The Mahavishnu Orchestra)
04. Pantagruel's Nativity (Gentle Giant)
05. Faith Healer (Sensational Alex Harvey Band)
06. Lost In My Dream (Spooky Tooth)
07. Frankenstein (The Edgar Winter Group)
08. Shot Down In The Night - single edit (Hawkwind)
09. Where (Consortium)
10. No Chance (Warhorse)
11. Child In Time (Ian Gillan Band)
12. Born Brilliant (IQ)
13. Creepshow (Twelfth Night)
Disc: 3
01. Anne Of Cleves (Rick Wakeman)
02. The Kettle (Colosseum)
03. Fresh Garbage (Spirit)
04. MacArthur Park (Beggar's Opera)
05. Higher And Higher (Moody Blues)
06. Rainbow Demon (Uriah Heep)
07. Bedside Manners Are Extra (Greenslade)
08. O Caroline (Matching Mole)
09. Spirit Of Joy (Arthur Brown & Kingdom Come)
10. Child Of The Universe - live (John Lees Barclay James Harvest)
11. Running Man (Running Man)
12. Dust - full length version (Rob Thompson)
13. You re Gone (Marillion)