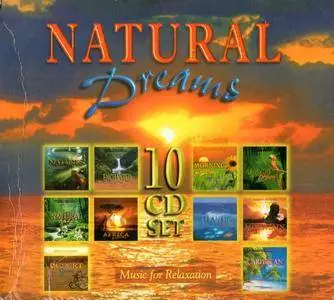 V.A. - Natural Dreams - Music For Relaxation (Box Set 10CD,1999)
FLAC (*tracks+.cue+log) | Run Time: 10:17:44 | 3.59 Gb
Genre: New Age, Meditative, Instrumental, Relax | Label: Hey Presto!
Fantastic box set of relaxing music and sounds.Great for yoga/meditation as well as studying and chilling out. Superbly calming and mood lightening. 10 discs, every one has relaxing music of various genres. Some are jazzier than others, some have more or less nature sounds that others, but these 10 hours are in a playlist all their own on my PC and I love it!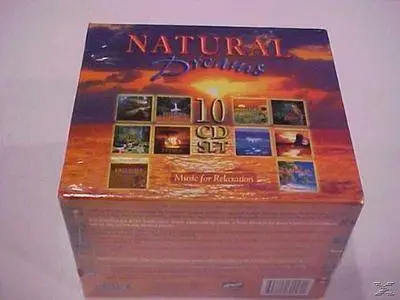 Contents:
CD01: Africa Awakens
CD02: Amazon Odyssey
CD03: Atlantic Blue
CD04: Caribbean Breeze
CD05: Desert Blues
CD06: Enchanted Journey
CD07: Morning Sunrise
CD08: Mountain Song
CD09: Natural Jazz
CD10: Natural Guitar
CD01: Africa Awakens

01. Serengeti Sunrise
02. Kube-Tu (Cross The River)
03. Kora
04. Ithabise (Celebrate)
05. Taraab
06. Kilimanjaro
07. Indela (On The Path)
08. Kalimba Limba
09. Mbira
10. Vusa Amakhosi (Wake The Ancestors)

CD02: Amazon Odyssey

01. Rio Sunrise
02. Tropical Storm
03, Pelotas
04. Sao Paulo
05. Macapa
06. Glass Falls
07. Rio Sunset
08. Belo Horizonte
09. Elegy For The Rainforest
10. Amazon By Canoe
11. Carnivale
12. Rio Nights

CD03: Atlantic Blue

01. Moody Blue
02. Interlude No.1
03. No Apologies (For Loving You)
04. Interlude No.2
05. Terpsichore
06. Interlude No.3
07. Manatee
08. Interlude No.4
09. Inside Indigo
10. Interlude No.5
11. Meredith

CD04: Caribbean Breeze

01. Sunrise Departure
02. Setting Sail
03. Tropical Blue
04. Island Waterfall
05. A Stroll In St. Lucia
06. Jibbin' In Jamaica
07. Cliff Diving
08. Rum Punch
09. Showers In St.Tropez
10. Sunset In Cozumel
11. The Stars Are A Melody

CD05: Desert Blues

01. Desert Blue
02. Interlude No.1
03. After The Sun Goes Down
04. Interlude No.2
05. Prickly Pear
06. Interlude No.3
07. Her Hacienda
08. Interlude No.4
09. Get-Down Gila Boogie
10. Interlude No.5
11. Sandman

CD06: Enchanted Journey

01. The Long Way Home
02. Red Tide
03. Moonbreaks
04. Dreamscapes
05. Soulmates
06. Mountain Spirit
07. Beyond The Sea
08. Spring Garden

CD07: Morning Sunrise

01. Amelia
02. Vivace
03. The Other Side
04. Elegy
05. Amaryllis
06. Sunny Slopes
07. Memories Of Latta
08. Beginning Of A Beginning
09. Left To Right
10. Rebecca
11. Taj Mahal

CD08: Mountain Song

01. Rhododendron Ridge
02. Dabbling In The Dew
03. Interlude No.1
04. Every Night When The Sun Goes In
05. Interlude No.2
06. Cades Cove
07. Interlude No.3
08. The River In The Pines
09. Timberline Two Step
10. Rhododendron Ridge(Reprise)

CD09: Natural Jazz

01. Daydreamers Lullaby
02. Mr. Cricket
03. Redwood Blues
04. Sparkles
05. Wish You Were Here
06. Soul Surfer
07. Spring Changes
08. Babbling Brooks

CD10: Natural Guitar

01. Warm Summer Night
02. Winter Stream
03. Weeping Willows
04. Raindance
05. Dream Garden
06. Swampthing
07. Crystal Waters
08. Mexican Sundown
dBpoweramp Release 15.3 Digital Audio Extraction Log from 07 July 2016 18:31

Drive & Settings
––––––––

Ripping with drive 'E: [PLDS - DVD-RW DH16AESH ]', Drive offset: 6, Overread Lead-in/out: No
AccurateRip: Active, Using C2: No, Cache: 1024 KB, FUA Cache Invalidate: No
Pass 1 Drive Speed: Max, Pass 2 Drive Speed: Max
Ultra:: Vary Drive Speed: No, Min Passes: 2, Max Passes: 4, Finish After Clean Passes: 2
Bad Sector Re-rip:: Drive Speed: Max, Maximum Re-reads: 34

Encoder: FLAC -compression-level-0 -verify

Extraction Log
–––––––

Track 1: Ripped LBA 0 to 36256 (8:03) in 0:38. Filename: C:\Africa Awakens\01 - Serengeti Sunrise.flac
AccurateRip: Accurate (confidence 6) [Pass 1]
CRC32: 1CFE6BA9 AccurateRip CRC: BF58056A (CRCv2) [DiscID: 010-0017a26c-00b9e8d1-9a0e630a-1]
AccurateRip Verified Confidence 6 [CRCv2 bf58056a]
AccurateRip Verified Confidence 4 [CRCv1 d059fdeb]
AccurateRip Verified Confidence 3 [CRCv2 3e612763], Using Pressing Offset +3

Track 2: Ripped LBA 36256 to 68246 (7:06) in 0:25. Filename: C:\Africa Awakens\02 - Kube-Tu (Cross the River).flac
AccurateRip: Accurate (confidence 6) [Pass 1]
CRC32: BDD358C7 AccurateRip CRC: 73040A93 (CRCv2) [DiscID: 010-0017a26c-00b9e8d1-9a0e630a-2]
AccurateRip Verified Confidence 6 [CRCv2 73040a93]
AccurateRip Verified Confidence 4 [CRCv1 14fc9c8c]
AccurateRip Verified Confidence 3 [CRCv2 3baec6e6], Using Pressing Offset +3

Track 3: Ripped LBA 68246 to 90021 (4:50) in 0:15. Filename: C:\Africa Awakens\03 - Kora.flac
AccurateRip: Accurate (confidence 6) [Pass 1]
CRC32: BE9B5837 AccurateRip CRC: 3D546FA9 (CRCv2) [DiscID: 010-0017a26c-00b9e8d1-9a0e630a-3]
AccurateRip Verified Confidence 6 [CRCv2 3d546fa9]
AccurateRip Verified Confidence 4 [CRCv1 1f8d5e20]
AccurateRip Verified Confidence 3 [CRCv2 b796cf7a], Using Pressing Offset +3

Track 4: Ripped LBA 90021 to 119276 (6:30) in 0:19. Filename: C:\Africa Awakens\04 - Ithabise (Celebrate).flac
AccurateRip: Accurate (confidence 6) [Pass 1]
CRC32: BFCDC50E AccurateRip CRC: 0138A418 (CRCv2) [DiscID: 010-0017a26c-00b9e8d1-9a0e630a-4]
AccurateRip Verified Confidence 6 [CRCv2 138a418]
AccurateRip Verified Confidence 4 [CRCv1 72cf8abd]
AccurateRip Verified Confidence 3 [CRCv2 348329c], Using Pressing Offset +3

Track 5: Ripped LBA 119276 to 140345 (4:40) in 0:13. Filename: C:\Africa Awakens\05 - Taraab.flac
AccurateRip: Accurate (confidence 5) [Pass 1]
CRC32: E671F06E AccurateRip CRC: B5915D73 (CRCv2) [DiscID: 010-0017a26c-00b9e8d1-9a0e630a-5]
AccurateRip Verified Confidence 5 [CRCv2 b5915d73]
AccurateRip Verified Confidence 4 [CRCv1 a9e856dc]
AccurateRip Verified Confidence 3 [CRCv2 33fd4170], Using Pressing Offset +3

Track 6: Ripped LBA 140345 to 171257 (6:52) in 0:18. Filename: C:\Africa Awakens\06 - Kilimanjaro.flac
AccurateRip: Accurate (confidence 6) [Pass 1]
CRC32: CE48C15D AccurateRip CRC: EC2A25DC (CRCv2) [DiscID: 010-0017a26c-00b9e8d1-9a0e630a-6]
AccurateRip Verified Confidence 6 [CRCv2 ec2a25dc]
AccurateRip Verified Confidence 4 [CRCv1 13176591]
AccurateRip Verified Confidence 3 [CRCv2 b1d518a], Using Pressing Offset +3

Track 7: Ripped LBA 171257 to 193204 (4:52) in 0:12. Filename: C:\Africa Awakens\07 - Indela (On the Path).flac
AccurateRip: Accurate (confidence 5) [Pass 1]
CRC32: 71F5B17F AccurateRip CRC: 7FFDBB06 (CRCv2) [DiscID: 010-0017a26c-00b9e8d1-9a0e630a-7]
AccurateRip Verified Confidence 5 [CRCv2 7ffdbb06]
AccurateRip Verified Confidence 4 [CRCv1 5dba070]
AccurateRip Verified Confidence 3 [CRCv2 2c4964e6], Using Pressing Offset +3

Track 8: Ripped LBA 193204 to 215771 (5:00) in 0:11. Filename: C:\Africa Awakens\08 - Kalimba Limba.flac
AccurateRip: Accurate (confidence 6) [Pass 1]
CRC32: 43562564 AccurateRip CRC: 47C0011C (CRCv2) [DiscID: 010-0017a26c-00b9e8d1-9a0e630a-8]
AccurateRip Verified Confidence 6 [CRCv2 47c0011c]
AccurateRip Verified Confidence 4 [CRCv1 a0d9193a]
AccurateRip Verified Confidence 3 [CRCv2 eb08fa08], Using Pressing Offset +3

Track 9: Ripped LBA 215771 to 238246 (4:59) in 0:11. Filename: C:\Africa Awakens\09 - Mbira.flac
AccurateRip: Accurate (confidence 6) [Pass 1]
CRC32: 6222376A AccurateRip CRC: AB68FEBF (CRCv2) [DiscID: 010-0017a26c-00b9e8d1-9a0e630a-9]
AccurateRip Verified Confidence 6 [CRCv2 ab68febf]
AccurateRip Verified Confidence 4 [CRCv1 60013bd5]
AccurateRip Verified Confidence 3 [CRCv2 be8ec91c], Using Pressing Offset +3

Track 10: Ripped LBA 238246 to 276286 (8:27) in 0:18. Filename: C:\Africa Awakens\10 - Vusa Amakhosi (Wake the Ancestors).flac
AccurateRip: Accurate (confidence 5) [Pass 1]
CRC32: 6ECCDF13 AccurateRip CRC: E835225D (CRCv2) [DiscID: 010-0017a26c-00b9e8d1-9a0e630a-10]
AccurateRip Verified Confidence 5 [CRCv2 e835225d]
AccurateRip Verified Confidence 4 [CRCv1 c8ab82dc]
AccurateRip Verified Confidence 2 [CRCv2 195082a], Using Pressing Offset +3

–––––––

10 Tracks Ripped Accurately
======================================
dBpoweramp Release 15.3 Digital Audio Extraction Log from 07 July 2016 17:44

Drive & Settings
––––––––

Ripping with drive 'E: [PLDS - DVD-RW DH16AESH ]', Drive offset: 6, Overread Lead-in/out: No
AccurateRip: Active, Using C2: No, Cache: 1024 KB, FUA Cache Invalidate: No
Pass 1 Drive Speed: Max, Pass 2 Drive Speed: Max
Ultra:: Vary Drive Speed: No, Min Passes: 2, Max Passes: 4, Finish After Clean Passes: 2
Bad Sector Re-rip:: Drive Speed: Max, Maximum Re-reads: 34

Encoder: FLAC -compression-level-0 -verify

Extraction Log
–––––––

Track 1: Ripped LBA 0 to 21709 (4:49) in 0:24. Filename: C:\Amazon Odyssey\01 - Rio Sunrise.flac
AccurateRip: Accurate (confidence 2) [Pass 1]
CRC32: 5A1ED1EE AccurateRip CRC: 5D5F1D5B (CRCv2) [DiscID: 012-001cbb84-010b19a1-8f0e8c0c-1]
AccurateRip Verified Confidence 2 [CRCv2 5d5f1d5b]
AccurateRip Verified Confidence 2 [CRCv2 7af4d8f3], Using Pressing Offset +3
AccurateRip Verified Confidence 2 [CRCv1 9c813fe1], Using Pressing Offset +90

Track 2: Ripped LBA 21709 to 52248 (6:47) in 0:26. Filename: C:\Amazon Odyssey\02 - Tropical Storm.flac
AccurateRip: Accurate (confidence 3) [Pass 1]
CRC32: 97470A87 AccurateRip CRC: A6918234 [DiscID: 012-001cbb84-010b19a1-8f0e8c0c-2]
AccurateRip Verified Confidence 3 [CRCv2 a6918234], Using Pressing Offset +3
AccurateRip Verified Confidence 2 [CRCv1 1cd04e00], Using Pressing Offset +90
AccurateRip Verified Confidence 2 [CRCv1 9b3ee620], Using Pressing Offset +754

Track 3: Ripped LBA 52248 to 66755 (3:13) in 0:11. Filename: C:\Amazon Odyssey\03 - Pelotas.flac
AccurateRip: Accurate (confidence 2) [Pass 1]
CRC32: 54DDB157 AccurateRip CRC: 3659C1FF (CRCv2) [DiscID: 012-001cbb84-010b19a1-8f0e8c0c-3]
AccurateRip Verified Confidence 2 [CRCv2 3659c1ff]
AccurateRip Verified Confidence 2 [CRCv2 1a3d6687], Using Pressing Offset +3
AccurateRip Verified Confidence 2 [CRCv1 d00df02d], Using Pressing Offset +90
AccurateRip Verified Confidence 2 [CRCv1 1625a473], Using Pressing Offset +754

Track 4: Ripped LBA 66755 to 97713 (6:52) in 0:22. Filename: C:\Amazon Odyssey\04 - Sao Paulo.flac
AccurateRip: Accurate (confidence 2) [Pass 1]
CRC32: 6F725C9F AccurateRip CRC: CF701241 (CRCv2) [DiscID: 012-001cbb84-010b19a1-8f0e8c0c-4]
AccurateRip Verified Confidence 2 [CRCv2 cf701241]
AccurateRip Verified Confidence 3 [CRCv2 9f4be1], Using Pressing Offset +3
AccurateRip Verified Confidence 2 [CRCv1 14d90f81], Using Pressing Offset +90
AccurateRip Verified Confidence 2 [CRCv1 3a94cedb], Using Pressing Offset +754

Track 5: Ripped LBA 97713 to 123861 (5:48) in 0:17. Filename: C:\Amazon Odyssey\05 - Macapa.flac
AccurateRip: Accurate (confidence 2) [Pass 1]
CRC32: C1360524 AccurateRip CRC: A4C4DCA4 (CRCv2) [DiscID: 012-001cbb84-010b19a1-8f0e8c0c-5]
AccurateRip Verified Confidence 2 [CRCv2 a4c4dca4]
AccurateRip Verified Confidence 3 [CRCv2 f113c795], Using Pressing Offset +3
AccurateRip Verified Confidence 2 [CRCv1 ca454bb8], Using Pressing Offset +90
AccurateRip Verified Confidence 2 [CRCv1 9c5c218], Using Pressing Offset +754

Track 6: Ripped LBA 123861 to 151032 (6:02) in 0:16. Filename: C:\Amazon Odyssey\06 - Glass Falls.flac
AccurateRip: Accurate (confidence 2) [Pass 1]
CRC32: F7723ADE AccurateRip CRC: 9499D6ED (CRCv2) [DiscID: 012-001cbb84-010b19a1-8f0e8c0c-6]
AccurateRip Verified Confidence 2 [CRCv2 9499d6ed]
AccurateRip Verified Confidence 3 [CRCv2 4f942b46], Using Pressing Offset +3
AccurateRip Verified Confidence 2 [CRCv1 2a6a6d8e], Using Pressing Offset +90
AccurateRip Verified Confidence 2 [CRCv1 1cc08d64], Using Pressing Offset +754

Track 7: Ripped LBA 151032 to 173241 (4:56) in 0:12. Filename: C:\Amazon Odyssey\07 - Rio Sunset.flac
AccurateRip: Accurate (confidence 2) [Pass 1]
CRC32: 09E4364E AccurateRip CRC: 2C745338 (CRCv2) [DiscID: 012-001cbb84-010b19a1-8f0e8c0c-7]
AccurateRip Verified Confidence 2 [CRCv2 2c745338]
AccurateRip Verified Confidence 3 [CRCv2 90872190], Using Pressing Offset +3
AccurateRip Verified Confidence 2 [CRCv1 62644f49], Using Pressing Offset +90
AccurateRip Verified Confidence 2 [CRCv1 11fcaab6], Using Pressing Offset +754

Track 8: Ripped LBA 173241 to 203245 (6:40) in 0:16. Filename: C:\Amazon Odyssey\08 - Belo Horizonte.flac
AccurateRip: Accurate (confidence 2) [Pass 1]
CRC32: E71D234D AccurateRip CRC: 87679AA9 (CRCv2) [DiscID: 012-001cbb84-010b19a1-8f0e8c0c-8]
AccurateRip Verified Confidence 2 [CRCv2 87679aa9]
AccurateRip Verified Confidence 3 [CRCv2 1b9506f9], Using Pressing Offset +3
AccurateRip Verified Confidence 2 [CRCv1 d13ad19f], Using Pressing Offset +90

Track 9: Ripped LBA 203245 to 215254 (2:40) in 0:06. Filename: C:\Amazon Odyssey\09 - Elegy for the Rainforest.flac
AccurateRip: Accurate (confidence 2) [Pass 1]
CRC32: 1030406F AccurateRip CRC: 9A29428B (CRCv2) [DiscID: 012-001cbb84-010b19a1-8f0e8c0c-9]
AccurateRip Verified Confidence 2 [CRCv2 9a29428b]
AccurateRip Verified Confidence 3 [CRCv2 4e8e22c1], Using Pressing Offset +3
AccurateRip Verified Confidence 2 [CRCv1 299222a], Using Pressing Offset +90
AccurateRip Verified Confidence 2 [CRCv1 4fb37dfc], Using Pressing Offset +754

Track 10: Ripped LBA 215254 to 233894 (4:08) in 0:09. Filename: C:\Amazon Odyssey\10 - Amazon by Canoe.flac
AccurateRip: Accurate (confidence 2) [Pass 1]
CRC32: FF92D01D AccurateRip CRC: E5883CBD (CRCv2) [DiscID: 012-001cbb84-010b19a1-8f0e8c0c-10]
AccurateRip Verified Confidence 2 [CRCv2 e5883cbd]
AccurateRip Verified Confidence 3 [CRCv2 42491750], Using Pressing Offset +3
AccurateRip Verified Confidence 2 [CRCv1 1217f50f], Using Pressing Offset +90
AccurateRip Verified Confidence 2 [CRCv1 ca2f4b8c], Using Pressing Offset +754

Track 11: Ripped LBA 233894 to 264752 (6:51) in 0:15. Filename: C:\Amazon Odyssey\11 - Carnivale.flac
AccurateRip: Accurate (confidence 2) [Pass 1]
CRC32: E5FB020E AccurateRip CRC: 359677BE (CRCv2) [DiscID: 012-001cbb84-010b19a1-8f0e8c0c-11]
AccurateRip Verified Confidence 2 [CRCv2 359677be]
AccurateRip Verified Confidence 3 [CRCv2 8b1ad605], Using Pressing Offset +3
AccurateRip Verified Confidence 2 [CRCv1 9767d917], Using Pressing Offset +90
AccurateRip Verified Confidence 2 [CRCv1 6087a052], Using Pressing Offset +754

Track 12: Ripped LBA 264752 to 279308 (3:14) in 0:06. Filename: C:\Amazon Odyssey\12 - Rio Nights.flac
AccurateRip: Accurate (confidence 2) [Pass 1]
CRC32: 6720DEAF AccurateRip CRC: 7910164C (CRCv2) [DiscID: 012-001cbb84-010b19a1-8f0e8c0c-12]
AccurateRip Verified Confidence 2 [CRCv2 7910164c]
AccurateRip Verified Confidence 3 [CRCv2 a0e8495d], Using Pressing Offset +3
AccurateRip Verified Confidence 2 [CRCv1 d7540c1], Using Pressing Offset +90

–––––––

12 Tracks Ripped Accurately
=====================================
dBpoweramp Release 15.3 Digital Audio Extraction Log from 07 July 2016 18:52

Drive & Settings
––––––––

Ripping with drive 'E: [PLDS - DVD-RW DH16AESH ]', Drive offset: 6, Overread Lead-in/out: No
AccurateRip: Active, Using C2: No, Cache: 1024 KB, FUA Cache Invalidate: No
Pass 1 Drive Speed: Max, Pass 2 Drive Speed: Max
Ultra:: Vary Drive Speed: No, Min Passes: 2, Max Passes: 4, Finish After Clean Passes: 2
Bad Sector Re-rip:: Drive Speed: Max, Maximum Re-reads: 34

Encoder: FLAC -compression-level-0 -verify

Extraction Log
–––––––

Track 1: Ripped LBA 0 to 35967 (7:59) in 1:06. Filename: C:\Atlantic Blue\01 - Moody Blue.flac
AccurateRip: Accurate (confidence 5) [Pass 1]
CRC32: 1F0E62F2 AccurateRip CRC: 23F3E76B (CRCv2) [DiscID: 011-0019b91c-00dce7d3-6e0ec40b-1]
AccurateRip Verified Confidence 5 [CRCv2 23f3e76b]
AccurateRip Verified Confidence 2 [CRCv1 100b1f64]
AccurateRip Verified Confidence 2 [CRCv1 bb5d9553], Using Pressing Offset -1331
AccurateRip Verified Confidence 2 [CRCv2 31095d54], Using Pressing Offset -3

Track 2: Ripped LBA 35967 to 47967 (2:40) in 0:18. Filename: C:\Atlantic Blue\02 - Interlude No. 1.flac
AccurateRip: Accurate (confidence 5) [Pass 1]
CRC32: 070A9D5D AccurateRip CRC: 0BC4ACEF (CRCv2) [DiscID: 011-0019b91c-00dce7d3-6e0ec40b-2]
AccurateRip Verified Confidence 5 [CRCv2 bc4acef]
AccurateRip Verified Confidence 2 [CRCv1 b0a5da0b]
AccurateRip Verified Confidence 2 [CRCv1 934eec93], Using Pressing Offset -1331
AccurateRip Verified Confidence 2 [CRCv2 f65b7968], Using Pressing Offset -3

Track 3: Ripped LBA 47967 to 86912 (8:39) in 0:55. Filename: C:\Atlantic Blue\03 - No Apologies (For Loving You).flac
AccurateRip: Accurate (confidence 5) [Pass 1]
CRC32: DA7DECBF AccurateRip CRC: 8F5D33D0 (CRCv2) [DiscID: 011-0019b91c-00dce7d3-6e0ec40b-3]
AccurateRip Verified Confidence 5 [CRCv2 8f5d33d0]
AccurateRip Verified Confidence 2 [CRCv1 6c3c8a8]
AccurateRip Verified Confidence 2 [CRCv1 85590251], Using Pressing Offset -1331
AccurateRip Verified Confidence 2 [CRCv2 1ff031ba], Using Pressing Offset -3

Track 4: Ripped LBA 86912 to 99407 (2:46) in 0:16. Filename: C:\Atlantic Blue\04 - Interlude No. 2.flac
AccurateRip: Accurate (confidence 5) [Pass 1]
CRC32: 61E5271D AccurateRip CRC: 6024F559 (CRCv2) [DiscID: 011-0019b91c-00dce7d3-6e0ec40b-4]
AccurateRip Verified Confidence 5 [CRCv2 6024f559]
AccurateRip Verified Confidence 2 [CRCv1 1ead9026]
AccurateRip Verified Confidence 2 [CRCv1 dfcea582], Using Pressing Offset -1331
AccurateRip Verified Confidence 2 [CRCv2 76a12fc1], Using Pressing Offset -3

Track 5: Ripped LBA 99407 to 134937 (7:53) in 0:42. Filename: C:\Atlantic Blue\05 - Terpsichore.flac
AccurateRip: Accurate (confidence 5) [Pass 1]
CRC32: 92AD4039 AccurateRip CRC: 24C866A0 (CRCv2) [DiscID: 011-0019b91c-00dce7d3-6e0ec40b-5]
AccurateRip Verified Confidence 5 [CRCv2 24c866a0]
AccurateRip Verified Confidence 2 [CRCv1 6f5d077]
AccurateRip Verified Confidence 2 [CRCv1 659c6957], Using Pressing Offset -1331
AccurateRip Verified Confidence 2 [CRCv2 61aac356], Using Pressing Offset -3

Track 6: Ripped LBA 134937 to 148402 (2:59) in 0:15. Filename: C:\Atlantic Blue\06 - Interlude No. 3.flac
AccurateRip: Accurate (confidence 5) [Pass 1]
CRC32: DCE4701B AccurateRip CRC: CB6C5C44 (CRCv2) [DiscID: 011-0019b91c-00dce7d3-6e0ec40b-6]
AccurateRip Verified Confidence 5 [CRCv2 cb6c5c44]
AccurateRip Verified Confidence 2 [CRCv1 b2b55427]
AccurateRip Verified Confidence 2 [CRCv1 ab128971], Using Pressing Offset -1331
AccurateRip Verified Confidence 2 [CRCv2 4df95350], Using Pressing Offset -3

Track 7: Ripped LBA 148402 to 182882 (7:39) in 0:36. Filename: C:\Atlantic Blue\07 - Manatee.flac
AccurateRip: Accurate (confidence 5) [Pass 1]
CRC32: 91EDF0BC AccurateRip CRC: 645AA32B (CRCv2) [DiscID: 011-0019b91c-00dce7d3-6e0ec40b-7]
AccurateRip Verified Confidence 5 [CRCv2 645aa32b]
AccurateRip Verified Confidence 2 [CRCv1 deed143f]
AccurateRip Verified Confidence 2 [CRCv1 80884b0e], Using Pressing Offset -1331
AccurateRip Verified Confidence 2 [CRCv2 9c5df2a3], Using Pressing Offset -3

Track 8: Ripped LBA 182882 to 195675 (2:50) in 0:13. Filename: C:\Atlantic Blue\08 - Interlude No. 4.flac
AccurateRip: Accurate (confidence 5) [Pass 1]
CRC32: ACB0A2F3 AccurateRip CRC: 65A58D4B (CRCv2) [DiscID: 011-0019b91c-00dce7d3-6e0ec40b-8]
AccurateRip Verified Confidence 5 [CRCv2 65a58d4b]
AccurateRip Verified Confidence 2 [CRCv1 cd4b1d39]
AccurateRip Verified Confidence 2 [CRCv1 9e89974b], Using Pressing Offset -1331
AccurateRip Verified Confidence 2 [CRCv2 ba21b9b3], Using Pressing Offset -3

Track 9: Ripped LBA 195675 to 229415 (7:29) in 0:32. Filename: C:\Atlantic Blue\09 - Inside Indigo.flac
AccurateRip: Accurate (confidence 5) [Pass 1]
CRC32: 0C598BFA AccurateRip CRC: C5EB6A2D (CRCv2) [DiscID: 011-0019b91c-00dce7d3-6e0ec40b-9]
AccurateRip Verified Confidence 5 [CRCv2 c5eb6a2d]
AccurateRip Verified Confidence 2 [CRCv1 b389b28f]
AccurateRip Verified Confidence 2 [CRCv1 22fc766e], Using Pressing Offset -1331
AccurateRip Verified Confidence 2 [CRCv2 263c6acf], Using Pressing Offset -3

Track 10: Ripped LBA 229415 to 240657 (2:29) in 0:10. Filename: C:\Atlantic Blue\10 - Interlude No. 5.flac
AccurateRip: Accurate (confidence 5) [Pass 1]
CRC32: FBAF4A8D AccurateRip CRC: 91239215 (CRCv2) [DiscID: 011-0019b91c-00dce7d3-6e0ec40b-10]
AccurateRip Verified Confidence 5 [CRCv2 91239215]
AccurateRip Verified Confidence 2 [CRCv1 62779c1a]
AccurateRip Verified Confidence 2 [CRCv1 4063f6f3], Using Pressing Offset -1331
AccurateRip Verified Confidence 2 [CRCv2 5d7a79bf], Using Pressing Offset -3

Track 11: Ripped LBA 240657 to 283567 (9:32) in 0:38. Filename: C:\Atlantic Blue\11 - Meredith.flac
AccurateRip: Accurate (confidence 5) [Pass 1]
CRC32: 9A73294D AccurateRip CRC: 08C50FF2 (CRCv2) [DiscID: 011-0019b91c-00dce7d3-6e0ec40b-11]
AccurateRip Verified Confidence 5 [CRCv2 8c50ff2]
AccurateRip Verified Confidence 2 [CRCv1 33c33f96]
AccurateRip Verified Confidence 2 [CRCv1 a095611c], Using Pressing Offset -1331
AccurateRip Verified Confidence 2 [CRCv2 3670b140], Using Pressing Offset -3

–––––––

11 Tracks Ripped Accurately
All 10 log files included…