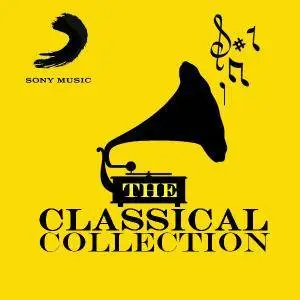 V.A. - The Classical Collection: The Complete World Of Classical Music (30CDs, 2008)
Classical, Baroque, Modern, Romantic | MP3 CBR 320 kbps | 4,72 Gb
Label: Sony Classical
A comprehensive survey of classical music - for the casual listener, this might be all the classical music you need in your collection; for others this provides a starting point for further exploration. Unlike many collections of this sort, most of these 30 discs contain performances by some of biggest names in classical music. Included are: Bach's Complete Brandenburg Concertos; Vivaldi's "The Four Seasons"; Beethoven's Symphonies 5 and 9, plus the Piano Concertos #4 and 5; Symphonies by Haydn, Mozart, Schubert, Schumann, Mendelssohn, Mahler and Brahms; concertos by Tchaikovsky, Brahms, and Mendelssohn; music by Ravel, Handel, Gershwin, Debussy, Moussorgsky. Performers include Horowitz, Rubinstein, Bernstein, Boulez, Szell, the Vienna Philharmonic, the New York Philharmonic, the Cleveland Orchestra and many more.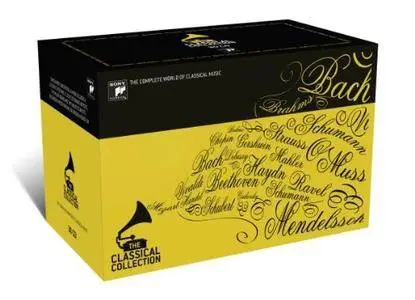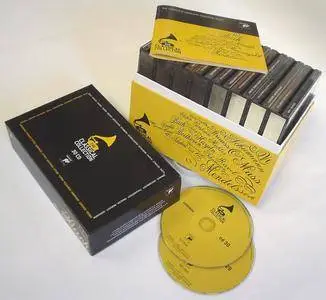 Tracklist:CD01 Bach
Brandenburg Concertos 1-3
CD02 Bach
Brandenburg Concertos 4-6
CD03 Handel
Water Music and Royal Fireworks Music
CD04 Vivaldi
The Four Seasons
CD05 Haydn
London Symphonies No.101 & 102
CD06 Mozart
Symphonies I
CD07 Mozart
Symphonies II
CD08 Mozart
Piano Concertos No.20 & 21
CD09 Mozart
Clarinet Concerto & Quintet
CD10 Mozart
Requiem & Exsultate Jubilate
CD11 Beethoven
Symphonies No.4 & 5 and Fidelio Ouverture
CD12 Beethoven
Symphonies No.1 & 6 'Pastorale'
CD13 Beethoven
Symphonie No.9 and Egmont Ouverture
CD14 Beethoven
Piano Concertos No.4 & 5 'Emperor'
CD15 Beethoven
Piano Sonatas No.14,21,23,8
CD16 Schubert
Symphony No.8 'Unfinished' & Rosamunde
CD17 Mendelssohn
Violin Concerto,Symphony No.4
CD18 Schumann
Symphonies No.3 'Rheinish'& No.4 and Manfred Ouverture
CD19 Chopin
Pianoworks
CD20 Brahms
Symphony No.4
CD21 Brahms
Violin Concerto & Concerto for Violin and Cello
CD22 Strauss
Works
CD23 Mussorgsky
Songs and dances of Death & Pictures at an Exhibition
CD24 Tchaikovsky
Symphony No.6 'Pathetique' & Marche Slave & Suite No.4
CD25 Tchaikovsky
Piano Concerto No.1 & Violin Concerto
CD26 Mahler
Symphonies No.1 'Titan' & 10.Adagio
CD27 Mahler
Symphony No.5
CD28 Debussy
Orchestral Works
CD29 Ravel
Bolero,La Valse,Rapsodie Espagnole etc
CD30 Gershwin
Rapsody in Blue & An American in Paris
1.Gustav Leonhardt - Brandenburg Concerto No.1 F major, BWV 1046: II. Adagio (44:56)
2.Gustav Leonhardt - Brandenburg Concertos No.4 G major, BWV 1049: II. Andante (54:49)
3.Pierre Boulez and New York Philharmonics - Water Music: Suite No. 1 in F Major: II. Adagio e staccato (78:21)
4.Jeanne Lammon - Concerto in E major Op. 8 Nr. 1 RV.269 (The Four Seasons - Spring) / II. Largo e pianissimo sempre (53:53)
5.La Petite Band-Sigiswald Kuijken - Symphony No.100 - II Andante (52:51)
6.George Szell, Cleveland Orchestra - Symphony No. 28: II. Andante (77:20)
7.George Szell, Cleveland Orchestra - Symphony No.40 in g minor,K550 - 2.Andante (56:48)
8.Riccardo Chailly, Maria Tipo, LPO - Piano Concerto No.20 - 2.Romanza (60:55)
9.Richard Stoltzman - Clarinet Concerto, K.622 in A major - II. Adagio (63:42)
10.Helmut Rilling,Gaechinger Kantorei,Bach-Collegium Stuttgart - Requiem KV 626 02. Kyrie Sequenz (69:05)
11.Lorin Maazel,Cleveland Orchestra - Symphony No.4 - 2.Adagio (71:54)
12.Lorin Maazel,Cleveland Orchestra - Symphony No.1,op.21 - 2.Andante cantabile con moto (70:30)
13.Lorin Maazel,Cleveland Orchestra - Symphony No.9 in D Minor op.125 - 2.Molto vivace (74:08)
14.Arthur Rubinstein, Boston Symphony Orchestra - Piano Concertos No.4 - 2.Andante con motto (71:21)
15.Vladimir Horowitz - Piano Sonata No. 14, Moonlight, II. Allegretto (77:42)
16.Daniel Barenboim, BPO - Symphony No. 8, D. 759 (The Unfinished) - 2.Andante con moto (52:07)
17.Pinchas Zukerman, Leonard Bernstein - Violin Concerto, in E Minor, Op. 64 - 2.Andante (72:44)
18.Leonard Bernstein, NYPO - Symphony No 3 in E-flat Major Op 97 'Rhenish' - 2 - Scherzo (Sehr maessig) (76:18)
19.Ricardo Castro, Volker Schmidt-Gertenbach - Noctune No 2 in E flat Op 9 (72:43)
20.Zubin Mehta , Israel Philharmonic - Symphony No.4 in E Minor, op.98 - 2.Andante moderato (41:43)
21.Vladimir Spivakov,Alexander Kniazev,Yuri Temirkanov - Violin Concerto, Op.77 in D major: 2.Adagio (76:27)
22.Lorin Maazel, WPO - Kaiser walzer, Op.437 (70:10)
23.Yuri Temirkanov, Royal Philharmonic Orchestra - Lullaby (63:32)
24.Claudio Abbado, Chicago Symphony Orchestra - Symphony No. 6 in B minor, Op. 74 - II. Allegro con grazia (77:16)
25.Emil Gilels, David Oistrakh - Concerto for Piano & Orchestra No. 1 in B-flat Minor, Op. 23 II. Andantino semplice; Prestissimo; Tempo I (70:16)
26.Zubin Mehta, NYPO & Geoge Szell, Cleveland Orchestra - Symphony No. 1 'Titan' / II. Kraftig bewegt, doch nicht zu schnell (74:28)
27.Lorin Maazel, WPO - Part I Movement Satz I Trauermarsch / Pl?tzlich schneller. Leidenschaftlich. Wild (72:27)
28.Pierre Boulez, New Philharmonia Orchestra - Jeux (72:33)
29.Eduardo Mata - La Valse (67:43)
30.Leonard Bernstein - An American In Paris (67:06)

1.Gustav Leonhardt - Brandenburg Concerto No.1 F major, BWV 1046: I. Allegro (4:25)
2.Gustav Leonhardt - Brandenburg Concerto No.1 F major, BWV 1046: II. Adagio (3:45)
3.Gustav Leonhardt - Brandenburg Concerto No.1 F major, BWV 1046: III. Allegro (4:42)
4.Gustav Leonhardt - Brandenburg Concerto No.1 F major, BWV 1046: IV. Menuetto - Trio - Polonaise (8:54)
5.Gustav Leonhardt - Brandenburg Concerto No.2 F major, BWV 1047: I. Allegro (5:24)
6.Gustav Leonhardt - Brandenburg Concerto No.2 F major, BWV 1047: II. Andante (3:36)
7.Gustav Leonhardt - Brandenburg Concerto No.2 F major, BWV 1047: III. Allegro assai (3:11)
8.Gustav Leonhardt - Brandenburg Concerto No.3 G major, BWV 1048: I. Allegro (6:07)
9.Gustav Leonhardt - Brandenburg Concerto No.3 G major, BWV 1048: II. Adagio (0:19)
10.Gustav Leonhardt - Brandenburg Concerto No.3 G major, BWV 1048: III. Allegro (4:28)
11.Gustav Leonhardt - Brandenburg Concertos No.4 G major, BWV 1049: I. Allegro (6:55)
12.Gustav Leonhardt - Brandenburg Concertos No.4 G major, BWV 1049: II. Andante (3:57)
13.Gustav Leonhardt - Brandenburg Concertos No.4 G major, BWV 1049: III. Presto (4:50)
14.Gustav Leonhardt - Brandenburg Concertos No.5 D major, BWV 1050: I. Allegro (10:08)
15.Gustav Leonhardt - Brandenburg Concertos No.5 D major, BWV 1050: II. Affettuoso (5:55)
16.Gustav Leonhardt - Brandenburg Concertos No.5 D major, BWV 1050: III. Allegro (5:18)
17.Gustav Leonhardt - Brandenburg Concertos No.6 B flat major, BWV 1051: I. Allegro (6:42)
18.Gustav Leonhardt - Brandenburg Concertos No.6 B flat major, BWV 1051: II. Adagio ma non tanto (5:05)
19.Gustav Leonhardt - Brandenburg Concertos No.6 B flat major, BWV 1051: III. Allegro (5:56)
20.Pierre Boulez and New York Philharmonics - Water Music: Suite No. 1 in F Major: I. Ouverture (4:21)
21.Pierre Boulez and New York Philharmonics - Water Music: Suite No. 1 in F Major: II. Adagio e staccato (2:05)
22.Pierre Boulez and New York Philharmonics - Water Music: Suite No. 1 in F Major: III. (Allegro) (2:40)
23.Pierre Boulez and New York Philharmonics - Water Music: Suite No. 1 in F Major: IV. Andante (2:15)
24.Pierre Boulez and New York Philharmonics - Water Music: Suite No. 1 in F Major: V. (Allegro da capo) (2:40)
25.Pierre Boulez and New York Philharmonics - Water Music: Suite No. 1 in F Major: VI. (Allegro) (4:22)
26.Pierre Boulez and New York Philharmonics - Water Music: Suite No. 1 in F Major: VII. Air (2:37)
27.Pierre Boulez and New York Philharmonics - Water Music: Suite No. 1 in F Major: VIII. Bourrée (1:08)
28.Pierre Boulez and New York Philharmonics - Water Music: Suite No. 1 in F Major: IX. (Allegro) (4:05)
29.Pierre Boulez and New York Philharmonics - Water Music: Suite No. 1 in F Major: X. Hornpipe (1:30)
30.Pierre Boulez and New York Philharmonics - Water Music: Suite No. 1 in F Major: XI. Minuet (3:58)
31.Pierre Boulez and New York Philharmonics - Water Music: Suite No. 2 in D Major: I. (Allegro) (2:22)
32.Pierre Boulez and New York Philharmonics - Water Music: Suite No. 2 in D Major: II. Alla Hornpipe (3:36)
33.Pierre Boulez and New York Philharmonics - Water Music: Suite No. 3 in G Major: II. (Sarabande) (2:57)
34.Pierre Boulez and New York Philharmonics - Water Music: Suite No. 3 in G Major: IV. Rigaudon (2:41)
35.Pierre Boulez and New York Philharmonics - Water Music: Suite No. 2 in D Major: V. Lantement (2:00)
36.Pierre Boulez and New York Philharmonics - Water Music: Suite No. 2 in D Major: VI. Bourrée (1:04)
37.Pierre Boulez and New York Philharmonics - Water Music: Suite No. 3 in G Major: VII. Minuet (3:41)
38.Pierre Boulez and New York Philharmonics - Water Music: Suite No. 3 in G Major: VIII. Gigue (1:28)
39.Pierre Boulez and New York Philharmonics - Water Music: Suite No. 2 in D Major: IX. Minuet (2:30)
40.Pierre Boulez and New York Philharmonics - Music for the Royal Fireworks: I. Ouverture (8:32)
41.Pierre Boulez and New York Philharmonics - Music for the Royal Fireworks: II. Bourrée (1:11)
42.Pierre Boulez and New York Philharmonics - Music for the Royal Fireworks: III La Paix: Largo alla Siciliana (4:34)
43.Pierre Boulez and New York Philharmonics - Music for the Royal Fireworks: IV. Menuet I; Menuet II (4:24)
44.Pierre Boulez and New York Philharmonics - Music for the Royal Fireworks: V. La Réjouissance: Allegro (2:06)
45.Pierre Boulez and New York Philharmonics - Ouverture to Berenice: Minuet (Andante larghetto) (3:24)
46.Jeanne Lammon - Concerto in E major Op. 8 Nr. 1 RV.269 (The Four Seasons - Spring)- I. Allegro (3:39)
47.Jeanne Lammon - Concerto in E major Op. 8 Nr. 1 RV.269 (The Four Seasons - Spring)- II. Largo (2:34)
48.Jeanne Lammon - Concerto in E major Op. 8 Nr. 1 RV.269 (The Four Seasons - Spring)- III. Allegro (3:34)
49.Jeanne Lammon - Concerto in G minor Op. 8 Nr. 2 RV.315 (The Four Seasons - Summer)- I. Allegro Non Molto (5:25)
50.Jeanne Lammon - Concerto in G minor Op. 8 Nr. 2 RV.315 (The Four Seasons - Summer)- II. Adagio E Piano (2:09)
51.Jeanne Lammon - Concerto in G minor Op. 8 Nr. 2 RV.315 (The Four Seasons - Summer)- III. Presto (2:59)
52.Jeanne Lammon - Concerto in F major Op. 8 Nr. 3 RV.293 (The Four Seasons - Autumn)- I. Allegro (4:53)
53.Jeanne Lammon - Concerto in F major Op. 8 Nr. 3 RV.293 (The Four Seasons - Autumn)- II. Adagio Molto (2:54)
54.Jeanne Lammon - Concerto in F major Op. 8 Nr. 3 RV.293 (The Four Seasons - Autumn)- III. Allegro (3:21)
55.Jeanne Lammon - Concerto in F minor Op. 8 Nr. 4 RV.297 (The Four Seasons - Winter)- I. Allegro Non Molto (3:37)
56.Jeanne Lammon - Concerto in F minor Op. 8 Nr. 4 RV.297 (The Four Seasons - Winter)- II. Largo (2:05)
57.Jeanne Lammon - Concerto in F minor Op. 8 Nr. 4 RV.297 (The Four Seasons - Winter)- III. Allegro (3:18)
58.Jeanne Lammon - Sinfonia in B minor RV.169 (At the Holy Grave)- I. Adagio Molto- II. Allegro Ma Non Poco (4:03)
59.Jeanne Lammon - Concerto for 4 Violins, Cello, Strings, and Continuo in B minor Op. 3 Nr. 10- I. Allegro (3:37)
60.Jeanne Lammon - Concerto for 4 Violins, Cello, Strings, and Continuo in B minor Op. 3 Nr. 10- II. Largo (2:15)
61.Jeanne Lammon - Concerto for 4 Violins, Cello, Strings, and Continuo in B minor Op. 3 Nr. 10- III. Allegro (3:21)
62.La Petite Band-Sigiswald Kuijken - Symphony No.101 'The Clock' in D - I Adagio - Presto (8:23)
63.La Petite Band-Sigiswald Kuijken - Symphony No.101 'The Clock' in D - II Andante (8:30)
64.La Petite Band-Sigiswald Kuijken - Symphony No.101 'The Clock' in D - III Menuet. Allegretto - Trio (6:59)
65.La Petite Band-Sigiswald Kuijken - Symphony No.101 'The Clock' in D - IV Finale. Vivace (4:45)
66.La Petite Band-Sigiswald Kuijken - Symphony No.102 in B flat - I Largo - Vivace (8:34)
67.La Petite Band-Sigiswald Kuijken - Symphony No.102 - II Adagio (5:54)
68.La Petite Band-Sigiswald Kuijken - Symphony No.102 - III Menuet. Allegro - Trio (4:48)
69.La Petite Band-Sigiswald Kuijken - Symphony No.102 - IV Finale. Presto (4:55)
70.George Szell, Cleveland Orchestra - Symphony No. 28: I. Allegro spiritoso (5:02)
71.George Szell, Cleveland Orchestra - Symphony No. 28: II. Andante (4:30)
72.George Szell, Cleveland Orchestra - Symphony No. 28: III. Menuetto: Allegretto - Trio (3:55)
73.George Szell, Cleveland Orchestra - Symphony No. 28: IV. Presto (3:52)
74.George Szell, Cleveland Orchestra - Symphony No. 33: I. Allegro assai (6:11)
75.George Szell, Cleveland Orchestra - Symphony No. 33: II. Andante moderato (5:48)
76.George Szell, Cleveland Orchestra - Symphony No. 33: III. Menuetto - Trio (2:52)
77.George Szell, Cleveland Orchestra - Symphony No. 33: IV. Finale: Allegro assai (4:12)
78.George Szell, Cleveland Orchestra - Symphony No. 35 'Haffner': I. Allegro con spirito (8:04)
79.George Szell, Cleveland Orchestra - Symphony No. 35 'Haffner': II. Andante (4:30)
80.George Szell, Cleveland Orchestra - Symphony No. 35 'Haffner': III. Menuetto - Trio (3:09)
81.George Szell, Cleveland Orchestra - Symphony No. 35 'Haffner': IV. Finale: Presto (3:43)
82.George Szell, Cleveland Orchestra - Serenade K. 525 'Eine Kleine Nachtmusik': I. Allegro (5:47)
83.George Szell, Cleveland Orchestra - Serenade K. 525 'Eine Kleine Nachtmusik': II. Romance: Andante (5:17)
84.George Szell, Cleveland Orchestra - Serenade K. 525 'Eine Kleine Nachtmusik': III. Menuetto: Allegretto - Trio (2:07)
85.George Szell, Cleveland Orchestra - Serenade K. 525 'Eine Kleine Nachtmusik': IV. Rondo: Allegro (4:17)
86.George Szell, Cleveland Orchestra - The Marriage of Figaro Overture (3:57)
87.George Szell, Cleveland Orchestra - Symphony No.40 in g minor,K550 - 1.Allegro molto (8:15)
88.George Szell, Cleveland Orchestra - Symphony No.40 in g minor,K550 - 2.Andante (8:45)
89.George Szell, Cleveland Orchestra - Symphony No.40 in g minor,K550 - 3.Menuetto.Allegretto (4:32)
90.George Szell, Cleveland Orchestra - Symphony No.40 in g minor,K550 - Finale.Allegro assai (4:45)
91.George Szell, Cleveland Orchestra - Symphony No.41 in C major,K551 'Jupiter' - 1.Allegro vivace (8:18)
92.George Szell, Cleveland Orchestra - Symphony No.41 in C major,K551 'Jupiter' - Andante cantabile (7:32)
93.George Szell, Cleveland Orchestra - Symphony No.41 in C major,K551 'Jupiter' - Menuetto.Allegretto (4:35)
94.George Szell, Cleveland Orchestra - Symphony No.41 in C major,K551 'Jupiter' - 4.Molto allegro (6:05)
95.George Szell, Cleveland Orchestra - The Impresario,K486 Ouverture (3:59)
96.Riccardo Chailly, Maria Tipo, LPO - Piano Concerto No.20 - 1.Allegro (14:42)
97.Riccardo Chailly, Maria Tipo, LPO - Piano Concerto No.20 - 2.Romanza (9:48)
98.Riccardo Chailly, Maria Tipo, LPO - Piano Concerto No.20 - 3.Rondo Prestissimo (7:43)
99.Riccardo Chailly, Maria Tipo, LPO - Piano Concerto No.21 - 1.Allegro maestoso (14:54)
100.Riccardo Chailly, Maria Tipo, LPO - Piano Concerto No.21 - 2.Andante (7:41)
101.Riccardo Chailly, Maria Tipo, LPO - Piano Concerto No.21 - 3.Allegro Vivace asai (6:05)
102.Richard Stoltzman - Clarinet Concerto, K.622 in A major - I. Allegro (11:56)
103.Richard Stoltzman - Clarinet Concerto, K.622 in A major - II. Adagio (9:27)
104.Richard Stoltzman - Clarinet Concerto, K.622 in A major - III. Rondo: Allegro (8:16)
105.Richard Stoltzman - Clarinet Quintet, K.581 in A major - I. Allegro (9:33)
106.Richard Stoltzman - Clarinet Quintet, K.581 in A major -II. Larghetto (7:20)
107.Richard Stoltzman - Clarinet Quintet, K.581 in A major -III. Menuetto (7:17)
108.Richard Stoltzman - Clarinet Quintet, K.581 in A major -IV. Allegretto con variazioni (9:50)
109.Helmut Rilling,Gaechinger Kantorei,Bach-Collegium Stuttgart - Requiem KV 626 01. Introitus - Requiem (5:56)
110.Helmut Rilling,Gaechinger Kantorei,Bach-Collegium Stuttgart - Requiem KV 626 02. Kyrie Sequenz (2:52)
111.Helmut Rilling,Gaechinger Kantorei,Bach-Collegium Stuttgart - Requiem KV 626 03. Dies Irae (2:00)
112.Helmut Rilling,Gaechinger Kantorei,Bach-Collegium Stuttgart - Requiem KV 626 04. Tuba Mirum (3:20)
113.Helmut Rilling,Gaechinger Kantorei,Bach-Collegium Stuttgart - Requiem KV 626 05. Rex Tremendae (2:12)
114.Helmut Rilling,Gaechinger Kantorei,Bach-Collegium Stuttgart - Requiem KV 626 06. Recordare (6:06)
115.Helmut Rilling,Gaechinger Kantorei,Bach-Collegium Stuttgart - Requiem KV 626 07. Confutatis (3:17)
116.Helmut Rilling,Gaechinger Kantorei,Bach-Collegium Stuttgart - Requiem KV 626 08. Lacrimosa, Offertorium (3:33)
117.Helmut Rilling,Gaechinger Kantorei,Bach-Collegium Stuttgart - Requiem KV 626 09. Domine Jesu (3:40)
118.Helmut Rilling,Gaechinger Kantorei,Bach-Collegium Stuttgart - Requiem KV 626 10. Hostias (3:40)
119.Helmut Rilling,Gaechinger Kantorei,Bach-Collegium Stuttgart - Requiem KV 626 11. Sanctus (1:33)
120.Helmut Rilling,Gaechinger Kantorei,Bach-Collegium Stuttgart - Requiem KV 626 12. Benedictus (4:59)
121.Helmut Rilling,Gaechinger Kantorei,Bach-Collegium Stuttgart - Requiem KV 626 13. Agnus Dei (3:31)
122.Helmut Rilling,Gaechinger Kantorei,Bach-Collegium Stuttgart - Requiem KV 626 14. Communio - Lux Aeterna (6:05)
123.Helmut Rilling,Gaechinger Kantorei,Bach-Collegium Stuttgart - Exsultate, Jubilate KV 165 01. Allegro (4:50)
124.Helmut Rilling,Gaechinger Kantorei,Bach-Collegium Stuttgart - Exsultate, Jubilate KV 165 02. Recitativo - (Andante) (8:40)
125.Helmut Rilling,Gaechinger Kantorei,Bach-Collegium Stuttgart - Exsultate, Jubilate KV 165 03. (Allegro) (2:42)
126.Lorin Maazel,Cleveland Orchestra - Symphony No.4 - 1.Adagio; Allegro vivace (11:02)
127.Lorin Maazel,Cleveland Orchestra - Symphony No.4 - 2.Adagio (9:02)
128.Lorin Maazel,Cleveland Orchestra - Symphony No.4 - 3.Menuetto; Allegro vivace (5:39)
129.Lorin Maazel,Cleveland Orchestra - Symphony No.4 - 4.Allegro ma non troppo (6:38)
130.Lorin Maazel,Cleveland Orchestra - Symphony No.5 - 1.Allegro con brio (7:19)
131.Lorin Maazel,Cleveland Orchestra - Symphony No.5 - 2.Andante con moto (10:39)
132.Lorin Maazel,Cleveland Orchestra - Symphony No.5 - 3.Allegro (4:54)
133.Lorin Maazel,Cleveland Orchestra - Symphony No.5 - 4.Allegro (10:14)
134.Lorin Maazel,Cleveland Orchestra - Ouverture - Fidelio op.72 (6:22)
135.Lorin Maazel,Cleveland Orchestra - Symphony No.1,op.21 - 1.Adagio molto: Allegro con Brio (8:19)
136.Lorin Maazel,Cleveland Orchestra - Symphony No.1,op.21 - 2.Andante cantabile con moto (8:48)
137.Lorin Maazel,Cleveland Orchestra - Symphony No.1,op.21 - 3.Menuetto: Allegro molto e vovace (3:12)
138.Lorin Maazel,Cleveland Orchestra - Symphony No.1,op.21 - 4.Adagio: Allegro molto e vivace (5:42)
139.Lorin Maazel,Cleveland Orchestra - Symphony No.6 op.68 'Pastorale' - 1.Allegro ma non troppo (11:43)
140.Lorin Maazel,Cleveland Orchestra - Symphony No.6 op.68 'Pastorale' - 2.Andante molto mosso (12:52)
141.Lorin Maazel,Cleveland Orchestra - Symphony No.6 op.68 'Pastorale' - 3.Allegro (5:11)
142.Lorin Maazel,Cleveland Orchestra - Symphony No.6 op.68 'Pastorale' - 4.Allegro (3:33)
143.Lorin Maazel,Cleveland Orchestra - Symphony No.6 op.68 'Pastorale' - 5.Allegretto (11:06)
144.Lorin Maazel,Cleveland Orchestra - Symphony No.9 in D Minor op.125 - 1.Allegro ma non troppo, un poco maestoso (15:53)
145.Lorin Maazel,Cleveland Orchestra - Symphony No.9 in D Minor op.125 - 2.Molto vivace (10:04)
146.Lorin Maazel,Cleveland Orchestra - Symphony No.9 in D Minor op.125 - 3.Adagio e molto cantabile (14:49)
147.Lorin Maazel,Cleveland Orchestra - Symphony No.9 in D Minor op.125 - 4.Presto: Allegro assai; Rezitativo; Allegro Assai - Choral Finale On Schiller's Ode 'To Joy' (24:41)
148.Lorin Maazel,Cleveland Orchestra - Egmont Overture, op.84 (8:39)
149.Arthur Rubinstein, Boston Symphony Orchestra - Piano Concertos No.4 - 1.Allegro moderato (18:44)
150.Arthur Rubinstein, Boston Symphony Orchestra - Piano Concertos No.4 - 2.Andante con motto (4:38)
151.Arthur Rubinstein, Boston Symphony Orchestra - Piano Concertos No.4 - 3.Rondo Vivace (10:10)
152.Arthur Rubinstein, Boston Symphony Orchestra - Piano Concertos No.5 - 1.Allegro (20:13)
153.Arthur Rubinstein, Boston Symphony Orchestra - Piano Concertos No.5 - 2.Adagio un poco moto (7:42)
154.Arthur Rubinstein, Boston Symphony Orchestra - Piano Concertos No.5 - 3.Rondo Allegro (9:51)
155.Vladimir Horowitz - Piano Sonata No. 14, Moonlight, I. Adagio Sostenuto (5:56)
156.Vladimir Horowitz - Piano Sonata No. 14, Moonlight, II. Allegretto (2:31)
157.Vladimir Horowitz - Piano Sonata No. 14, Moonlight, III. Presto Agitato (7:28)
158.Vladimir Horowitz - Piano Sonata No. 21, Waldenstein, I. Allegro Con Brio (10:31)
159.Vladimir Horowitz - Piano Sonata No. 21, Waldenstein, II. Introducione (3:49)
160.Vladimir Horowitz - Piano Sonata No. 21, Waldenstein, III. Rondo (9:41)
161.Vladimir Horowitz - Piano Sonata No. 23, Appasionata, I. Allegro Assai (9:38)
162.Vladimir Horowitz - Piano Sonata No. 23, Appasionata, II. Andtante Con Moto (5:55)
163.Vladimir Horowitz - Piano Sonata No. 23, Appasionata, II. Allegroma non troppo (8:06)
164.Vladimir Horowitz - Piano Sonata No. 8, Pathetique, I. Grave (8:36)
165.Vladimir Horowitz - Piano Sonata No. 8, Pathetique, II. Adagio Cantabile (5:26)
166.Daniel Barenboim, BPO - Symphony No. 8, D. 759 (The Unfinished) - 1.Allegro moderato (15:04)
167.Daniel Barenboim, BPO - Symphony No. 8, D. 759 (The Unfinished) - 2.Andante con moto (12:27)
168.Daniel Barenboim, BPO - Rosamunde, Princess of Cyprus (D. 797): Overture (10:20)
169.Daniel Barenboim, BPO - Rosamunde, Princess of Cyprus (D. 797): Entr'acte (7:10)
170.Daniel Barenboim, BPO - Rosamunde, Princess of Cyprus (D. 797): Ballet Music (7:04)
171.Pinchas Zukerman, Leonard Bernstein - Violin Concerto, in E Minor, Op. 64 - 1.Allegro molto appassionato (13:08)
172.Pinchas Zukerman, Leonard Bernstein - Violin Concerto, in E Minor, Op. 64 - 2.Andante (9:00)
173.Pinchas Zukerman, Leonard Bernstein - Violin Concerto, in E Minor, Op. 64 - 3.Allegro non troppo: Allegro molto vivace (6:44)
174.Pinchas Zukerman, Leonard Bernstein - Symphony No. 4 in A Major, Op. 90 'Italian', - 1.Allegro vivace (10:19)
175.Pinchas Zukerman, Leonard Bernstein - Symphony No. 4 in A Major, Op. 90 - 2.Andante con moto (7:18)
176.Pinchas Zukerman, Leonard Bernstein - Symphony No. 4 in A Major, Op. 90 - 3.Con moto moderato (6:14)
177.Pinchas Zukerman, Leonard Bernstein - Symphony No. 4 in A Major, Op. 90 - 4.Saltarello, Presto (6:00)
178.Pinchas Zukerman, Leonard Bernstein - From ATHALIE, Op. 74, Wat Match of the Priests (4:55)
179.Pinchas Zukerman, Leonard Bernstein - The Hebrides, Overture, Op. 26, Fingal's Cave (9:02)
180.Leonard Bernstein, NYPO - Symphony No 3 in E-flat Major Op 97 'Rhenish' - 1 - Lebhaft (10:03)
181.Leonard Bernstein, NYPO - Symphony No 3 in E-flat Major Op 97 'Rhenish' - 2 - Scherzo (Sehr maessig) (5:42)
182.Leonard Bernstein, NYPO - Symphony No 3 in E-flat Major Op 97 'Rhenish' - 3 - Nicht schnell (5:36)
183.Leonard Bernstein, NYPO - Symphony No 3 in E-flat Major Op 97 'Rhenish' - 4 - Feierlich (6:13)
184.Leonard Bernstein, NYPO - Symphony No 3 in E-flat Major Op 97 'Rhenish' - 5 - Lebhaft (5:36)
185.Leonard Bernstein, NYPO - Symphony No 4 in D Minor Op 120 - 1 - Ziemlich langsam - Lebhaft (10:43)
186.Leonard Bernstein, NYPO - Symphony No 4 in D Minor Op 120 - 2 - Romanze (Ziemlich langsam) (4:53)
187.Leonard Bernstein, NYPO - Symphony No 4 in D Minor Op 120 - 3 - Scherzo (Lebhaft) - Trio (5:20)
188.Leonard Bernstein, NYPO - Symphony No 4 in D Minor Op 120 - 4 - Langsam - Lebhaft (9:22)
189.Leonard Bernstein, NYPO - Manfred Overture Op 115 (12:46)
190.Ricardo Castro, Volker Schmidt-Gertenbach - Noctune No 1 in B flat Op 9 (5:41)
191.Ricardo Castro, Volker Schmidt-Gertenbach - Noctune No 2 in E flat Op 9 (4:31)
192.Ricardo Castro, Volker Schmidt-Gertenbach - Noctune No 2 in Aflat Op 32 (4:49)
193.Ricardo Castro, Volker Schmidt-Gertenbach - Andante Spianto (4:54)
194.Ricardo Castro, Volker Schmidt-Gertenbach - Noctune No 2 in F Sharp major Op 15 (3:32)
195.Ricardo Castro, Volker Schmidt-Gertenbach - Romance (9:52)
196.Ricardo Castro, Volker Schmidt-Gertenbach - Noctune No 1 in G minor Op 37 (5:54)
197.Ricardo Castro, Volker Schmidt-Gertenbach - Noctune No 1 B major Op 32 + Piano Concerto No 2 F minor Op 21 (4:52)
198.Ricardo Castro, Volker Schmidt-Gertenbach - Larghetto (8:52)
199.Ricardo Castro, Volker Schmidt-Gertenbach - Plonaise No 1 in C sharp minor Op 26 (8:05)
200.Ricardo Castro, Volker Schmidt-Gertenbach - Noctune No 3 in G minor Op 15 (4:25)
201.Ricardo Castro, Volker Schmidt-Gertenbach - Ballade No 3 in A flat major Op 47 (7:16)
202.Zubin Mehta , Israel Philharmonic - Symphony No.4 in E Minor, op.98 - 1.Allegro non troppo (13:12)
203.Zubin Mehta , Israel Philharmonic - Symphony No.4 in E Minor, op.98 - 2.Andante moderato (11:48)
204.Zubin Mehta , Israel Philharmonic - Symphony No.4 in E Minor, op.98 - 3.Allegro giocoso (6:23)
205.Zubin Mehta , Israel Philharmonic - Symphony No.4 in E Minor, op.98 - 4.Allegro energico (10:18)
206.Vladimir Spivakov,Alexander Kniazev,Yuri Temirkanov - Violin Concerto, Op.77 in D major: 1.Allegro non troppo (22:32)
207.Vladimir Spivakov,Alexander Kniazev,Yuri Temirkanov - Violin Concerto, Op.77 in D major: 2.Adagio (9:00)
208.Vladimir Spivakov,Alexander Kniazev,Yuri Temirkanov - Violin Concerto, Op.77 in D major: 3.Allegro giocoso, ma non troppo vivace; Poco più presto (8:23)
209.Vladimir Spivakov,Alexander Kniazev,Yuri Temirkanov - Concerto for Violin and Cello, Op.102 'Double Concerto' in A minor: 1.Allegro (19:31)
210.Vladimir Spivakov,Alexander Kniazev,Yuri Temirkanov - Concerto for Violin and Cello, Op.102 'Double Concerto' in A minor: 2.Andante (7:38)
211.Vladimir Spivakov,Alexander Kniazev,Yuri Temirkanov - Concerto for Violin and Cello, Op.102 'Double Concerto' in A minor: 3.Vivace non troppo (9:21)
212.Lorin Maazel, WPO - Jubel-marsch, Op.126 (3:43)
213.Lorin Maazel, WPO - Kaiser walzer, Op.437 (11:19)
214.Lorin Maazel, WPO - Ein herz, ein sinn, polka mazur, Op.323 (5:35)
215.Lorin Maazel, WPO - Bitte schoen, polka francaise, Op.372 (4:11)
216.Lorin Maazel, WPO - Geschichten aus dem Wiener Wald Op.325 (12:25)
217.Lorin Maazel, WPO - Spleen, polka mazur, Op.197 (5:55)
218.Lorin Maazel, WPO - Tritsch tratsch polka, Op.214 (2:34)
219.Lorin Maazel, WPO - Waltz a la Paganini, Op.11 (6:05)
220.Lorin Maazel, WPO - Feldermaus - Quadrille, Op.363 (5:06)
221.Lorin Maazel, WPO - An der schoenen blauen Donau, Op.314 (9:40)
222.Lorin Maazel, WPO - Radetzky-marsch, Op.228 (3:31)
223.Yuri Temirkanov, Royal Philharmonic Orchestra - Khovanshchina - Prelude (5:25)
224.Yuri Temirkanov, Royal Philharmonic Orchestra - Lullaby (6:02)
225.Yuri Temirkanov, Royal Philharmonic Orchestra - Serenade (5:07)
226.Yuri Temirkanov, Royal Philharmonic Orchestra - Trepak (5:48)
227.Yuri Temirkanov, Royal Philharmonic Orchestra - Field Marshal Death (6:13)
228.Yuri Temirkanov, Royal Philharmonic Orchestra - Promenade (1:54)
229.Yuri Temirkanov, Royal Philharmonic Orchestra - The Gnome (3:08)
230.Yuri Temirkanov, Royal Philharmonic Orchestra - Promenade (1:03)
231.Yuri Temirkanov, Royal Philharmonic Orchestra - The Old Castle (4:42)
232.Yuri Temirkanov, Royal Philharmonic Orchestra - Promenade (0:34)
233.Yuri Temirkanov, Royal Philharmonic Orchestra - Tuileries (1:06)
234.Yuri Temirkanov, Royal Philharmonic Orchestra - Bydlo (2:40)
235.Yuri Temirkanov, Royal Philharmonic Orchestra - Promenade (0:49)
236.Yuri Temirkanov, Royal Philharmonic Orchestra - Ballet of the Unhatched Chicks (1:19)
237.Yuri Temirkanov, Royal Philharmonic Orchestra - Samuel Goldenberg and Schmuyle (2:36)
238.Yuri Temirkanov, Royal Philharmonic Orchestra - Limoges - The Market (1:22)
239.Yuri Temirkanov, Royal Philharmonic Orchestra - Catacombs (2:37)
240.Yuri Temirkanov, Royal Philharmonic Orchestra - Con mortuis in lingua mortua (2:01)
241.Yuri Temirkanov, Royal Philharmonic Orchestra - The Hut on Fowl's Legs (3:36)
242.Yuri Temirkanov, Royal Philharmonic Orchestra - The Great Gate at Kiev (5:21)
243.Claudio Abbado, Chicago Symphony Orchestra - Symphony No. 6 in B minor, Op. 74 - I. Adagio - Allegro non troppo - Andante - Moderato mosso… (17:36)
244.Claudio Abbado, Chicago Symphony Orchestra - Symphony No. 6 in B minor, Op. 74 - II. Allegro con grazia (7:42)
245.Claudio Abbado, Chicago Symphony Orchestra - Symphony No. 6 in B minor, Op. 74 - III. Allegro molto vivace (9:09)
246.Claudio Abbado, Chicago Symphony Orchestra - Symphony No. 6 in B minor, Op. 74 - IV. Finale. Adagio lamentoso - Andante (9:21)
247.Claudio Abbado, Chicago Symphony Orchestra - Marche Slave, Op. 31 - Moderato in modo di marcia funebre - Piu mosso. Allegro… (10:16)
248.Claudio Abbado, Chicago Symphony Orchestra - Suite No. 4 in G Major for Orchestra, Op. 61 - I. Gigue (1:34)
249.Claudio Abbado, Chicago Symphony Orchestra - Suite No. 4 in G Major for Orchestra, Op. 61 - II. Menuet (3:55)
250.Claudio Abbado, Chicago Symphony Orchestra - Suite No. 4 in G Major for Orchestra, Op. 61 - III. Preghiera (4:30)
251.Claudio Abbado, Chicago Symphony Orchestra - Suite No. 4 in G Major for Orchestra, Op. 61 - IV. Theme and Variations (13:08)
252.Emil Gilels, David Oistrakh - Concerto for Piano & Orchestra No. 1 in B-flat Minor, Op. 23 I. Allegro non troppo e molto maestoso… (21:12)
253.Emil Gilels, David Oistrakh - Concerto for Piano & Orchestra No. 1 in B-flat Minor, Op. 23 II. Andantino semplice - Prestissimo… (6:55)
254.Emil Gilels, David Oistrakh - Concerto for Piano & Orchestra No. 1 in B-flat Minor, Op. 23 III. Allegro con fuoco… (6:55)
255.Emil Gilels, David Oistrakh - Concerto for Violin & Orchestra in D Major, Op. 35 I. Allegro moderato (18:53)
256.Emil Gilels, David Oistrakh - Concerto for Violin & Orchestra in D Major, Op. 35 II. Canzonetta: Andante (6:40)
257.Emil Gilels, David Oistrakh - Concerto for Violin & Orchestra in D Major, Op. 35 III. Finale: Allegro vivacissimo (9:39)
258.Zubin Mehta, NYPO & Geoge Szell, Cleveland Orchestra - Symphony No. 1 'Titan' / I. Langsam. Schleppend. Wie ein Naturlaut. Im Anfang sehr Gemählich (13:17)
259.Zubin Mehta, NYPO & Geoge Szell, Cleveland Orchestra - Symphony No. 1 'Titan' / II. Kraftig bewegt, doch nicht zu schnell (7:38)
260.Zubin Mehta, NYPO & Geoge Szell, Cleveland Orchestra - Symphony No. 1 'Titan' / III. Feierlich und gemessen, ohne zu schleppen (11:27)
261.Zubin Mehta, NYPO & Geoge Szell, Cleveland Orchestra - Symphony No. 1 'Titan' / IV. St¨¹rmisch bewegt - Energisch (19:53)
262.Zubin Mehta, NYPO & Geoge Szell, Cleveland Orchestra - Symphony No. 10 - Andante / Adagio (22:12)
263.Lorin Maazel, WPO - Part I Movement Satz I Trauermarsch / In gemessenem Schritt. Streng. Wie ein kondukt (5:50)
264.Lorin Maazel, WPO - Part I Movement Satz I Trauermarsch / Pl.tzlich schneller. Leidenschaftlich. Wild (2:13)
265.Lorin Maazel, WPO - Part I Movement Satz I Trauermarsch / Tempo I (6:00)
266.Lorin Maazel, WPO - Part I Movement Satz II / St¨¹rmisch bewegt, mit gr..ter Vehemenz (4:30)
267.Lorin Maazel, WPO - Part I Movement Satz II / Langsam, aber immer 2:2 (5:47)
268.Lorin Maazel, WPO - Part I Movement Satz II / Nicht eilen (4:45)
269.Lorin Maazel, WPO - Part II: Movement Satz III: Scherzo / Kr.ftig, nicht zu schnell (2:29)
270.Lorin Maazel, WPO - Part II: Movement Satz III: Scherzo / Etwas ruhiger (4:21)
271.Lorin Maazel, WPO - Part II: Movement Satz III: Scherzo / Molto moderato (4:03)
272.Lorin Maazel, WPO - Part II: Movement Satz III: Scherzo / A tempo I (4:08)
273.Lorin Maazel, WPO - Part II: Movement Satz III: Scherzo / Tempo I (subito) (2:32)
274.Lorin Maazel, WPO - Part III: Movement IV: Adagietto / Sehr langsam (10:29)
275.Lorin Maazel, WPO - Part III: Movement V: Rondo-Finale / Allegro (8:14)
276.Lorin Maazel, WPO - Part III: Movement V: Rondo-Finale / Nicht eilen. A tempo (3:38)
277.Lorin Maazel, WPO - Part III: Movement V: Rondo-Finale / Grazioso (3:21)
278.Pierre Boulez, New Philharmonia Orchestra - Prélude A L'Après-Midi D'Un Faune (9:46)
279.Pierre Boulez, New Philharmonia Orchestra - Jeux (17:08)
280.Pierre Boulez, New Philharmonia Orchestra - Images pour orchestre - I. Gigues (7:38)
281.Pierre Boulez, New Philharmonia Orchestra - Images pour orchestre - II. Iberia. Par les rues et par les chemins (7:07)
282.Pierre Boulez, New Philharmonia Orchestra - Images pour orchestre - II. Iberia. Les Parfums de la nuit (8:09)
283.Pierre Boulez, New Philharmonia Orchestra - Images pour orchestre - II. Iberia. Le matin d'un jour de fête (4:26)
284.Pierre Boulez, New Philharmonia Orchestra - Images pour orchestre - III. Rondes de printemps (8:09)
285.Pierre Boulez, New Philharmonia Orchestra - Danses - I. Danse sacrée . . . . . . . . . (Cleveland Orchestra) (5:08)
286.Pierre Boulez, New Philharmonia Orchestra - Danses - II. Danse profane . . . . . . . . (Cleveland Orchestra) (4:59)
287.Eduardo Mata - Bolero (14:59)
288.Eduardo Mata - La Valse (12:27)
289.Eduardo Mata - Rhapsodie Espagnole - 1.Prlude la nuit (4:08)
290.Eduardo Mata - Rhapsodie Espagnole - 2.Malaguena (2:03)
291.Eduardo Mata - Rhapsodie Espagnole - 3.Habanera (2:54)
292.Eduardo Mata - Rhapsodie Espagnole - 4.Feria (6:05)
293.Eduardo Mata - Le Tombeau de Couperin - 1.Prlude (3:19)
294.Eduardo Mata - Le Tombeau de Couperin - 2.Forlane (6:06)
295.Eduardo Mata - Le Tombeau de Couperin - 3.Menuet (4:48)
296.Eduardo Mata - Le Tombeau de Couperin - 4.Rigaudon (3:26)
297.Eduardo Mata - Alborada del Gracioso (7:22)
298.Leonard Bernstein - Rhapsody In Blue (16:29)
299.Leonard Bernstein - An American In Paris (18:27)
300.Leonard Bernstein - Concerto In F 1 (12:56)
301.Leonard Bernstein - Concerto In F 2 (12:43)
302.Leonard Bernstein - Concerto In F 3 (6:29)