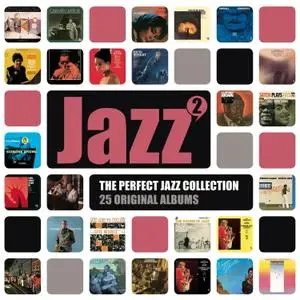 V.A. - The Perfect Jazz Collection 2 (25CD Box Sets, 2011)
Jazz, Fusion | MP3 CBR 320 kbps | 3,21 Gb | Covers 5,31 Mb
Label: Sony Music Canada Inc.
Import 25 CD boxset containing 25 of the finest Jazz albums ever released. Each album is packaged in a card wallet, and the box set includes a 40 page booklet in both English and French. The collection contains the following albums: Duke Ellington - Ellington Uptown; Dave Brubeck - Jazz Goes To College; Louis Armstrong - Satch Plays Fats; Miles Davis - Round About Midnight; Various Artists - The Sound Of Jazz; Charles Mingus - Mingus Ah Um; Sonny Rollins - The Bridge; Paul Desmond - Desmond Blue; Thelonious Monk - Underground; Freddie Hubbard - Straight Life; Mahavishnu Orchestra - Birds Of Fire; Clifford Brown - The Beginning And The End; George Benson - Beyond The Blue Horizon; Herbie Hancock - Thrust; Wayne Shorter - Native Dancer; Gerry Mulligan & Chet Baker - Carnegie Hall; Chet Baker - She Was Too Good To Me; Jim Hall - Concierto; Stanley Clarke - School Days; Return To Forever - Romantic Warrior; Weather Report - 08:30; John McLaughlan, Al Di Meola, & Paco De Lucia - Friday Night In San Francisco; Dexter Gordon - Round Midnight; Carmen McRae - Carmen Sings Monk; Wynton Marsalis - Standard Times Vol.3. Sony.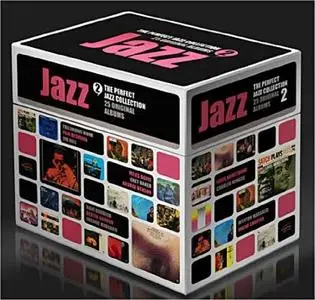 Contents:
CD 01 • Duke Ellington - Ellington Uptown (1953)
CD 02 • Dave Brubeck - Jazz Goes To College (1954)
CD 03 • Louis Armstrong - Satch Plays Fats (1955)
CD 04 • Miles Davis - 'Round About Midnight (1956)
CD 05 • V.A. - The Sound of Jazz (1958)
CD 06 • Charles Mingus - Mingus Ah Um (1959)
CD 07 • Paul Desmond - Desmond Blue (1962)
CD 08 • Sonny Rollins - The Bridge (1962)
CD 09 • Thelonious Monk - Underground (1968)
CD 10 • Freddie Hubbard - Straight Life (1970)
CD 11 • George Benson - Beyond The Blue Horizon (1971)
CD 12 • Mahavishnu Orchestra - Birds of Fire (1973)
CD 13 • Clifford Brown - The Beginning And The End (1973)
CD 14 • Chet Baker - She Was Too Good To Me (1974)
CD 15 • Gerry Mulligan & Chet Baker - Carnegie Hall Concert (1974)
CD 16 • Herbie Hancock - Thrust (1974)
CD 17 • Wayne Shorter - Native Dancer (Featuring M. Nascimento) (1975)
CD 18 • Jim Hall - Concierto (1975)
CD 19 • Return To Forever - Romantic Warrior (1976)
CD 20 • Stanley Clarke - School Days (1976)
CD 21 • Weather Report - 8-30 (1979)
CD 22 • Friday Night In San Francisco (1981)
CD 23 • V.A. - Round Midnight (OST) (1986)
CD 24 • Carmen McRae - Carmen Sings Monk (1988)
CD 25 • Wynton Marsalis - Standard Time Vol. 3 (1990)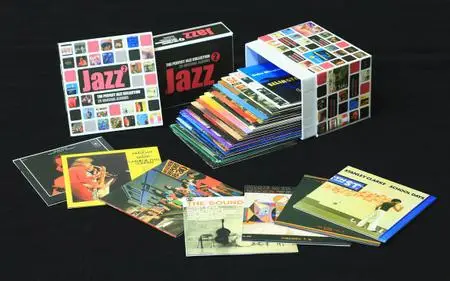 Disc: 1
1. Skin Deep - Duke Ellington
2. The Mooche - Duke Ellington
3. Take the 'A' Train - Duke Ellington
4. A Tone Parallel to Harlem (The Harlem Suite) - Duke Ellington & His Orchestra
5. Perdido - Duke Ellington
6. Before My Time - Duke Ellington
7. Later - Duke Ellington
8. I Like the Sunrise - Duke Ellington
9. Dance No. 1 - Duke Ellington
10. Dance No. 2 - Duke Ellington
11. Dance No. 3 - Duke Ellington
12. Dance No. 4 - Duke Ellington
13. Dance No. 5 - Duke Ellington

Disc: 2
1. Balcony Rock - The Dave Brubeck Quartet
2. Out of Nowhere - The Dave Brubeck Quartet
3. Le Souk - The Dave Brubeck Quartet
4. Take the "A" Train - The Dave Brubeck Quartet
5. The Song Is You - The Dave Brubeck Quartet
6. Don't Worry 'Bout Me - The Dave Brubeck Quartet
7. I Want to Be Happy - The Dave Brubeck Quartet

Disc: 3
1. Honeysuckle Rose - Louis Armstrong & His All Stars
2. Blue Turning Grey Over You - Louis Armstrong & His All Stars
3. I'm Crazy 'Bout My Baby - Louis Armstrong & His All Stars
4. Squeeze Me - Louis Armstrong & His All Stars
5. Keepin' Out of Mischief Now - Louis Armstrong & His All Stars
6. All That Meat And No Potatoes - Louis Armstrong
7. I've Got a Feeling I'm Falling - Louis Armstrong & His All Stars
8. (What Did I Do To Be So) Black And Blue - Louis Armstrong
9. Ain't Misbehavin' - Louis Armstrong
10. (What Did I Do To Be So) Black And Blue - Louis Armstrong
11. I'm Crazy 'Bout My Baby - Louis Armstrong
12. Blue Turning Grey Over You - Louis Armstrong
13. I've Got a Feeling I'm Falling - Louis Armstrong
14. Squeeze Me - Louis Armstrong
15. (What Did I Do To Be So) Black And Blue - Louis Armstrong
16. Ain't Misbehavin' - Louis Armstrong
17. Blue Turning Grey Over You - Louis Armstrong
18. Keepin' Out of Mischief Now - Louis Armstrong
19. Sweet Savannah Sue - Louis Armstrong
20. That Rhythm Man - Louis Armstrong

Disc: 4
1. 'Round Midnight - Miles Davis
2. Ah-Leu-Cha - Miles Davis
3. All of You - Miles Davis
4. Bye Bye Blackbird - Miles Davis
5. Tadd's Delight - Miles Davis
6. Dear Old Stockholm - Miles Davis
7. Two Bass Hit - Miles Davis
8. Little Melonae - Miles Davis
9. Budo - Miles Davis
10. Sweet Sue, Just You - Miles Davis

Disc: 5
1. Wild Man Blues - Henry Allen & His Orchestra
2. Rosetta - Henry Allen & His Orchestra
3. Fine and Mellow - Billie Holiday with Mal Waldron Allstars
4. Blues - Jimmy Giuffre & Pee Wee Russell
5. I Left My Baby - Count Basie with All-Stars feat. Jimmy Rushing
6. The Train and the River - The Jimmy Giuffre Trio
7. Nervous - Mal Waldron
8. Dickie's Dream - Count Basie with All-Stars
9. Wild Man Blues - Red Allen

Disc: 6
1. Better Git It in Your Soul - Charles Mingus
2. Goodbye Pork Pie Hat - Charles Mingus
3. Boogie Stop Shuffle - Charles Mingus
4. Self-Portrait in Three Colors - Charles Mingus
5. Open Letter To Duke - Charles Mingus
6. Bird Calls - Charles Mingus
7. Fables of Faubus - Charles Mingus
8. Pussy Cat Dues - Charles Mingus
9. Jelly Roll - Charles Mingus
10. Pedal Point Blues - Charles Mingus
11. GG Train - Charles Mingus
12. Girl Of My Dreams - Charles Mingus

Disc: 7
1. My Funny Valentine - Paul Desmond
2. Desmond Blue - Paul Desmond
3. Then I'll Be Tired Of You - Paul Desmond
4. I've Got You Under My Skin - Paul Desmond
5. Late Lament - Paul Desmond
6. I Should Care - Paul Desmond
7. Like Someone In Love - Paul Desmond
8. Ill Wind (You're Blowin' Me No Good) - Paul Desmond
9. Body and Soul - Paul Desmond
10. Autumn Leaves - Paul Desmond
11. Imagination - Paul Desmond
12. Advise and Consent (From "Advise and Consent") - Paul Desmond
13. Autumn Leaves - Paul Desmond
14. Autumn Leaves - Paul Desmond
15. Imagination - Paul Desmond
16. Advise and Consent (From "Advise and Consent") - Paul Desmond

Disc: 8
1. Without a Song - Sonny Rollins
2. Where Are You - Sonny Rollins
3. John S. - Sonny Rollins
4. The Bridge - Sonny Rollins
5. God Bless the Child - Sonny Rollins
6. You Do Something to Me - Sonny Rollins

Disc: 9
1. You Made Me Love You - Aretha Franklin
2. I Told You So - Aretha Franklin
3. Rock-A-Bye Your Baby with a Dixie Melody - Aretha Franklin
4. Nobody Like You - Aretha Franklin
5. Exactly Like You - Aretha Franklin
6. It's So Heartbreakin' - Aretha Franklin
7. Rough Lover - Aretha Franklin
8. Blue Holiday - Aretha Franklin
9. Just for You - Aretha Franklin
10. That Lucky Old Sun - Aretha Franklin
11. I Surrender, Dear - Aretha Franklin
12. Ac-Cent-Tchu-Ate the Positive - Aretha Franklin
13. Introduction to Hard Times - Aretha Franklin
14. Hard Times (No One Knows Better Than I) - Aretha Franklin
15. When They Ask About You - Aretha Franklin
16. Operation Heartbreak - Aretha Franklin
17. I Surrender, Dear - Aretha Franklin
18. Rough Lover - Aretha Franklin
19. Kissin' By the Mistletoe - Aretha Franklin

Disc: 10
1. It Be's That Way Sometime - Nina Simone
2. The Look of Love - Nina Simone
3. Go to Hell - Nina Simone
4. Love O' Love - Nina Simone
5. Cherish - Nina Simone
6. I Wish I Knew How It Would Feel to Be Free - Nina Simone
7. Turn Me On - Nina Simone
8. The Turning Point - Nina Simone
9. Some Say - Nina Simone
10. Consummation - Nina Simone

Disc: 11
1. Thelonious - Thelonious Monk
2. Ugly Beauty - Thelonious Monk
3. Raise Four - Thelonious Monk
4. Boo Boo's Birthday (Take 11) - Thelonious Monk
5. Easy Street - Thelonious Monk
6. Green Chimneys - Thelonious Monk
7. In Walked Bud - Thelonious Monk
8. Ugly Beauty (Take 4) - Thelonious Monk
9. Boo Boo's Birthday (Take 2) - Thelonious Monk
10. Thelonious (Take 3) - Thelonious Monk

Disc: 12
1. Straight Life - Freddie Hubbard
2. Mr. Clean - Freddie Hubbard
3. Here's That Rainy Day - Freddie Hubbard

Disc: 13
1. So What - George Benson
2. The Gentle Rain (From the Film, "The Gentle Rain") - George Benson
3. All Clear - George Benson
4. Ode to a Kudu - George Benson
5. Somewhere In the East - George Benson
6. All Clear - George Benson
7. Ode to a Kudu - George Benson
8. Somewhere In the East - George Benson

Disc: 14
1. Birds of Fire - The Mahavishnu Orchestra with John McLaughlin
2. Miles Beyond - The Mahavishnu Orchestra with John McLaughlin
3. Celestial Terrestrial Commuters - The Mahavishnu Orchestra with John McLaughlin
4. Sapphire Bullets of Pure Love - Mahavishnu Orchestra
5. Thousand Island Park - Mahavishnu Orchestra
6. Hope - The Mahavishnu Orchestra with John McLaughlin
7. One Word - Mahavishnu Orchestra
8. Sanctuary - Mahavishnu Orchestra
9. Open Country Joy - The Mahavishnu Orchestra with John McLaughlin
10. Resolution - Mahavishnu Orchestra

Disc: 15
1. I Come From Jamaica - Clifford Brown
2. Ida Red - Clifford Brown
3. Walkin' - Clifford Brown
4. Night In Tunisia - Clifford Brown
5. Donna Lee - Clifford Brown

Disc: 16
1. Autumn Leaves - Chet Baker
2. What'll I Do - Chet Baker
3. It's You Or No One - Chet Baker
4. My Future Just Passed - Chet Baker
5. She Was Too Good to Me - Chet Baker
6. Funk In Deep Freeze - Chet Baker
7. Tangerine - Chet Baker
8. With a Song in My Heart - Chet Baker

Disc: 17
1. Line for Lyons - Chet Baker
2. For an Unfinished Woman - Gerry Mulligan & Chet Baker
3. My Funny Valentine - Chet Baker & Gerry Mulligan
4. Song For Strayhorn - Gerry Mulligan & Chet Baker
5. It's Sandy At the Beach - Gerry Mulligan & Chet Baker
6. Bernie's Tune - Gerry Mulligan
7. K-4 Pacific - Gerry Mulligan
8. There Will Never Be Another You - Gerry Mulligan & Chet Baker

Disc: 18
1. Ponta de Areia - Wayne Shorter
2. Beauty and the Beast - Wayne Shorter
3. Tarde - Wayne Shorter
4. Miracle of the Fishes - Wayne Shorter
5. Diana - Wayne Shorter
6. From the Lonely Afternoons - Wayne Shorter
7. Ana Maria - Wayne Shorter
8. Lilia - Wayne Shorter
9. Joanna's Theme - Wayne Shorter

Disc: 19
1. You'd Be So Nice To Come Home To - Jim Hall
2. Two's Blues - Jim Hall
3. The Answer Is Yes - Jim Hall
4. Concierto De Aranjuez - Jim Hall
5. Rock Skippin' - Jim Hall
6. Unfinished Business - Jim Hall
7. You'd Be So Nice To Come Home To - Jim Hall
8. The Answer Is Yes - Jim Hall
9. Rock Skippin' - Jim Hall

Disc: 20
1. Medieval Overture - Return To Forever
2. Sorceress - Return To Forever
3. The Romantic Warrior - Return To Forever
4. Majestic Dance - Return To Forever
5. The Magician - Return To Forever
6. Duel of the Jester and the Tyrant - Return To Forever

Disc: 21
1. School Days - Stanley Clarke
2. Quiet Afternoon - Stanley Clarke
3. The Dancer - Stanley Clarke
4. Desert Song - Stanley Clarke
5. Hot Fun - Stanley Clarke
6. Life Is Just a Game - Stanley Clarke

Disc: 22
1. Black Market - Weather Report
2. Teen Town - Weather Report
3. A Remark You Made - Weather Report
4. Slang (Bass Solo) - Weather Report
5. In a Silent Way - Weather Report
6. Birdland - Weather Report
7. Thanks for the Memory (Tenor Sax Solo) - Weather Report
8. Badia / Boodie Woogie Waltz - Weather Report
9. 8:30 - Weather Report
10. Brown Street - Weather Report
11. The Orphan - Weather Report
12. Sightseeing - Weather Report

Disc: 23
1. 'Round Midnight - Herbie Hancock
2. Body and Soul - Herbie Hancock
3. Bérangère's Nightmare - Herbie Hancock
4. Fair Weather - Herbie Hancock
5. Una Noche con Francis - Herbie Hancock
6. The Peacocks - Herbie Hancock
7. How Long Has This Been Going On? - Herbie Hancock
8. Rhythm-A-Ning - Herbie Hancock
9. Still Time - Herbie Hancock
10. Minuit Aux Champs-Elysées - Herbie Hancock
11. Chan's Song (Never Said) - Herbie Hancock
12. 'Round Midnight - Dexter Gordon

Disc: 24
1. Get It Straight - Carmen McRae
2. Dear Ruby - Carmen McRae
3. It's Over Now - Carmen McRae
4. Monkery's The Blues - Carmen McRae
5. You Know Who - Carmen McRae
6. Little Butterfly - Carmen McRae
7. Listen To Monk - Carmen McRae
8. How I Wish… - Carmen McRae
9. Man, That Was A Dream - Carmen McRae
10. 'Round Midnight - Carmen McRae
11. Still We Dream - Carmen McRae
12. Suddenly - Carmen McRae
13. Looking Back - Carmen McRae
14. Suddenly - Carmen McRae
15. Get It Straight - Carmen McRae
16. 'Round Midnight - Carmen McRae
17. Listen To Monk - Carmen McRae
18. Man, That Was A Dream - Carmen McRae

Disc: 25
1. In the Court of King Oliver - Wynton Marsalis
2. Never Let Me Go - Wynton Marsalis
3. Street of Dreams - Wynton Marsalis
4. Where or When - Wynton Marsalis
5. Bona and Paul - Wynton Marsalis
6. The Seductress - Wynton Marsalis
7. A Sleepin' Bee - Wynton Marsalis
8. Big Butter and Egg Man - Wynton Marsalis
9. The Very Thought of You - Wynton Marsalis
10. I Cover the Waterfront - Wynton Marsalis
11. How Are Things In Glocca Morra - Wynton Marsalis
12. My Romance - Wynton Marsalis
13. Everything Happens to Me - Wynton Marsalis
14. Flamingo - Wynton Marsalis
15. You're My Everything - Wynton Marsalis
16. Skylark - Wynton Marsalis
17. It's Easy to Remember - Wynton Marsalis
18. Taking a Chance On Love - Wynton Marsalis
19. I Gotta Right to Sing the Blues - Wynton Marsalis
20. In the Wee Small Hours of the Morning - Wynton Marsalis
21. It's Too Late Now - Wynton Marsalis