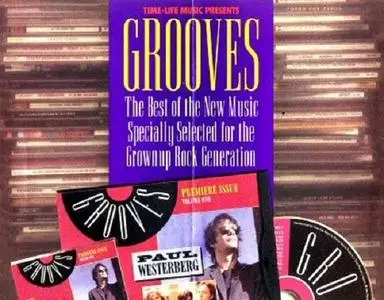 V.A. - Time Life: Grooves [Vol.01-Vol.14 + Bonus CD Year In Review] (1994-1996)
MP3 CBR 320 kbps | Run Time: 17:24:37 | 2,37 Gb
Genre: Alternative Rock, Folk Rock, Indie Rock, Blues Rock, Soft Rock | Label: Time Life Music
During the years 1994-1996 Time-Life produced a CD & Magazine called "Grooves". Veteran New York City DJ Vin Scelsa was given full control of the project, and a total of 14 wonderful issues were produced. They each highlighted Vin's selections of the best tracks from the best new albums/artists of the time. In addition, the last track on every CD was a bonus acoustic track by one of the featured artists recorded in the studio just for "Grooves". It was the next best thing to listening to Vin's radio show, "Idiot's Delight".
Tracklist:Premiere Volume
1. John Hiatt – Buffalo River Home (05:13)
2. Patty Larkin – Pundits And Poets (04:28)
3. Taj Mahal – Hard Way (02:56)
4. The Band – Atlantic City (05:17)
5. Aimee Mann – Fifty Years After The Fair (03:49)
6. Richard Barone – Miss Jean (06:15)
7. Counting Crows – Sullivan Street (04:30)
8. The Pogues – Tuesday Morning (03:32)
9. Patti Scialfa – Come Tomorrow (03:56)
10. The Lemonheads – Into Your Arms (02:46)
11. Jackson Browne – Sky Blue And Black (06:08)
12. Maria McKee – My Girlhood Among The Outlaws (03:47)
13. Paul Westerberg – Runaway Wind (04:26)
14. Uncle Tupelo – Give Back The Keys To My Heart (03:26)
15. Melissa Ferrick – Happy Song (03:05)
16. Johnny Clegg & Savuka – Tough Enough (05:10)
Volume Two
1. BoDeans – Closer To Free (03:11)
2. October Project – Ariel (03:11)
3. E – Shine It All On (04:06)
4. Rickie Lee Jones – Stewart's Coat (04:34)
5. Bill Morrissey – Birches (03:22)
6. Michael McDermott – Leave It Up To The Angels (04:59)
7. Sheryl Crow – Leaving Las Vegas (05:12)
8. Red House Painters – New Jersey (04:00)
9. The Brand New Heavies – Brother Sister (04:50)
10. Richard Thompson – Mingus Eyes (04:50)
11. The Connells – Slackjawed (04:01)
12. Angela Strehli – Go On (03:13)
13. Pierce Pettis – You're Not There (04:06)
14. Sir Douglas Quintet – Too Little Too Late (03:46)
15. The Greenberry Woods – I'll Send A Message (02:15)
16. Sun 60 – Hold On (04:36)
Volume Three
1. Valentine Smith – Back On Earth (04:07)
2. Kevn Kinney – Down And Out Law (02:55)
3. The Silos – Let's Take Some Drugs And Drive Around (04:19)
4. Kristin Hersh – Your Ghost (03:19)
5. Boz Scaggs – Time (04:18)
6. Sam Phillips – Same Changes (04:46)
7. Al Kooper – After The Lights Go Down Low (04:22)
8. NRBQ – A Little Bit Of Bad (03:23)
9. Barrence Whitfield & Tom Russell – The Cowboy Mambo (03:21)
10. Jimmie Vaughan – Two Wings (04:28)
11. Professor And Maryann – Safe (02:36)
12. Wild Colonials – Philadelphia Story (04:54)
13. Concrete Blonde – Mexican Moon (05:06)
14. Bruce Cockburn – Bone In My Ear (03:48)
15. Eleanor McEvoy – It's Mine (04:07)
16. Luna – This Time Around (03:32)
17. Jimmie Vaughan – Don't Cha Know (03:48)
Volume Four
1. The Paladins – Ticket Home (03:34)
2. Sara Hickman – Pursuit Of Happiness (04:56)
3. Paul Weller – Sunflower (04:08)
4. Pete Droge – Sunspot Stopwatch (04:24)
5. Willy DeVille – Even While I Sleep (04:32)
6. Dave Alvin – Fourth Of July (04:36)
7. Texas – You Owe It All To Me (03:45)
8. Dr. John – Same Day Service (05:01)
9. Lisa Mednick – They've Wrecked The House Of Venus (03:51)
10. Hootie & The Blowfish – Hannah Jane (03:35)
11. Ted Hawkins – Strange Conversation (04:21)
12. John Gorka – Talk About Love (03:14)
13. Peter Himmelman – Regular Daydreams (04:06)
14. Johnny Cash – Let The Train Blow The Whistle (02:18)
15. Jules Shear – A Prayer (For Those Not Here) (03:52)
16. The Pretenders – Love Colours (04:35)
17. Jules Shear – Whispering Your Name (03:55)
Volume Five
1. Velvet Crush – Hold Me Up (03:02)
2. Steve Wynn – Layer By Layer (03:21)
3. Victoria Williams – You R Loved (04:25)
4. Keb Mo – Tell Everybody I Know (03:11)
5. Katell Keineg – Partisan (03:32)
6. Luka Bloom – Holding Back The River (03:47)
7. Disappear Fear – Who's So Scared (06:15)
8. Felix Cavaliere – Dreams In Motion (04:32)
9. Edie Brickell – Good Times (03:12)
10. Grant Lee Buffalo – Mockingbirds (04:44)
11. Rusted Root – Send Me On My Way (04:23)
12. Rebecca Pidgeon – Her Man Leaves Town (03:31)
13. Freedy Johnston – Two Lovers Stop (02:47)
14. David Byrne – You And Eye (05:03)
15. The Iguanas – Oye Isabel (04:29)
16. Spirit Of The West – And If Venice Is Sinking (03:53)
17. Victoria Williams – Century Plant (05:12)
Volume Six
1. Fossil – Moon (03:34)
2. Throwing Muses – Shimmer (03:17)
3. Sugar – Believe What You're Saying (03:58)
4. Michael Hall – Every Little Thing (02:56)
5. Over The Rhine – Should (04:37)
6. Graham Parker – Haunted Episodes (02:57)
7. Dinosaur Jr. – I Don't Think So (03:38)
8. The Allman Brothers Band – No One To Run With (06:02)
9. Robbie Robertson & The Red Road Ensemble – Ghost Dance (05:13)
10. Todd Snider – This Land Is Our Land (04:33)
11. Kevin Salem – Amnesia (04:00)
12. Black 47 – Losin' It (03:53)
13. Pops Staples – Hope In A Hopeless World (04:28)
14. Liz Phair – Whip-Smart (04:18)
15. Kashtin – Akua Tuta (04:58)
16. Nanci Griffith & Adam Duritz – Going Back To Georgia (04:16)
17. Ted Hawkins & Vin Scelsa – Spoken Introduction (01:03)
18. Ted Hawkins – Searching For My Love (03:17)
Volume Seven
1. Belly – Seal My Fate (04:05)
2. Linda Ronstadt – The Blue Train (05:06)
3. Don Dixon – Angel Angel (04:10)
4. Jason & The Scorchers – Hell's Gates (04:54)
5. John Lee Hooker & Carlos Santana – Chill Out (Things Gonna Change) (04:48)
6. Steve Forbert – It Is What It Is (And That's All) (03:33)
7. Ivan Neville & Aaron Neville – Stay What You Are (04:52)
8. Matt Keating – Pull Some Strings (03:23)
9. The Jayhawks – Blue (03:11)
10. Siouxsie & The Banshees – O Baby (03:21)
11. Pete & Maura Kennedy – River Of Fallen Stars (03:52)
12. John Prine – Lake Marie (06:00)
13. Matthew Sweet – Walk Out (03:26)
14. Barbara Kessler – Kathy (04:17)
15. Sonny Landreth – Shootin' For The Moon (03:35)
16. Jeff Buckley – Last Goodbye (04:36)
17. The Jayhawks & Vin Scelsa – Spoken Introduction (00:15)
18. The Jayhawks – Bad Time (03:33)
Volume Eight
1. Edwyn Collins – A Girl Like You (03:58)
2. Jill Sobule – The Jig Is Up (04:17)
3. Sonia Dada – Anna Lee (04:43)
4. Mary Karlzen – I'd Be Lying (02:58)
5. Wilco – I Must Be High (03:02)
6. Francine Reed – Evil Gal (03:53)
7. Joan Osborne – St. Teresa (05:21)
8. The Surfing Brides – Everything's Fine (04:49)
9. Marianne Faithfull – The Stars Line Up (03:53)
10. Grant McLennan – Lighting Fires (03:36)
11. Moonpools And Caterpillars – Sundays (04:08)
12. A.J. Croce – She's Waiting For Me (02:50)
13. Suddenly, Tammy! – Not That Dumb (03:27)
14. General Public – Handgun (04:54)
15. Popa Chubby – Trouble (05:46)
16. Tanita Tikaram – I Might Be Crying (03:56)
17. Joan Osborne – Brick House (03:58)
Volume Nine
1. Suzanne Vega & John Cale – The Long Voyage (05:54)
2. The Floating Men – The Idle Hours (03:59)
3. Lori Carson – Where It Goes (03:07)
4. Soul Asylum – Promises Broken (03:16)
5. Vigilantes Of Love – Blister Soul (03:54)
6. Buffalo Tom – Summer (04:04)
7. Ron Sexsmith – There's A Rhythm (03:13)
8. Jennifer Trynin – Better Than Nothing (03:50)
9. Terrell – Strawdogs (Before The Fall) (03:27)
10. Junior Kimbrough – Do The Romp (03:59)
11. Catchers – Cotton Dress (03:58)
12. Ramones – She Talks To Rainbows (03:15)
13. Mae Moore – Here (03:44)
14. The Rembrandts – Easy To Forget (04:26)
15. Peter Case – Baltimore (04:33)
16. Natalie Merchant – Where I Go (04:00)
17. The Floating Men – So Be It (04:51)
Volume Ten
1. The Fabulous Thunderbirds – Here Comes The Night (03:34)
2. Drivin' N' Cryin' – Light (03:11)
3. Health And Happiness Show – Tossed Like A Stone (03:32)
4. Boy George – Same Thing In Reverse (03:36)
5. Tracy Chapman – The Promise (05:28)
6. Teenage Fanclub – Don't Look Back (03:44)
7. Jerry Lee Lewis – Crown Victoria Custom '51 (03:05)
8. Pretty & Twisted – ?Ride! (03:41)
9. Kris Kristofferson – Worth Fighting For (05:29)
10. Wake Ooloo – Age Of Reason (02:56)
11. John Hiatt – Shredding The Document (05:04)
12. Cyril Neville & The Uptown Allstars – Rock With Me (04:18)
13. Susan Werner – Last Of The Good Straight Girls (03:44)
14. Butch Hancock – Eileen (04:41)
15. Lisa Loeb & Nine Stories – Snow Day (03:55)
16. Ben Folds Five – Philosophy (04:37)
17. John Hiatt & Vin Scelsa – Spoken Introduction (00:21)
18. John Hiatt – Walk On (04:48)
Volume Eleven
1. The Bogmen – Light A Candle For Me (03:15)
2. Joe Ely – All Just To Get To You (04:18)
3. Speed The Plough – Said & Done (03:31)
4. Spearhead – Of Course You Can (04:41)
5. Jane Siberry – See The Child (06:26)
6. The Big Geraniums – Evolution (05:34)
7. Ani DiFranco – Cradle And All (04:21)
8. Bobby McFerrin – Vivaldi's Concerto In G Minor: Allegro (04:07)
9. The Delevantes – Long About That Time (03:23)
10. The Freddy Jones Band – Hold On To Midnight (05:10)
11. Aimee Mann – Ray (04:48)
12. Swales – Without Her Around (03:49)
13. Heather Nova – Maybe An Angel (05:09)
14. The Bottle Rockets – Gravity Fails (03:24)
15. Emmylou Harris – Where Will I Be (04:18)
16. Son Volt – Windfall (03:00)
17. The Delevantes – On The Way Home (02:39)
Volume Twelve
1. Nate Ouderkirk – Edge Of Heaven (04:13)
2. Nil Lara – Money Makes The Monkey Dance (05:34)
3. Brooklyn Funk Essentials – Take The L Train (To Brooklyn) (05:53)
4. Poi Dog Pondering – Complicated (04:08)
5. Heather Eatman – Lucky You (04:11)
6. Lloyd Cole – Love Ruins Everything (03:20)
7. Golden Smog – Ill Fated (03:43)
8. Lou Reed – Hang On To Your Emotions (03:48)
9. Tina And The B-Side Movement – Matter Of Time (04:19)
10. Paul Kelly – Anastasia Changes Her Mind (03:15)
11. Rainravens – Coyote Moon (05:04)
12. Ferron – Stand Up (04:53)
13. Eric Matthews – Angels For Crime (03:01)
14. Jude Cole – Joe (04:35)
15. Emmet Swimming – I'll Be Fine (03:03)
16. Dog's Eye View – Everything Falls Apart (03:55)
17. Dog's Eye View – Haywire (06:55)
Volume Thirteen
1. Too Much Joy – How To Be Happy (03:48)
2. Jim's Big Ego – Desperate Times (02:51)
3. Speech – Ask Somebody Who Ain't (If U Think The System's Workin'…) (03:13)
4. The Band – Free Your Mind (05:08)
5. Odds – Truth Untold (03:56)
6. Penelope Houston – Sweetheart (04:23)
7. Jolene – Birdland (03:44)
8. Jonny Polonsky – In My Mind (04:19)
9. Rosanne Cash – The Summer I Read Colette (03:46)
10. Elliott Murphy – Is Fellini Really Dead? (04:52)
11. Cowboy Junkies – Angel Mine (04:02)
12. Nusrat Fateh Ali Khan & Michael Brook – My Heart, My Life (05:30)
13. Fugees – No Woman, No Cry (04:23)
14. The Philosopher Kings – All To Myself (04:30)
15. Alejandro Escovedo – Slip (04:50)
16. The Subdudes – All The Time In The World (04:37)
17. Alejandro Escovedo & Vin Scelsa – Spoken Introduction (00:33)
18. Alejandro Escovedo – Pissed Off 2 A.M. (05:48)
Volume Fourteen
1. The Mysteries Of Life – Feel My Way (02:45)
2. Jonell Mosser – Where I Lead Me (03:44)
3. Graham Parker – Sharpening Axes (04:51)
4. Satchel – Not Too Late (04:03)
5. Judith Owen – Hand On My Heart (03:48)
6. Primitive Radio Gods – Skin Turns Blue (04:29)
7. Joe Sample – Black And White (As Simple As) (05:32)
8. Shawn Colvin – Nothin On Me (03:59)
9. Jimmie Dale Gilmore – There She Goes (03:47)
10. David Gray – Late Night Radio (03:55)
11. Syd Straw – Love, And The Lack Of It (04:01)
12. Peter Wolf – Rosie (04:30)
13. Keb Mo – More Than One Way Home (04:56)
14. Scud Mountain Boys – Penthouse In The Woods (02:45)
15. Cassandra Wilson – Harvest Moon (05:04)
16. Darden Smith – First Day Of The Sun (03:07)
17. Jimmie Dale Gilmore & Vin Scelsa – Spoken Introduction (00:29)
18. Jimmie Dale Gilmore – Because Of The Wind (04:35)
CD15 Bonus
01 John Hiatt Buffalo River Home 5:13
02 Sam Phillips Same Changes 4:46
03 John Gorka Talk About Love 3:14
04 Keb' Mo' Tell Everybody I Know 3:11
05 Pretenders Love Colours 4:35
06 Counting Crows Sullivan Street 4:29
07 Kristin Hersh Your Ghost 3:18
08 Band Atlantic City 5:16
09 BoDeans Closer To Free 3:11
10 Victoria Williams You R Loved 4:25
11 NRBQ A Little Bit Of Bad 3:23
12 Ted Hawkins Strange Conversations 4:22
13 Aimee Mann Fifty Years After The Fair 3:49
14 Pete Droge Sunspot Stopwatch 4:23
15 Connells Slackjawed 4:01
16 Jackson Browne Sky Blue And Black 6:05